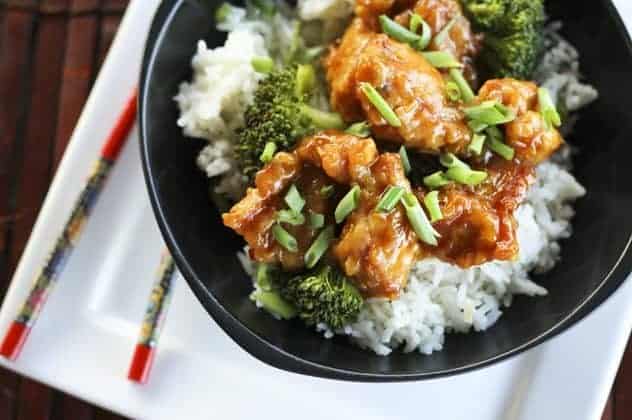 I love chicken. I love Chinese food.
I love Chinese chicken dishes. I really, really do.
It's a matter of garlic, ginger, soy sauce and sesame oil. There's just something about that combination that makes me weak.
The heady, nutty scent of toasted sesame oil with the pungent garlic and spicy ginger and the umami of the soy sauce renders me powerless. When I smell that there'd better be food on the horizon. And quick.
When I first saw this over on Evil Chef Mom, I knew I had to have it that night. Sweet and hot, crispy and tender, garlicky, gingery General Tso's chicken is a mainstay of Chinese buffets and restaurants.
But I knew it would be infinitely easier at home since we live nowhere near a Chinese Restaurant. Since my husband was at work in the big city, I texted him saying, "Please pick up boneless, skinless chicken thighs and broccoli. Need them desperately. Love you!"
He came home with bone-in, skin-on drumsticks and peas. Sigh. He meant well. Needless to say, I didn't get my General Tso's chicken that night.
The next night, my darling brought me pork chops and salad.
The night after that? Beef to grind for hamburgers and potatoes. I worshipped the idea from afar and waited for the moment I would get to the store by myself.
The next two big shopping trips yielded *GASP* no boneless, skinless chicken thighs because there was an apparent run on them in Amish country. Go figure.
General Tso and I were becoming star-crossed lovers.
Finally, when I went shopping for my birthday meal last week, boneless, skinless chicken thighs were abundant on the shelves and I did a happy dance that resembled Chris Farley's 'Tommy Boy' version of the Flashdance number near the butcher's counter. He looked at me a little funny, but I didn't care. General Tso was mine at last.
He was totally worth waiting for. Love always is.
Adapted ever so slightly from and with major thanks to Evil Chef Mom.
If you're looking for more Chinese American food, try our Cheater Sesame Chicken, Cheater Sesame Beef, and Ground Beef Fried Rice.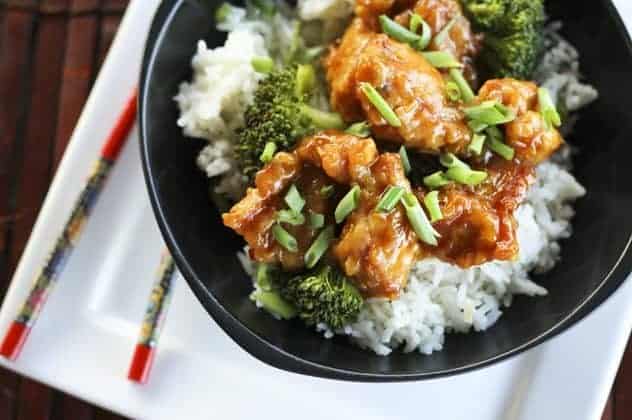 Sweet and hot, crispy and tender, garlicky, gingery General Tso's chicken is a mainstay of Chinese buffets and restaurants, but you can make it deliciously and freshly at home!
Ingredients
For the chicken:
1 1/2

teaspoons

toasted sesame oil

1

large egg white

1

tablespoon

soy sauce

1/4

cup

plus 2 tablespoons cornstarch

1

pound

boneless

skinless chicken thighs, trimmed of fat and cut into 1 1/2″ pieces

canola

peanut or vegetable oil for frying
For the Sauce:
2

tablespoons

finely chopped fresh ginger root

2

garlic cloves

peeled and minced

1

cup

chicken broth or stock

1/4

cup

soy sauce

1

tablespoon

cornstarch

1

teaspoon

Chinese chile-garlic sauce

3

tablespoons

raw sugar

a.k.a. Demerara or Turbinado

1

tablespoon

peanut

canola or vegetable oil
For Serving:
4

scallions

thinly sliced

Steamed broccoli

Fresh

hot cooked white rice
Instructions
Prep your chicken:
In a mixing bowl, stir together the sesame oil, soy sauce, egg white, and 1/4 cup plus 2 tablespoons of cornstarch until a thick slurry forms. It will look gummy but smooth.

Add the chicken pieces and stir until all are evenly coated. At first it may appear that it will not come together but it does!

Set aside, covered lightly with plastic wrap, at room temperature for 20 minutes, stirring occasionally.
Begin the sauce:
Add the tablespoon of oil to a large, heavy-bottomed saucepan over high heat.

Stir the garlic and ginger into the oil and cook, stirring constantly, until fragrant, about 1 minute.

In a separate bowl, whisk together the remaining sauce ingredients until smooth. Pour into the garlic and ginger, stirring, until thick and shiny. Keep over a low burner partially covered to stay warm.
To fry the chicken:
Heat 1/2-inch of oil in a heavy-bottomed, high-sided frying pan or skillet over high heat.

When the oil is shimmering, add one piece of chicken at a time, taking care not to crowd the pan.

Cook for 4 minutes on each side, or until deep golden brown and crisp on both sides**.

Transfer the chicken to a paper towel lined plate and repeat the process until you've cooked all the chicken.

Slide all the chicken into the prepared sauce and toss to coat. (If desired, add the steamed broccoli to coat with the sauce also.) Increase the heat to medium, stir and cook just until hot all the way through.

Sprinkle with sliced scallions and serve immediately over white rice.
Notes
**A note: Chicken is a safe food for me. I know that just about anything done to it is going to yield something that is, at the very least, edible. This is especially true of boneless skinless chicken thighs. It's really hard to mess those up! They stay tender and juicy and it's very hard indeed to cook them to the point of chicken jerky. Be sure to cook them through, you definitely want that crisp, deep-brown coating to hold up to the sauce!
Nutritional information is an estimate and provided to you as a courtesy. You should calculate the nutritional information with the actual ingredients used in your recipe using your preferred nutrition calculator.