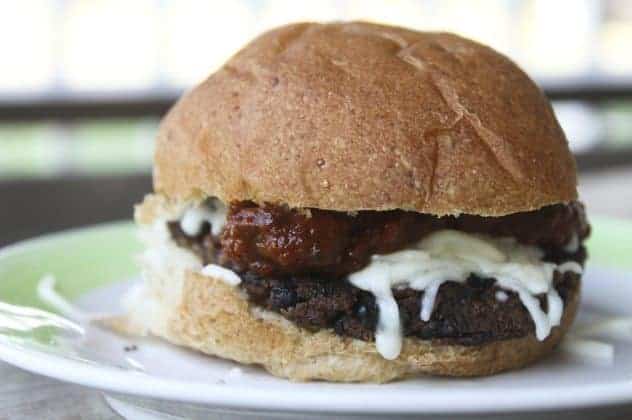 As promised in the last post, today I'm sharing a fun way to use up pizza sauce other than just pizza, not that there's anything wrong with that…
In the extreme heat we've been having lately, my appetite has flagged a little bit. Believe me when I tell you that's not a normal condition around here. (Referring to both the heat and the lack of appetite.) I haven't wanted anything heavy or hearty and I surely haven't wanted to stand around a hot stove or boiling pot of whatever or even, unbelievably, a screaming hot grill for more than ten minutes. That has limited our meal repertoire somewhat…
I saw some gorgiferous spicy black bean burgers floating around the internet a couple of weeks ago and knew some version of them had to make it to my table and soon. I'm a sucker for fried legume patties. Veggie burgers are a good bet when it's steamy hot since they cook up very quickly and the prep work leading up to it is minimal and doesn't require cooking. The cooking time is mercifully short  (four minutes per side) and you don't have to stand over the pan to baby sit them. Where veggie burgers really shine, though -aside from the eating-, is after you're done with the meal. You feel satisfied through and through but you don't feel like you just ate a side of beef.*
*Mainly because you haven't. Heh. Veggie burger humour; It's meaty.
Since there are so many veggie burger recipes on the internet, I figured I should explain exactly why I prefer my version.
I like a burger that holds together well while being fried. I am an impatient human and when things start falling apart on me I'm prone to thinking angry thoughts. Angry thoughts while cooking equal stress and who needs more of that?
I like the method (introduced to me by Eat, Live, Run) of turning part of the beans into paste and stirring the remaining whole beans in for texture. I like to see the whole beans peeking out at me.
While I like to see bits and pieces of bright vegetable colour laced throughout my burgers, I am feeding a family that includes some entrenched members of the anti-visible-veg-contingent. Finely mincing the vegetables in the food processor allows me to add the flavour without adding the fight to the meal. Feel free to chop rather than mince, but I'll tell you that the pickiest eaters in my house didn't even flinch. These disappeared like shadows at noon.
I love using egg  as a binding agent in my vegetable burgers. I think they hold together wonderfully in the frying pan and the added protein is a bonus.
I have a liberal hand with the bread crumbs. This is a textural issue for me. I don't like veggie burgers that are mushy or straight-up wet in the center. And again (although I feel like a broken record saying this) they don't fall apart when you try to flip them in the frying pan.
A note: I prefer my black beans cooked from dry rather than canned, so I used my own cooked beans. If canned beans are what you have on hand, though, they will work very well.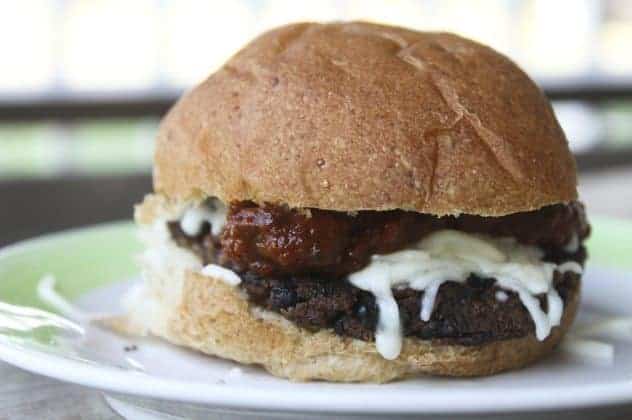 Gorgeous deep brown and crunchy on the outside, tender and full of taste, topped with pizza sauce and gooey melted mozzarella, and served on soft buns brushed with olive oil and Italian seasonings, these meat-free Pizza Black Bean Burgers pleased even the most entrenched picky eater in my house.
Ingredients
4

cups

or 2 cans black beans, drained and rinsed well, then drained again

1/2

of a green pepper

seeded and roughly chopped

3

tablespoons

roughly chopped onions

1-3

cloves

of garlic

according to preference, roughly chopped

2

tablespoons

pizza sauce

1

cup

or more plain breadcrumbs (*See notes below the instructions)

1

egg

1

teaspoon

Italian seasonings

1

teaspoon

dried basil

or 1 tablespoon thinly sliced fresh basil

1 1/4

teaspoons

salt

canola or peanut oil for frying

additional pizza sauce

for topping

grated mozzarella cheese

for topping

soft rolls

for serving
Optional:
extra virgin olive oil and Italian seasonings to brush on the roll
Instructions
Add the pepper, onion and garlic cloves to the bowl of a food processor fitted with a metal blade.

Put the lid in place and pulse, stopping to remove the lid and scrape down the sides of the bowl, until the ingredients are finely chopped.

Add half of the black beans, Italian seasonings, basil, salt and pizza sauce to the food processor and pulse, scraping down the sides of the bowl as necessary, until the mixture resembles the consistency of guacamole (slightly chunky but a cohesive paste.)

Scrape the bean and vegetable mixture into a mixing bowl and stir in the remaining beans, the egg and breadcrumbs.

Test the consistency of the mixture. You should be able to roll the mixture into a ball and flatten into a patty without it sticking to your hands. If you cannot, add one extra tablespoon of breadcrumbs at a time, stirring and checking the consistency after each addition until it does what it should. The goal is to add enough that the mixture ceases to be sticky but not so much that it becomes crumbly.

Roll balls of the bean mixture according to the size of the burger you'd like: golf ball size for sliders, peach size for standard burgers, navel orange size for mega-burgers.

Place a heavy-bottomed skillet over medium-high heat and pour in enough oil to cover the bottom by about 1/8-inch.

When the oil is shimmering, flatten each ball into a patty that is about 1/2 to 3/4-inch thick and slide it into the oil. Do this with as many patties as you can comfortably fit into the pan without crowding.

Fry for about 3-4 minutes on each side, or until deep brown and crunchy on the outside.

Transfer the patties to a paper towel lined platter and top immediately with grated mozzarella.

While the mozzarella melts on the hot patties, prepare the buns. They can be served as is, or brushed lightly with olive oil, sprinkled with Italian seasonings and then toasted quickly in the hot pan you used to fry the patties.
To serve:
Put one patty on the bottom half of each bun, dollop warm pizza sauce on the melted cheese and add the top half of the bun.

*I found that in each of the batches I made, I needed significantly different amounts of breadcrumbs to hold the patties together, but I never needed less than 1 cup.
Nutritional information is an estimate and provided to you as a courtesy. You should calculate the nutritional information with the actual ingredients used in your recipe using your preferred nutrition calculator.