Simple 6 Ingredient 6 Minute Creamy Tomato Soup from Scratch is about as easy and nutritious as a lunch can get. Have your classic American lunch without any of the nasty additives or preservatives in the canned stuff!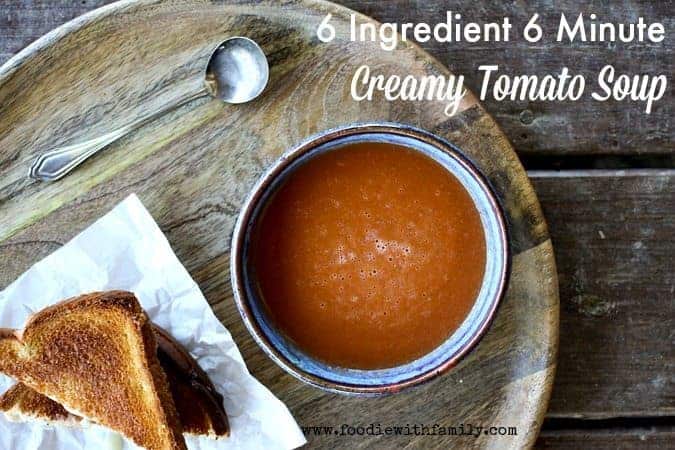 With the possible exception of a peanut butter and jelly sandwich, can you think of a more classic American kid meal than grilled cheese and tomato soup?
Everyone knows the manoeuver. You pick up a wedge of your sandwich and dunk it into the soup then get it to your mouth quickly so it doesn't drip down your hands.
And the key is to dip just enough of your sandwich in for one bite, so the rest stays crispy crusted until you're ready. Every American kid knows this move.
The tomato soup is the supporting player in this duo. Until now.
The problem with many "real" tomato soups -defined as a soup that starts with recognizable tomatoes rather than a paste or puree- is that they take what seems like forever to cook down. This 'forever' is in the kid sense.
As in, "MOOOOOOOOOOOOOOOOOOOOOOOOM! This soup is taking FOREVER. I'm STARVING."
What my kids want (and what I want) is a soup that is silky smooth, has body and great flavour. It needs to be done in the same amount of time as the stuff you dilute from a can.
That's another part of the beauty of the grilled cheese/tomato soup partnership. If you plan things right, they're both done in about the same amount of time.
There are more tomato soup recipes floating around out there in the vast internet world than I can count (including one here.) Many deliver great tomato taste but take forever (kid defined or otherwise).
Some deliver fast results but start with a base of less than fresh ingredients (paste, ketchup, etc…) that leave a soup that tastes flat or old. Some are innovative but ask for ingredients that are difficult to source or out of season.
This recipe is fast, flavourful, fresh, and innovative. It's also delicious and meets my kids' approval!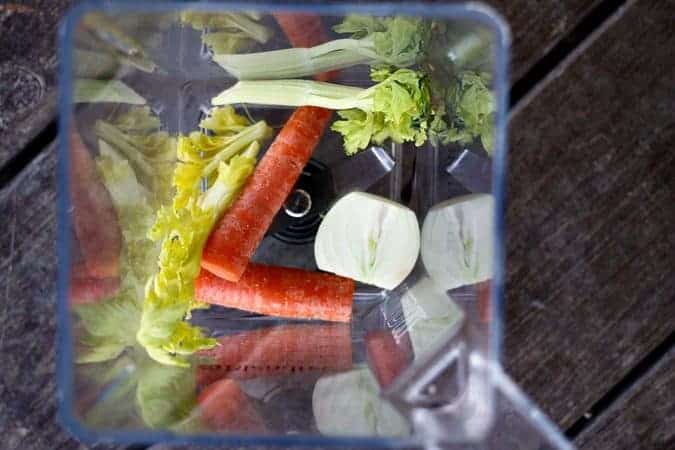 What kind of craziness am I presenting you today? It's a soup made entirely in the blender. I mean Simple 6 Ingredient 6 Minute Creamy Tomato Soup.
That picture above isn't for effect. You're looking at half an onion, a peeled clove of garlic (it's hiding in there somewhere), a carrot lobbed in half, and the small, leafy, inner stalks of a bunch of celery in my blender.
As an aside: your eyes do not deceive you. My carrot wasn't peeled.
I just don't bother when I buy organic carrots which are -nicely- the same price per pound as the conventionally grown ones at Wegman's. I scrub the carrots, trim the ends, and call it a day when I'm doing something like this.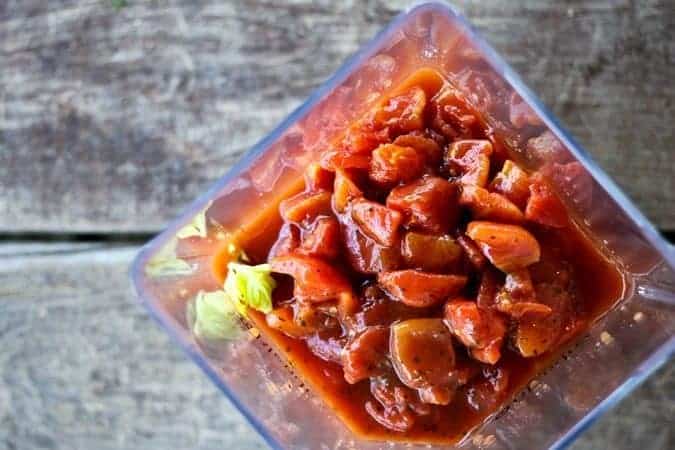 Joining the aforementioned vegetables are a twenty eight ounce can of my favourite diced tomatoes and a fourteen-and-a-half ounce can of diced tomatoes with Italian herbs. And that, my friends, is the hardest part of the whole task.
Onto the blender base it goes, the lid gets fitted firmly in place. Oh DO make sure it's firmly in place. Cleaning tomato soup off of the ceiling, walls, and everything on the counter top is not my idea of a good time.
Blend on high for 6 minutes or until steam is rising from the vent in the carafe of your blender. WHIRRRRRRRRRRRRRRRRRRRRRRRRRRR!
It's SOUP; it's Simple 6 Ingredient 6 Minute Creamy Tomato Soup. You've got a couple of places you can go from here.
If you want that super familiar flavour, you glug in a little milk and blend just forty five more seconds, or until hot all the way through. That is a taste of childhood, but better.
If you want to be a little more grown-up about it, you can drizzle in a little heavy cream right before serving.
Wanna dress your tomato soup up for company? Add a dollop of crème fraîche to the bowl and stir it in with your spoon.
All that is optional because the soup is really wonderful just as it is: full of real tomato, given body and subtle flavour by the carrot, celery, and garlic, and smooth as can possibly be.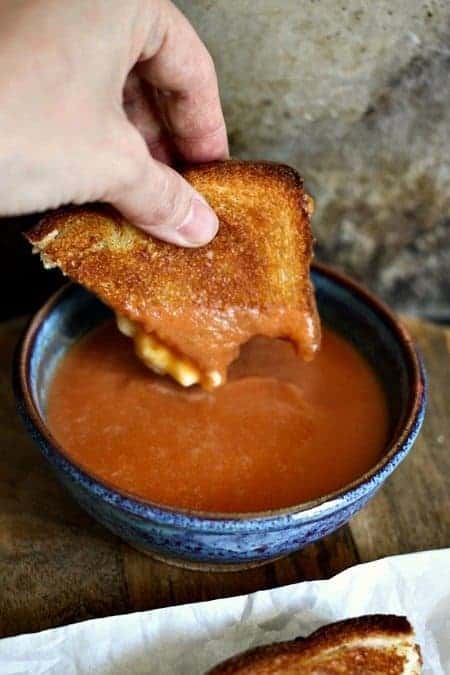 Dressing Simple 6 Ingredient 6 Minute Creamy Tomato Soup up with delicious cream is optional. Dunking is required.
Cook's Notes
If you'd prefer, you can use an equivalent amount of home-canned tomatoes. I ran out in January (cue sad violins), but I love, love, love canned diced tomatoes from the store in this soup. Use a brand whose flavour you like best!
If you don't want to use or can't find the diced tomatoes with Italian herbs, substitute a 14.5 ounce can of regular diced tomatoes and add 1 teaspoon Italian seasoning and a 1/2 teaspoon of dried basil.
I do not call for salt in the recipe. This is because most canned tomatoes have a pretty decent amount of salt in them as it is. Taste your soup when it is finished. If you find you need salt, add it just 1/4 teaspoon at a time, blending after each addition, until it is just as you like it!
The carrot serves two purposes in the soup. First, it takes a little acidic edge off of the tomatoes without adding sugar or HFCS like the stuff in the can does. WIN!

Second, It gives the finished soup some body or thickness without adding any starches or flours making this extremely allergy friendly. No gluten, no corn starch, no nuttin'. Another win!

And taste wise, it beats the canned stuff by a mile without being an unfamiliar flavour. Win/Win/WIN!

The soup is a little frothy immediately after blending. We found this to be pleasant. If you'd prefer it to be less so, let it rest for 10 minutes after blending then give a quick stir before pouring into serving dishes.
This recipe was tested with both a Blendtec blender and a Vitamix blender. Both blenders turned out perfect soup. I have not tested it with any other blenders.
On that note, I want to assure you that this soup is REALLY as smooth as velvet! The blenders absolutely pulverized the fresh, raw, whole vegetables that went into them and cooked them to perfection. And people! The soup coming out of those blenders is HOT. There will be steam when you remove the lid, so please remove the lid carefully!
The soup stores well in a tightly lidded jar in the refrigerator for up to 3 days and reheats like a dream.
Use this to make Simple 6 Ingredient 6 Minute Creamy Tomato Soup from Scratch:
Look how easy it is to make 6 Minute 6 Ingredient Tomato Soup from Scratch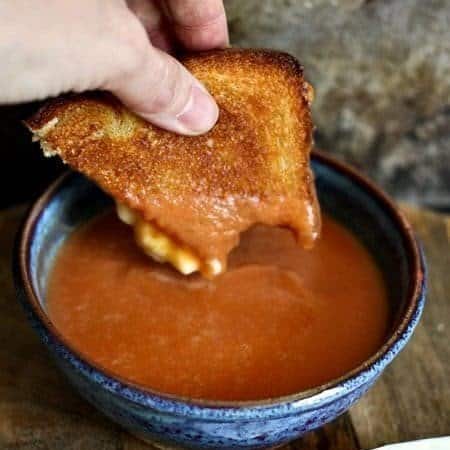 Simple 6 Ingredient 6 Minute Creamy Tomato Soup from Scratch is about as easy and nutritious as a lunch can get. Have your classic American lunch without any of the nasty additives or preservatives in the canned stuff!

Ingredients
1/2

of a small onion

peeled and trimmed of the ends

1

large celery stalk

leaves still attached, preferably

1

medium to large size carrot

scrubbed and trimmed of the ends, broken in half

1

garlic clove

peeled

1

can diced tomatoes in juice

28 ounce

1

can diced tomatoes with Italian Herbs

14.5 ounces, or an identically sized can of plain diced tomatoes with 1 teaspoon Italian seasonings + 1/2 teaspoon dried basil.
Optional for serving:
1/2

to 1 cup milk and/or heavy cream or creme fraiche to stir in at the end.
Instructions
Add the onion, celery stalk, carrot, garlic clove, and both cans of tomatoes with their liquid into the blender. Fix the lid carefully in place and blend on HIGH for 6 minutes, or until steam is coming from the top of the blender. If using milk, add it and blend on HIGH for 45 seconds or until hot all the way through.

If desired, drizzle heavy cream or creme fraiche in the soup as you serve.
Nutrition
Calories:
7
kcal
Carbohydrates:
1
g
Sodium:
9
mg
Potassium:
47
mg
Vitamin A:
1295
IU
Vitamin C:
1.2
mg
Calcium:
6
mg
Nutritional information is an estimate and provided to you as a courtesy. You should calculate the nutritional information with the actual ingredients used in your recipe using your preferred nutrition calculator.