It may seem daunting if you haven't tried it before, but the truth is once you know how to poach an egg perfectly, brunch is your world to conquer. Poached Egg on toast, on salads, in Eggs Benedict…
There are so many possibilities for eating high on the hog once you know how to poach an egg perfectly! Poached eggs make me joyful.
I love the perfectly set whites (no hint of snottiness, thankyouverymuch) and a thin rim of set yolk with a pool of liquid yolk waiting to burst forth when the fork or knife hits it.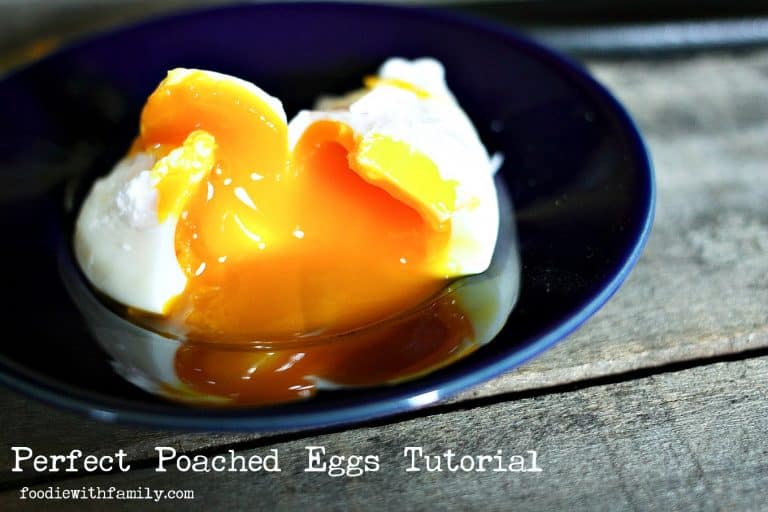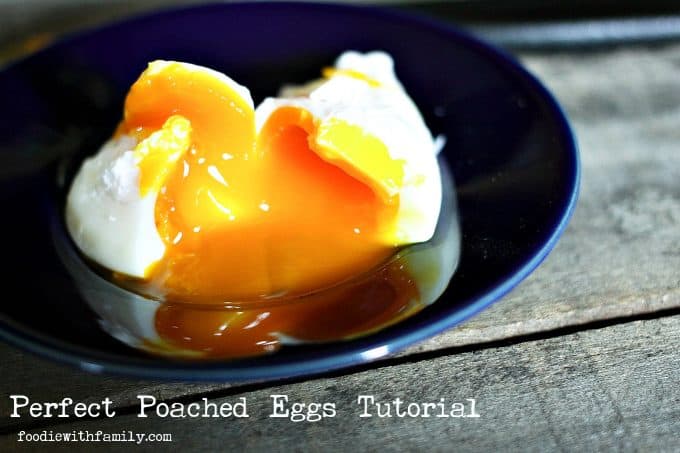 It really isn't that difficult, it's just a matter of de-coding what simple steps help you deliver a tightly formed egg white around a perfect egg yolk.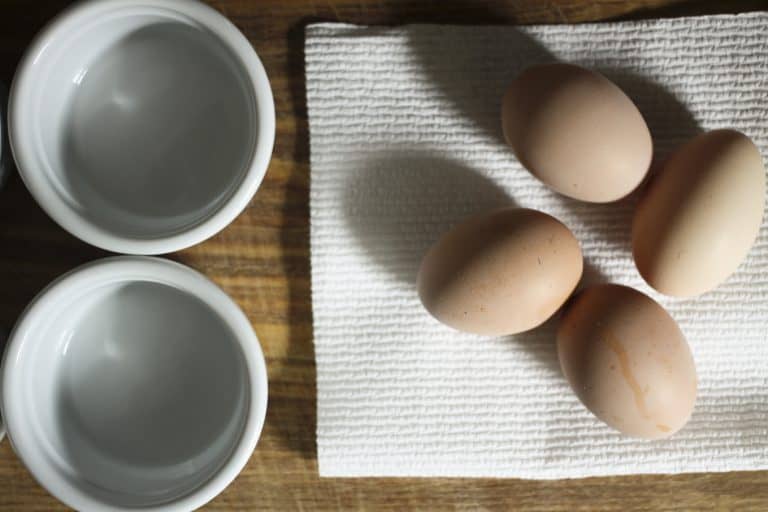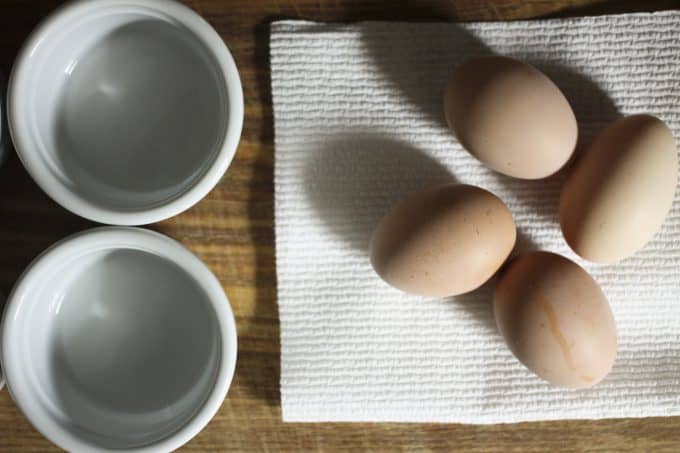 The Trick to How to Poach an Egg Perfectly
There's a weird trick that I use to make perfect poached eggs that I've been using since working in a restaurant. It doesn't make it into many tutorials, and I'm not sure why.
Perhaps it sounds a little fussy or unnecessary? I assure you it helps!
I have tried it with this step and without it and prefer my results every time with this funky little trick.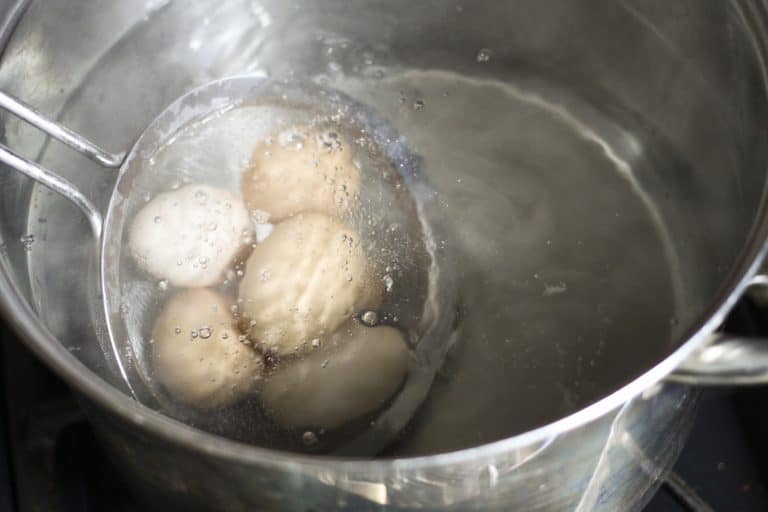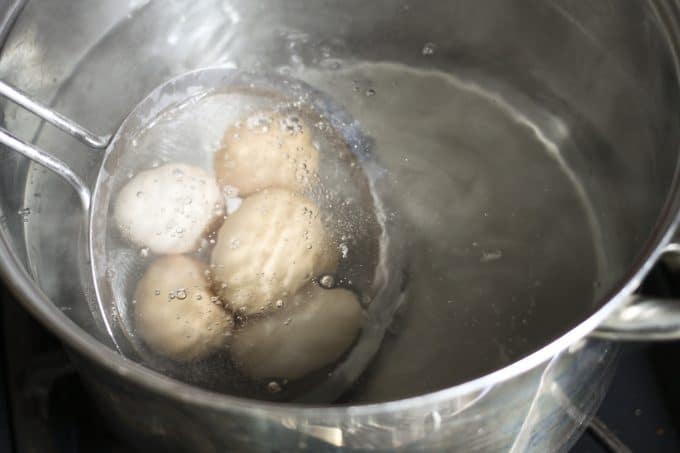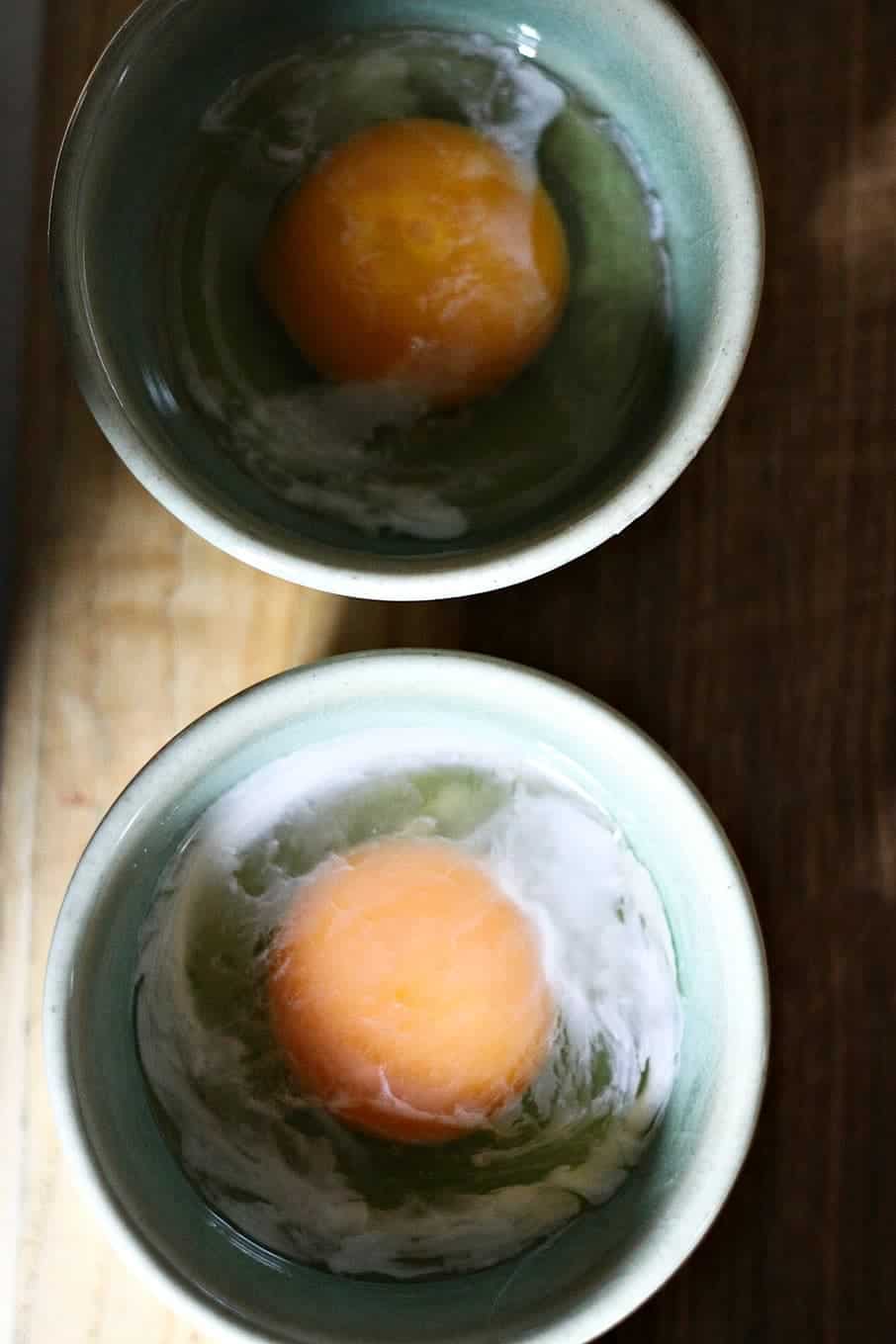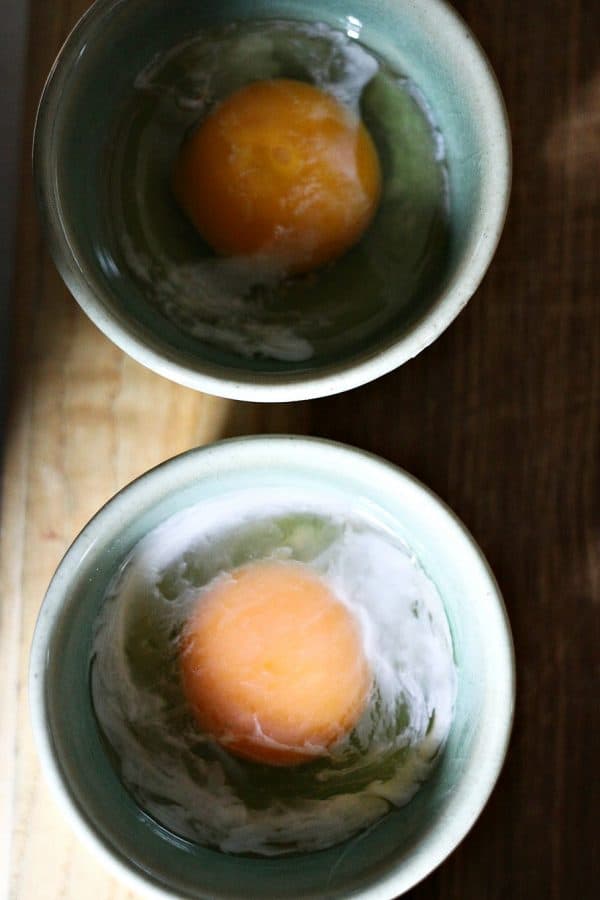 You lower the room-temperature eggs IN THEIR SHELLS into boiling water for 10 seconds before cracking each into a ramekin. You can see in the picture above that the whites have started setting. This helps keep them together when they're added to the boiling water.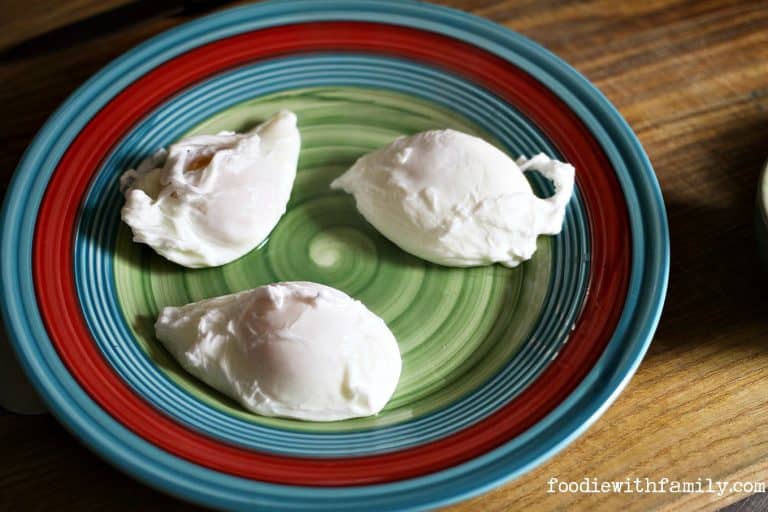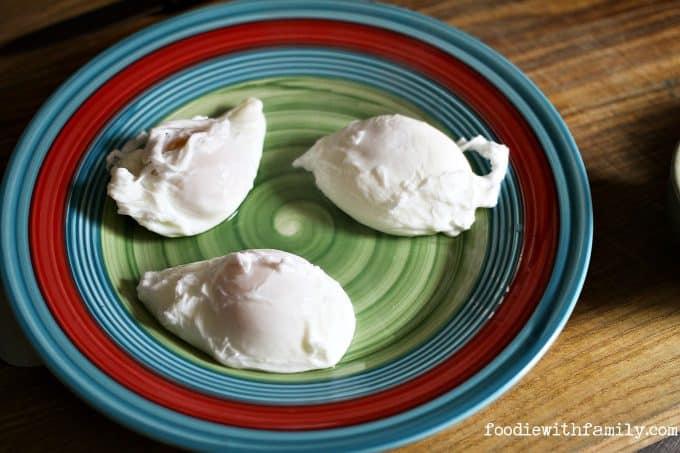 There's a teensy bit of a tail on one of those eggs, but you can see that -by and large- they've held together quite well. That makes them prettier on whichever dish you intend to put them.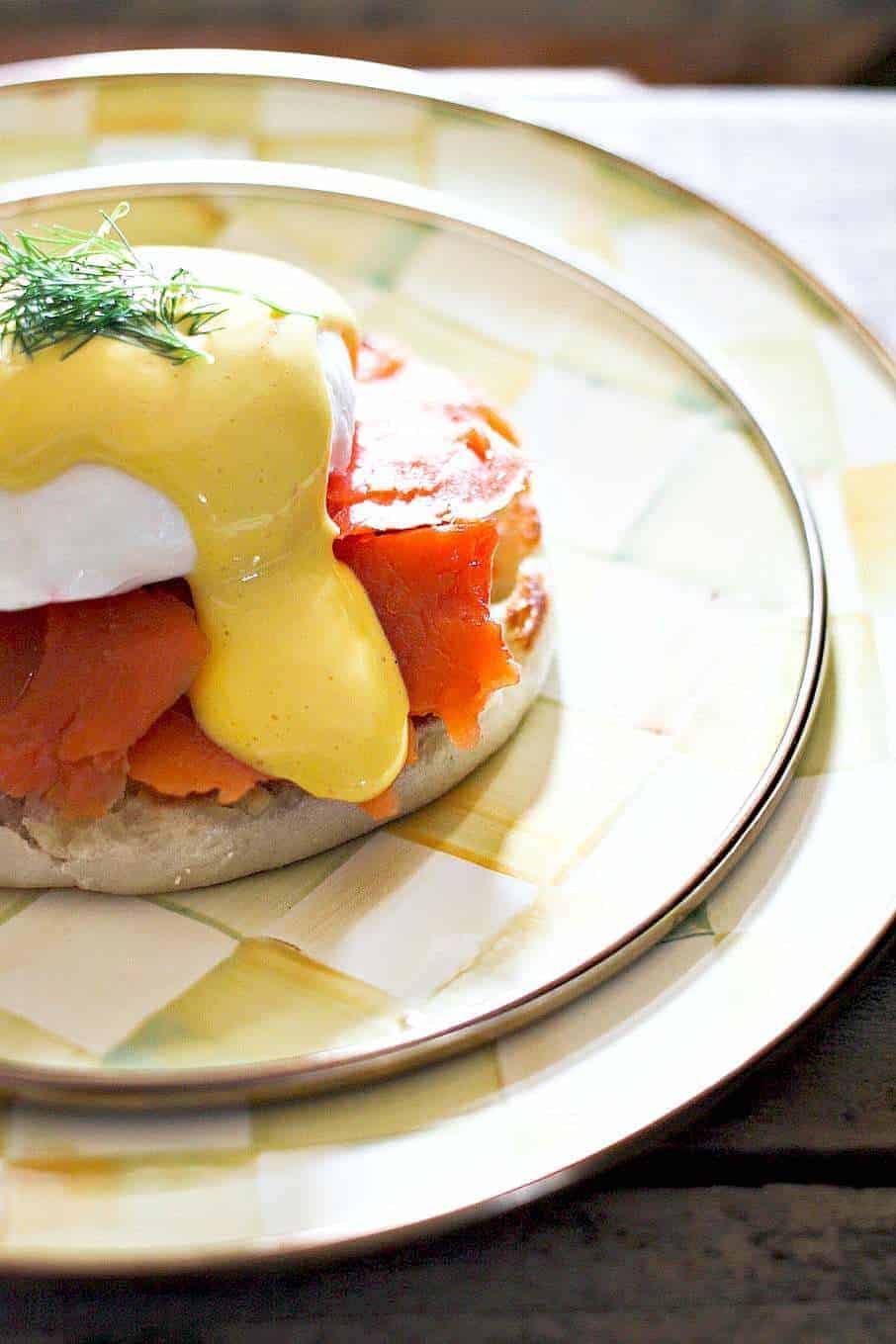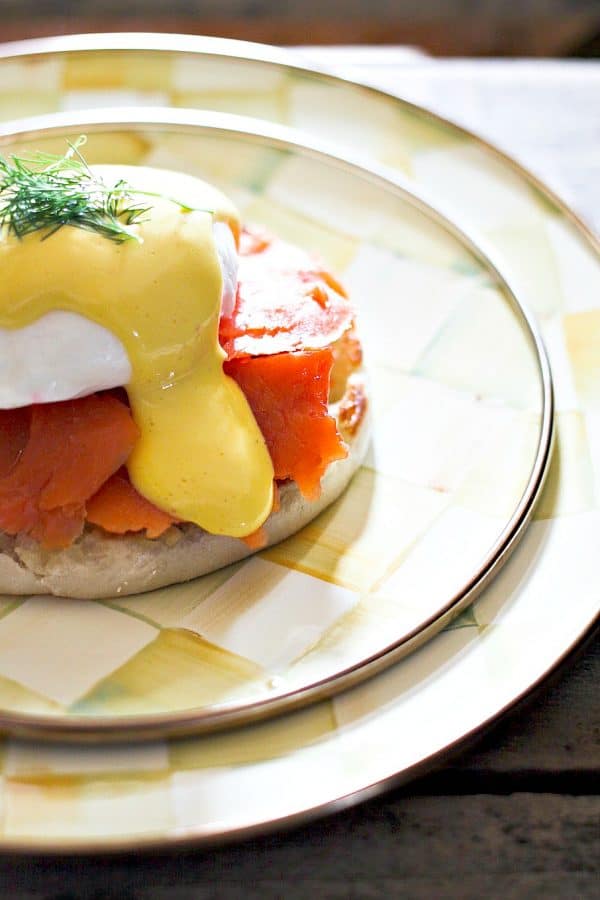 Pretty food makes everyone happy. It's so nice to look at a pretty plate before dropping your face into it like a heathen.
How to Poach an Egg
I mentioned it in passing above, but I'm going to explain myself a little better here. You should bring your eggs to room temperature for a half hour or so before dunking them (in shells) into the boiling water then poaching them.
There is sound science behind this. Instead of spending the first seconds in the drink warming up, you spend that crucial time helping the whites hold together which aids in the final appearance of the egg.
This is probably obvious, but I'm going to say it anyway. Please wash your egg shells thoroughly before dunking them into the boiling water.
This way you don't have to have two separate pots of water boiling (one for the eggs-in-shell, one for the proper poaching). This is especially crucial if you keep backyard chickens like we do.
Yes. Crack each egg into a ramekin before you lower it into the water.
Yes. Swirl the water VIGOROUSLY (create a vortex, for cryin' out loud) before lowering the ramekin near the water and tipping the egg into the twistah.
If you're boiling more than one egg, stick the spoon you used to swirl the water in to about 1/3 of the depth and give it another twist or two before each additional egg is lowered.
Use a slotted spoon or a fish spatula to transfer the finished eggs to a clean plate. You can use kitchen shears or a paring knife to trim any little rogue tails or egg white bits. I won't tell.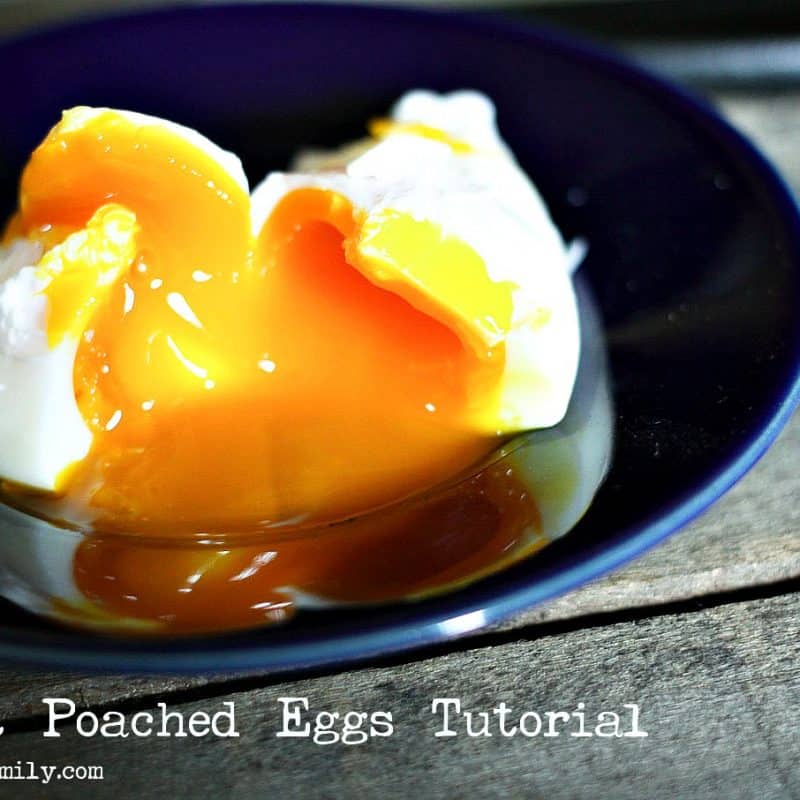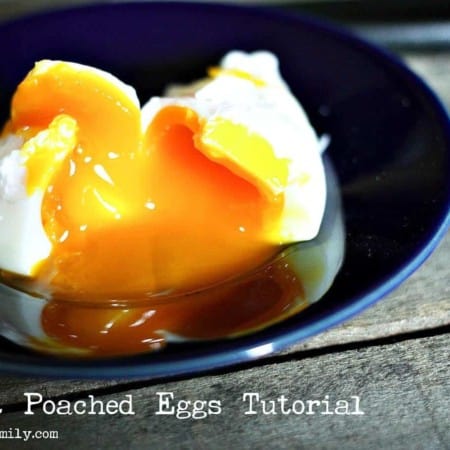 Ingredients
2

quarts

water in a soup pot

2

teaspoons

white wine or rice vinegar

2

teaspoons

kosher salt

fresh eggs
Instructions
Bring the pot of water to a boil. Use a slotted spoon, pasta drainer, or steaming basket to lower the number of eggs you wish to poach into the water in their shells. After 10 seconds, lift the eggs back out of the water and drain them. Crack each egg into its own small dish or bowl. Add the vinegar and water to the pot of boiling water, drop the heat under it to low, and when it has steam rising from the top but is not boiling, put a spoon in and stir it as vigorously as you can without spilling water over the edges in a circular motion until you've formed a vortex of water. Quickly lower one of the bowls close to the surface of the water and pour the egg into the vortex. Repeat this with up to two eggs. The water should still be spinning somewhat as the last egg is added. Set the timer for 3 minutes for set whites and very runny yolks, 3 1/2 minutes for set whites and thickened yolks, and 4 minutes for set whites and almost set yolks. Use a slotted spoon to lift the finished eggs to a plate to await being served.

Serve on toast, salad, polenta, or Eggs Benedict.
Nutritional information is an estimate and provided to you as a courtesy. You should calculate the nutritional information with the actual ingredients used in your recipe using your preferred nutrition calculator.
Save
Save