We are getting into high baking season, friends, and bakers far and wide are beginning to plan the food gifts they'll give away or pass around at cookie exchanges. Sometimes, though, baking just takes too much time in an already packed schedule and we still want to pass out something spectacular.
May I suggest that you add Caramel Stuffed Dark Chocolate Covered Pretzels to your holiday confectionery plans?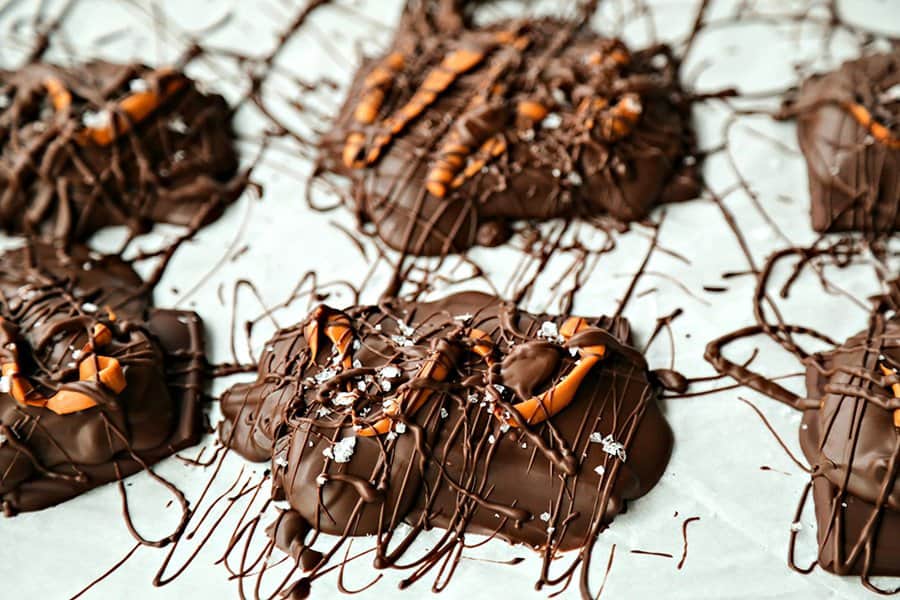 What is this, you say? Simply put, it is a crunchy, hard sourdough pretzel that is stuffed with gooey caramel and enrobed in dark chocolate before getting a light sprinkling of shiny flakes sea salt.
The net effect is that you have a gorgeous chocolate covered, crunchy pretzel that oozes perfectly gooey caramel when you bite into it. It's salty and sweet and utterly perfect for a special indulgence or gift giving and it requires no baking whatsoever.
In fact, it requires nothing more than melting some chocolate, spooning or piping some caramel, and drizzling some chocolate. Would you horde these for yourself or would you share?
And if you're on the hunt for more deliciously chocolatey goodies, try out our No-Bake Avalanche Candy Bars, Easy Salted Caramel Fudge, and Chocolate Covered Peanut Butter Pretzel Sandwiches.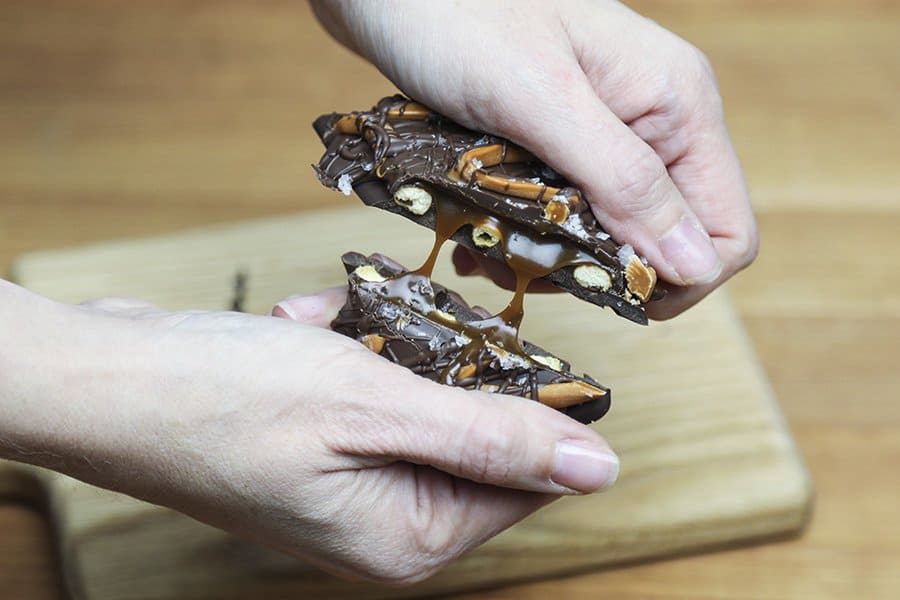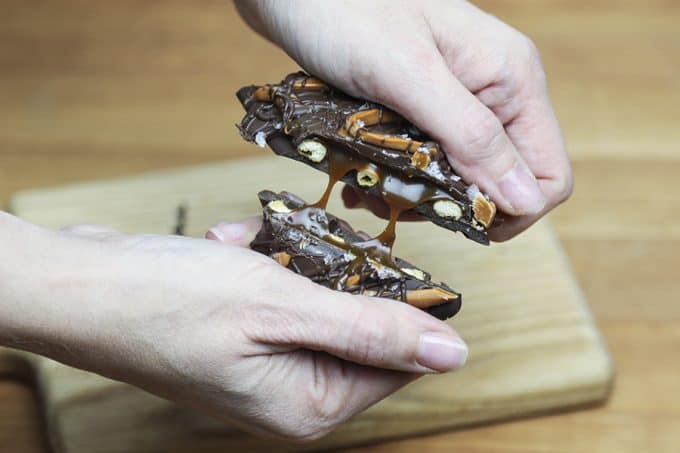 Caramel Stuffed Dark Chocolate Pretzels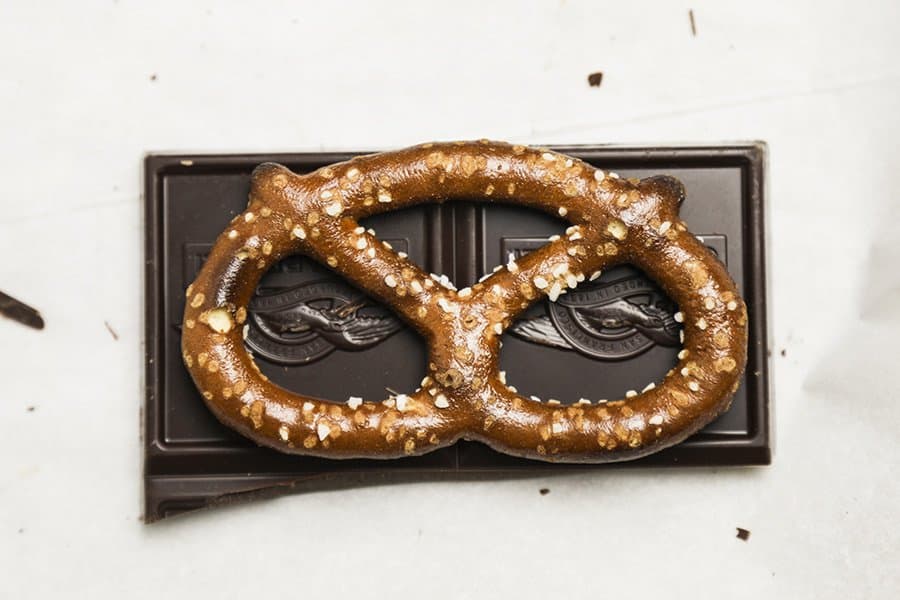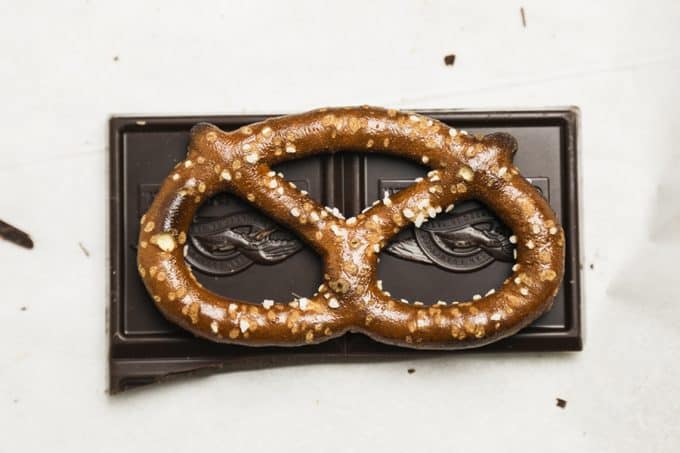 Choosing chocolate for these gorgeous Caramel Stuffed Dark Chocolate Covered Pretzels shouldn't keep you up at night. Just remember to get a chocolate you'd like to eat out of hand and you should be okay. My preference for these is Ghiradelli Intense Dark Evening Dream 60% Cacao Dark Chocolate Bars for the base and Ghiradelli Dark Chocolate Melting Discs for the coating.
The pretzels are covered with chocolate in two steps. The first step is to melt the chocolate UNDER the pretzels in a warm oven and press the pretzels into the chocolate. As that chocolate hardens it creates a barrier under the pretzel that contains the gooey caramel and keeps it from seeping out. The second step is spooning melted chocolate over the filled pretzels.
When you melt the chocolate to top the pretzels, be sure to do it gently. You can either melt it in the microwave or a double boiler. If you use the microwave, use 30 second bursts at half power to avoid scorching or seizing the chocolate.
You do not need to temper the chocolate for Caramel Stuffed Dark Chocolate Covered Pretzels, but you certainly can. Whether you temper it or not, though, make sure the melted chocolate is smooth and thick enough that it won't run off of the caramel stuffed pretzels when you spoon it over.
When it comes to choosing the caramel for these, I prefer this homemade one. If homemade caramel sauce isn't on your radar, you can purchase a good thick commercial caramel sauce. Either way, be sure your caramel sauce is thoroughly chilled and thickened in the refrigerator before transferring to the ziploc bag you'll use to pipe it into the hollows of the pretzels.
I prefer to scoop the caramel into a zipper top bag and snip the end off for ease in piping. That said, I've also used one spoon to scoop and a second spoon to scrape the caramel into the hollows of the pretzels, too. Either way works!
Prep Tips (Use these to make Caramel Stuffed Dark Chocolate Covered Pretzels most easily)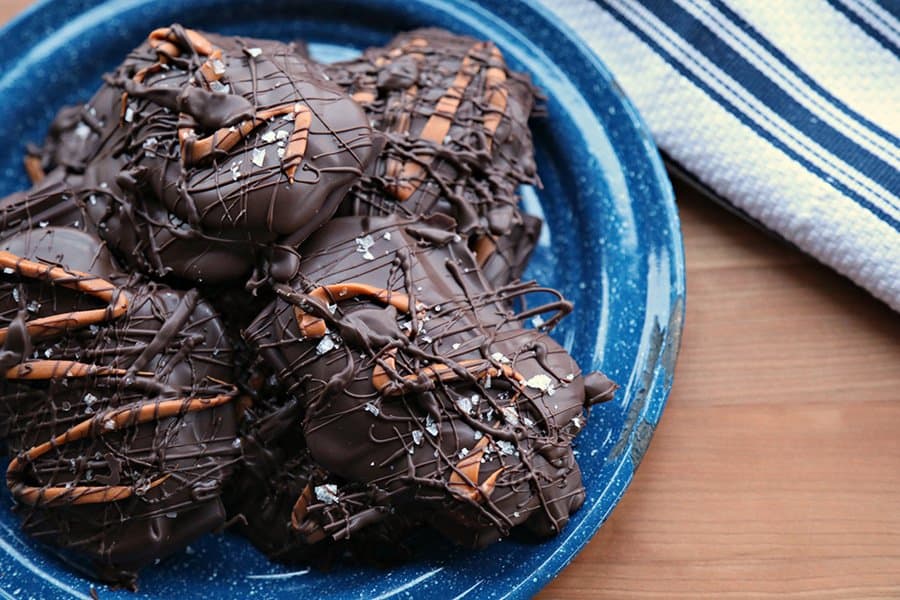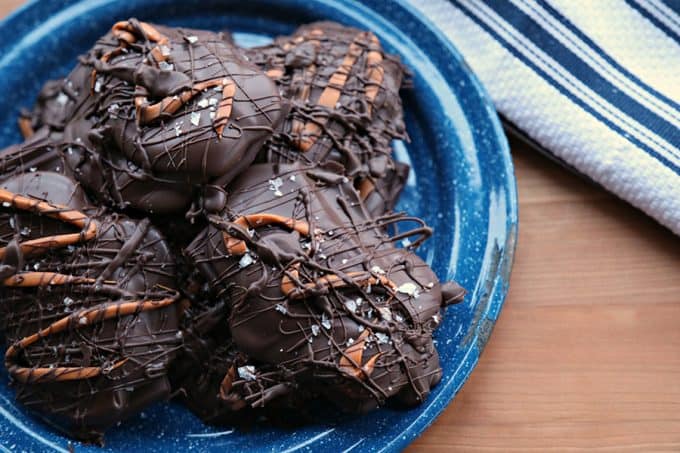 Have a look at how easy these Caramel Stuffed Chocolate Covered Pretzels are to assemble!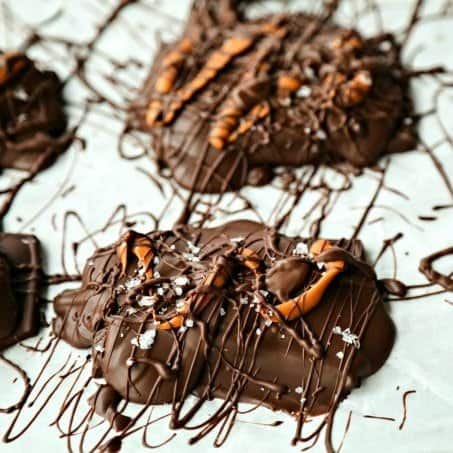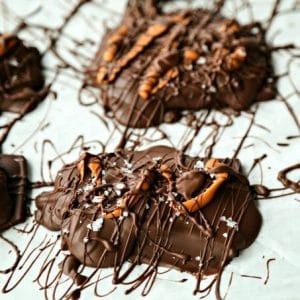 Caramel Stuffed Chocolate Covered Pretzels; crunchy pretzels in dark chocolate that ooze perfectly gooey caramel when you bite into them.
Ingredients
3

Dark Chocolate Bars

preferably Ghirdelli 70% Dark Chocolate

4

cups

Dark Chocolate Melting Discs

preferably Ghiradelli

1 1/2

cups

thick caramel sauce

preferably homemade caramel sauce

1/3

cup

caramel baking chips

preferably Ghiradelli

1

tablespoon

Maldon sea salt

12

sourdough pretzels
Instructions
Preheat the oven to 350°F.


Line a half sheet pan with parchment paper. Break each of the Ghiradelli chocolate bars into 4 sections of 2 squares each. Lay each 2-square rectangle on the lined sheet pan, leaving a couple of inches between each rectangle. Lay one pretzel on top of each chocolate section. Turn the oven off and place the sheet pan in the oven -keeping the door propped open with a wooden spoon- for 3 minutes, or just until the chocolate is glossy and at least partially softened. Remove the pan from the oven and press the pretzels lightly; just enough to get them to adhere to the chocolate and close any gaps between the open spaces and the chocolate.

Let set at room temperature long enough for the chocolate base to firm back up. If you're in a hurry, you can place in the refrigerator or another cool place to speed up the process. Pipe or scoop the cold caramel into the "cups" formed in the empty spaces of the pretzel. Refrigerate for 10 minutes to allow the caramel time to settle into the divots.


While the caramel is distributing itself, melt the chocolate melting discs in a double boiler according to manufacturer's instructions. Set aside, stirring often.

Use a serving spoon to scoop chocolate over the caramel, covering the caramel and edges of the pretzel completely. Set aside to firm up for at least 10 minutes or refrigerate to speed things up. Examine them after the chocolate has set completely. If there are little holes where the caramel is escaping, cover them generously.

Melt the caramel chips in a double boiler according to manufacturer's instructions.
Use a fork to drizzle chocolate over the covered pretzels, then use another fork to drizzle caramel. Sprinkle with sea salt flakes, then repeat the chocolate and caramel drizzles. Let stand, uncovered, until firm. When the chocolate is firm set, transfer to an airtight container and store at room temperature for up to 3 days.

Nutritional information is an estimate and provided to you as a courtesy. You should calculate the nutritional information with the actual ingredients used in your recipe using your preferred nutrition calculator.


Save
Save