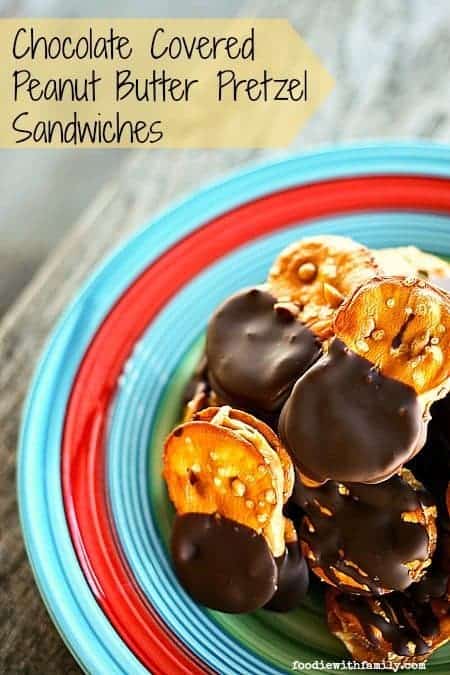 If  want to make my dad happy, all I need to do is make him something with peanut butter in it. He puts peanut butter in his oatmeal, on his ice cream, in his smoothies, on his sandwiches, on dried apple slices, and just plain on a spoon. He likes peanut butter in savoury dishes, sweet dishes, and everything in between. He makes his own all-natural, sugar-free peanut butter. Peanut butter is his middle name.
My dad is also crazy for pretzels. Nutso. Skinny sticks, rods, thick sourdough traditional, broken pieces, honey wheat twists, soft pretzels? All of 'em. He loves them all.
Chocolate? Yes, please. He would love some.
You could say this recipe I'm sharing today was made for him. It was. It has all of his favourite things (except popcorn. I couldn't quite figure out how to fit popcorn in here.)

Snacks don't get much simpler: super thin pretzel crackers are sandwiched around your favourite creamy peanut butter then dunked in your chocolate du chois. Dark chocolate, milk chocolate, semi-sweet, white? You betcha. Dunk away. The hardest part of the whole process is waiting for the chocolate to firm back up so it doesn't drip down your fingers when you eat the finished snacks. I let the chocolate solidify at room temperature to avoid getting funky looking (but harmless) spots. If you're in a hurry (and I have been, so I understand) you can pop the tray in the refrigerator to speed up the process. It might make the chocolate look a wee bit funny, but it won't change the flavour. You decide!
This is the perfect after-school, mid-day, or movie-watching snack. I could argue that the peanut butter is full of protein and helps keep you full longer. I could, but I'd rather tell you that the creamy peanut butter, snap of the smooth chocolate, and crunch of the whisper thin pretzel crackers are the ultimate combination. I think my dad will agree.

Cook's Notes:
There are several brands of pretzel crackers in stores. I tested this recipe with Rold Gold Original Pretzel Thins. I believe any brand would work, but be sure to pick a plain one, not a three cheese, or rosemary garlic one. Both lovely, I'm sure, but not with chocolate and peanut butter.
Speaking of peanut butter. Pick whichever brand of smooth peanut butter you like best. If I'm not using homemade, I prefer Peanut Butter and Co.'s Smooth Operator or Once Again Nut Butter's Creamy. This is not a job for crunchy peanut butter. The pretzel crisps are delicate enough that you don't want to provide the fulcrum point pieces of peanut would create. Keep it smoooooooth here.
Chocolate. We are a house divided. My eldest son and I prefer dark chocolate. Everyone else seems to be on the milk chocolate train. Feel free to use whichever you like. I recommend keeping the small amount of coconut oil or shortening called for in the recipe whichever chocolate you choose. It helps it stay shiny and pretty when it firms back up.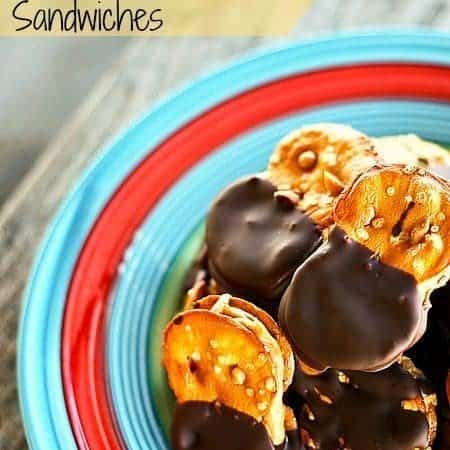 Chocolate Covered Peanut Butter Pretzel Sandwiches
Rate Recipe
Ingredients
1

bag or box Pretzel Thins or Crisps

thin, pretzel crackers

1

jar smooth peanut butter

your favourite variety

2

cups

milk or dark chocolate chips or chunks

1

teaspoon

coconut oil or shortening
Instructions
Line a baking sheet or tray with waxed or parchment paper. Set aside.

Put the chocolate and coconut oil or shortening in a microwave safe bowl, and heat on 80% power for 1 minute. Stir, and heat at 15 second increments, stirring after each burst, until the chocolate is fully melted and smooth. Let rest at room temperature while preparing the pretzel sandwiches.

Use a butter knife to smear a layer of peanut butter on one pretzel cracker. Make the layer as thick as you'd like, but be aware that they become less stable for dipping the thicker the layer of peanut butter is. I prefer to keep the layer about 1/8 to 1/4 of an inch thick. Lightly press another pretzel cracker on top to create a sandwich. Lay it on the prepared cookie sheet. Repeat this process until you've used up all your whole pretzel crackers.

Lift one pretzel sandwich at a time and dip one end into the melted chocolate up to the halfway point. If needed, use a spoon to help the chocolate get halfway up the pretzel sandwich. Lift the sandwich up, left the excess chocolate drip off, then place it carefully on the prepared baking sheet. Repeat until all of the sandwiches have been dipped. Let the dipped pretzel peanut butter sandwiches stand at room temperature until the chocolate becomes firm.

If you're in a hurry, you can speed the process up by putting the baking sheet in the refrigerator, but it will make the chocolate look a little funny.

When the chocolate has firmed up, you can transfer the sandwiches to an airtight container and store them at room temperature for up to a week.
Nutritional information is an estimate and provided to you as a courtesy. You should calculate the nutritional information with the actual ingredients used in your recipe using your preferred nutrition calculator.