If I live to be a thousand years old I will never exhaust the possibilities offered by beans. And what is there not to like about beans? They are- all at once- so inexpensive, so nutritious, so easy to store, so delicious, so versatile.
If you've been with me here at Foodie With Family for a while you're pretty familiar with my adoration of beans. They're a quick, filling, el-cheapo way to feed a growing family.
"Quick? Beans? Well, surely you aren't making them from the dried state," sayeth the doubting crowd. Ah, but yes. Yes, I am. And here is where this post morphs from singing the praises of beans to evangelizing about canning. Pressure canning, specifically. And this requires a diversion of some length from beans…
Even if you were raised in a family who canned a great deal of food (as I was) chances are you heard something like this regarding pressure canning, "Pressure canners are DANGEROUS! My Aunt Bertha had one explode on her once. She leapt in front of it to protect the baby who was walking through the kitchen. They had to pull shrapnel from her neck. Just missed the jugular." (The preceding cautionary tale was an amalgam of the pressure-canning horror stories from my own family members and friends.)  The truth is that pressure canners were dangerous.
The operative word here is 'were'. The reason so many of us have heirloom pressure canner tales of gore from ages of yore is because there were so many of them that actually exploded. But there is a whole new generation of pressure canners on the market now. They have ratcheting, locking lids with metal-to-metal seals instead of  the inferior rubber gasket seals and their disturbing likelihood to warp, crack or otherwise deteriorate.
The Evil Genius has inspected Carol (Yes, my pressure canner has a name. Don't you name your appliances?) and pronounced her to be the domestic equivalent of a small-scale industrial sterilizer. (And the man ought to know, he stares at/operates/programs/troubleshoots the real thing all day long every day. If the fellow who sits in front of the blast window on an industrial sterilizer waiting for little glass vials to explode says it's safe, I think you can take his word for it. And since I'm incapable of remaining on topic for more than three sentences, let me just ask one thing. Does anyone else find it amusing that a man who is clearly NOT sterile [I remind you we had five sons in nine years] specializes in sterilizers?)
Hello?
Is anyone out there?
"Get back on topic already!"
I can take a hint…
Yes, well. Here's where I was going with this. Pressure canning is very safe now. Provided you use a new model pressure canner and follow the safety instructions. And don't let Aunt Bertha near it. Just saying.
As for which pressure canner to use, I prefer this beauty:
This is the second to the largest model made by the Wisconsin Aluminum Foundry. Yes, it's a little more expensive than its smaller siblings or cheap knock-offs made by other companies, but it can hold and process fourteen quarts simultaneously. Come on! That's seriously amazing. That means that it twice as efficient as models that hold seven quarts. And it can double as a big old boiling water canner. There's no boiling water canner on earth that can do double duty like Carol.
I have major warm fuzzies for this company. When I broke my gauge (read: my fault completely. I didn't read the directions.) they replaced it –free of charge- even after I confessed what happened to it. They sent it via Priority Mail. Did I mention they sent it for free? As in gratis? I declared my love for them over the phone. I think they're used to it. But we were talking about beans, weren't we?
Ah yes, these beans.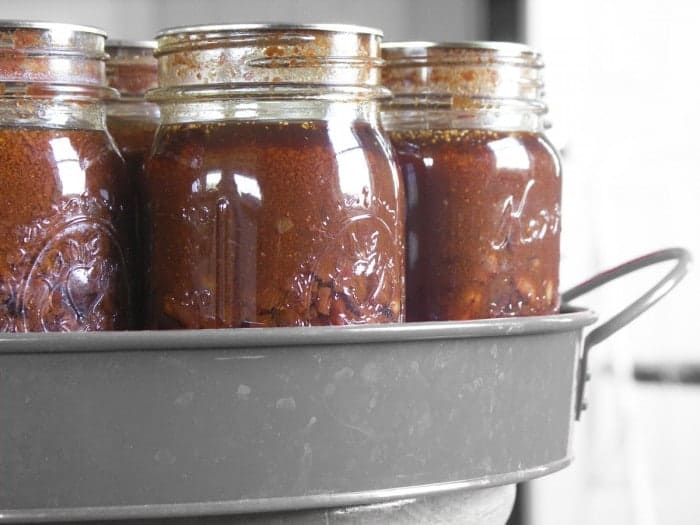 As if Facebook wasn't a giant enough time hoover for me, I recently discovered the existence of the fabulous and aptly named 'Canning' group. In this group was a picture of a batch of barbecue beans one member had made. The original recipe described them as being a clone of El Pollo Loco's  BBQ Black Beans. Having never been to an El  Pollo Loco, I had no idea what that meant. One look at the recipe, though, and I knew I had to try it. The method was so simple. And the payoff was huge.
The hardest part of the whole project was waiting two weeks after processing to try them. Their hermetically sealed jars beckoned from their shelf in the basement, "Eat me!"
And boy, oh boy, these beans are good. There is no hint at all of the paltry ten minutes of hands-on time (well, alright, twenty minutes if you count wiping and labeling the jars.) that went into creating this masterpiece. Smoky, spicy, saucy- they taste like beans that have baked for hours upon hours in the oven rather than beans poured from a jar that sat in the basement. These beans alone are reason enough to justify the price of a new pressure canner even if they're the only thing you ever make in it. How can that possibly be?
Let me paint you a little mental picture. Let's say, hypothetically, that you have five sons. (Could happen, you know…) And let's say that two of them are in a play; rehearsal is on Tuesday and the show is on Thursday, a column due Wednesday, paperwork to fill out at the bank on Thursday morning, a house full of company coming for the weekend on Friday and they're planning on eating with you. Right. So, where in there are you going to find time to make a delicious and filling dinner for your company? Try this one on for size. Throw on a pot of rice. Open and reheat a couple jars of Canned Barbecue Beans. Put a couple links of your favorite sausage on the grill (Kielbasa, smoked sausage, link-chorizo, what-have-you…) and toss together a salad. Fluff the rice, top with the beans and sausage and serve with a salad and something icy cold to drink.
But hang on. It's cheap, people! It's dirt cheap! You can't get food much cheaper than this, and you certainly can't buy food of this quality for anywhere near this little in any store. And more banging of the drum… it's so very good for you. Fiber, vitamins, minerals, no funky preservatives or additives. It's great food the way food was intended to be.
For a printer-friendly version of this recipe, with no photos and sidebars, click here!
Canned Barbecue Beans
adapted from Creative Canning and Mary Kay Craig
1 pound (or slightly more) black beans or a mix of pinto and black beans, rinsed, picked over and soaked 8 hours or overnight
2 onions, peeled and small
5 small cloves garlic, minced
2 1/2 cups barbecue sauce (I used my favorite homemade Kansas City style sauce, but bottled sauce will do the job in a pinch.)
2-3 drops liquid smoke per pint jar
1/4-1/2 teaspoon ground chipotle powder per pint jar, to taste, or 1/2 of a fresh jalapeno, minced, per pint jar.
After the beans have soaked overnight, drain and rinse them. What you see below is mixture of black beans and pinto beans that is approximately equal by weight.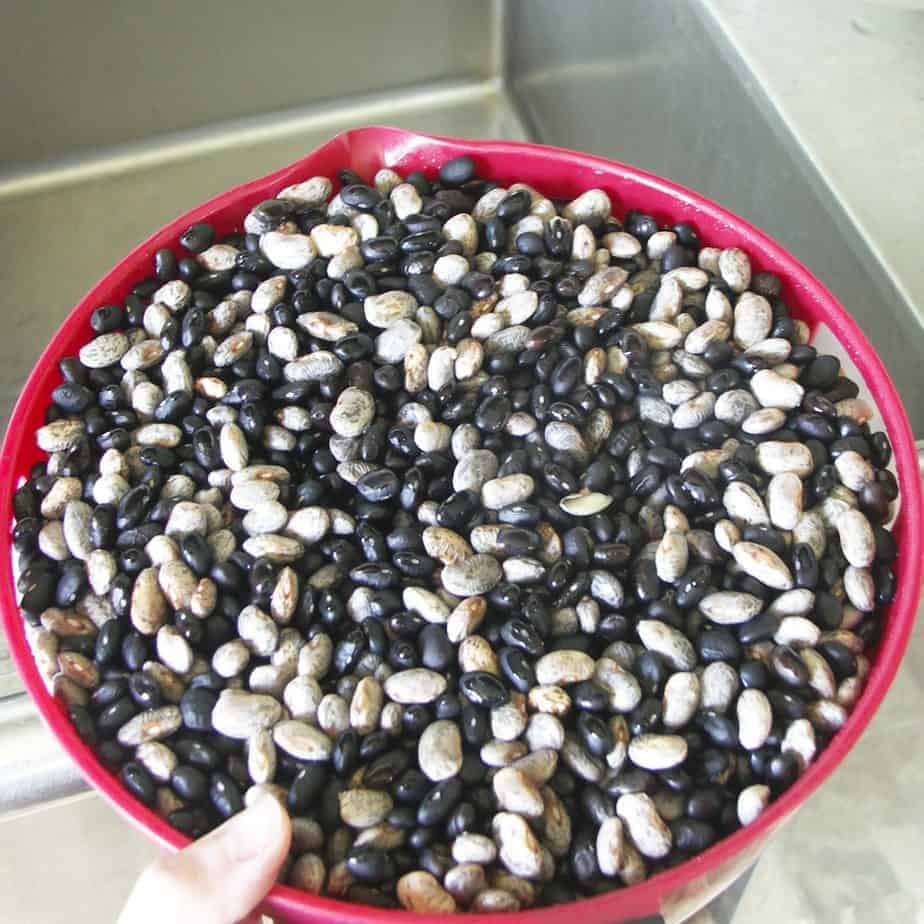 Divide the beans between five clean pint jars. The beans should fill the jars about halfway. Divide the onions and minced garlic evenly between the jars.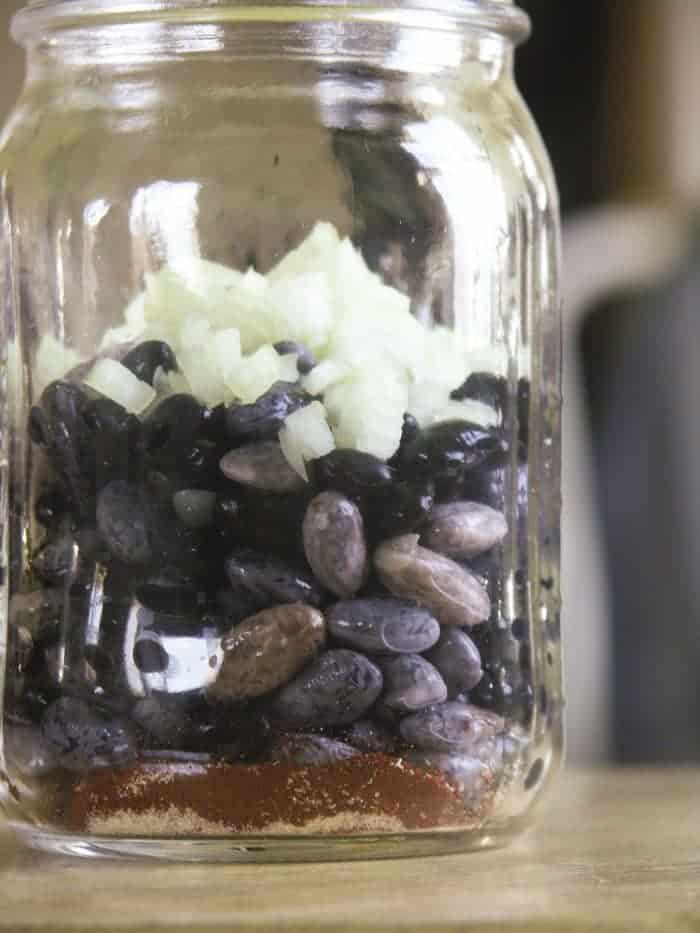 Add the chipotle powder (or minced jalapenos) and liquid smoke to each jar.
Add 1/2 cup of barbecue sauce to each jar. Notice how the pinto beans have been stained by the black beans? That's just inevitable. Don't let it worry you.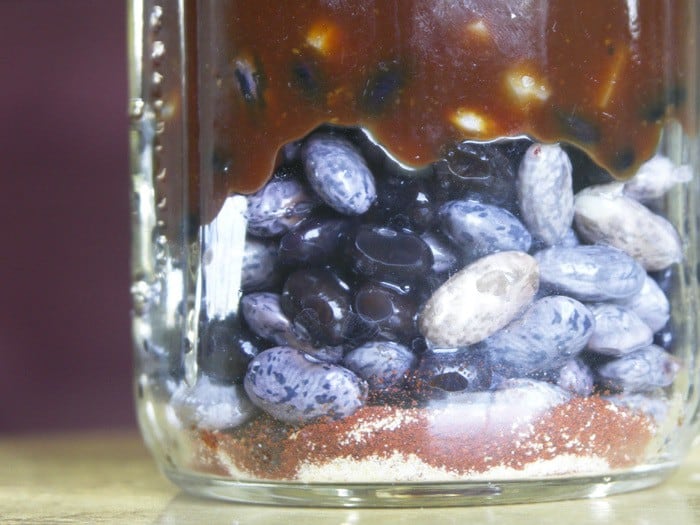 Then add clean, fresh water to the jars to within an inch of the top rim. Insert a chopstick to the bottom of the jar two or three times per jar to release any trapped air bubbles.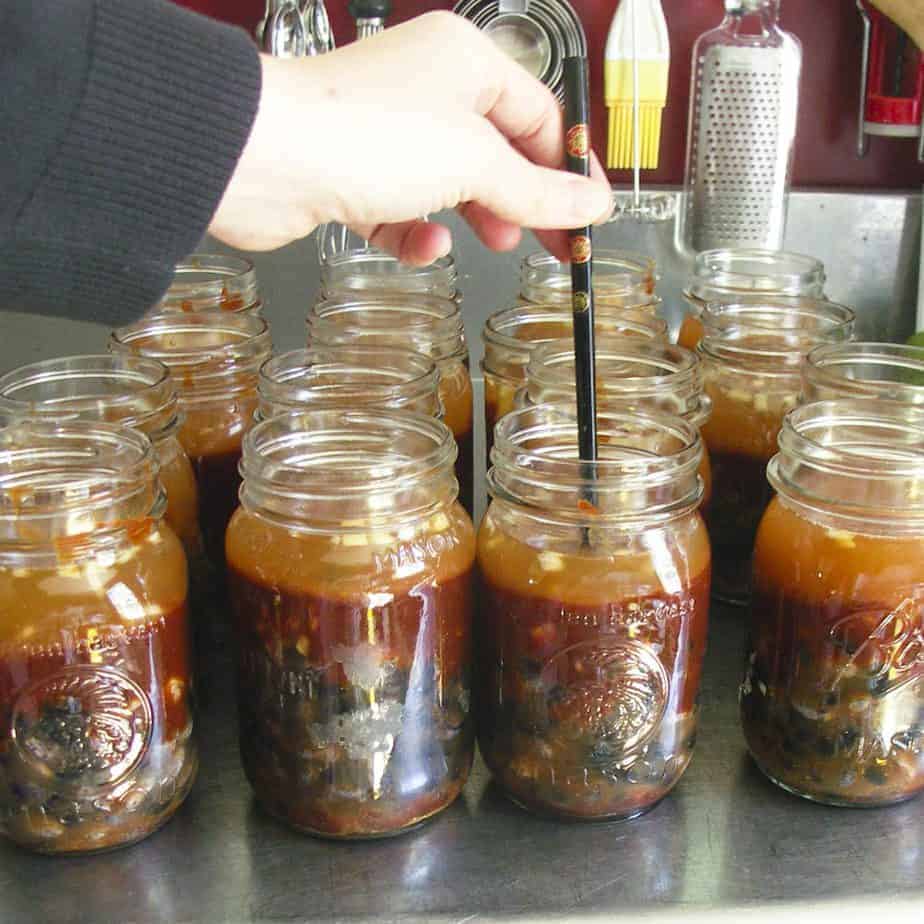 Adjust the liquid if needed to maintain one-inch of clearance  from the upper rim. Wipe the rims, add new two-piece lids and process, according to your canner's manufacturer's recommendations, at 15 pounds of pressure for 90 minutes.
How is that possible that you don't have to cook the beans first? Pressure canning is more than just efficient, it's convenient. As you're processing the jars, you're also cooking the beans inside the jars. It's like doing a little bit of kitchen magic.
And now comes the tricky part. You have to wait at least two weeks for the beans to soak up the liquid in the jar. You could even wait four weeks for the ultimate experience, if you can stand it. You'll be making another batch as soon as you open up that first jar, though. I guarantee you that!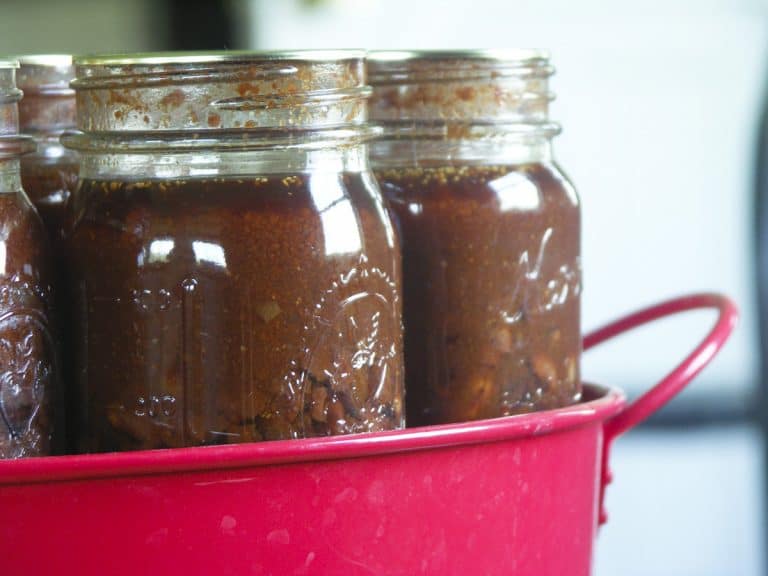 P.S. There was a really neat phenomenon that happened with these jars. Because you form a vacuum inside the jars (by design) when pressure canning, the liquid inside the jars can continue to boil long after they're removed from the canner. One jar's contents boiled for thirty-five minutes after it was sitting on the cooling rack! The Evil Genius assures me that this is perfectly normal and safe.