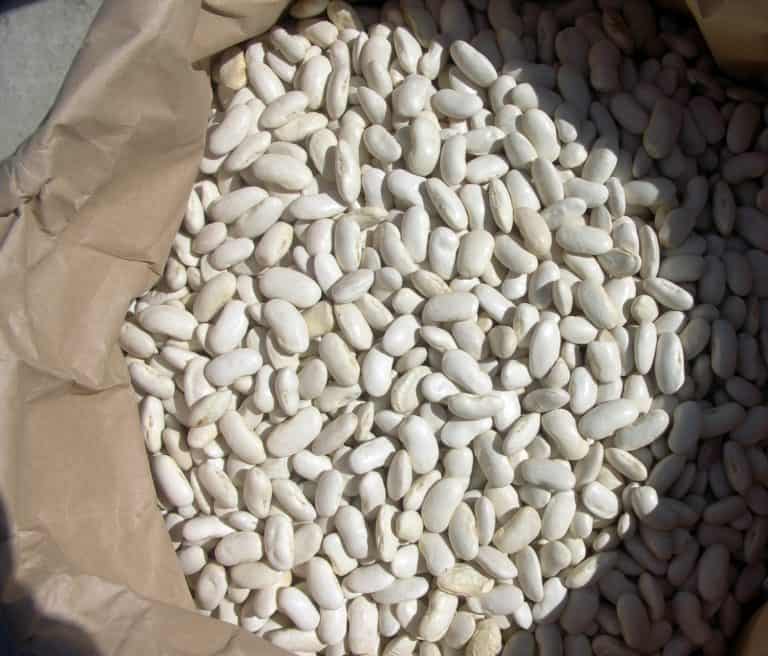 UPDATE (12/10) :Since first writing this post almost two years ago, I have been experimenting with different ways to cook beans. While I still use the crockpot method most often, I have changed on something. I use salt at the beginning of the cooking time. Really! It doesn't slow down the cooking of the beans a bit and leaves them much more flavorful than if you add salt at the end of cooking. I stand (or rather, I sit, at this very moment) corrected. Salt away!
Beans. They are the perfect budget food. They're chock full of dietary fiber and nutrients, simple to store and able to leap tall buildings with a single bound. And they're cheap! They're so cheap ("How cheap ARE they?" screamed the crowd. "So cheap they're on the dollar menu!") that there is no excuse to be without them. Even if you're so poor you can't afford to pay attention, beans are still in your ballpark. But -keeping it real here- unless you've grown up eating them or have been making them for years they can be a little intimidating to prepare and use. And various well-meaning and well-researched cookbooks have you jumping through a billion hoops just to make a simple pot of unadulterated beans. Not so beginner-friendly.
Why bother with dried beans and the extra work when you can buy canned beans super cheap? Dried beans last close to forever when kept in a cool, dry cabinet. They're less expensive per pound and taste better than canned beans. And -perhaps most importantly- they're better for you than canned beans. When you reconstitute dried beans you control the amount of sodium in them and ultimately in the finished recipe. When you start with canned beans you're already starting at a super high sodium level (which can be a major health concern for many people.)  There is more, but I think you get the idea. If you've never made dried beans before just do me a favor and try it at least once. I am pretty convinced I can convert you…
Here's my plan. For the next few weeks, I'll share a bean recipe with you on Thursday or Friday. That will give you all weekend to try out your beanerific recipes. This week, though, I'm going to start you out with a tutorial on how to get the dried little beasties to the point where you can use them in recipes… And I warn you: My method is so easy that you may not want to prepare them any other way. You'll need a slow cooker, but if you don't have one, you can snap up a basic model for $15 at le Walmart, le Target or le Blue-Light-Special. Don't let anyone tell you you need bells and whistles on a slow cooker. All you really need are a "HIGH" and a "LOW" setting. Unless you're cooking for one, get the largest of the basic slow cookers that you can afford. I always cook more beans than we can eat in one meal. You can portion them into individual servings and freeze them to add into soups and stews or make dips or refried beans with later. We loves the bean dip around here!
Because it's what I'm going to be using in tomorrow's bean recipe, we'll start out with cannellini (white kidney beans) today, but feel free to kick it off your bean adventure with any dried variety that floats your boat; pinto, chili, black, lima, garbanzo… If you follow the method, you can make any kind of bean you want!
For a printer-friendly, photo-free version of this tutorial, click here!
Dried Beans: A Tutorial
Necessary equipment:
a slow cooker
a saucepan to boil water
Ingredients:
1 lb dried beans, (in this case, cannellini), or about 2 cups dried beans
2 bay leaves
2-3 frozen onion tops or 1 cooking onion, peeled and cut in half from root to end
2 quarts boiling water
salt to taste
Pour your dried beans into a colander.
Pick through to find grossly misshapen, discolored or otherwise nasty looking beans or small stones.
Because dried beans are about the size and color of some pebbles, it's not completely bizarro to find little rocks, clumps of dirt or other natural bits and pieces occasionally tucked into the bags. After you've picked through and removed any undesirables, give the beans a good hearty rinse under cold water, rubbing them around in the colander as they're being cleaned. This ensures that you remove any dirt your eagle eyes may have missed. This also gives you a chance to look the beans over one more time.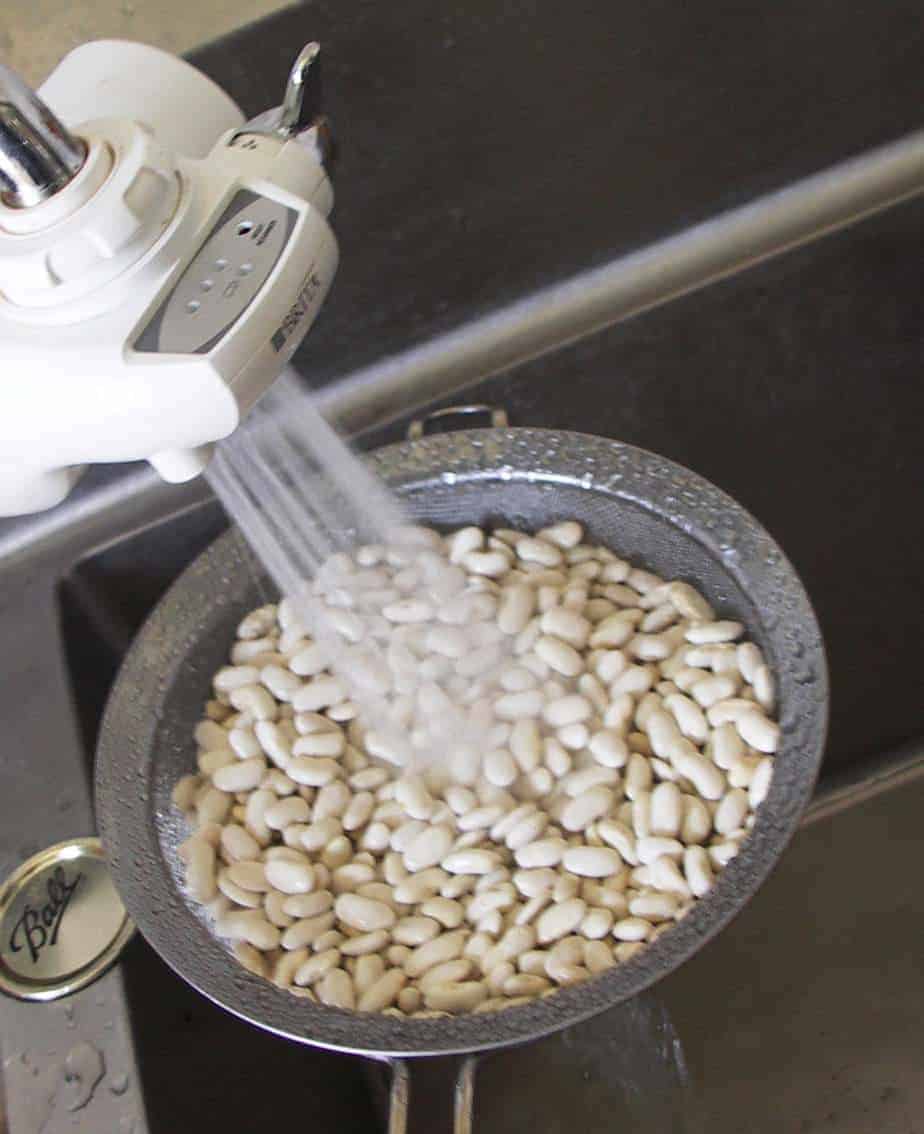 Add the beans to the crock of the slow cooker. Place the bay leaves and onion tops (or onion) on the beans. Sprinkle about a teaspoon of salt, give or take according to taste, over the top.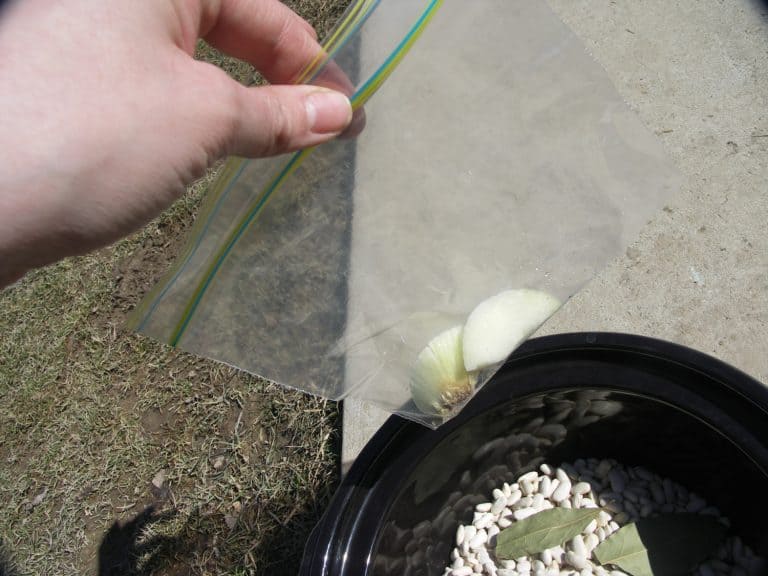 Pour in the boiling water. (It really does need to be boiling. That is key!)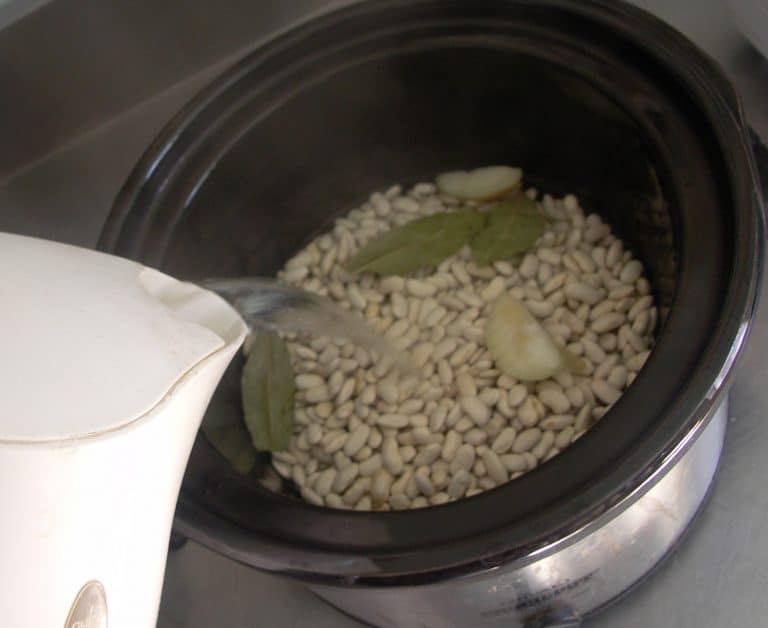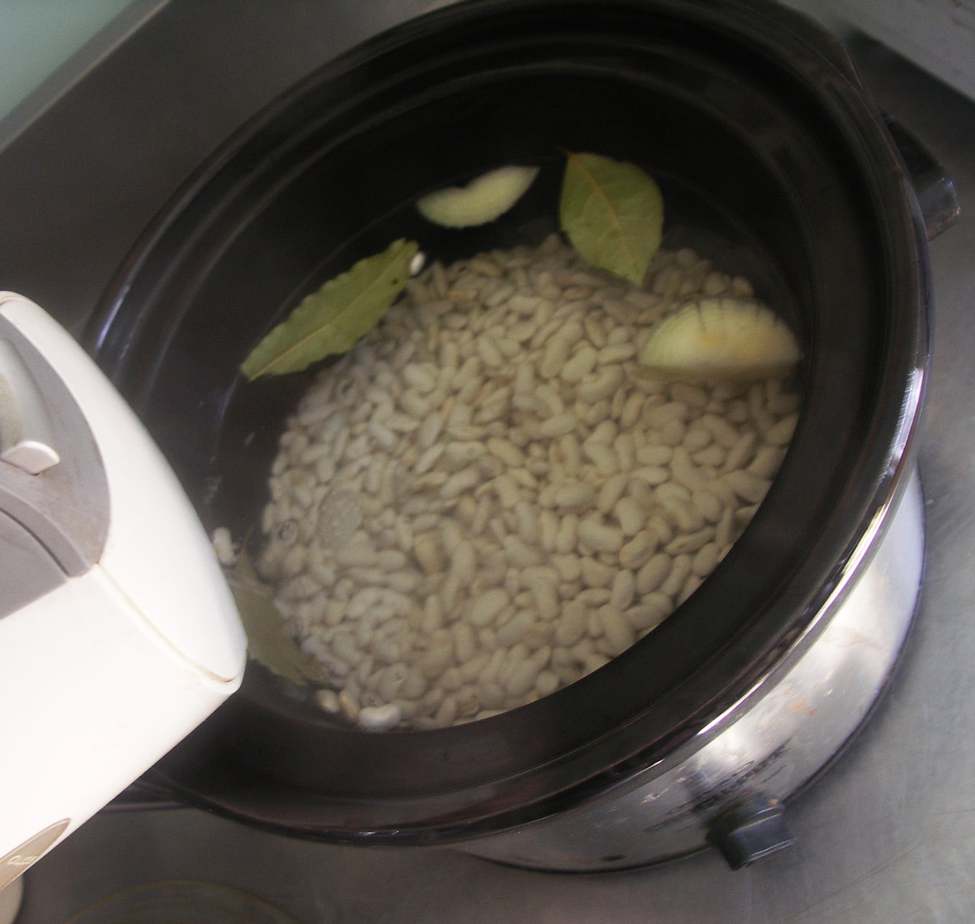 Quickly put the lid on the slow cooker, turn the cooker to "HIGH" and assess the situation. If your beans are covered by at least 2 inches of water you're doing fine. If they're covered by less than that, you'll want to put some more water on the boil to add as soon as possible. Set your timer for 3 hours and go do a crossword puzzle or play a board game with the family.
When three hours are up, you're going to do a test. Use a spoon to reach into the cooker and quickly extract a couple beans, replacing the lid immediately. Hold them a few inches from your face and blow on them gently. If the skins curl up off the beans, they're most likely done. Carefully take a bite through the center of one of the beans. If it's tender, you're all set. When you cook black beans or pinto beans, it's not unusual for them to be done that quickly, especially if they're relatively new beans. If they are done, you can use them immediately, divide them into containers for the freezer or stick straight into the fridge -tightly covered- in their own liquid for use within four or five days.
If you're cooking a larger (or harder) bean -such as cannellini, garbanzo, butter bean, etc…- you'll likely find that the beans are not yet tender in the center. Turn the slow cooker to the "LOW" setting, add additional boiling water (if needed) to cover the beans, and allow to continue cooking for about four hours before checking again. Repeat the test; extracting a couple beans quickly and replacing the lid, blowing on the beans and biting them. If they're tender, pull them from the heat and use immediately or store for later. If they're still tough, give them a couple more hours -making sure they have water to cover- and repeat the test. Do this until they test done. The batch of cannellini beans I cooked in the photos for this tutorial simmered overnight on "LOW" before they were done.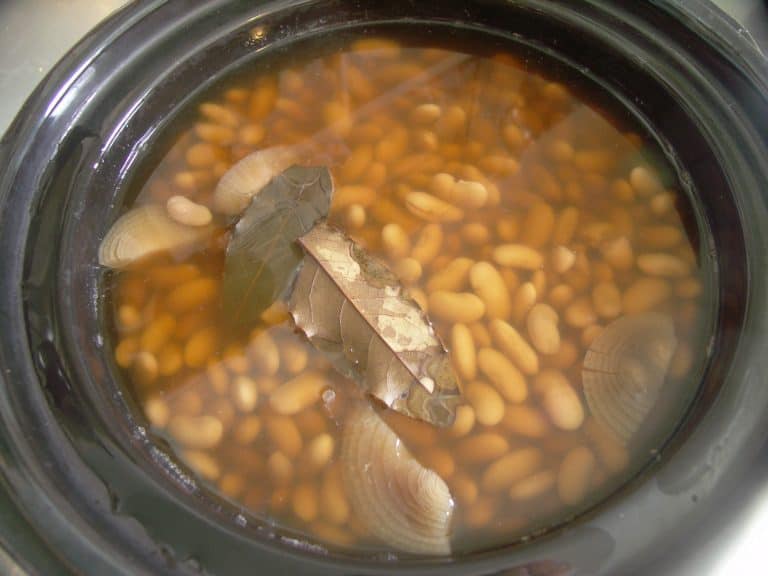 In my own experience, garbanzo beans (the stuff of my hummus dreams) have taken the longest time to cook by far. Just be prepared to let them cook away. And, for pete's sake, don't sweat testing it if you have to let it cook overnight. Beans are pretty resilient as long as you're cooking them in enough water. And if you overcook them there's always bean dip!
If you choose to freeze the beans for later use, divide the beans into one or two cup servings between containers. Be sure to leave enough room to ladle cooking liquid over them so they don't dry out and to account for expansion of the liquid as it freezes. Make sure the lid of the container fits tightly and stash in the freezer for later use. (Alternately, you can carefully scoop the beans and their liquid into zipper-top freezer bags taking care to seal them completely. The bonus of this method is they lay flat to freeze and thus take up less room.)  Frozen beans will keep well for about two to three months in the deep chill. After that they begin to deteriorate a bit in texture and in taste. Not the end of the world, but after that point they're only good for bean dip. (All roads lead to bean dip in this house.)
Tomorrow:  Come back for a wonderful *gasp* bean dip that can be served hot or cold. Get those pita chips or veggie sticks ready!