I've mentioned before that I was a vegetarian whilst living as an exchange student in France right? Pardonez-moi while I go smack my head against the door for the umpteenth time over that one, would ya?
I wouldn't quite say I regret it, but I do wish I tried a few of the meaty-delicacies France had to offer. It's not like I suffered food-wise as a result of that.
Honestly. My host mother used to buy the most amazing cheese steaks for me. They were crispy, crunchy, breaded numbers that she would pan fry for me. When I stuck my fork into them, the crispy coating would crackle and when I pulled away, the cheese would string on for what seemed like infinity.
She served them with a grainy mustard sauce, and people, I probably could've eaten my substantially-smaller-back-then weight in them. Following hot on the heels of a nostalgic 40th birthday celebration, I figured that it was about time I recreated this dream food.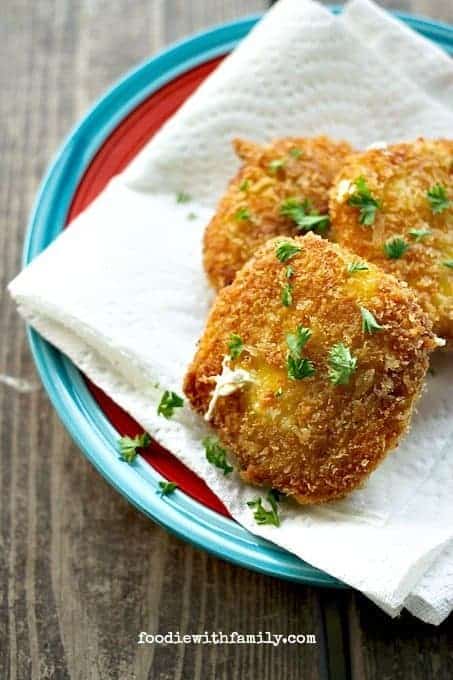 I really wanted to nail the gooey, ooey, stringy cheese of the French version in my memory, so mozzarella seemed like a perfect choice. And because I remember the cheese being delicate in flavour, I opted for fresh mozzarella.
I was able to score some beautiful balls of fresh mozzarella at my local Aldi (HOORAY ALDI!) for a price low enough to compare to a block of regular ol' mozzie.
I knew I planned to deep-fry or pan-fry the Fresh Mozzarella Steaks, so I wanted to be sure the breading not only stayed put, but also covered the whole cheese steak. I couldn't think of a sadder failure than having molten cheese ooze out of a crust and into hot oil.
I might've cried if that happened, but luckily, the simple-if-messy breading process prevented that from occurring. I'm excited to say that these homemade Crispy, Gooey, Fresh Mozzarella Steaks were an exact replica of how my brain remembered those glorious French ones of my youth.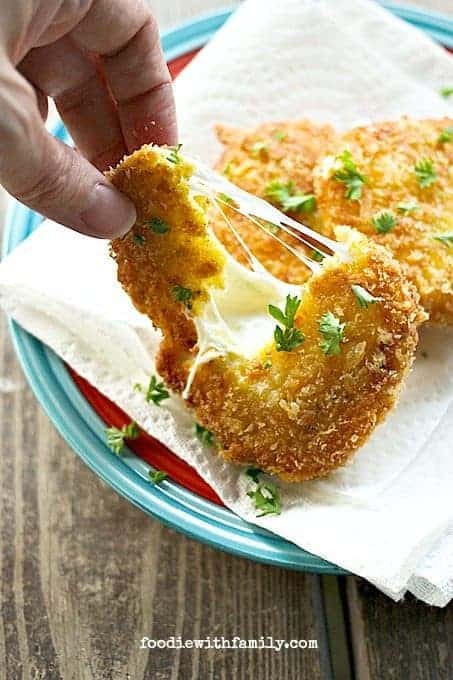 Now, friends, I won't lie. I pulled these apart with my fingers and ate them straight up and my eyes rolled back into my head I was so happy.
But if you were to serve them with a grainy mustard sauce like Madame Nussbaumer did, you'd be in heaven. And if you wanted to go another direction and serve them like giant, deep-fried mozzarella sticks with a side of marinara, you certainly wouldn't regret it.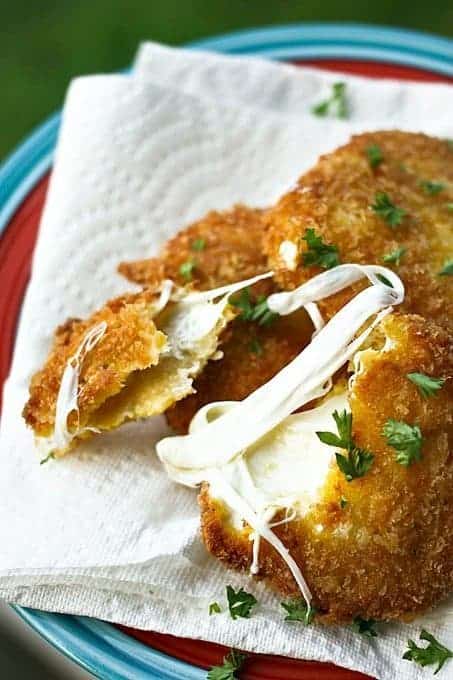 I know, I know! I said the breading process was messy; it is. There is good news, though!
You can -and I highly advise you do- make an enormous amount of these and freeze the uncooked Fresh Mozzarella Steaks. You can transfer them to a zipper seal bag and keep them deep-frozen for up to 3 months without a deterioration in quality.
In fact, you'll be freezing them before cooking them anyway to keep the cheese from exploding forth from the crispy, crunchy breading during the frying process, so you may as well do more than you'll need for one sitting.
Why would you want a freezer full of ready-to-go Crispy, Gooey, Fresh Mozzarella Steaks? For starters, you would be mere minutes away from a (LITERALLY) cheese steak dinner at any given moment. There is another reason, though.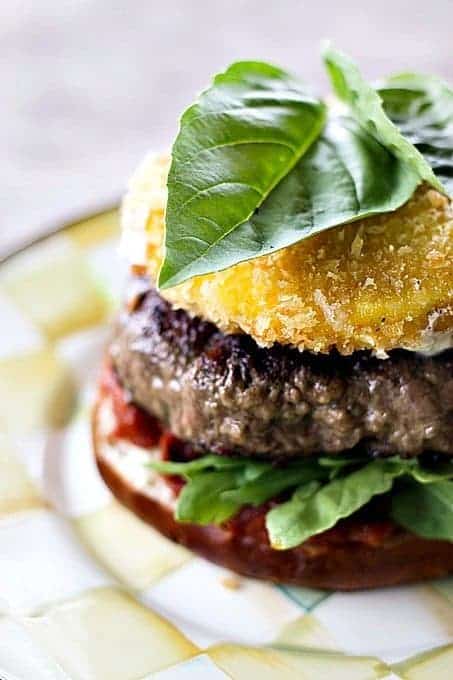 Maybe later this week I will share a recipe using Crispy, Gooey Fresh Mozzarella Steaks that looks something like THIS and you wouldn't want to have to wait for breaded cheese steaks to freeze to go here, would you?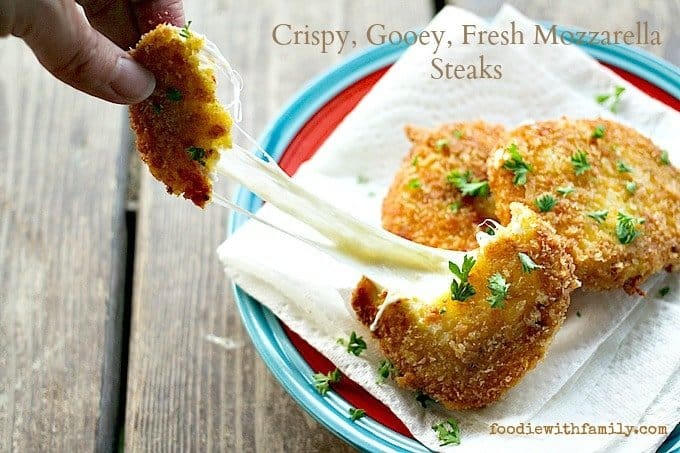 Fried Mozzarella Steaks
It's best if you bread and freeze your cheese steaks at least 24 hours in advance of when you'd like to serve them. This is because you want to crisp up the breading on the outside without getting the cheese so hot that it will explode out of the breading.
Your best insurance against that sad possibility is making sure the cheese is frozen rock solid when it goes into the hot pan or oil. The cheese should melt to perfection just at the same point the outside crust is a wondrous shade of golden brown.
There's no getting around it; the breading process will be messy. The best way to keep it from taking over your kitchen is to organize yourself before you start breading.
First, line the pan on which you intend to freeze them with parchment, waxed paper, or a silpat. Second, pour the flour into a cake pan or pie plate and season it.
Third, add your panko crumbs to another cake pan or pie plate. Fourth, stir together your egg and milk with a fork.
Lay everything out in this order: cutting board with cheese on it, flour plate, egg/milk plate, panko plate, lined pan.
To bread the cheese steaks, you'll dip them in flour, shake off the excess, dunk to coat in the egg/milk mixture and let the excess drip away, roll in the panko crumbs and let the extras drop off, then repeat the process before laying the twice-breaded cheese steak on the lined pan. This is your second insurance policy against cheese escaping the breading into the oil.
Place the pan with the breaded cheese steaks in the freezer and let them solidify at least 8 hours, but preferably overnight. When they're hard as a rock, you can either fry them or transfer them to a labeled, zipper topped bag for up to 3 months, cooking only as many as you want at a time.
I think it probably goes without saying, but don't crowd the pan when you cook them. Because they are frozen, they will lower the temperature of the oil when they go in and you want the oil to recover as quickly as possible.
Besides that, it's just harder to flip them gently when you fry them if the pan is crowded, increasing your likelihood of breaking the beautiful brown things open before their time.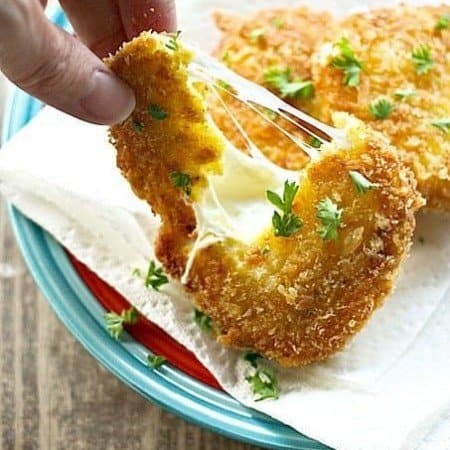 Stick your fork into one of these and enjoy the full sensory experience: the crispy crackling, the aroma of fried mozzarella, and the infinite string-pull as you gather your bite.

Ingredients
2

balls fresh mozzarella

1

cup

all-purpose flour

2

teaspoons

kosher salt

divided

3/4

teaspoon

dried parsley flakes

1/2

teaspoon

granulated garlic

1/2

teaspoon

granulated onion

1/2

teaspoon

Italian seasoning

2

cups

plain panko bread crumbs

4

eggs

1/4

cup

milk
To Fry the Steaks:
oil for deep frying or pan frying
Instructions
To Prepare the Fresh Mozzarella Steaks:
Slice the mozzarella balls into 1/2 to 3/4 inch thick slabs. Set aside. Use a fork to toss the flour, 1 teaspoon of salt, garlic, onion, and Italian seasoning together in a cake pan or pie plate. Set that to the right of the cheese on the cutting board.

Crack the eggs into another cake pan or pie plate, add the milk, and use a fork or whisk to combine the two until they're even in colour. Set that to the right of the flour.

Use another fork to toss together the panko crumbs and remaining 1 teaspoon of salt. Set that to the right of the egg/milk mixture and then set a cookie sheet lined with parchment paper or a silpat to the right of that.

Dredge one slice of the mozzarella through the flour, flipping and making sure the whole thing has been coated. Gently shake off any excess. Dip it into the egg/milk mixture, flipping to coat the whole thing, lift it, and let the excess drip away before dredging it through the panko mixture. Lift the mozzarella slice and gently shake to let any panko crumbs that didn't adhere fall way. Now repeat the process, beginning with the flour, moving to the egg/milk, and finishing with the panko. When the entire cheese steak has been coated twice, lay it on the lined pan and repeat with the remaining cheese slices. Set the pan in the freezer at least 8 hours, but preferably 24 hours before serving. After they're frozen solid, they can be transferred to a zipper top freezer bag and stored for up to 3 months without any loss of quality.
To Deep-Fry the Crispy, Gooey Fresh Mozzarella Steaks:
Preheat oil to 345°F. Carefully lower 2 or 3 mozzarella steaks into the oil. If there are any ice crystals on the steaks, they may sputter as they're lowered into the oil. Fry for 3 minutes, or until the outside is a beautiful golden brown. Use a slotted spoon, basket, or tongs to lift the cheese steaks from the hot oil and transfer them to a paper towel lined plate. Let rest for 3 minutes before serving.
To Pan-Fry the Crispy, Gooey Fresh Mozzarella Steaks:
Pour 1/2-inch of oil into a heavy-bottomed, high-sided frying pan over medium-high heat. When the oil looks shimmery, use tongs to carefully lower 2 or 3 steaks into the pan (taking care not to overcrowd them.) Fry for 2 minutes on one side, or until golden brown. Slide a spatula under each steak and use tongs or another spatula to hold the cheese steak against the first spatula while gently turning it over. This should prevent splattering of the oil. Fry the second side for 2 minutes, or until golden brown. Use a spatula or slotted spoon to transfer the fried cheese steak to a paper towel lined plate and let it rest 3 minutes before serving.
Nutrition
Calories:
431
kcal
Carbohydrates:
33
g
Protein:
25
g
Fat:
21
g
Saturated Fat:
11
g
Cholesterol:
169
mg
Sodium:
1442
mg
Potassium:
172
mg
Fiber:
1
g
Sugar:
2
g
Vitamin A:
685
IU
Calcium:
452
mg
Iron:
2.8
mg
Nutritional information is an estimate and provided to you as a courtesy. You should calculate the nutritional information with the actual ingredients used in your recipe using your preferred nutrition calculator.

Originally published August 11, 2014