The last four weeks have been a whirlwind. Ballet intensive combined with book launch, getting a kid ready to send to college, and all sorts of other just-plain-life thrown into the mix have made me question which day of the week it is more than once. And those summer berries are out there taunting me with how short a window of time we have to enjoy them in all of their fleeting glory. While my brain feels like it is treading water to stay afloat, I have managed to capture strawberries' brief splendid freshness in our favourite freezer jam. I have a box of cherries that are staring at me accusingly whenever I rifle through them to stuff a handful in my mouth then machine gun the pits into the front yard. Some will spend a little rest time in the freezer, some will become Cherries Preserved in Red Wine Syrup from "Not Your Mama's Canning Book", and some will make their way into Cherry Habanero Lime Jam. Thank heavens for small mercies that blueberries and corn are hanging on until the ballet intensive is over. Corn Relish and Blueberry Syrup will be ours. Oh yes, they will. In the meantime, small amounts of blueberries and blackberries crossing my threshold will be nibbled out of hand and turned into irresistible offerings like this Berry Skillet Cake.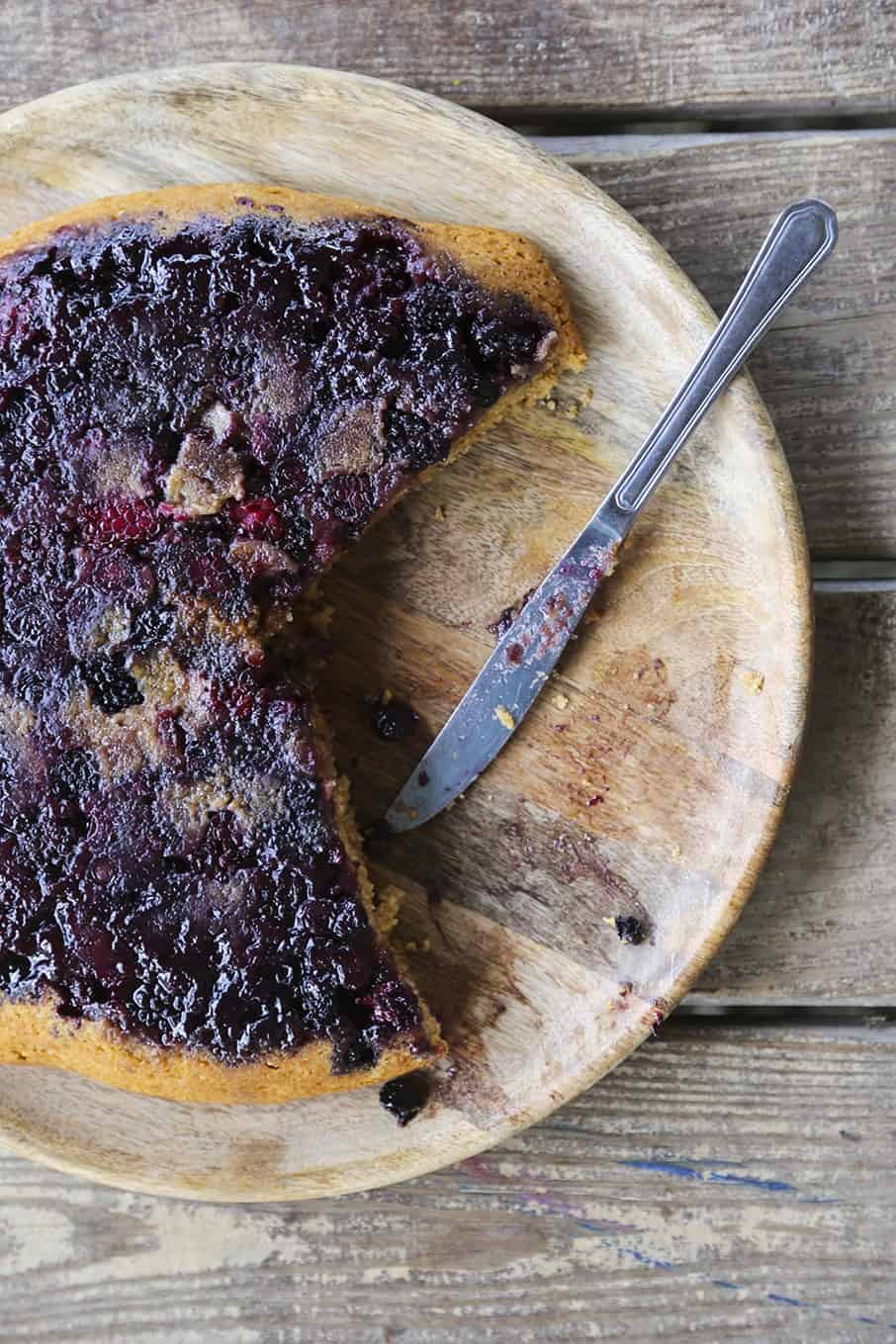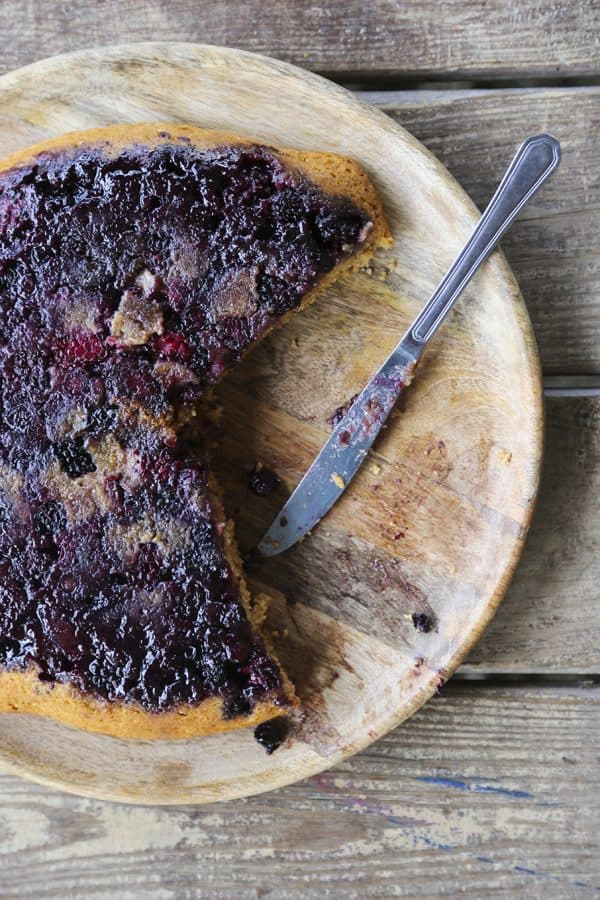 This beautiful, jewel-toned Berry Skillet Cake defies convention in so many ways. Unlike most made-from-scratch cakes, Berry Skillet Cake is unfussy, simple to prepare, fast to bake, and (interestingly) as good vegan offerings like coconut oil and almond milk as it is with traditional butter and milk. Really. The vegan cake and dairy cake are almost indistinguishable from each other. And there are zero eggs in there -odd for a cake, really- but you'd never know it. It is almost impossibly moist; I have no apologies for the word, because I refuse to call a cake damp, humid, watery, dank or clammy.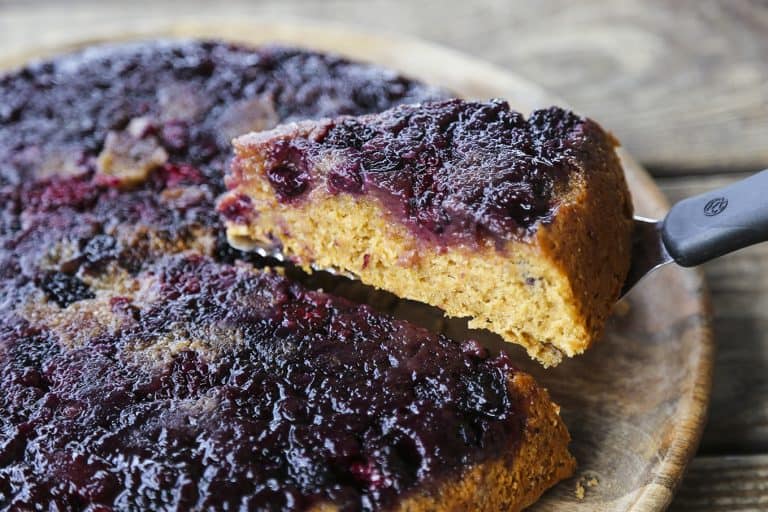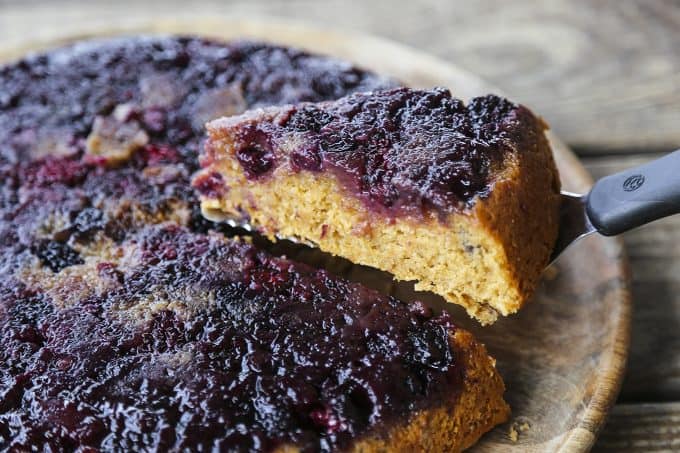 Cook's Notes
Berry Skillet Cake is the perfect use for that handful-of-this-handful-of-that scattering of berries you have languishing in the refrigerator. My preference is to cover the bottom of my pan with half blackberries and half blueberries, but I'll happily toss a few raspberries in there, too. The short version of this is to use whichever fabulous berries you have lurking about your house.
I've said it before and I'll say it again. Sucanat. It's short for

Sucre de canne naturel

. Yep. I know, it sounds like a high-falutin' French ingredient unless you grew up in a household with hippie parents (ahem) and/or you're into health food. Don't let the health food associations fool you, though, it's ridiculously delicious with front notes of caramel and molasses. Once you've tried it, you'll try to find ways to slide it into food as often as you can. It makes sugar seem insipid. That being said, if you can't find it/won't order it, you can sub in an equal volume of granulated sugar or raw sugar.
I am not kidding about butter vs. coconut oil and cow milk vs. almond/coconut/soy milk. Any of them will work in any combination in Berry Skillet Cake. Go with what makes you smile.
I have an enormous amount of love for my Le Creuset skillet that I use to bake this Berry Skillet Cake. If you'd like to buy one, here's a link. If you don't have that in the budget, use a 10 or 12 inch cast-iron skillet.
Generously grease the skillet with softened butter or coconut oil; either works well. Just slather it on with abandon and make sure you don't forget to get all of the way up the sides, too.
You're looking to cover the base of your skillet with berries with just a few bits of sugar peeking out. In my skillet, this takes about 3/4 cup of blackberries and 3/4 of a cup of blueberries. If you need to toss a few extra berries in there to fill in large blank spaces, do so.
I dollop large spoonfuls of the cake batter over the berries so that it is easier to spread it to the edges of the pan without smashing the berries in the process.
Check your cake at the 35 minute mark. It should appear golden brown. If a knife, skewer, or toothpick inserted near the center comes out clean of uncooked cake batter (but with some berry juice on it), it is done. If you need to, pop it back in the oven, checking after another 5 minutes for doneness. Let it cool at least 10 minutes before running a knife around the edge then laying a platter over the skillet and inverting it.
Of course, you have to know that a Berry Skillet Cake is perfect all on its own, but if you feel inclined to gild the lily by easing a scoop of vanilla bean ice cream on top, you should know you won't regret it in any way.
Storing Berry Skillet Cake is, well, a piece of cake. Room temp and an airtight food storage container or a sheet of plastic wrap will do everything that is necessary to keep it fresh for up to 5 days. I can almost guarantee you won't have it for 5 days, though. If you're in our house, it'll be gone in less than 24 hours.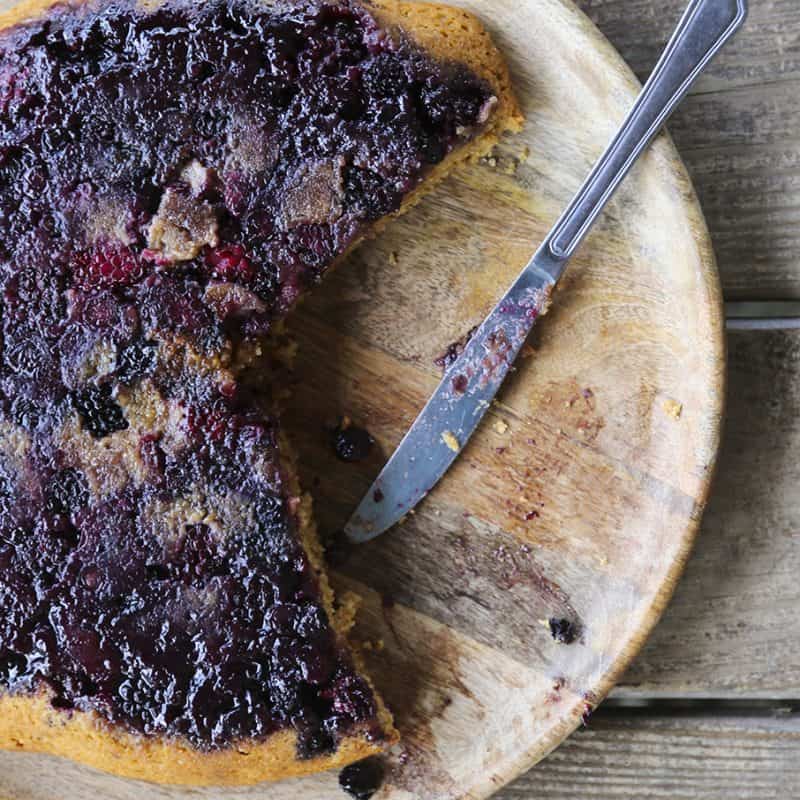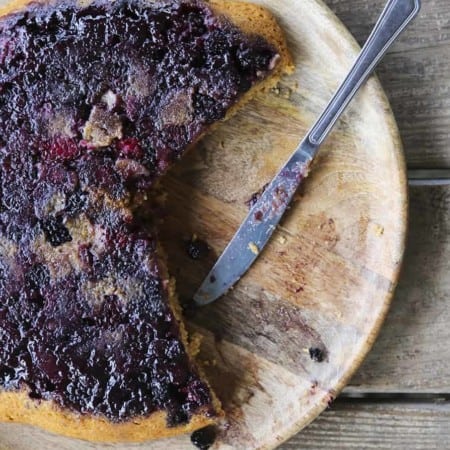 This tender, jewel-toned, just-sweet-enough cake featuring the glory of summer berries is as delicious as it is easy to make.
Ingredients
2/3

cup

raw or standard granulated sugar

1/2

teaspoon

ground cardamom

1 1/2

cups

fresh berries like blueberries

blackberries, and raspberries

4

cups

all-purpose flour

1 pound 1 ounce by weight

2

cups

sucanat

can substitute granulated sugar if necessary

4

teaspoons

baking powder

2

teaspoons

kosher salt

1 3/4

cups

unsweetened almond milk or whole milk

1

tablespoon

pure vanilla extract

1/2

cup

extra virgin coconut oil or butter

melted, plus extra for the pan
Instructions
Preheat oven to 350F.

Generously grease the bottom and sides of a heavy 10 to 12-inch cast-iron skillet with extra virgin coconut oil or softened butter. In a small bowl, use a fork to toss together the raw sugar and cardamom. Sprinkle it evenly over the bottom of the greased pan. Arrange the berries evenly over the top of the sugar.

In a medium sized mixing bowl, whisk together the flour, sucanat, baking powder, and kosher salt. In a separate bowl, whisk together the almond milk or whole milk, coconut oil or butter, and vanilla extract. Pour into the flour mixture and use a silicone spatula or wooden spoon to stir the two mixtures together until no dry pockets remain. Scoop in dollops over the berries and gently spread toward the edges to level. Bake for 35 to 38 minutes, or until the top has browned a bit and a toothpick inserted in the center comes out clean. Let the cake cool for 10 minutes on the stovetop.

To transfer to a plate or cake stand, run a thin knife or spatula around the inside of the pan. Invert a plate or cake stand that is larger than the circumference of the pan over it. Carefully hold the plate to the pan as you invert the whole shebang. The cake should come out of the pan easily, but if it needs a little encouragement, smack the back of the pan firmly with your hand a couple of times. Carefully remove the pan. Serve warm, room temperature, or cool. Leftovers can be stored tightly wrapped at room temperature for up to 5 days.
Nutritional information is an estimate and provided to you as a courtesy. You should calculate the nutritional information with the actual ingredients used in your recipe using your preferred nutrition calculator.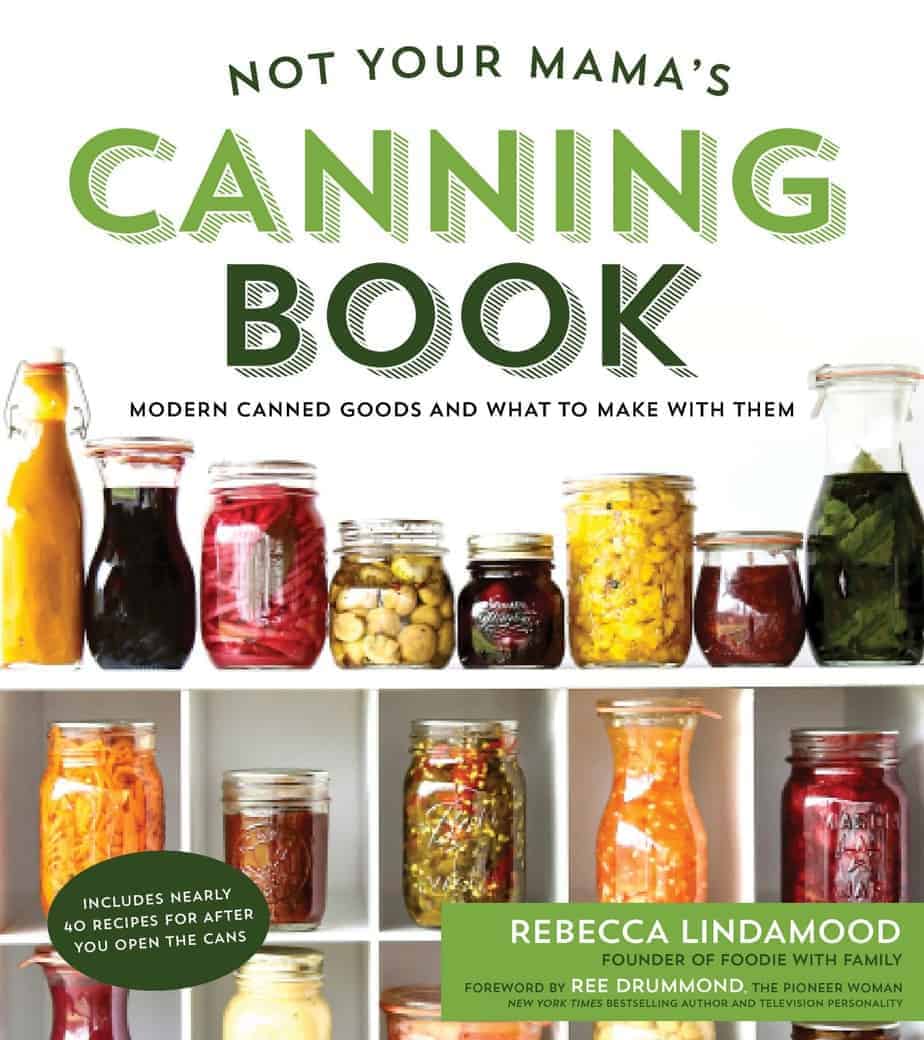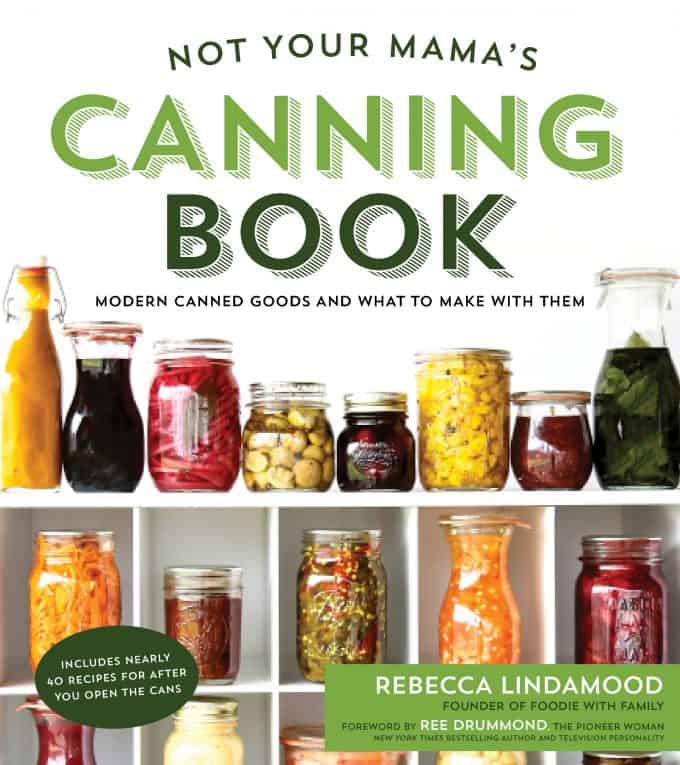 Not Your Mama's Canning Book: Modern Canned Goods and What to Make with Them is available to order through these fine retailers!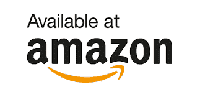 Save
Save