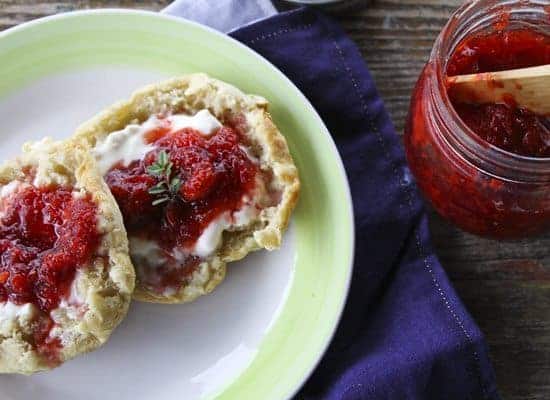 When I was small, my mom made strawberry freezer jam every year during Michigan's brief and glorious strawberry season.
It was my mom's thing: her annual food preservation pièce de résistance. She scattered packets and boxes of pectin thither and yon, she mashed berries with the bottoms of drinking glasses, her potato masher, and anything else she could fit into her bowl. Her blonde hair had strawberry streaks, her hands were fuchsia , and she smelled like a strawberry patch for days on end. True to her style, she never measured (measuring was a creativity killer and the man's way of keeping her down*) but somehow it always turned out to be the best thing we had eaten all year.
*Power to the people! Or Up with the People! Oh, geez. I can never get that right. I'm sorry, Mom.

I played around with cooked jam over the years, but it never drew close to the juicy, soft-set, fresh-from-the-field taste of strawberry freezer jam. Is it because of my formative years and my mom's painting the kitchen with strawberries? Oh, probably…
I want my kids to have that same memory when they're adults. The full sensory memory of watching their mom make jam: smelling, tasting, feeling the ripe strawberries… The anticipation of the flavour when a jar is fetched from the freezer and twisted open… I want them to have a vision of me with strawberry streaks on my cheeks (since my hair is not light enough to show it), fuchsia hands and smelling like a strawberry patch. Of course, their Mama measures obsessively, but every childhood is a little different, isn't it? At least I got the important stuff in there.
…And my jam, well, now it has two crucial ingredients that my Mom didn't put in hers. Balsamic vinegar and fresh thyme.
I know it might sound bizarre, but this is the most strawberry-y jam ever. If you can imagine the most fresh, juicy, flavour-packed strawberry you've ever had that is multiplied by about fifteen, you have an idea of what this tastes like.
You may already know that adding balsamic vinegar to strawberries boosts the flavour, but did you know that infusing it with thyme has a similar effect? And when you add balsamic AND thyme, you get knock-you-flat strawberryness. Whizz-bang, ka-pow, shammalammadingdong strawberry power is what Strawberry Balsamic Thyme Freezer Jam is.
I was already a big fan of the strawberry/thyme combination thanks to my good buddy, Krysta over at Evil Chef Mom and the strawberry/balsamic combination thanks to, um, I don't know what. I first read about combining all of them in jam form, though, over on Serious Eats when Lucy Baker made a batch that sounded tantalizing.
When I read Lucy's post, I knew that was going to happen as soon as the sleepy New York strawberries finally burst onto the scene.
A friend brought a whole flat of strawberries my way two days ago and thankfully, I remembered my previous plans. Mercifully. Appreciatively. I am so grateful that I remembered those plans because this is the best strawberry jam I've ever shoveled shamelessly into my mouth by the spoonful.
Best. Strawberry. Jam. Ever.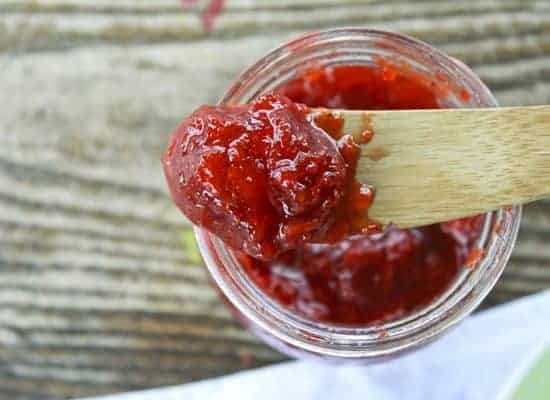 (…except for my Mom's…)
A Note About the Pectin I Use:
Pomona's Universal Pectin is well worth any trouble you have finding it. You can double, triple or quadruple recipes (or more if you have appropriately sized vessels for preparing massive batches of jam) with no ill-effects, unlike most "normal" pectins. It has no funky preservatives, additives, and allows you to make the best jam you've ever eaten with much less sugar than your average pectin (even the low-sugar varieties) or no sugar at all. I'm getting nothing out of this, the Pomona's people don't even know I exist *sniffsniff*. I seriously believe their product is the best and have years worth of experience to back up my claims.
Yes, it looks expensive. I mean honestly, $4-$6 per box? Yipes! But if you break it down, you'll realize that each box has enough pectin powder to make 2-4 batches of jam. That works out to about $3.00 per batch (calculating for liberal use) which is equal to or  better than the most common commercial pectins. When you add the convenience of larger batches to the equal or better price per batch, I think the comparative value makes Pomona's the much better bet.
You can use a standard commercial pectin to make Strawberry Balsamic Thyme Freezer Jam (see recipe notes) if necessary, but I stand by Pomona's!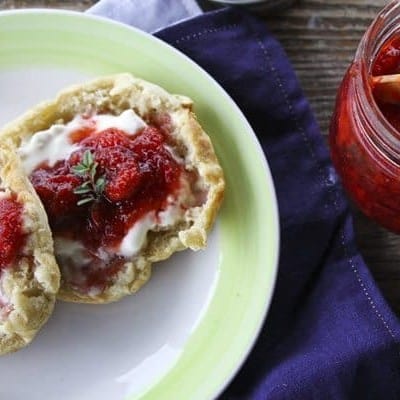 Don't let the complicated name fool you. This freezer jam is pure strawberry. While the balsamic vinegar and thyme may sound wacky, they both simply enhance the explosive natural freshness of strawberries.
Ingredients
4

cups

mashed

hulled strawberries

2

tablespoons

balsamic vinegar

2

tablespoons

fresh lemon juice

¾-2

cups

granulated sugar

1

tablespoon

Pomona's Universal Pectin Powder + ¼ cup Pomona's Calcium Water

*See notes, or more, if necessary.

1

cup

water

3

sprigs fresh thyme
Instructions
Prepare freezer-safe jars or containers with airtight lids that can hold up to 6 cups of jam. (**See Notes)

Stir together sugar, crushed berries, balsamic vinegar, calcium water, and lemon juice in a large mixing bowl. Add sprigs of thyme to water and bring to a boil. Strain and measure ¾ cup into a blender carafe. Sprinkle the pectin powder over the boiling water in the blender and add the lid. Open the vent on the blender lid, cover with a doubled dish towel or wash cloth, and blend on high for 1-2 minutes or until the pectin powder is completely dissolved. Scrape into the berry mixture and stir well.

Pour the pectin water into the berry mixture and stir very well to combine. It should start to gel visibly. If it does not gel (although the gel will be much more soft-set than cooked jam), add 1 teaspoon of calcium water and blend well, repeating if necessary.

Ladle into prepared containers to within ½" of the rims, fix the lids on tightly and freeze immediately.
Notes
*If you can't or don't want to find Pomona's Pectin, you can make your normal freezer jam (following the directions for the pectin you use) but adding 1 tablespoon each of balsamic vinegar and lemon juice per 2 cups of crushed berries along with the amount of sugar specified in the pectin's recipe.. To infuse the jam with thyme flavour, simmer the fresh thyme sprigs with the water and pectin. **You can use Gladware or Rubbermaid containers or canning jars. I prefer to use canning jars with two piece lids.
Nutritional information is an estimate and provided to you as a courtesy. You should calculate the nutritional information with the actual ingredients used in your recipe using your preferred nutrition calculator.