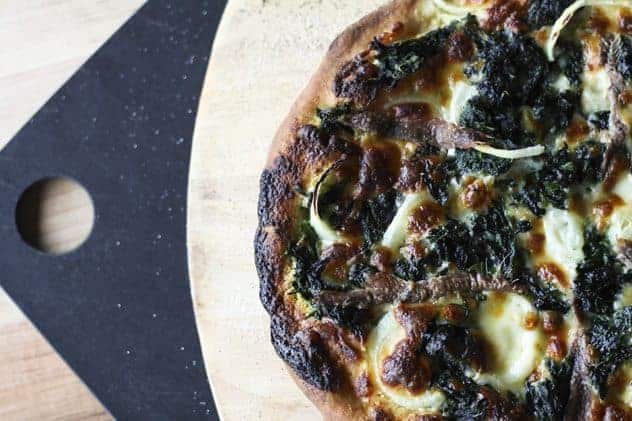 Monday, I declared this week to be Pizza Week. Today is the first pizza in the series. All of these pizzas will use the No-Knead Whole-Wheat Semolina Pizza Dough recipe I posted Monday.
As much as I love a good, plain old pepperoni and cheese pizza, there is something about pizza that makes me wildly experimental. The pizza shell is my canvas and I go all Jackson Pollack on it. Today, I will go all Jackson Pollack on this post. Disjointed. Scattershot. Yeah. Um, stick with me. The pizza is totally worth it.
I've played around with white pizzas over the years but until recently was never blown away by the results. The solution was two-fold.
I found the perfect crust. (See yesterday's post!)
I started using garlic Alfredo sauce instead of olive oil and garlic.
I have to tell you that Alfredo sauce is my six-year old's specialty in the kitchen. Granted, I measure the ingredients into a bowl for him, but he does all the grunt work. He whisks the ingredients together while I work on pizza crusts. We're a well-oiled team. Actually, we're a well-buttered team. The Alfredo sauce is pretty buttery. And creamy. And cheesy. This is mainly due to the fact that Alfredo sauce is made almost entirely of butter, cheese, and eggs with heavy cream thrown in for good measure. Because really, butter, eggs, and cheese aren't rich enough on their own. Oy.
To that rich, velvety, hubba hubba base, we add a touch of garlic, parsley and black pepper. Voila! You have a sauce that makes pizzas sing and pasta weep with joy. It also makes a pretty darned irresistible perfume if you're married to someone like the guy I married!
Speaking of things that my husband can't resist, I must broach the subject of anchovies. Full disclosure: I am an unapologetic anchovy cheerleader. I love them. I adore them. I pink puffy hearts love everything about them. I do know, however, that not everybody is in my camp. If the thought of the hairy, spooky little fish fillets on your pizza skeeves you out, might I suggest that you chop at least one and add it to your Alfredo sauce? You will be shocked -SHOCKED, I say- at the subtle boost the presence of the little fishy adds. If you just can't leap that hurdle, mentally, it's alright. I'm still here for you. I am still going to dangle anchovies proverbially in front of you from time to time until you feel brave enough to try them. That's right. I am big sister to the world.
In short, if you don't like anchovies and onions, don't put them on the pizza.
…And since we're on the subject of dangling things in front of people until they try them, let's talk spinach. My kids –thanks to a friend who fed them spinach in my absence– are pretty keen on spinach. Even two of the founding members of my anti-veg contingent like spinach. Proving the aforementioned friend's theory right again, combining spinach and Alfredo sauce on this pizza is -at least in my imagination- probably what it was like when someone first stuck a chocolate bar in a jar of peanut butter. Heavenly angels singing comes to mind…
We can't forget to talk about the crust! I made many promises about this crust in the post with the dough recipe. I cut the pizza and The Evil Genius swooped in (sans cape) to snatch the first piece after I photographed it.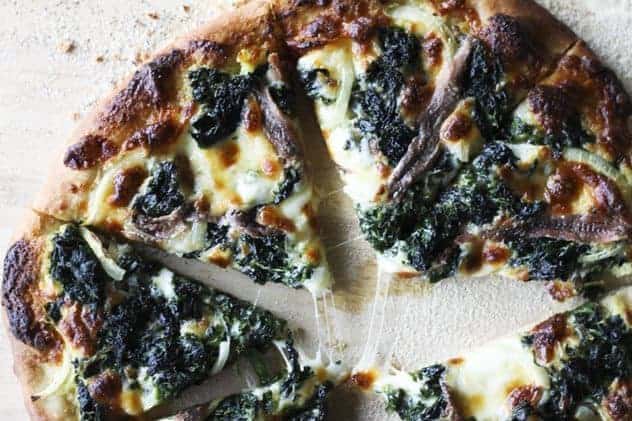 He declared, "You must show them a picture of the bottom of the crust. That's the key! That's how they'll know this is one crust to rule them all." And to further drive his point home, this man -the one who I am convinced wears a hat in order to have something to pull over his face when I aim the camera at him- offered to hold the pizza up (after taking a bite, of course) and let his hand be in the picture. It's a banner day people. I present to you "Perfect Crust in a Manly Hand".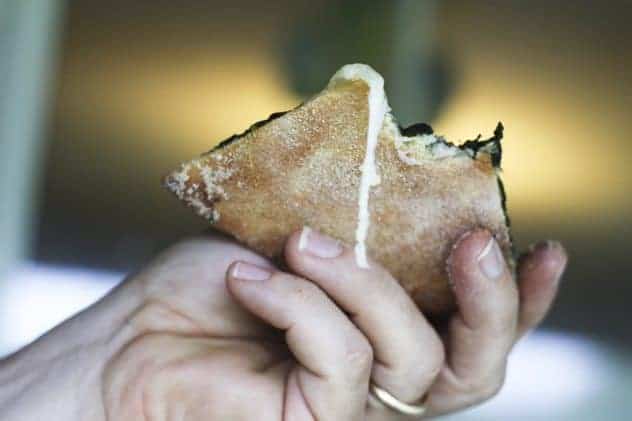 Now let's make a pizza -an AWESOME pizza- together, shall we?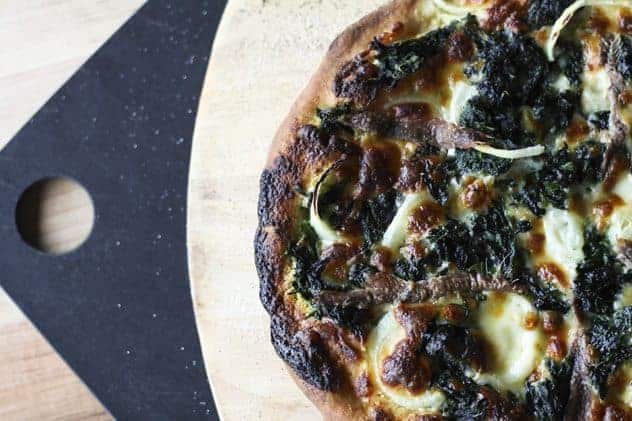 Spinach and Garlic Alfredo Pizza (With or Without Onions and Anchovies)
Rate Recipe
The perfect pizza dough is topped with a creamy, rich Garlic Alfredo, spinach, and mozzarella (and anchovies and onions in our house!) and baked to crackly crisp perfection with little charred bits on the crust and golden brown cheese. This is one white pizza to rule them all!
Ingredients
For the Garlic Alfredo Sauce:
1

cup

8 ounces by weight butter

2 to 2-1/2

cups

grated Parmesan or Romano cheese

or a blend

3/4

cup

heavy cream

2

eggs

1

garlic clove

minced or pressed

1

teaspoon

dried parsley flakes

or 1 tablespoon fresh, minced parsley

freshly ground black pepper

to taste
For the Pizza:
1

piece

about 5 ounces or the size of a large plum, of No-Knead Whole-Wheat Semolina Pizza Dough

1/2

cup

to 2/3 cup of Garlic Alfredo Sauce

1 1/2

cups

shredded part-skim mozzarella cheese

2

cups

of frozen spinach

thawed and squeezed to remove most of the moisture

cornmeal or semolina for the peel

Optional but ever so tasty:

2

1/8 to 1/4-inch thick slices of a peeled onion, cut into half moons.

6

whole anchovy fillets

the packed in olive oil variety, blotted gently
Instructions
To Make the Garlic Alfredo Sauce:
Melt the butter in a microwave safe bowl. Whisk in all additional ingredients and refrigerate -tightly covered- until ready to use. Leftovers should be used within 3 days.
To Make the Pizza:
With a pizza stone situated in the bottom third, preheat the oven as high as you can get it. We use a 500°F setting on our oven.

Lightly flour your work surface. Form your pizza dough into a ball by gently stretching the top of the dough underneath itself. Place the dough on the floured work surface and pat it out gently with your hands into a disc shape until you cannot make it any wider. Flour a rolling pin and gently roll the pizza dough out. This works best if you look at the pizza dough as a clock. Start rolling from the center of the circle toward 12 o'clock, rotate your pin and roll from the center to 3 o'clock, then from the center to 6 o'clock, and so forth, ending back at 12 o'clock. Do this until you have a circle that is about 10-inches in diameter.

Sprinkle a pizza peel generously with semolina flour or cornmeal. Carefully transfer the dough to the peel. Shake gently to be sure no part of the dough sticks. This is crucial. You will be shaking the peel gently after each addition of toppings to make sure the dough can still move freely. If at any point the dough sticks, gently lift the offending area and throw a bunch of semolina or cornmeal under it.

Spread the Garlic Alfredo sauce over the dough to within a 1/2-inch of the edges. Shake the dough to make sure it's not stuck.

Sprinkle most of the grated cheese, reserving about 1/4 cup, over the Garlic Alfredo sauce. Pull off peanut-in-the-shell sized hunks of spinach and dot them over the cheese. If using the onions and anchovies, pull the onions into individual pieces and distribute them and the anchovies evenly over the top. Toss the reserved 1/4 cup of mozzarella cheese over the top. Gently shake the pizza to make sure it's not stuck.

Open your oven, position your peel over the back edge of the pizza stone. Flick your wrist to get the dough moving, pulling the peel back as you transfer the dough to the stone. Shut the oven and let the pizza bake on the stone for 8-10 minutes, or until the crust is the desired colour and the cheese is melted and bubbly with golden brown or charred areas. Slip the peel back under the pizza and give a little jerk to move it safely onto the peel. Transfer the cooked pizza onto a cutting board and let it rest 3-5 minutes before slicing.
Nutritional information is an estimate and provided to you as a courtesy. You should calculate the nutritional information with the actual ingredients used in your recipe using your preferred nutrition calculator.