Bagel Burgers with Dill Pickle Cream Cheese are just one of those things that had to happen eventually. McDonald's in France (or Mac-Do, as they were called when I was living there) has been serving burgers on bagels for years, but I thought it was time for bagels, burgers, cream cheese, and pickles all to come together Stateside in one glorious summer perfect meal. These Bagel Burgers with Dill Pickle Cream Cheese are divine.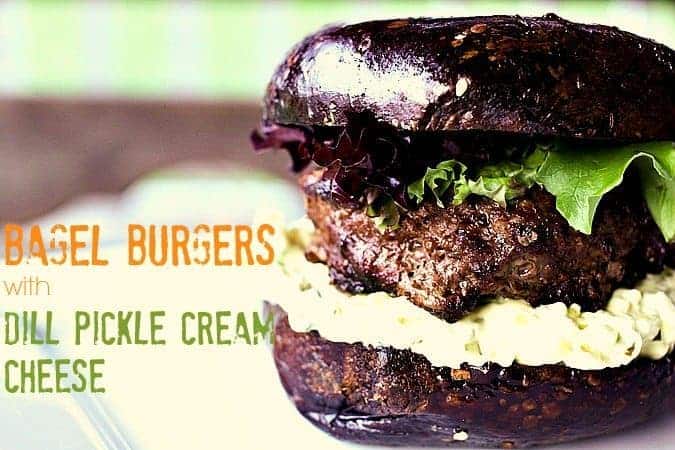 I know. I KNOW. It's not OFFICIALLY summer yet.
By my reckoning, though, any time we have three days in a row that measure over 80°F we are in summer, and around here, summer has arrived. In our house, that means as little cooking IN the house as is humanly possible. The grill is used for as many meals as we can cook on it or adapt to it.
And bread? Yeah… we still need our daily, but we prefer it in a form that doesn't require mama to fire up the oven; by we, I mean me. Enter bagels and tortillas.
I haven't yet figured out a way to make tortillas man up to the job of holding a burger, but bagels? Naturally. They're sturdy, they're round, and they're delicious.
When I went to Manhattan last month, I didn't want to bring my kids some NYC t-shirts or somesuch… I knew my kids would be happier with a bag full of really magnificent bagels. The morning of my departure, I hit a recommended bagel shop and cleaned out their everything and pumpernickel bagel bins.
I called my husband and proudly told him about my purchase. "Oh that sounds delicious, honey, but isn't that going to smell pretty strong on the airplane?" he said.
"Um, maybe? But I'm all in now. I just bought way too many bagels to leave them behind in good conscience." I said, and then hopped into the car that was taking me to the airport.
That's right. This girl stood in LaGuardia International -which has apparently traded almost all seating for iPad tables- for an hour and a half with an extremely fragrant bag of still-warm onion, garlic, poppy and sesame seed bagels.
I was a bit self-conscious about it, so I tried to hold still and not nudge the bag thinking that would prevent the aroma from escaping the top I had folded and cinched with such vigour. I did pretty well until my foot cramped up and I had to take a step…
BUMP… waaaaaaaaaaaaaaaaaaaaaaaaaaaft went the smell. The woman next to me lifted her head and sniffed the air. She turned to her sister and said, "Do you smell, " sniff sniff sniff, "bagels? Everything bagels?" I sheepishly said, "Oh, um. I'm sorry. That's me."
"Don't apologize!" she exclaimed. "You're making me hungry! I wish I'd thought of that!"
Who says New Yorkers are rude?
My thirty-odd bagels made it home just fine (minus the one I devoured on the airplane) and while we can eat a dent in any baker's wares, we still had more than we could consume at breakfasts in short enough order to keep them fresh. We made like Mac-Do in France and bagel-ed our burgers to everyone's satisfaction.
The chewy, sturdy bagels ended up being the perfect vehicle for a beautifully grilled beef burger, and when inspiration struck and we smeared our bagel with our cream cheese based dill pickle dip, everyone was glad I'd braved the potential ire of fellow travelers to bring home our bagel booty.

Bagel Burgers
New York City bagels are indeed amazing, but I'm going to tell ya, don't let a lack of NYC bagels stop you from eating this burger. Any good bakery bagel will do the job admirably. I recommend sticking with everything or pumpernickel for this particular combination, though.
When you make the Dill Pickle Dip, you'll want to make it a touch on the thicker side. The recipe gives directions on how to do this. Oh, and double the recipe… Trust me.
Use whichever lettuce you love best on the burgers. I'm pretty keen on red and green leaf lettuces because it's the perfect texture for me. Whether you love iceberg, romaine, or black-seeded Simpson the best, go for it!
Are you looking for more delicious and economical ground beef recipes? Try out our Ground Beef Fried Rice a.k.a. Cheeseburger Fried Rice as well as our 15 Minute Korean Style Beef and Cheater Sesame Beef.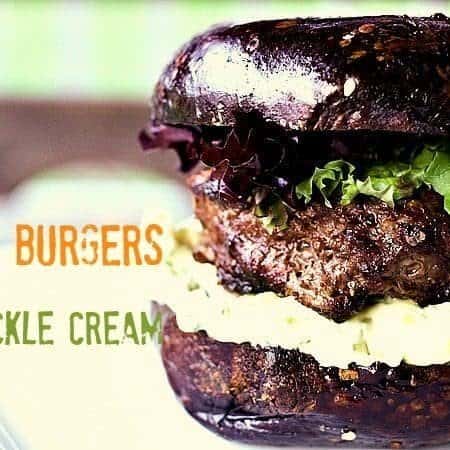 Bagel Burgers with Dill Pickle Cream Cheese
Rate Recipe
Ingredients
Ingredients per burger:
Dill Pickle Dip

Grilled burger patty

1

pumpernickel or everything bagel

split for toasting

Olive oil

Mixed spring greens or lettuce of choice
Instructions
Drizzle olive oil over the cut sides of the bagel. Toast, oiled side down, until the bagel is golden brown. Let it cool for 5 minutes, then assemble your burger by first spreading dill pickle dip generously on the bottom half of the bagel, stacking on a grilled burger patty, handful of greens or lettuce and the top half of the toasted bagel. Eat immediately!
Nutritional information is an estimate and provided to you as a courtesy. You should calculate the nutritional information with the actual ingredients used in your recipe using your preferred nutrition calculator.