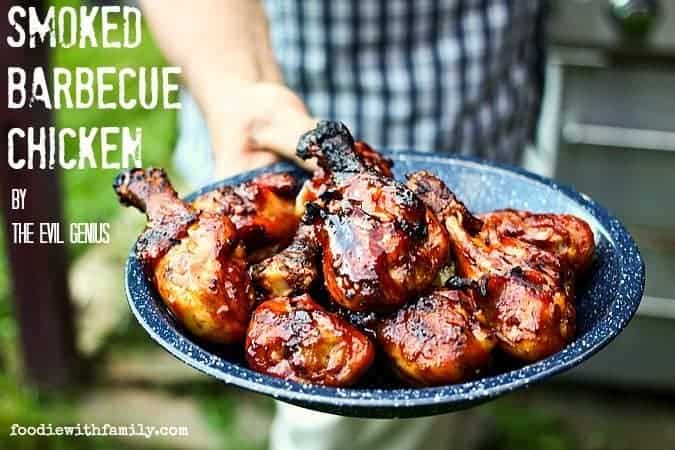 My husband can cook, people.
He is an engineer, so his cooking endeavours often include terms like "matrix", "schematic", "equipment", and "sequence". While the terminology might not be what I would use in the kitchen, his food speaks the universal language of YUM, so I always get excited when he's inspired to make our meal.
Last weekend, he made a run into town for lawn tractor parts and called me after leaving Farm & Family to say, "Hey. Do you have anything planned for dinner tonight? I was thinking of grabbing some chicken and trying something. I think I'll make Smoked Barbecue Chicken. I want to do a two-stage cooking process. I'll start by smoking it to render out some of the fat and infuse it with smoke, then I'll switch it over for stage two and grill it and brush it with sauce until it's done. What do you think?"
I'm no dummy; I said, "Sounds GREAT!"
It's a pure entertainment to watch him work. He's one part Nutty Professor with seasoning salt flying like flubber and one part Emperor Palpatine tapping his finger tips together with a  "Good. GOOD. It's all going according to plan!".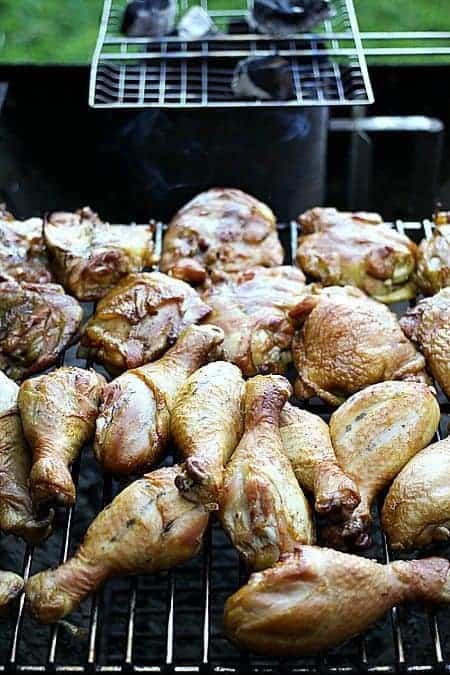 Exhibit A: Stage one of his two stages. This is our charcoal grill. He removed the grate on the far end of the grill to make room for his chimney starter with a grill basket positioned over it to hold wood chunks. The idea was that the chimney starter would hold the hot coals to one side, directing the heat upward and toward the soaked hardwood chunks generating a large amount of smoke. After about two hours -when the skin had become golden and the fat was running from under it- he switched it over to a low gas grill. He let it go for about a half an hour, flipping from time to time and watching it to avoid flare-ups from the fat running off of the chicken. Then he began his 'sequence' of brushing on the sauce working from one end of the grill to the other, then flipping each piece and starting again. He continued this until each piece had been lacquered to sticky, tangy, mahogany perfection. Of course, he used his father's barbecue sauce: The Evil Genius Sr.'s Slathering Barbecue Sauce.
The result is a tender, smoky chicken that is perfectly smoky, sticky, tangy, sweet, and ever so slightly spicy. It's the kind you just keep eating so you can keep having the taste in your mouth.

Cook's Notes:
Use a chimney starter with a wooden or metal handle. You don't want to infuse your chicken with the aroma of melting plastic!
While we own and used both a gas and a charcoal grill for this process, it's absolutely unnecessary. One grill will do the job as long as your chimney starter can sit down in there and the grill can still close.
You do not need to maintain constant vigilance over the chicken while it's smoking; just make your way back from time to time to rotate the chicken so that all of it has an equal time near the heat source (chimney starter.)
Do NOT walk away from the chicken once you've started the second stage of cooking. Because you've made the fat melt on the chicken with the smoking process, it's likely to flare up when you put it over a flame or coals, no matter how low they are. You need to be on stand-by. And when you start brushing the sauce on the chicken, you'll be brushing and flipping and repeating that constantly for 10 minutes, or until it's done.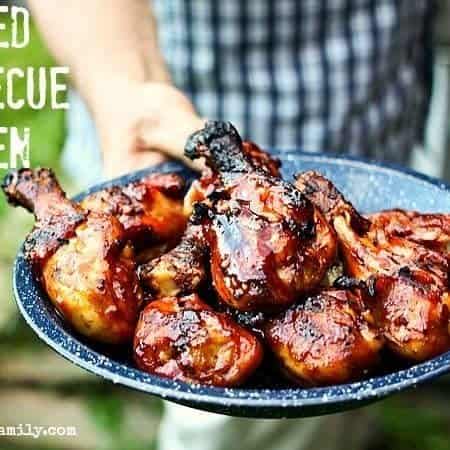 Ingredients
Ingredients needed:
bone-in

skin-on chicken thighs or drumsticks, or a combination of both

seasoning salt

barbecue sauce
Equipment needed:
chimney style charcoal starter that does NOT have a meltable handle

lump charcoal or briquettes

grill basket top half or a small toaster oven rack

chunks of hickory

be sure the chunks are large enough that they will not fall through the rack you use., mesquite, or apple wood, soaked in water for several minutes

a large gas or charcoal grill

or both!
Instructions
Sprinkle the chicken pieces moderately on all sides with seasoning salt. Set aside.
To Smoke the Chicken:
Set the charcoal starter to the side in an unheated grill and close the lid to be sure you can. If necessary, remove one grill rack from the grill so it can set down further into the grill and the lid can close completely. Fill the chimney starter half full with lump or briquette charcoal. Wad the underside of the chimney starter with a paper grocery bag and light it. Put it in the grill in the place you determined would be best. Let the charcoal turn glowing and white before placing the rack on top and positioning the soaked wood chunks over it.

Arrange the chicken pieces on the grill to the side of the chimney starter without touching it and close the grill. The smoke stack on the grill should be about 3/4 closed. Open the grill and rotate the chicken pieces every 20 minutes to ensure that each one receives equal smoke, smoking for a total of 2 hours. If you find your hardwood chunks deplete too quickly, you can add another in the process. We did not need to do so.

If you are lucky enough to have a separate grill, heat it to low now. If you only have the one grill, remove the chicken and heat it to low or build a bed of low coals in the grill. Place the chicken on the racks and grill for 20 minutes, flipping as necessary to stop flare-ups from the fat that rendered out while smoking. After 20 minutes,work in a sequence and brush with your favourite barbecue sauce. Immediately after brushing all the pieces, flip the chicken and begin your sequence again, brushing each piece. Continue the flip-and-brush sequence for 10 minutes, until you have a thick, sticky layer of caramelized sauce. When it reaches this stage, quickly transfer from the grill to a serving plate.
Nutritional information is an estimate and provided to you as a courtesy. You should calculate the nutritional information with the actual ingredients used in your recipe using your preferred nutrition calculator.