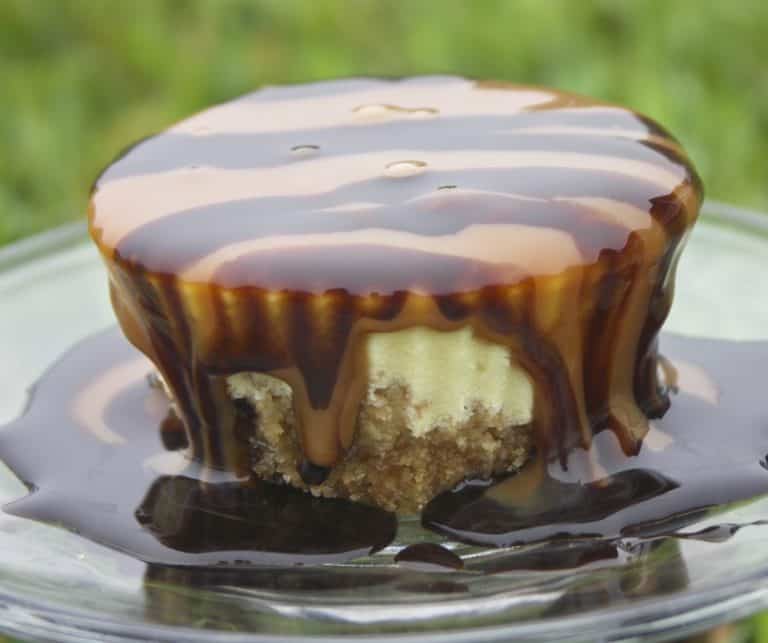 I have to tell you all something  (which might surprise some but not all of you.)  I make cheesecakes professionally. Yep. I bake and sell cheesecakes. Caramel Apple cheesecake, Dark Chocolate Cheesecake topped with Raspberry Coulis, Dark Chocolate with Crystallized Ginger and Rum Sauce, Plain, New York and Homestyle; I make them all. And they're great. But they shouldn't be. You see, I perfected my cheesecake recipe with zero pastry training. I didn't know that what I was doing shouldn't work on any level. But wondrously, it does. It works beautifully. In fact, it makes what my customers and repeat-customer/addicts tell me is the best cheesecake they've ever had. My recipe yields the silkiest, smoothest, most melt-in-your mouth cheesecake you could possibly imagine. And the key to a sublime cheesecake is simple.
I break just about every rule there is for cheesecakes. Pre-bake the crust (if using one)? Puh-leeze. Water bath? Negatory. Treat the cream cheese carefully and don't overwork it? Um, no. 325°F or higher? Perish the thought! I am telling you these shouldn't work. But I'm also telling you that I have made cheesecake lovers out of people who swore they hated cheesecake. Just sayin'…
The recipe I'm sharing today is one that I've made somewhere in the neighborhood of a bazillion times, but on a much larger scale. I make the normal, huge and mondo versions of this cheesecake fairly frequently because it is a great basic cheesecake. It can be served plain (if you can call it that) or topped with everything from chocolate ganache to fresh berries to blueberry sauce to dulce de leche. This particular cheesecake is a fantastic canvas for whatever sweet topper your heart desires. That brings me to one of the great advantages of making it into baby (or individual) sized servings. You can whip up a batch of these in no time* and set the cheesecakes out alongside a topping bar. It's a 'please-them-all' solution when you have a large group with different tastes. The yield here is 22 individual cheesecakes. If you are entertaining, this will be gone in one night. If you are just making it to have cheesecake at your fingertips whenever you wish, you can freeze the leftovers tightly wrapped in plastic wrap then deposited in a zipper top freezer bag. Oh yes. Midnight cheesecake? Tell me that doesn't ding your chimes.
*Yes. You CAN whip up a batch of cheesecake in no time at all. This is a really hard recipe to mess up. You would have to omit an ingredient or three or add offal to really booger this one up. Don't fear the cheesecake. It wants to be your friend. Look at the cheesecake below. Can't you just hear it saying, "Love me!"?

Seriously. Don't think you are incapable of making this. I've had so many people tell me cheesecake was much too complicated for them to make. That's a bunch of hooey. That's what people tell you to convince you to buy their cakes. So yeah. I'm probably shooting myself in the foot by sharing this recipe, but folks, it's just too good not to share.
For a printer friendly, photo-free version of this recipe, click here.
Baby Grand Marnier Cheesecakes
Yield: 22 individual cheesecakes
Ingredients:
1 cup graham cracker crumbs (Throw a bunch of graham crackers in a zipper top bag and whack the tar out of them. They don't have to be perfect. As long as you have most of the crumbs about the texture of rice or smaller, you're good!)
6 Tablespoons butter
1/3 cup  plus 3/4 cup granulated sugar, divided
3 (8 oz.) packages of cream cheese, softened
3 large eggs
4 Tablespoons Grand Marnier (or other orange liqueur)
1 Tablespoon real vanilla extract
Place a rack in the center of the oven. Preheat oven to 300°F. Place an empty metal cake pan (Don't use glass! It may break in this application!) on the floor of the oven.
Put a kettle of water on to boil.
Place butter in a microwave safe bowl.
Microwave on high for 30 seconds or until the butter is melted. Add 1/3 cup of the sugar.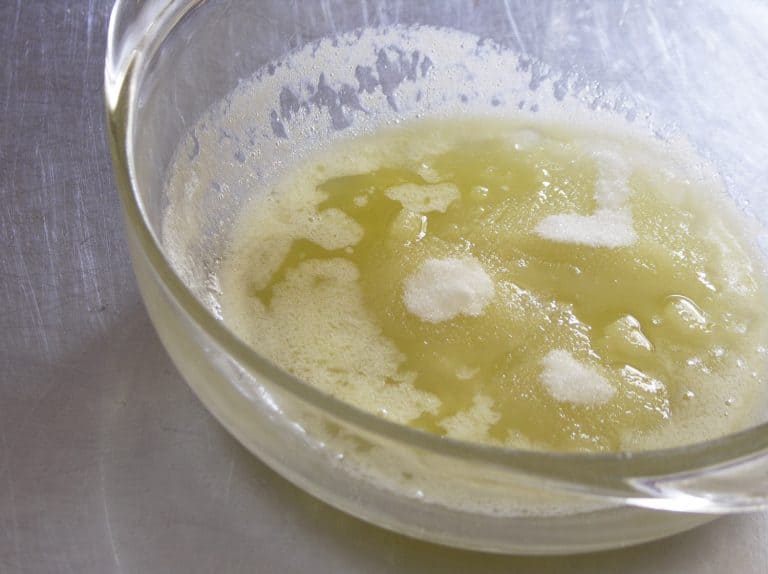 And the graham cracker crumbs to the bowl.
Use a fork to toss the crumbs, butter and sugar together.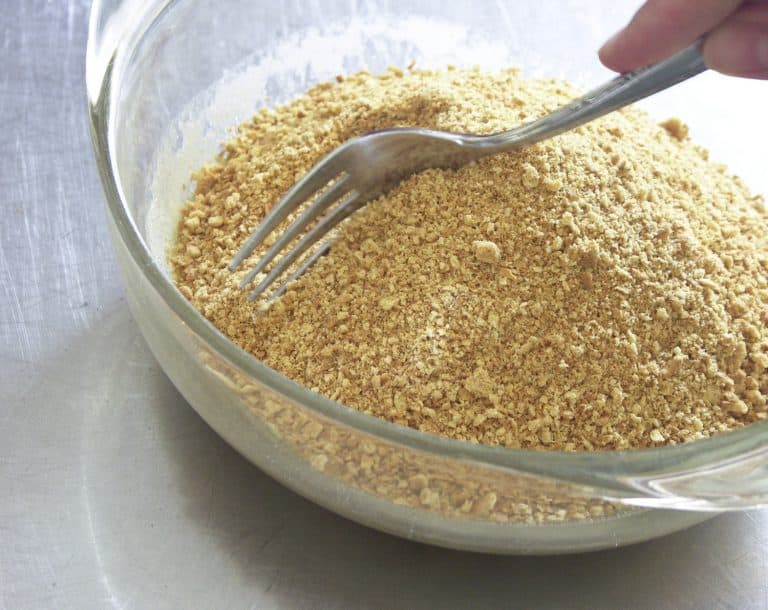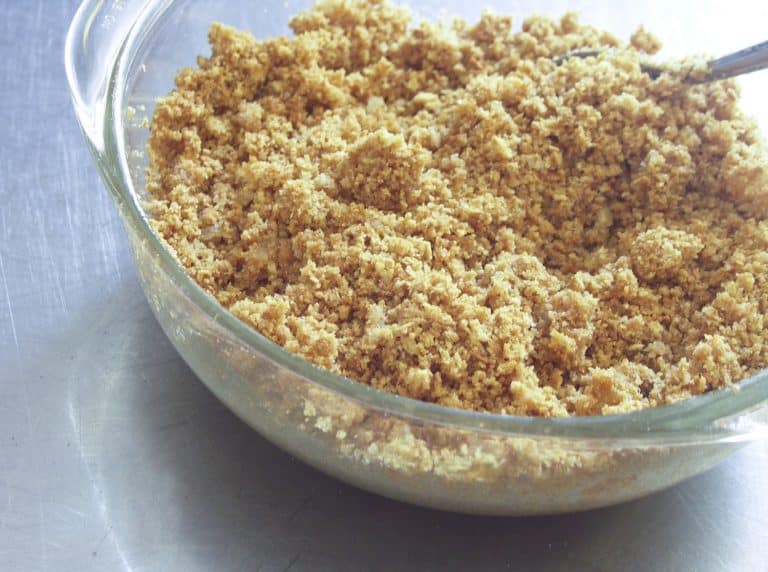 Butter or use non-stick cooking spray to lubricate 22 muffin cups (either metal or silicone. If using metal, line with cupcake papers.)  If using silicone muffin cups, place them on a cookie sheet or sheet pan. Add about 1 Tablespoon of the graham cracker mixture to each muffin cup. Tamp the crumb mixture firmly down so that it holds together. When muffin cups all have a bottom crust layer there may be some crumb mixture remaining. You can store the leftover mixture in a zipper top bag in the freezer. Set the muffin cups aside.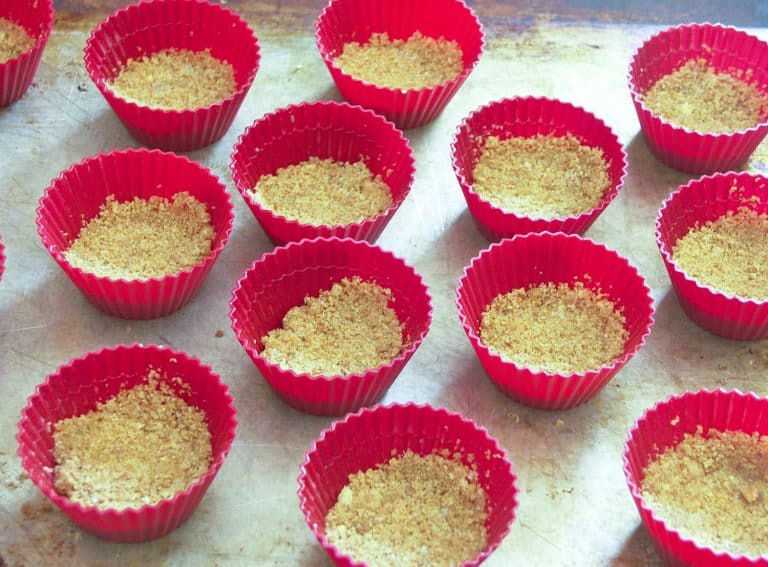 Fit your food processor work bowl with the standard blade. Add remaining ingredients.
Place lid tightly on food processor and process until smooth. Remove lid, scrape down sides and process again for a few more seconds, or until the scrapings are fully incorporated. It should be about the thickness of custard sauce or thick egg nog. The batter will be fairly loose. For a good look at the right consistency for the cheesecake batter, have a gander at this video clip I made with my camera. While it's a decent camera, it's NOT a spectacular video camera, so please excuse the quality of it and my head-cold-induced duck voice.
[youtube]http://www.youtube.com/watch?v=XrP6ERcV-Qs[/youtube]
Evenly divide the batter between the muffin cups. You should fill them nearly to the top (1/8″ headspace around the edge of the cups.)  If bubbles in the finished product would bother you, carefully lift and tap the cookie sheet on the counter top several times then allow to rest for five minutes prior to baking. This allows trapped air to rise to the surface of the batter. Personally? If it's not for a customer a bubble doesn't bother me. I just stuck these straight into the oven.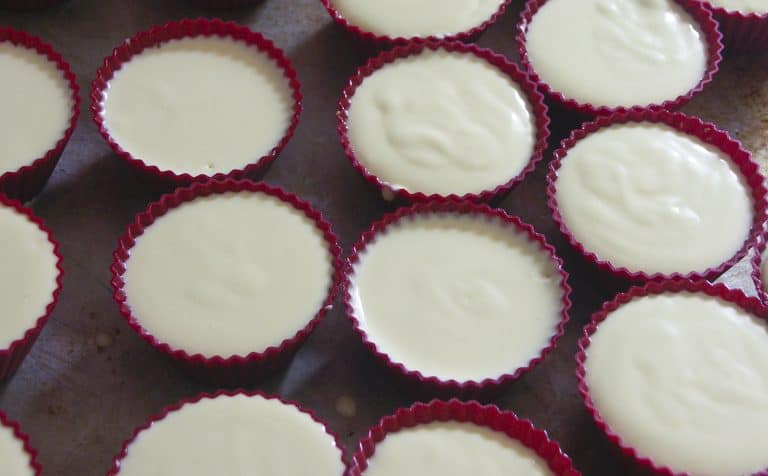 Pour the boiling water into the pan on the floor of the oven carefully. It will steam up! Place the sheet pan or muffin tin on the center rack, close oven door and cook for 18-22 minutes, checking after 15 minutes. Check out this short clip when I checked my cheesecakes at 15 minutes. Again, please forgive the video quality and my squeaky voice.
[youtube]http://www.youtube.com/watch?v=ORz32oe3ODM[/youtube]
The cheesecakes will be done when they still wobble in the center but are set up around the edges. Your cheesecakes should still look wet on top. If it's dry and cracked you've overcooked it. It'll still be edible, just not so silky…
And here is where another short video -one of the finished cheesecakes- would've gone had it been of a sufficient quality to warrant a 12th attempt to upload it to Youtube. But it wasn't. And I gave up. Please forgive me.
Remove from the oven and allow to cool at room temperature for about 45 minutes. Note the wet appearance of the cheesecakes. That is definitely what you want to see!
If using a muffin tin, remove the cheesecake filled papers and place on a plate. If using individual silicone cups, simply place cups on a plate. Cover loosely with plastic wrap and allow to chill thoroughly in the refrigerator for at least 6 hours prior to serving.
To Serve:
Unmold cheesecakes from liners and place on a serving platter accompanied by various toppings such as dulce de leche, chocolate sauce or ganache, diced fresh fruit, fruit coulis or compotes, or serve alone.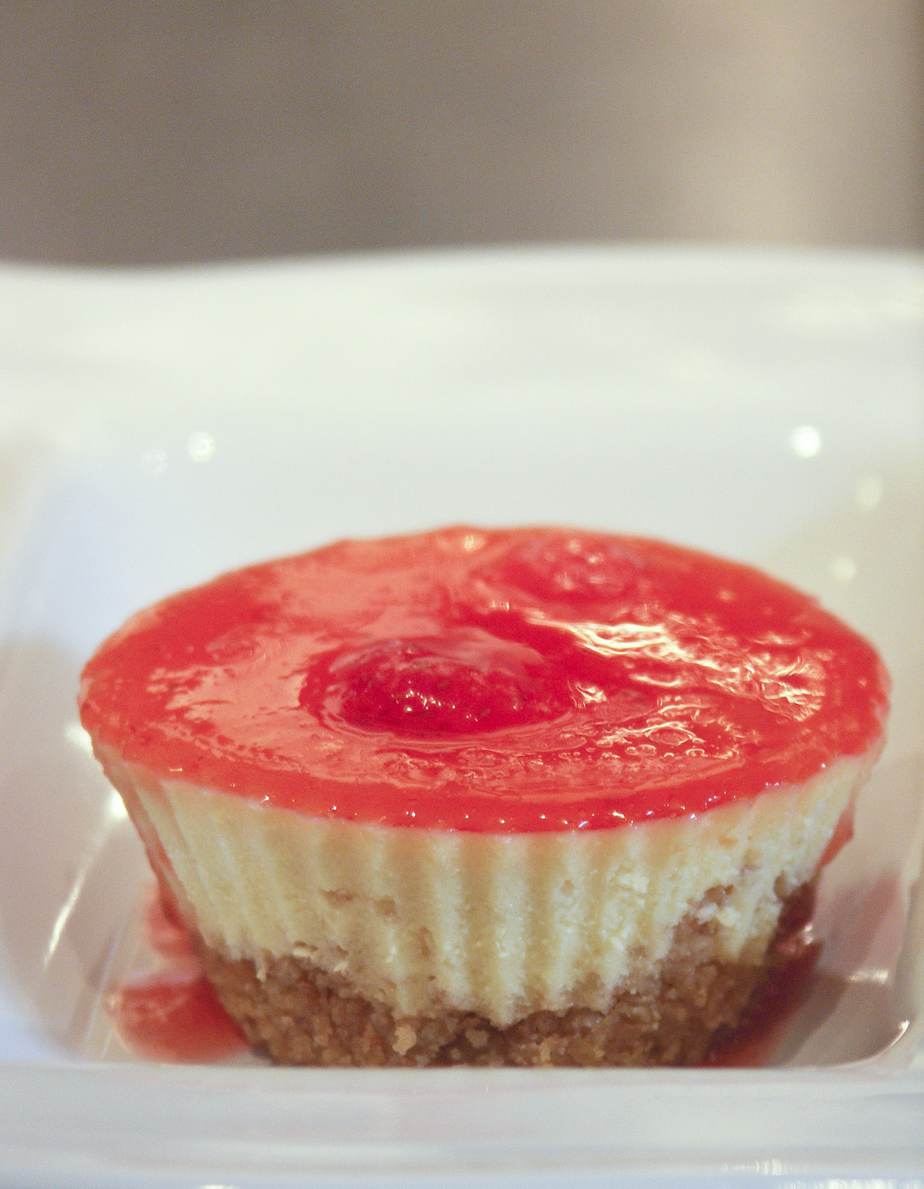 Topped with strawberry freezer jam from Nana.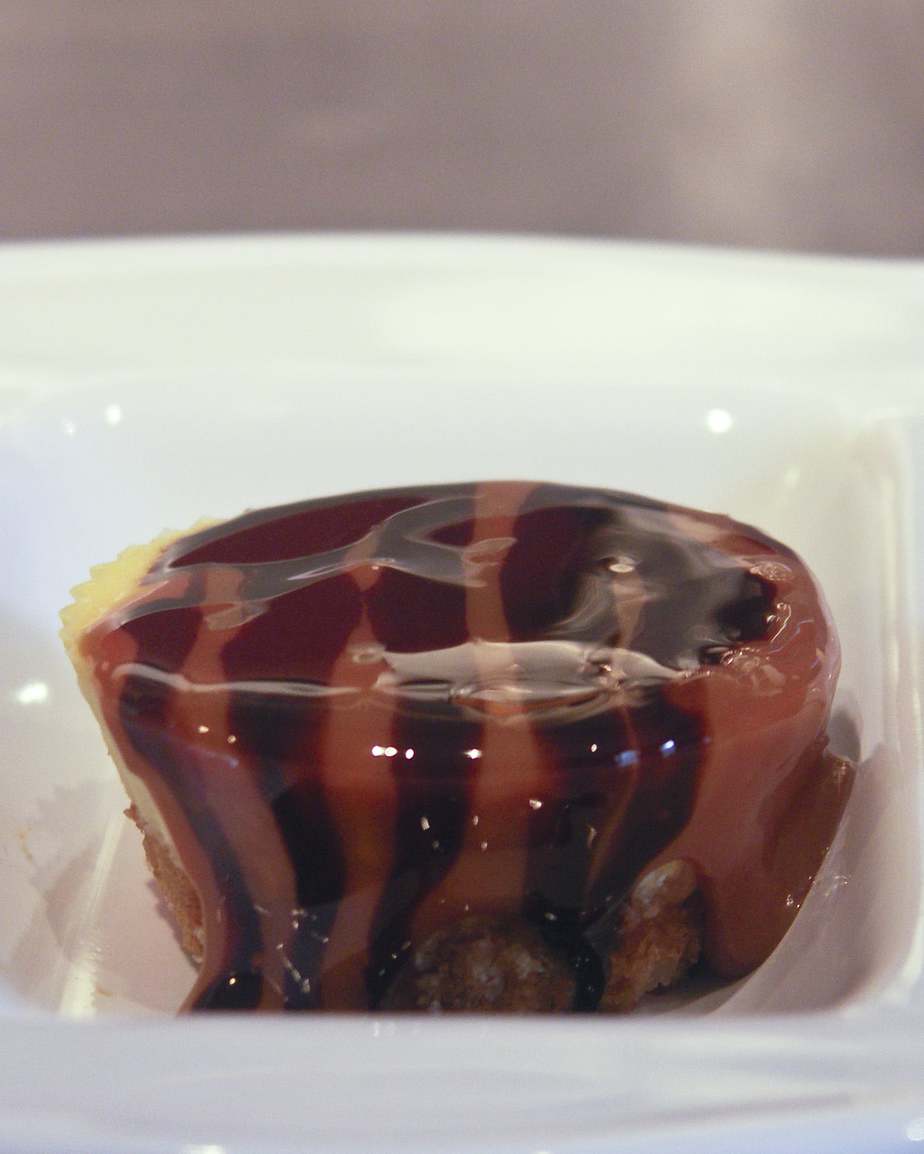 Smothered with dulce de leche and drizzled with warmed hot fudge sauce.
Totally naked cheesecake. THAT'll probably get me some Google hits, eh?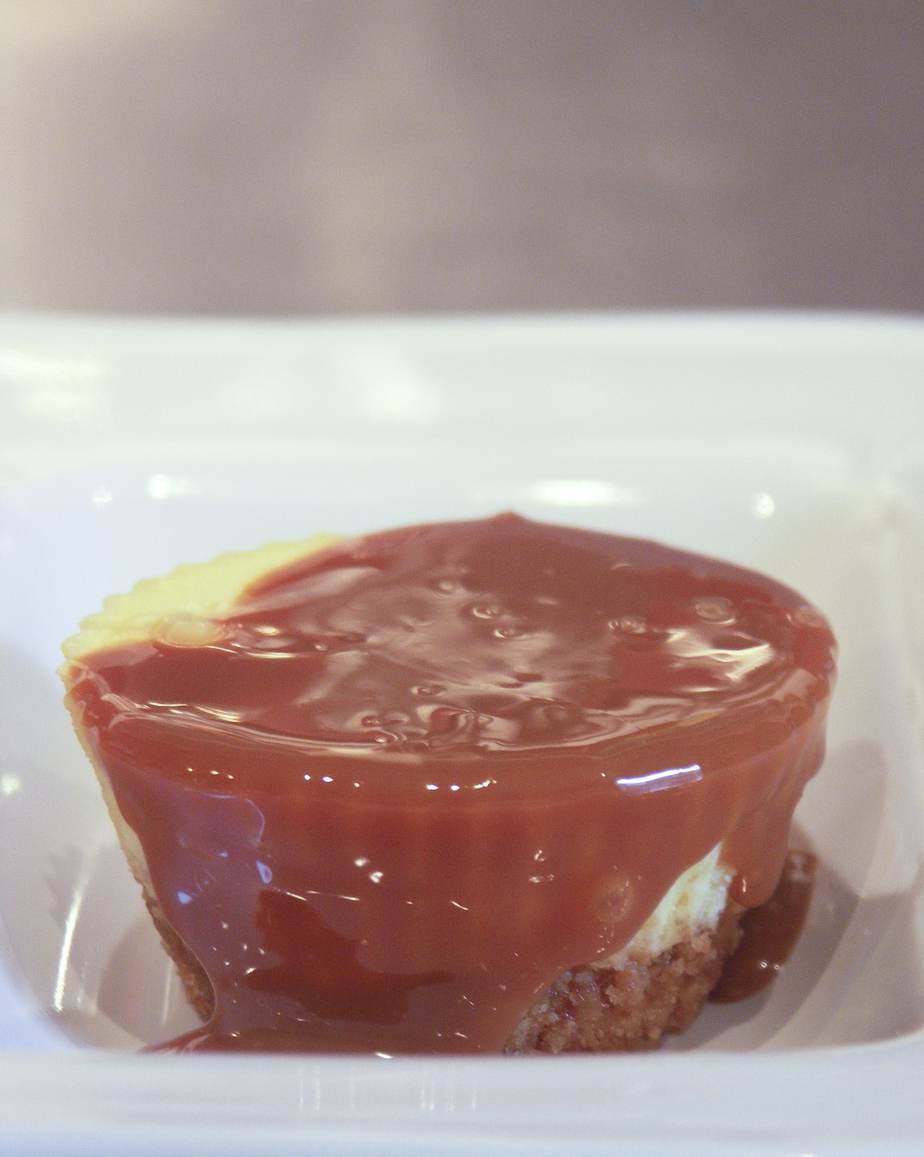 Simply covered with dulce de leche.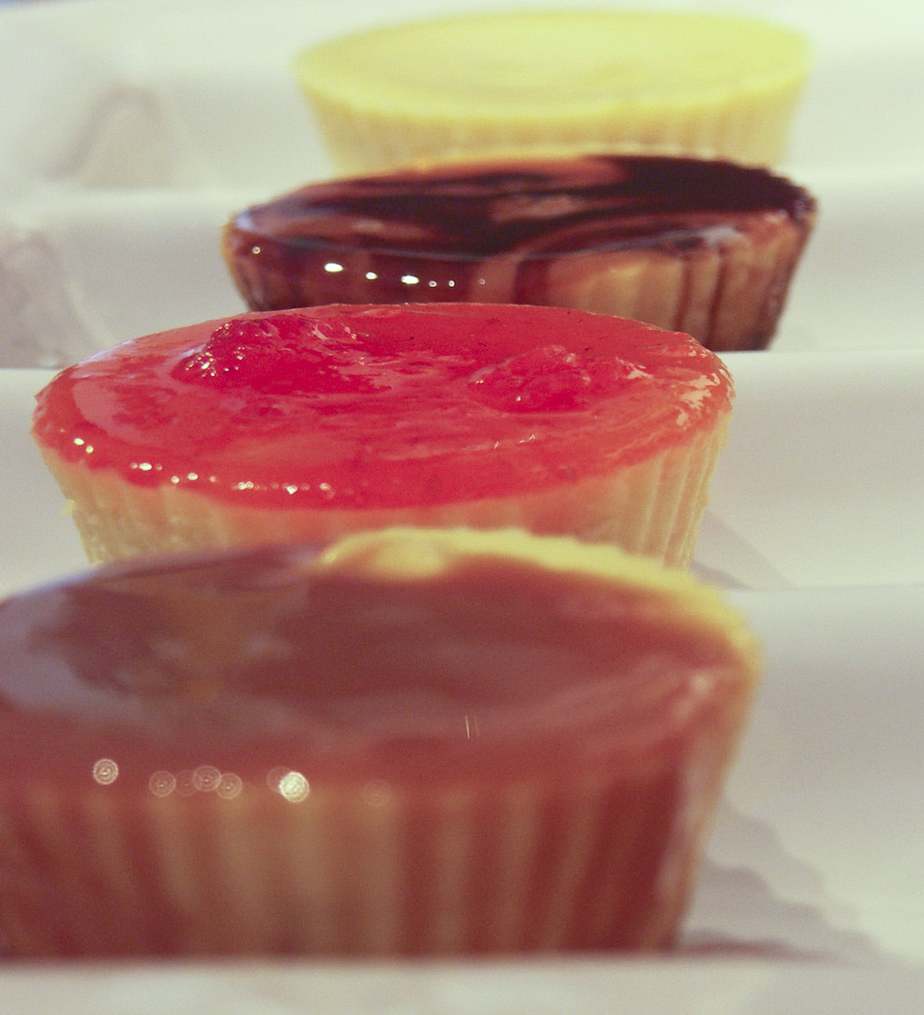 Where to begin? Oh the decisions…
To Freeze Leftovers (if you, unlike me, have some left):
These can be frozen in the silicone cups or in paper cupcake liners or you can remove them first. Either way, wrap securely in plastic wrap and set on a cookie sheet in the freezer. When frozen firmly, transfer individually wrapped cheesecakes into a zipper top bag. Store in the freezer for up to a month. You can safely freeze it beyond that, but after that point quality begins to suffer a bit.
To Serve Previously Frozen Cheesecakes:
Remove from freezer and wrappings. Place on a plate, loosely covered, at room temperature for an hour prior to serving, or in the refrigerator overnight.