We have a winner! And I have my power back! Yes. I was without power for nearly two days. With two stinky dogs, sixteen stinky chicks, five stinky chickens, five stinky kids and two marginally less stinky adults, our power came back none too soon. No power translated to no pump for the well, no lights, and *gasp* no computer. We made due by enjoying each other's company, eeking out our water, making hot dogs on the grill, reading lots of books and playing lots of board games. Not bad, not bad… But I was eager to come back here and announce the winner of the Raspberry Cake Bar Gift Basket that was so kindly offered by our friends at Shelf Reliance/THRIVE. After plugging our comments into the random.org sequencer, we have a winner. Drumroll, please !
(Insert drumroll here.)
Our winner is: Traci! If you're reading this, Traci, please email me with your mailing address and I'll forward it on to the nice folks at Shelf Reliance/THRIVE. And may I just suggest that the rest of you check out their website? I highly recommend their freeze-dried pineapple.

It is officially blueberry season around here and I have blueberries coming out of my ears. Almost literally. I border on obsessed with blueberries. I eagerly watch the local papers and bulletin boards at grocery stores for any clues about when blueberry patches open up. I gear up the boys by repeatedly reading Bruce Degen's "Jamberry". I tantalize everyone's tastebuds with talk of blueberry crumbles, cobblers, ice cream, smoothies, muffins, pancakes, waffles, and dumplings. And for The Evil Genius, I keep mentioning blueberry daiquiris. (What? It's a very manly, evil drink. As evidenced by the fact that he loves them. Hello.)
Last week, while picking up our new baby chicks from the local feed mill, I saw it. IT! The sign saying the blueberry patch was going to open the following Monday;  in three days! I drove home at warp speed. (Well, as 'warp' as you can get in an ancient purple Ford Windstar.) I counted, washed and prepped my pint jars; grabbed backpacks; located all of our Sigg bottles and miraculously found the necessary caps; popped the cooler into the back of the van; and grabbed the checkbook. It took me three days to do this. Have I mentioned I have five kids? And that they're human locusts? They eat everything in their path except for the Legos which I'm pretty certain reproduce asexually whenever I'm not looking. But that's another cup of coffee. Back to the blueberries.
Monday morning, at the crack of 9 a.m. I loaded all the kids into the van. By 10 a.m., I had re-loaded them in the van after feeding them their breakfasts. Whoopsie. I was a little excited to head out there… By 12 p.m., I had them all strapped into their seats. (This had to happen multiple times for some of my children [who shall remain unnamed] who remembered they had to feed the dogs, grab their water bottles from the top of the piano[?], grab a book in case they felt like reading in the patch, and/or 'go potty' after being strapped the first time.) And by 1 p.m., we were on our way. After backtracking to drop off an overdue book at the library, we finally made it to the patch at the bright and early hour of 1:45 p.m. The patch was only open until three. By the time we got down the half mile path to the blueberry patch it was 2 o'clock and we knew we had to haul keister.
I have to brag on my kids for just a minute. They are championship blueberry pickers. They have been trained (very loosely speaking) from a very tender age to pick berries and they are good at it. Each of my boys has visited the berry patch from the time they were in strollers or backpacks. When they were tiny, I carried them on my back to the patch and let them ride along while I picked. When they were old enough to eat solids, I'd position their stroller in a shady spot in front of a berry bush and let them pick and eat while I picked for the freezer and jam jars. The eldest three now pick like maniacs. They fill buckets nearly as quickly as I do. I still win because I'm taller and can reach further into the brush. I don't expect that to last for long, but for now, the bragging rights are still tenuously mine.)  We have a couple traditions we observe. The first berry picked when entering the patch is picked with our teeth; straight from the branch. I promise you've never had a berry that tastes as good as that first sun-warmed blueberry. And as we leave the patch, we each take and eat one blueberry from the last bush on the way out. I'm not sure how we got started doing either of those things, but they're as much of a part of our summer as Independence Day, shorts, sprinklers and corn on the cob.
With buckets tied to our waists, we all threw ourselves into the task and picked 'like the wind'. (That was how Aidan kept exhorting his brothers to work more quickly, "Pick the like the WIND guys! We only have… Wait, Mom? How much longer can we pick?)  Rowan, who picks more like a gentle breeze than the wind, managed half a bucket despite his tiny size and three years of age since, unlike most of his brothers, he doesn't eat his berries as he picks them. Ty observes the inaugural eating-of-the-berry tradition, but that's as far as he'll go with the eating. He lost a few when he 'accidentally' threw them at the back of Aidan's head, but he assured me they were the squishy berries and he would "never, EVER throw a good berry!" and still filled his bucket. Aidan and Liam each filled a bucket. Leif might have, but he surely ate ten berries to every one that landed in his pail. I filled two buckets and gathered the troops for our weigh in at the scales. When the final tally was in, we had managed to pick twenty-three pounds in a little under an hour. As we headed back for the trail to get our bounty to the van, the owner told us that he expected it to be a very short season, so we should get all our picking done in the next couple days. We had put a twenty-three pound dent in our usual ninety-pound goal, so we felt pretty good.
Driving home, an involuntary "Booyah!" and fist pump escaped me. Where did THAT come from? My inner super jock? I'm not a 'booyah' kind of girl. I'm more of a "Heck, yes!" type. Blueberries move me, I tell you. (And they move Leif in different ways since he eats so many of them. But I digress.)
Blueberries are one of the main foods I preserve. They're so easy to pick, freeze or make into jam. Having a freezer stocked with blueberries and shelves lined with purple blueberry jam is like having money in the bank.
…And here I interrupt myself again. Having food  laid up for the winter is always like having money in the bank. I was really excited to learn earlier this year that one of my good blogging buddies, Natalie from Hot Off the Garlic Press,  was tapped to be a spokesperson for Shelf Reliance/THRIVE Foods. This is a company that I can dig. They specialize in food storage, food rotation and emergency preparedness products. If you've hung around here at Foodie With Family much, you know this is near and dear to my heart. We live in the middle-of-nowhere and we have sketchy, unreliable vehicles. When the hard winter hits, which it inevitably does, I need to know that I have food to feed my mammoth family for however long we're socked in by snow. How does this tie in with Shelf-Reliance/THRIVE and Nat? A little while ago, Nat contacted me on behalf of Shelf Reliance/THRIVE and asked if I'd be interested in getting some samples to try out and hosting a giveaway of their products. Food giveaway? Heck, yes! (See? I told you I'm not a booyah girl.) They sent me some goodies; freeze dried pineapple chunks, sweet corn and strawberries, and dried whole eggs. Useful and tasty things, all, but let me tell you about those freeze-dried pineapple chunks. We eat through food quickly at this house, but those pineapple chunks literally disappeared in a split second around the campfire. The boys, The Evil Genius, my brother-in-law and sister-in-law and I did our very best locust impersonations as we descended on that poor unsuspecting bag of pineapple chunks and inhaled it. They were amazing. Buy some. (And order extra for me, please!)   Oh my goodness, am I off topic now or what? Tune in to the end of the post for more on the giveaway and now back to our regularly schedule blueberry programming.
I went straight to work after I got home. I made two batches of jam, froze* several sheet pans full of blueberries and still had a few cups left over. Blueberry tarts were in order.
*Want to know the absolute best, bar-none, method of freezing blueberries so you can take just what you need from the bag without breaking out your ice pick? First, pick at a place that doesn't spray their berries. That makes the next step possible. Second, lay the unwashed- YES! UNWASHED!- berries on rimmed metal sheet pans and put them in the freezer. When the berries are frozen solid, quickly transfer them to labeled zipper-top bags. And that's all there is to it! Since the berries haven't been sprayed, you don't have to wash chemicals off of them. And best yet, since you're stinking them in the freezer, any bugs that might've hitched along for the ride will die and fall away from the berries. Because you didn't wash the berries, they won't stick together and having frozen individually, they'll rattle around like delicious little marbles in their zipper-top bags. How much time did you just save between not washing them and not having to pry them apart? You can thank me by sending blueberry muffins.
My favorite blueberry tarts start with a fabulous crust. The recipe for my favorite tart crust ever can be found here. And when I have a blueberry tart, I want to taste fresh blueberries and feel like I'm eating them straight from the field;  I want them to pop in my mouth. I cooked down some of the underripe blueberries* with the tiniest bit of lemon juice, sugar, and cornstarch and folded that in with the rest of the fresh berries. The end result was a sweet butter tart crust topped with bursting-with-juice blueberries coated with sweet, sticky blueberry syrup. Pure summer bliss. Long sigh.
*Why underripe? Because they have the highest level of naturally occurring pectin in blueberries. It's an old jam-maker's trick. Toss a handful of underripe berries in with your jam and you end up with a firmer setting, thicker jam.
You might think that would be fabulous enough, right? No way! Gild that lily, baby. I topped it with Mascarpone Ice Cream. Mascarpone Ice Cream is only four ingredients blended together and frozen in an ice cream maker; Mascarpone cheese, cream cheese, heavy cream and dulce de leche. Did I really do that? Yes. Yes, I did. And I don't regret it even though my thighs may long pay the price for the glorious amount of calories I consumed in the process. The dulce de leche is a background player in the ice cream lending sweetness and just a hint of caramel to the creamy mascarpone base. When I tell you this is the richest, most decadent ice cream I've ever made will you please believe me? On second thought, don't believe me. Make it yourself. If velvet were edible, delicious and could be made into ice cream, this is what it would be. When you throw a scoop of this on top of the Blueberry Butter Tarts you will think you've died and gone to heaven. This dessert is officially on my list of items I would eat for my last earthly meal.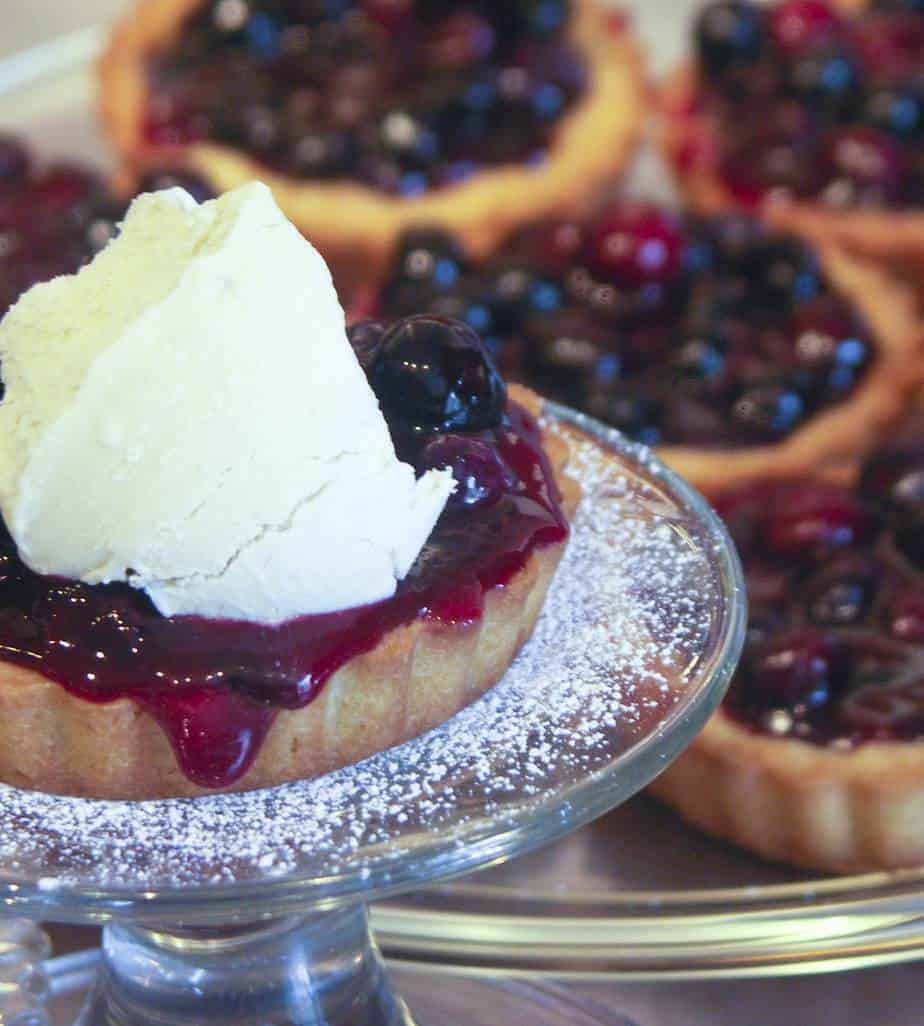 A note about the Mascarpone Ice Cream. This stuff freezes up harder than a brick. Unlike most ice creams, this is one you want to serve relatively quickly after churning. You can store it well in the freezer, but you'll have to plan to have it soften up on the counter for between fifteen minutes to a half hour, depending on the temperature of your room, before serving.
For a photo-free, printer friendly version of this recipe, click here!
Blueberry Butter Tarts with Mascarpone Ice Cream
Ingredients for the tarts:
8 individual sized fully-cooked butter tart shells or 1- 9″ fully baked butter tart shell (click here for the recipe!) You may recognize this crust as being the same one used in the Grapefruit Tarts and the Chocolate Truffle Tarts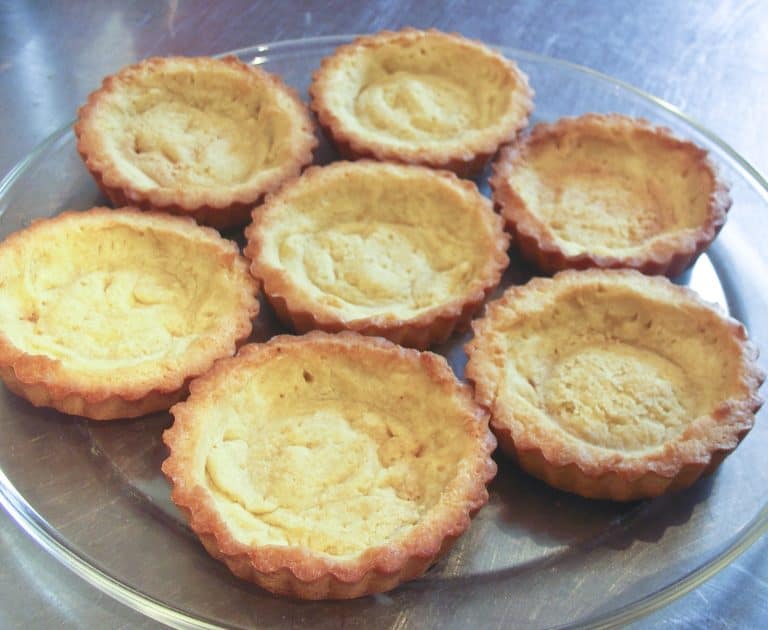 4 cups of blueberries, washed and picked over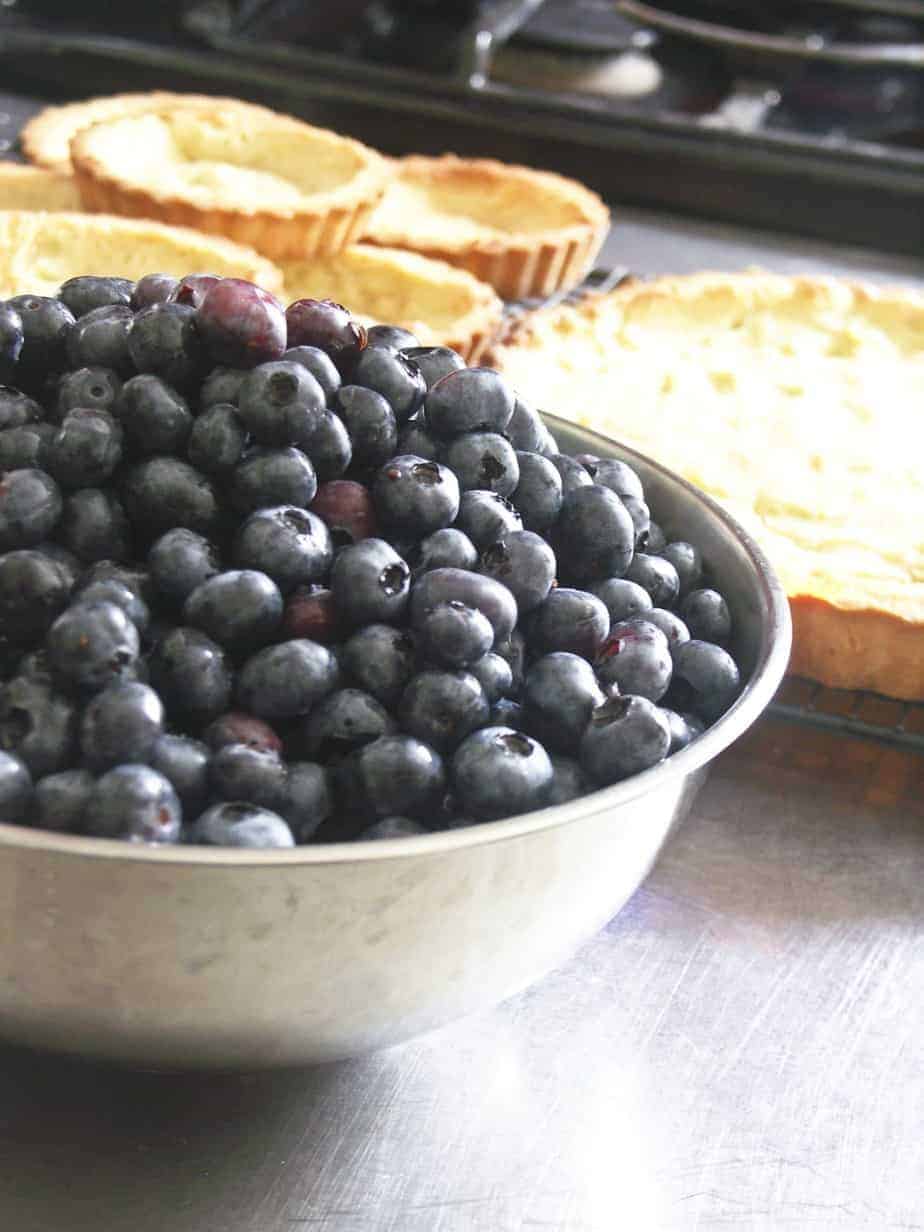 1/2 cup of water plus 2 Tablespoons of water, divided
2 Tablespoons cornstarch
1/2 cup (or more, to taste) granulated sugar
2 teaspoons lemon juice
To make the tarts:
Combine 2 Tablespoons of water with the 2 Tablespoons of cornstarch with a fork or small whisk in a measuring cup. Set aside.
Put the berries into a large mixing bowl. Measure out 1 cup of the berries, including as many of the underripe ones as you can find, into a heavy-bottomed saucepan over high heat.
Add 1/2 cup of the water to the berries in the pan, cover.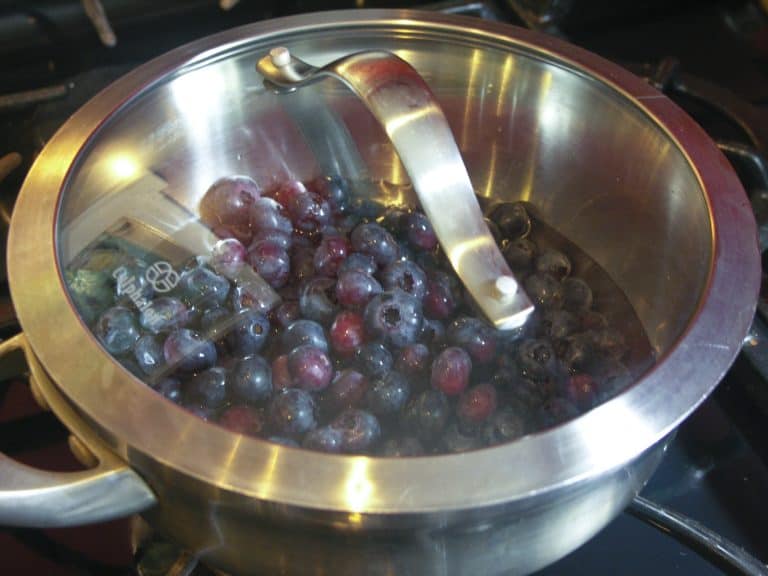 When the berries and water reach a boil, remove the lid, lower the heat and simmer, stirring constantly, until most of the berries have burst and the liquid has begun to thicken, about 4 minutes. While stirring constantly, add the cornstarch mixture, the sugar and the lemon juice to the pan. Simmer until the juices become thick and translucent, about 1 minute.
Remove from the heat and pour over the remaining berries in the bowl.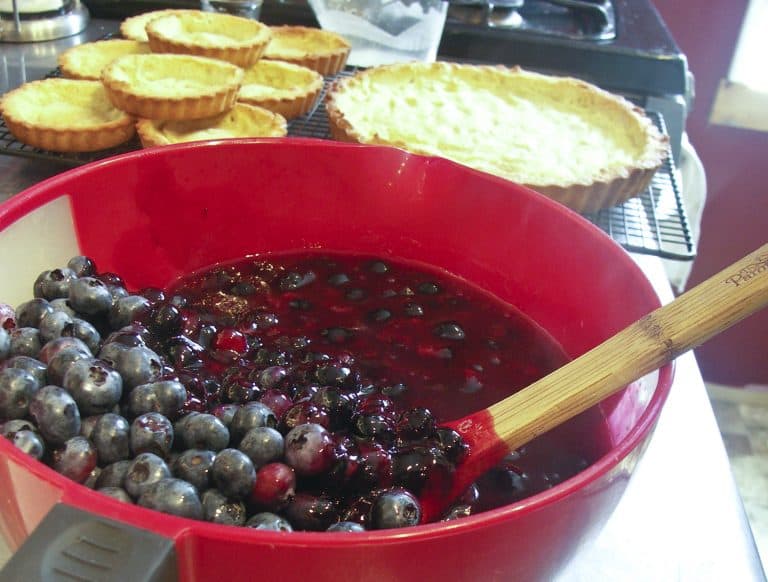 Toss gently to coat thoroughly. Spoon the blueberry mixture into the tart shells.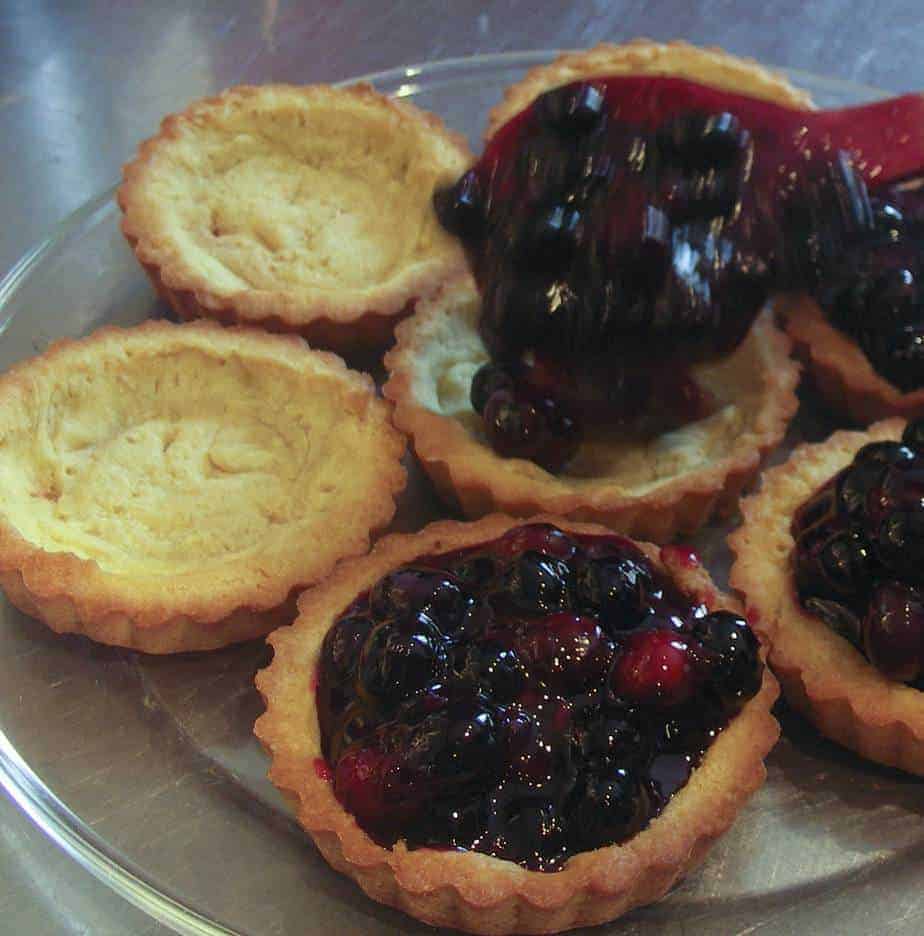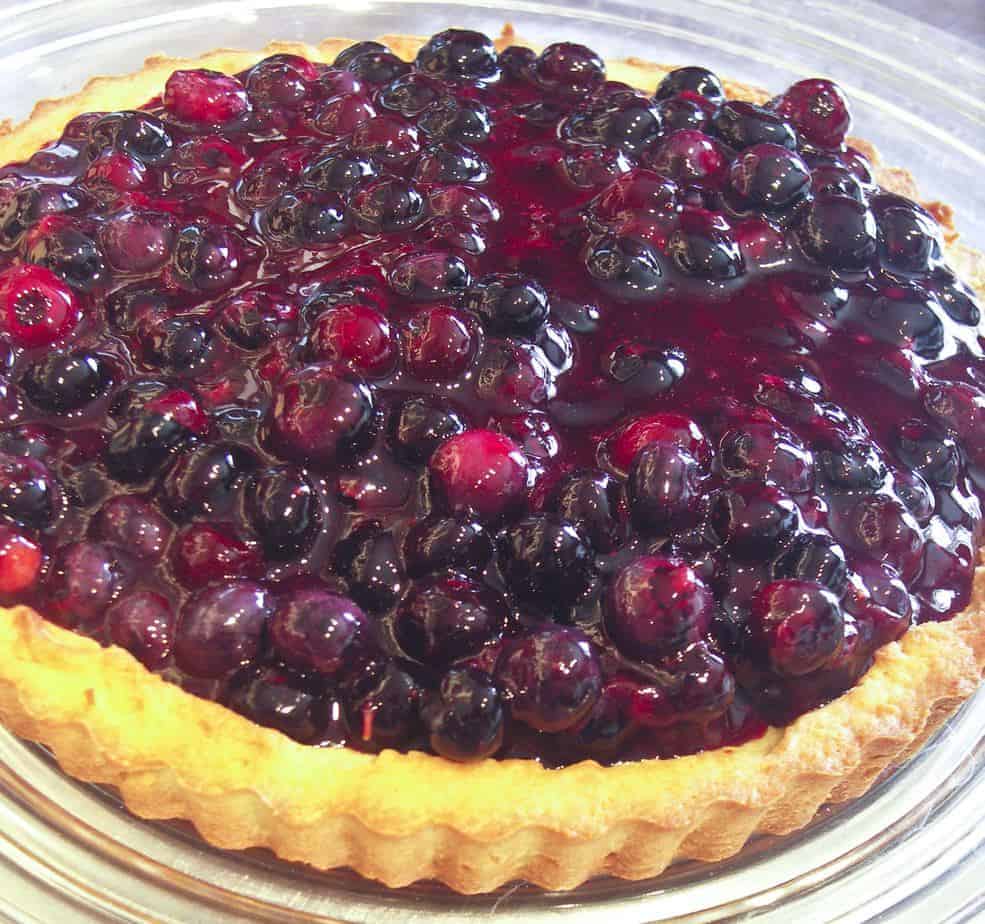 Look at how gorgeous the blueberries look. Glistening, juicy, sweet, and vibrant; they're so inviting. Actually, they're inviting me to plunge my face into this tart.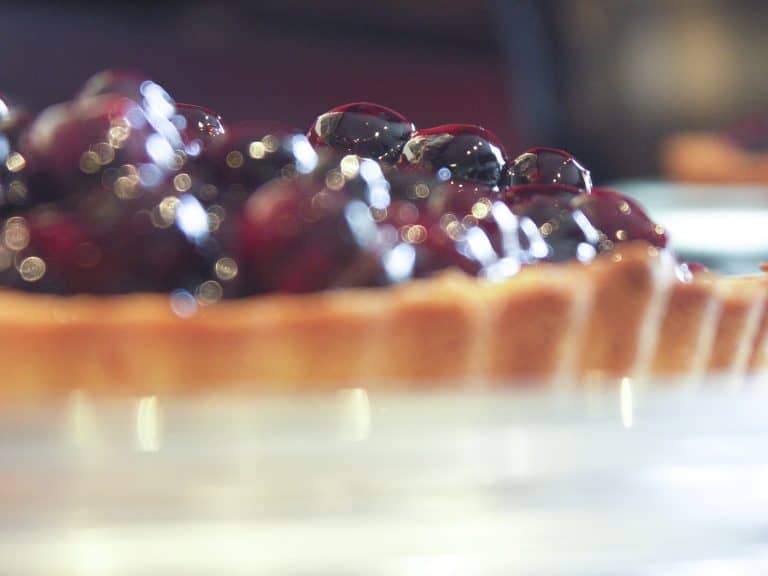 Cover lightly with plastic wrap or a cake dome and allow to rest at room temperature for 30 minutes or more prior to eating. Serve with whipped cream or ice cream. Store uneaten tarts at room temperature for up to two days.
While the tarts are resting, you can make your ice cream…
Ingredients for the ice cream:
12 ounces fresh mascarpone
8 ounces cream cheese
2 cups plus 1/2 cup heavy cream, divided
2/3 cup dulce de leche
To make the ice cream:
Add all ingredients to a blender. Blend until smooth. (Alternately, you can whisk them in a stand mixer or use a hand-blender to combine the ingredients until smooth.)  Freeze according to the directions for your ice cream maker. This is best served freshly churned. If you need to freeze it for later use, allow to soften on the countertop for between fifteen minutes and a half hour prior to serving.
And because good enough is never great enough, throw that Mascarpone Ice Cream on top of your Blueberry Butter Tarts. Throw a bunch of it on top. I did. Ask my girth. Since it's growing big enough to speak for itself…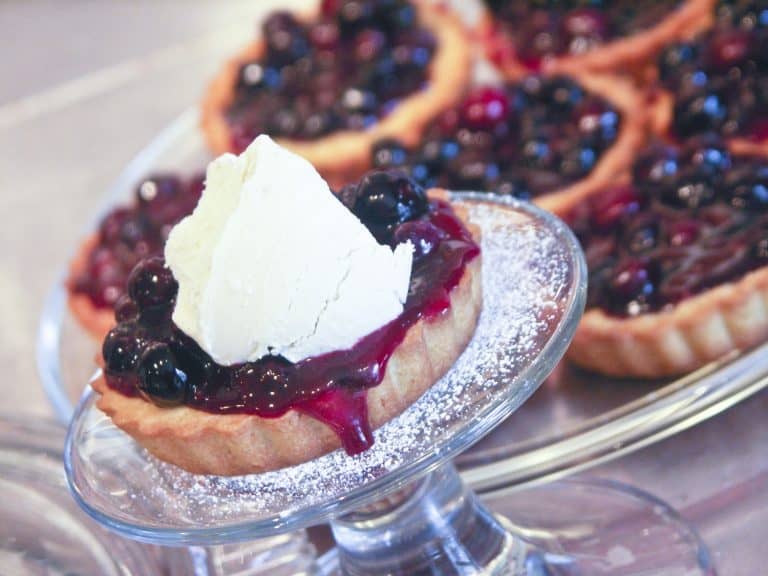 Hey! I didn't forget about the giveaway. Those neat folks over at Shelf Reliance/THRIVE Foods have kindly offered to give away a gift basket full of tasty and practical things to one of my readers. This Raspberry Cake Bar Gift Basket is stinkin' adorable.
The contents of this basket? Oh my word. Listen to how they describe it on their site:
Now you can easily give your friends and loved ones the gift of great-tasting THRIVE with our Raspberry Bars Gift Basket. This tasty gift comes with all the THIVE ingredients you'll need to make mouth-watering raspberry bars. Make someone happy today by sharing the joy of THRIVE Food Storage!

Each Raspberry Gift Basket includes:

1 Pouch of THRIVE White Sugar
1 Pouch of THRIVE Butter Powder
1 Pouch of THRIVE Whole Eggs
1 Pouch of THRIVE White Flour
1 Pouch of THRIVE Freeze Dried Raspberries
1 Raspberry Bars Recipe Card
1 Sturdy Mixing Bowl
1 Wooden Mixing Spoon
Adorable AND practical AND delicious. And they want to give it to you! Thanks for watching out for my peeps, THRIVE.
All you have to do to be entered in the contest is leave a comment below telling me what you'd do with this gift basket. Keep it for yourself? Give it to some newlyweds or your Grandma? What would you do? The suspense is killing me!
For an extra entry, sign up for the Shelf Reliance newsletter and leave a comment saying you did. The winner will be announced here by next Monday, August 10th.