If you love this Roasted Turkey Breast Dinner, you can check out all of our wonderful Sweet Potato Recipes here! And if you're looking for a whole bird recipe, try this EXCELLENT and popular tutorial on "How to Smoke a Turkey".
Do you mess around with how you prepare your turkey for Thanksgiving? There are surveys that show that most people are very hesitant to do so. So maybe you won't make what I'm about to share with you for Thanksgiving Dinner (although it would be more than worthy to be on the table), but I do encourage you quite strongly to make this for dinner sometime soon.
Because once you've made 1-Pot Roasted Turkey Breast Dinner with Sweet Potatoes, you'll be tossing a turkey breast into the grocery cart on a regular basis. Turkey often suffers from the twin issues of being unevenly cooked and too bland. The uneven cooking comes from slapping a whole bird in the oven.
The drumsticks and dark meat cook at a different rate than the white meat breasts. Complicating it is that they need to be cooked to different temperatures to be considered done. By the time the dark meat is where it ought to be, the white meat is dried out.
I solve the problem by roasting a turkey breast alone. No drumsticks means that I can baby that turkey breast to juicy perfection without overthinking and over-engineering the process.
Tackling turkey's blandness issue is really simple once we've eliminated the uneven cooking problems. Honestly, it's all about two things: fruit on the inside and spice on the outside. That is not a typo.
I stuff my turkey breast with chopped apple and onion. As the apple and onion roast along with the turkey, they flavour the turkey breast from the inside out. Oh- and if you absolutely, positively need to cook a whole turkey, this method works equally well for that, too.
The spice on the outside is simple, too. I prefer to use my beloved Cranberry Dry Rub and Spice Blend. It is 100% how I want my turkey to taste. The magic of the 1-Pot Roasted Turkey Breast Dinner with Sweet Potatoes is that your main dish and side dish cook together at the same time.
And what a side dish it is! Tender roasted sweet potatoes and onions basted in the turkey, apple, and onion drippings. It doesn't get much easier or more comforting and delicious than that. Well, unless you serve it up with some delicious dinner rolls!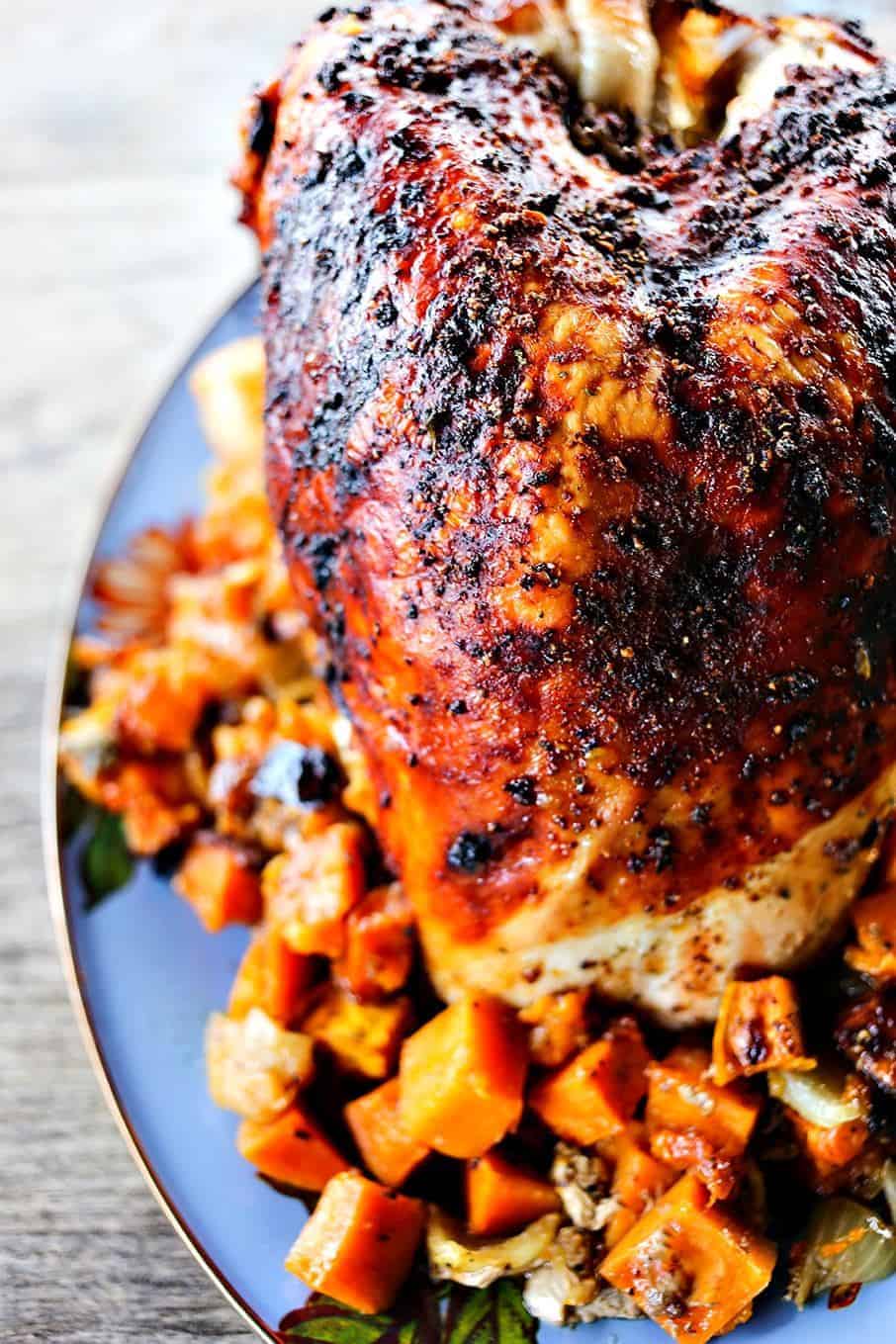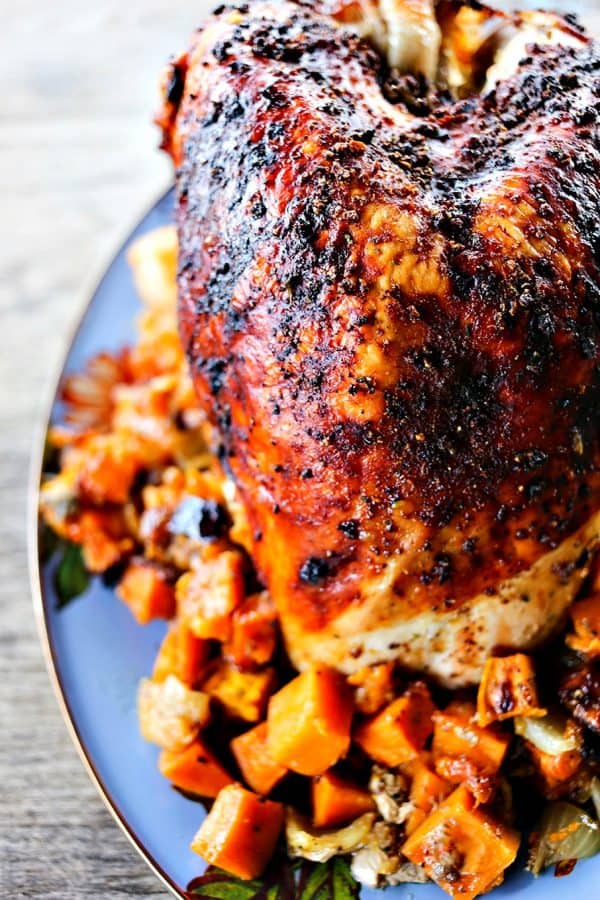 Folks, when I tell you this is beyond simple, I mean it. Check out the video below for proof.
Cook's Notes
1-Pot Roasted Turkey Breast Dinner with Sweet Potatoes is pretty simple overall. The one really hard-and-fast rule for success is to make sure that you either start with a fresh turkey breast (one that was never frozen) or a fully, 100% thawed previously frozen turkey breast.
You can choose to use whatever dry rub you love best, but I almost always use either my Cranberry Dry Rub. I think a Cajun rub would bee a nice choice, too.
You don't have to be surgically precise on cutting your sweet potatoes and onions, but it is helpful if they're roughly the same size and about 1 1/2 to 2-inches at their largest point. This will ensure that they are wonderfully tender when the turkey breast has reached perfection.
Do test the temperature of the bird. An instant read thermometer is a very small expense and it can be the difference between "Hooray!" and "um, ew." at the dinner table. You can grab one at most marginally stocked grocery stores, or a better quality one at a kitchen supply store or Amazon.
The turkey breast must be allowed to rest for at least 10 minutes after it is done roasting. If you slice it before that point, it will become dry. Dry turkey is one of the levels of hell, I believe.
If you have leftover turkey, you can work it into Leftover Turkey Pho, Tortilla Soup, Trashed Up Barbecue Turkey Pizza, or Chimichangas.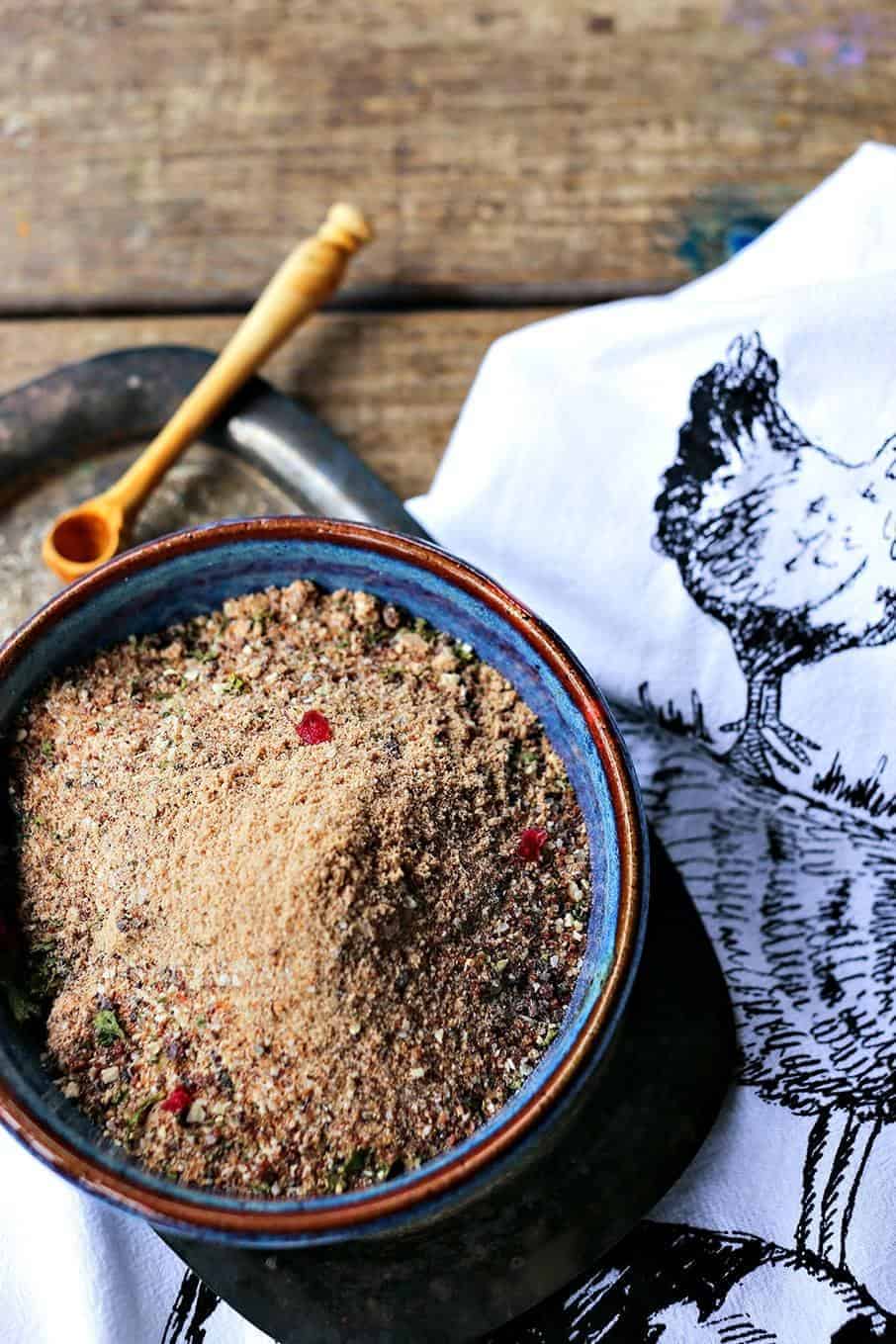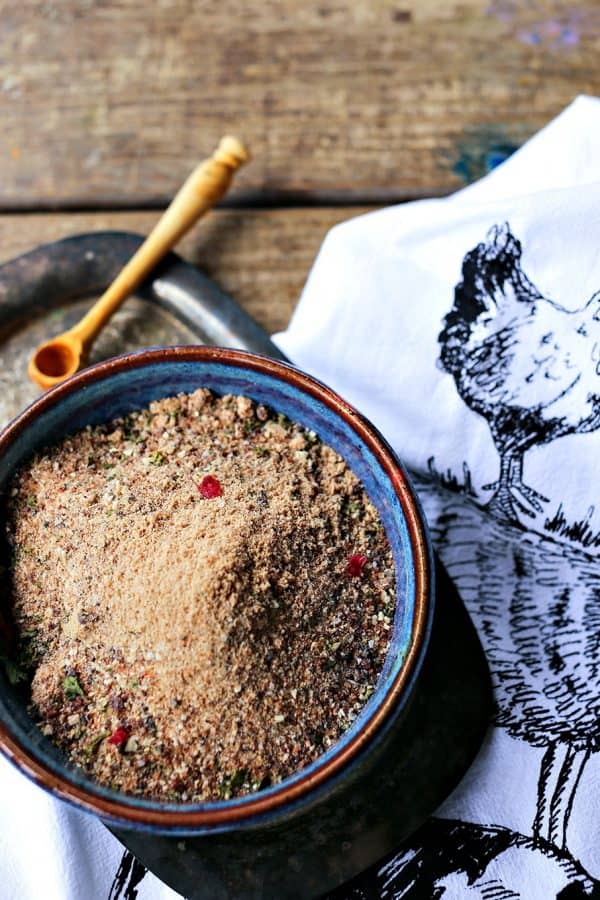 Connect with Foodie with Family
facebook | pinterest | instagram | twitter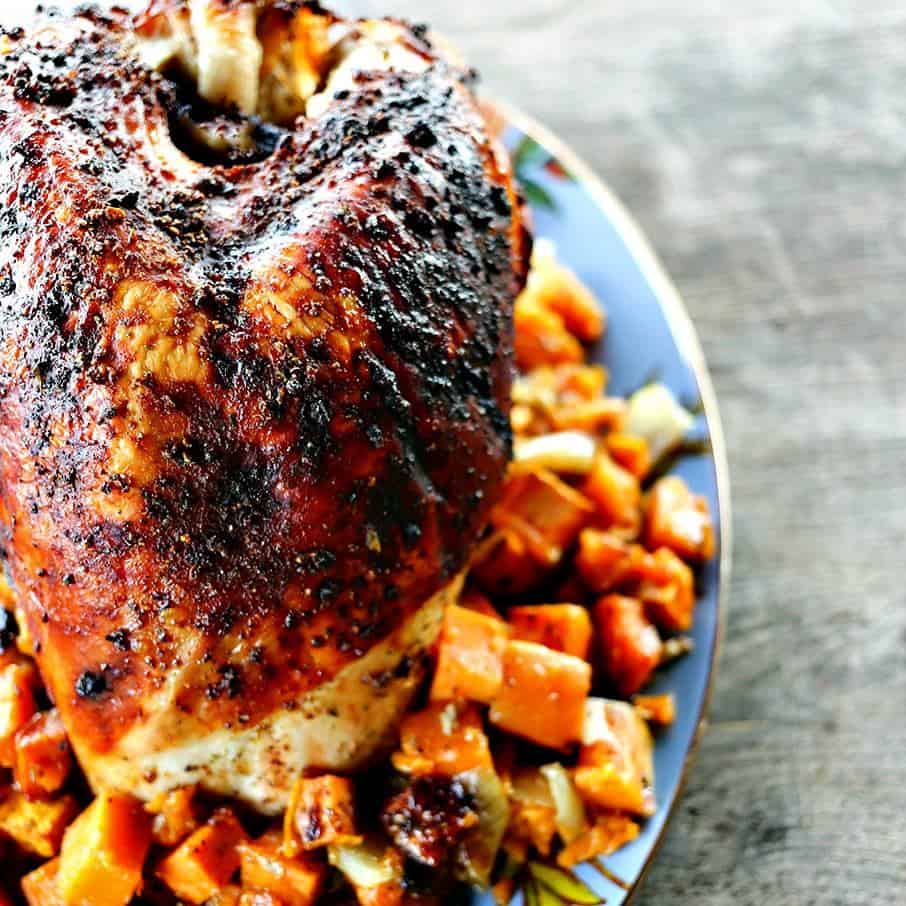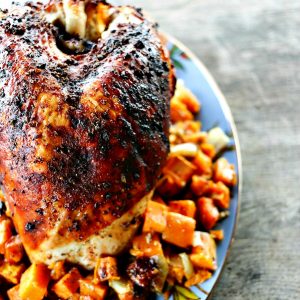 1-Dish Roasted Turkey Breast Dinner with Sweet Potatoes
Rate Recipe
1-Pot Roasted Turkey Breast Dinner with Sweet Potatoes is so impressive, so delicious, and so easy that you'll make roasted turkey breast one of your regular meals!
Ingredients
2

large sweet potatoes

peeled and cut into 1 1/2 to 2-inch cubes

2

large onions

peeled and cut into 1 1/2 to 2-inch cubes

1

fresh or fully thawed frozen whole turkey breast

5 to 9 pounds

3

tablespoons

canola or olive oil

1

apple

cut into quarters

the zest of one large orange

1

tablespoon

of Cranberry Dry Rub per pound of turkey breast
Instructions
Preheat oven to 450°F. Scatter the sweet potato and onion chunks over the bottom of a small roasting pan or 9-inch by 13-inch, deep baking pan. Nestle the turkey breast into the sweet potatoes and onions. Drizzle the oil over the turkey breast and stuff the apple quarters into the turkey's cavity. Rub the orange zest all over the turkey breast. Sprinkle the Cranberry Dry Rub over the turkey and massage it into the turkey breast with your hands. Place the roasting pan into the oven and roast for 30 minutes, then lower the heat to 375°F and continue to roast, stirring the potatoes every 20 minutes or so, until an instant read thermometer inserted into the thickest part of the breast reaches 165°F, about 2 hours. If the breast is browning too quickly, you can tent it lightly with foil.

When the turkey breast reaches 165°F, remove the pan from the oven, lay foil over the breast without crimping it in place, and let it rest for 10 minutes before carving.
Nutritional information is an estimate and provided to you as a courtesy. You should calculate the nutritional information with the actual ingredients used in your recipe using your preferred nutrition calculator.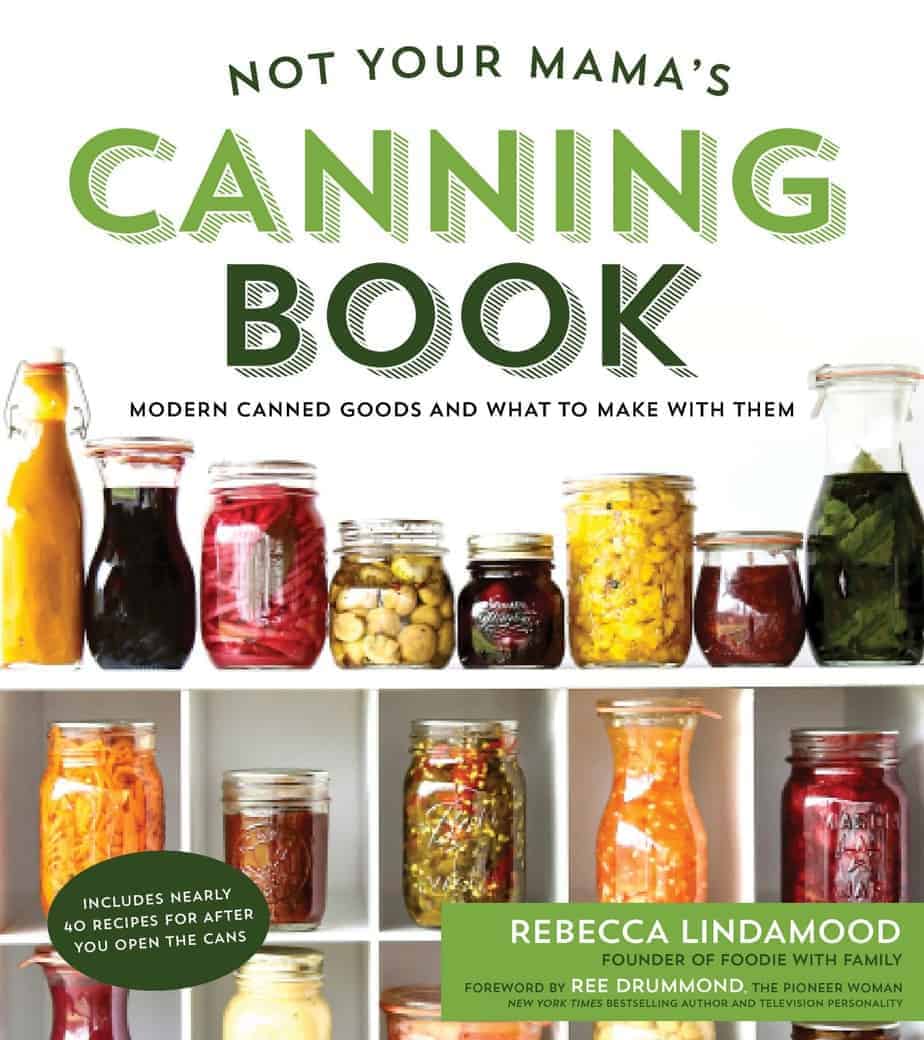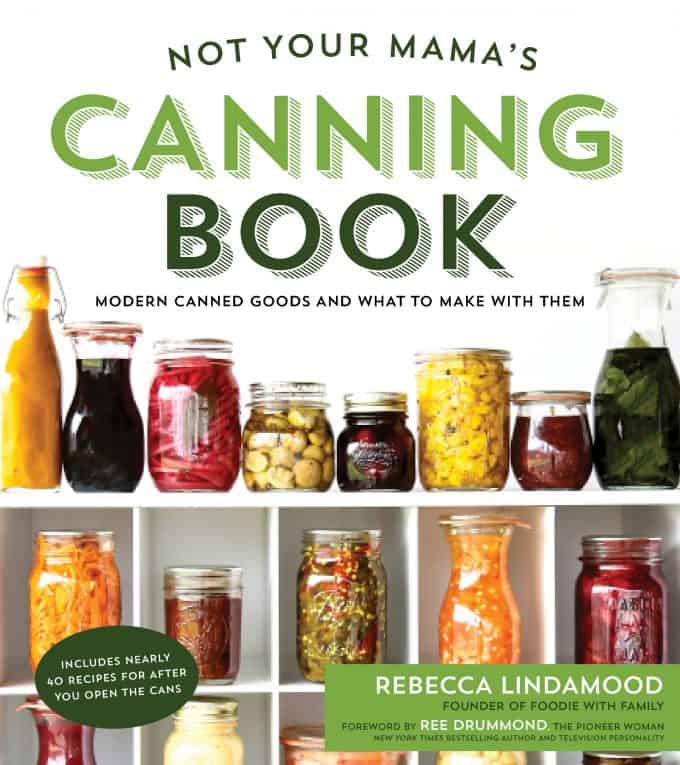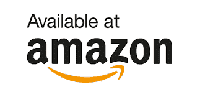 Not Your Mama's Canning Book: Modern Canned Goods and What to Make with Them is available to order through these fine retailers!



Save