Soup and sweater weather…
There simply isn't any weather I like better than those first days of fall -REAL FALL- where the skies are gunmetal grey and leaves are just starting to turn. It's a mighty wind, and it's brisk, and it wants to blow right through you. It makes you understand why those leaves finally give up and flutter around. We, thankfully, have sweaters and comfy socks.
And soup.
First, you may have been around here long enough to know I'm a huge fan of movies. My most favourite movies are usually absurd comedies. Squarely in that category falls the movie  'Best In Show' by Christopher Guest and Eugene Levy. It's a mockumentary where a bizarre group of characters competes to win a national dog show. The entire movie is weird, wonderful and hysterical from start to finish, but there is one exchange that has always stuck with my husband and I.
Jennifer Coolidge's gold-digging, much younger trophy wife character, Sherri Ann Cabot, is talking about how very in love she is with her MUCH older, senile, immobile, uncommunicative, wealthy husband.
[youtube]http://www.youtube.com/watch?v=T9jxSOxtYHs[/youtube]
"We have so much in common, we both love soup and snow peas, we love the outdoors, and talking and not talking. We could not talk or talk forever and still find things to not talk about."
In short, since seeing that movie, my husband and I quote that one passage every. single. time. we have soup. Given that we also love soup, that quote gets pretty solid play in our house. And I'll tell you this, unlike Leslie Ward Cabot, it hasn't gotten old yet.
Let's make like Sherri Ann and Leslie and talk about soup for a moment, shall we?
This chowder is not for the low-fat crowd. Not only does it use bacon -and a lot of it!-, not only does it have butter, not only does it have cream cheese, but it has all three in abundance. Glory hallelujah! Don't spend your days waiting for Guffman, it's time to bust out the comfort food.
While you can certainly make this chowder with a store-bought chicken or vegetable stock, it really sings up a storm when made with the simplest stock you can ever make; Corn Stock. If you've been with me long enough to know I'm a movie nut, you'll also know that I'm firmly in the waste not/want not camp as well. Corn Stock is what I like to call a three-fer.
You prepare the corn the way you  normally would (I vastly prefer roasting it because it's easier to do large amounts than boiling.) Cut the corn from the cob and freeze it or use it immediately.
Boil the cobs for stock.
Give the boiled cobs to the chickens who will get whatever is left that is edible and use it as energy to make eggs.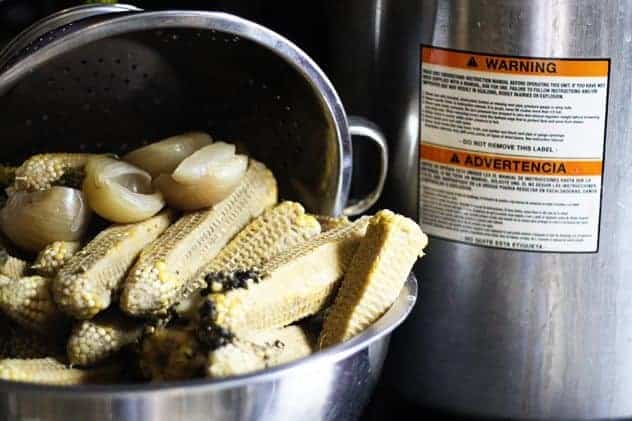 If that isn't a frugal gal's dream, I don't know what is. Most importantly, though, the corn stock gives your chowder something that no other stock can. It gives it an essence of summer sweet corn that simply is not available in any other way mid-autumn or winter. If that doesn't send a shiver of anticipation up your spine (unlike a spinal tap), then you've never lived in the snow belt.
Just imagine a bowl of rich chowder resplendent with roasted corn (that which you cut from the cob and froze, you frugal cook you!), cubes of potato with a hint of red skin still on, and hints of orange carrot in a fragrant broth that smells just like fresh sweet corn and is made thicker and velvety with the addition of cream cheese. Does that warm you up yet?
Don't just talk about it: slurp that soup like Leslie!
Corn Stock plus Roasted Corn and Potato Chowder | Make Ahead Mondays
Make as much of the Corn Stock as you can while corn is still in season. You'll be so glad to have the essence of summery corn available to you in the winter. Use in stews, risottos, and soups. This luscious, hearty, rich chowder is resplendent with roasted corn (that which you cut from the cob and froze, you frugal cook you!), cubes of potato with a hint of red skin still on, and hints of orange carrot in a fragrant broth that smells just like fresh sweet corn and is made thicker and velvety with the addition of cream cheese.
Ingredients
For the Corn Stock:
2 dozen ears of corn, roasted and shucked (preferably) or shucked and boiled
2 cooking onions
1 tablespoon black peppercorns
1 handful fresh or frozen parsley stems
2 bay leaves
2 sprigs fresh time or 2 teaspoons of dried thyme leaves
2 gallons fresh cold water
For the Roasted Corn and Potato Chowder:
1 pound of bacon (Omit the bacon and add another 4 tablespoons of butter for a vegetarian version.)
2 tablespoons of butter
2 medium sized cooking onions, peeled and cut into small cubes
1 tablespoon minced or pressed garlic
5 tablespoons all-purpose flour
8 cups corn stock (or chicken stock)
6 medium sized red potatoes, scrubbed and cut into small cubes
1 carrot, peeled and cut into small cubes
4 cups frozen or fresh roasted corn, cut from the cob
8 ounces cream cheese, softened to room temperature
salt and pepper to taste
sliced green onions and minced fresh parsley, if desired, for serving
Instructions
To Make the Corn Stock:
Stand an ear of corn up on its flat end on a cutting board. Using a gentle sawing motion with a very sharp knife, cut down the ears, removing the kernels from the cobs as you go. Transfer the corn kernels to a parchment lined, rimmed baking sheet and stick in the freezer until solid. Transfer those corn kernels to zipper top freezer bags and store for use in soups or salads.
Put the cleaned cobs along with the remaining stock ingredients into a large stockpot or electric countertop roaster oven. Cover the pot and bring up to a boil. Drop the heat and let it cook at a low simmer for 1-4 hours. Use tongs to remove the boiled cobs from the stock. (I give those to my chickens after they've cooled.) Pour the remaining liquid through a fine mesh sieve over a pitcher or other deep pot. You can use the stock immediately,
~or you can pressure can it (leaving 1-inch of headspace) in quart jars at 15 pounds of pressure for 75 minutes. The jars can be stored on the shelf for up to two years.
~or you can cool the stock and pour it into zipper top freezer bags in single use portions then freeze it for up to 6 months.
~or you can refrigerate it and use it within 2 weeks.
To Make the Roasted Corn and Potato Chowder:
Cut across the slices of bacon to make ½-inch strips. In a soup pot over medium heat, cook the bacon, stirring frequently, until it is crisp. Use a slotted spoon to transfer the crispy bacon to a paper towel lined plate. Set it aside -no snitching!- until the soup is almost done.
Drain all but ¼ cup of the bacon grease. You can eyeball it: you don't need to be precise. Add the butter to the bacon grease and place the pan over medium low heat. Add the onions and a pinch of salt and cook, stirring frequently, until the onions are translucent. Add the garlic in and stir, cooking for an additional minute.
Sprinkle the flour over the onion/garlic/butter mixture and whisk it in thoroughly. Raise the heat to medium and cook for 2 minutse, stirring often. It should be bubbly. Add the corn stock, whisking to combine, then the potatoes and carrots. Bring to a boil, then lower the heat to a simmer and cook until the potatoes and carrots are super tender.
In a heat-proof bowl, lightly smash the softened cream cheese with a fork. Using a ladle, add a little of the hot corn stock to the cream cheese, working it in with a fork or a whisk until smooth. After you've added enough hot stock to it to create a thick but pourable liquid, add it back into the pan of soup, stirring to combine. Add the corn in and stir, cooking only until the corn is heated all the way through. Taste the broth and adjust the seasoning with salt and pepper to taste.
Serve with a handful of sliced green onions and chopped fresh parsley, if desired. Don't forget a big chunk of bread to sop up the irresistible broth!