It's soup season, so try out this creamy, hearty, delicious, Roasted Corn Potato Chowder!
People. It's cold here. Seriously. I was in Mexico, Grand Cayman, and Jamaica last week. I came home two hours before a major winter storm hit that came *WOOHOO* with a serious cold snap. It hit -5°F the day after I got home. Truth? I was okay with it. I live here for a reason. I'm comfy and warm(ish) in the loving embrace (head-leaning-in-hug) of my boys and husband and I have a not-so-secret weapon; soup.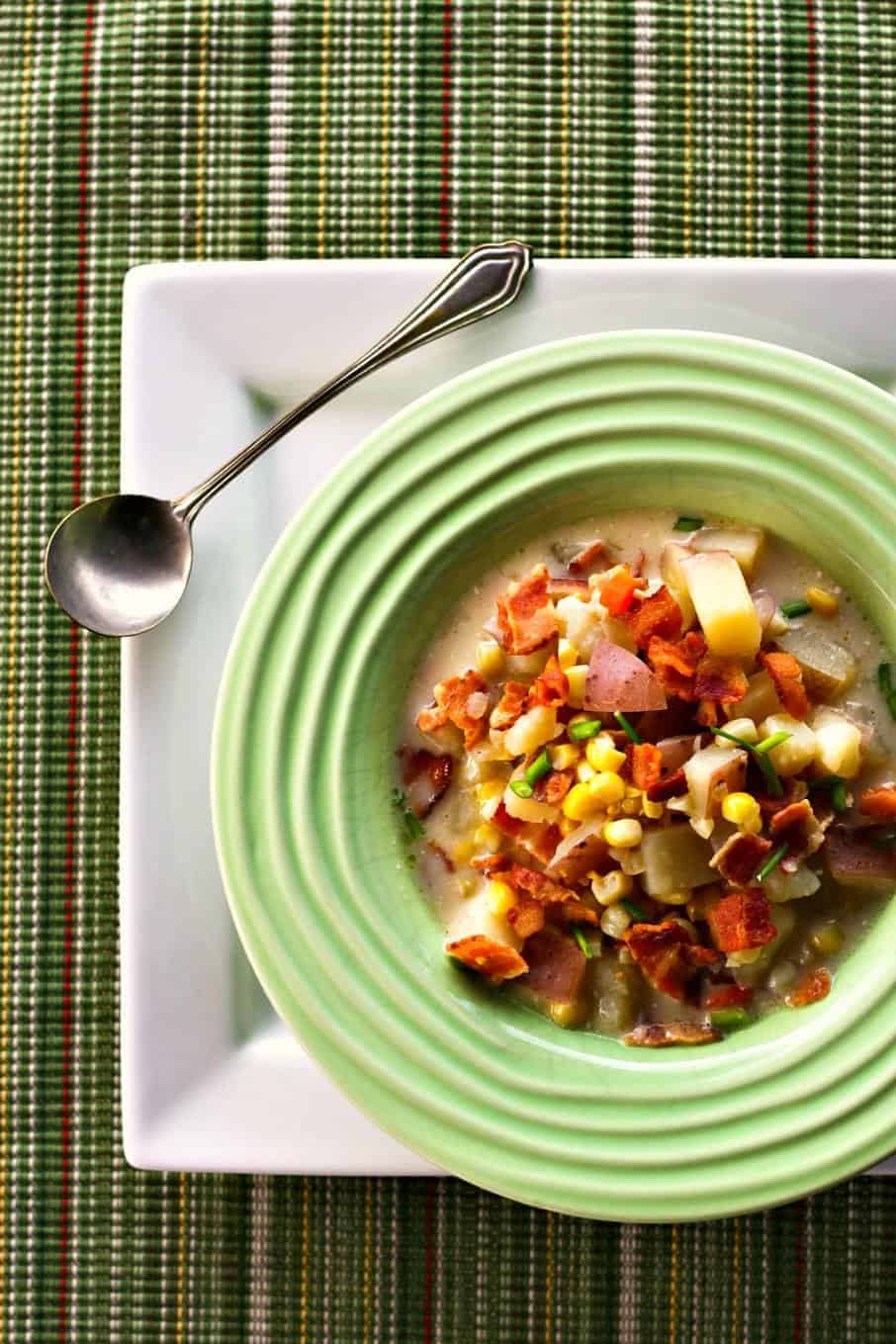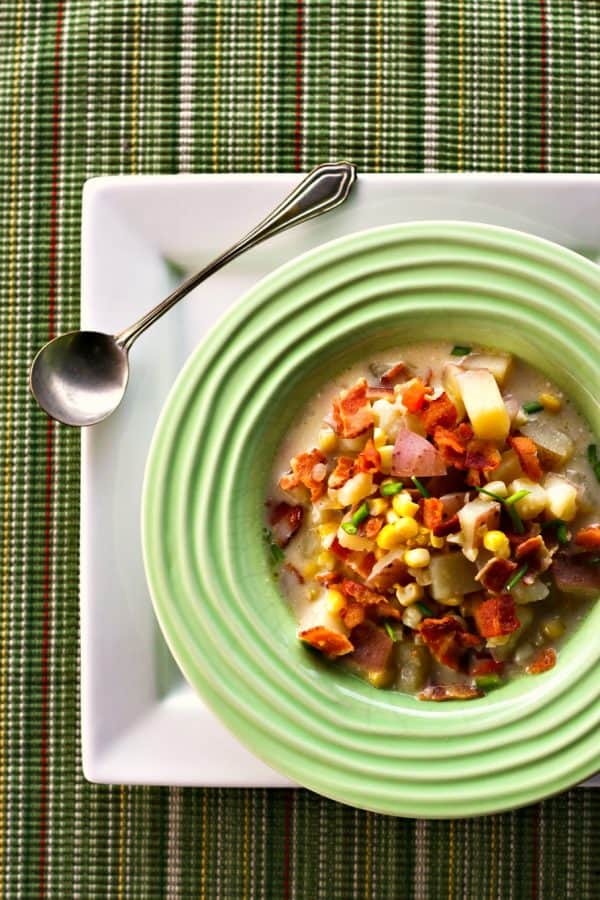 Warming from the inside out -toes to noggin- soup does the work the task the wood stove tries valiantly accomplish but for which it's sometimes inadequate. Honestly, there's only so close you can get to the wood stove before you land yourself at the doctor's getting a prescription for Silvadene. The rest is the provenance of soup. Fabulous, wonderful, marvelous soup.
It's not fancy (unless you want it to be), it's not expensive (unless you have money to burn), and it's a time honoured way to take the most humble, regular old ingredients and make them into something magical. The biggest investment when it comes to soup -in my opinion- is time. There's no getting around it: time is the most crucial ingredient in a good well-rounded soup.

As I've mentioned before, I can't even HEAR the word soup without thinking of arm-candy Leslie from "Best in Show" and her senile, wealthy husband. "We both like soup." And while I love a classic like this best clam chowder, sometimes I want a chowder made with ingredients I can whip up from things I usually have on hand. Enter Roasted Corn Potato Chowder.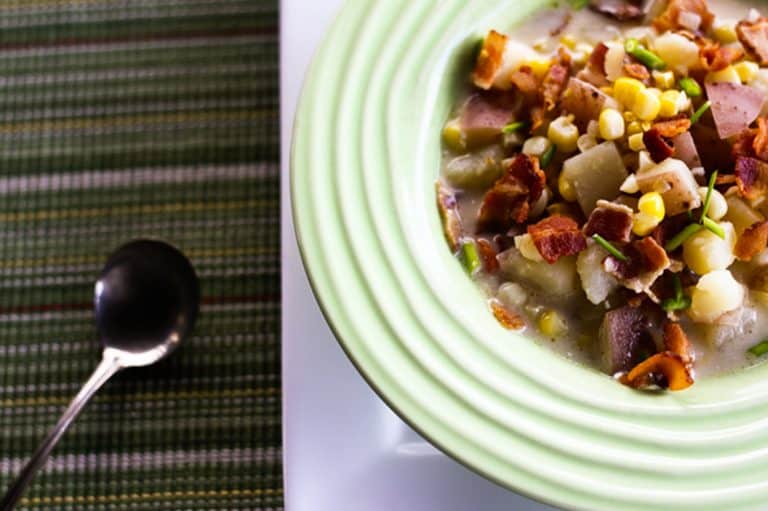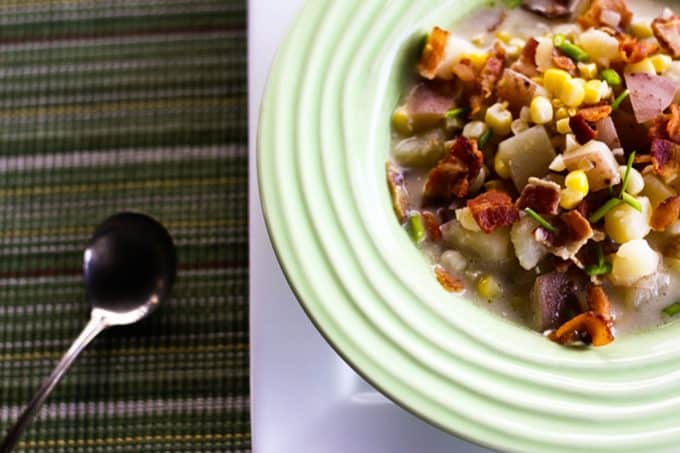 Cook's Notes
For this soup (see above reference), I advise using Roasted Corn Stock. If you don't have this handy, you can certainly use chicken or vegetable stock. I'm gonna go ahead and say make the roasted corn stock next summer, though!
In most cases, I'd suggest you cook the bacon to your desired doneness… In this case, however, I'm going to go ahead and instruct that you cook it to crispy… Even to the point of TOO crispy to eat alone. Not burnt, mind you, but crispy. It will soften in the soup, and I like to think of it as a meat crouton anyway.
If you have potatoes with a green-tinted skin (which is totally conceivable this time of year), peel them. Green skin will lend a bitter, weird, off-flavour to the final chowder. If the skins are the "normal" colour, go all in and keep those skins on. They're delicious.
I prefer to use roasted corn that I've put up in the freezer from the summer. If I don't have it (read: used it all already), I sometimes dry-roast the equivalent amount of frozen corn in a hot cast-iron skillet. It's a nice work-around!
Do ladle the hot broth into the cream cheese and mush it in. It makes the melting-into-the-broth process much easier and the overall product much more smooth.
Leftovers are fantabulous. Make a full OR a double batch. Don't go small. Soup is one of those rare foods that improves with age. Take advantage of it.
Connect with Foodie with Family
facebook | pinterest | instagram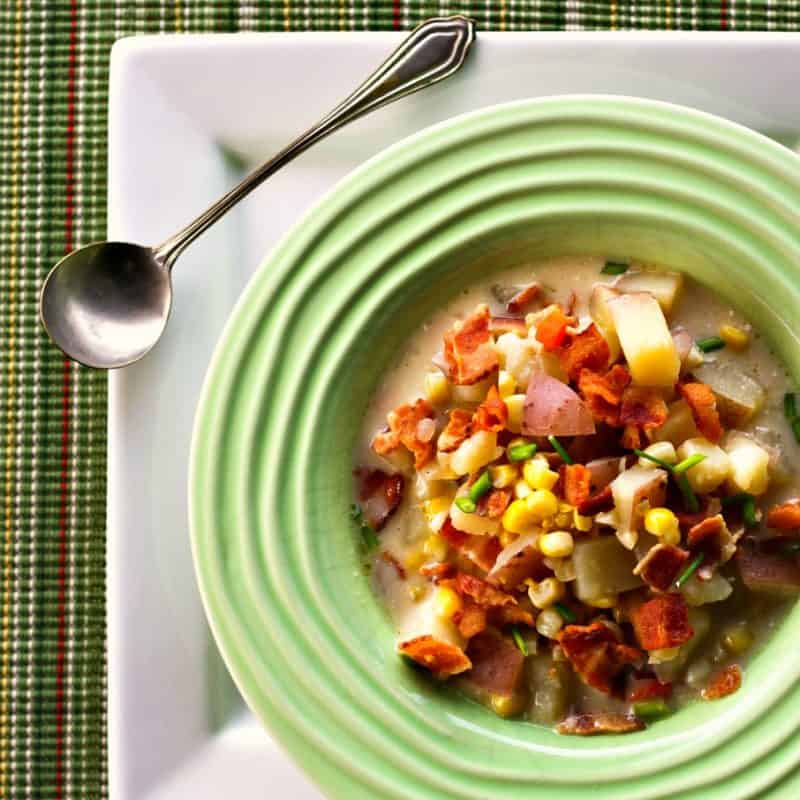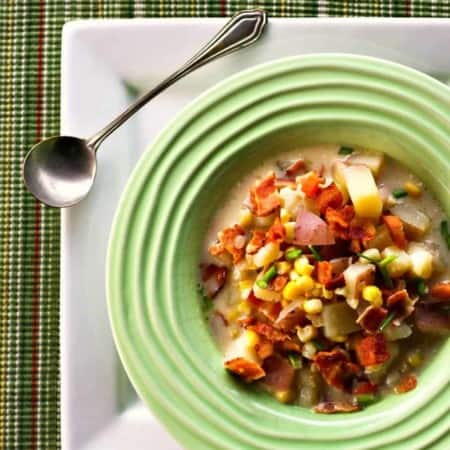 Ingredients
1

pound

of bacon

Omit the bacon and add another 4 tablespoons of butter for a vegetarian version.

2

tablespoons

of butter

2

medium sized cooking onions

peeled and cut into small cubes

1

tablespoon

minced or pressed garlic

5

tablespoons

all-purpose flour

8

cups

corn stock

or chicken stock

6

medium sized red potatoes

scrubbed and cut into small cubes

1

carrot

peeled and cut into small cubes

4

cups

frozen or fresh roasted corn

cut from the cob

8

ounces

cream cheese

softened to room temperature

salt and pepper to taste

sliced green onions and minced fresh parsley

if desired, for serving
Instructions
To Make the Roasted Corn and Potato Chowder:
Cut across the slices of bacon to make 1/2-inch strips. In a soup pot over medium heat, cook the bacon, stirring frequently, until it is crisp. Use a slotted spoon to transfer the crispy bacon to a paper towel lined plate. Set it aside -no snitching!- until the soup is almost done.

Drain all but 1/4 cup of the bacon grease. You can eyeball it: you don't need to be precise. Add the butter to the bacon grease and place the pan over medium low heat. Add the onions and a pinch of salt and cook, stirring frequently, until the onions are translucent. Add the garlic in and stir, cooking for an additional minute.

Sprinkle the flour over the onion/garlic/butter mixture and whisk it in thoroughly. Raise the heat to medium and cook for 2 minutse, stirring often. It should be bubbly. Add the corn stock, whisking to combine, then the potatoes and carrots. Bring to a boil, then lower the heat to a simmer and cook until the potatoes and carrots are super tender.

In a heat-proof bowl, lightly smash the softened cream cheese with a fork. Using a ladle, add a little of the hot corn stock to the cream cheese, working it in with a fork or a whisk until smooth. After you've added enough hot stock to it to create a thick but pourable liquid, add it back into the pan of soup, stirring to combine. Add the corn in and stir, cooking only until the corn is heated all the way through. Taste the broth and adjust the seasoning with salt and pepper to taste.

Serve with a handful of sliced green onions and chopped fresh parsley, if desired. Don't forget a big chunk of bread to sop up the irresistible broth!
Nutritional information is an estimate and provided to you as a courtesy. You should calculate the nutritional information with the actual ingredients used in your recipe using your preferred nutrition calculator.