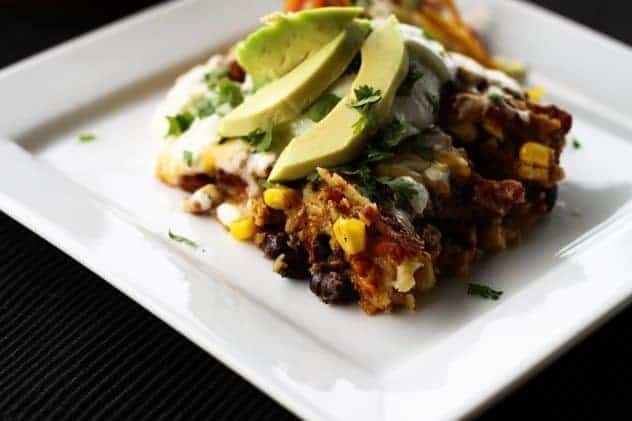 I think it's been so long since I've been sick that my body forgot how to go about being sick. It's not a complaint mind you, just an observation. I spent a day with a weird headache and sore throat of the move-slowly-through-the-day variety, went to bed with an ibuprofen cocktail and woke up with a good old-fashioned cold.
And so I plopped myself on the chair with a cuppa tea, dictated school lessons from my chair and plotted all the comforting foods I was going to inhale that day because my nose wasn't doing any inhaling and part of me had to keep the process going.
I prioritized; nothing too complicated for energy and dish purposes, no running to the store- had to make do because I was not going out looking like this (pointed at the hair scraped back and perched on the top of my head and the Rudolph nose.), had to be a crowd-pleaser, and had to have big flavour. You know, so I could actually TASTE whatever it was I made.
At the top of the list was a version of slow-cooker black bean enchiladas I tried from TheKitchn a while back. Simple, not fussy, comforting, big-on-taste, hearty, filling and inexpensive, these enchiladas deliver a lot for the small amount of work behind them. They were just what I needed and wanted.
I've made this same recipe both in the slow-cooker and the oven. You get a more 'authentic' enchilada texture from oven-baking them, but they're ever so good in the slow-cooker. The tortillas soak up everything and get all salsa-fied and still get some crispy edges where they come in contact with the side of the slow-cooker. The instructions specify to cook the enchiladas in the slow-cooker for two to four hours, and I've settled on about three hours as my preferred time. Closer to two hours yields a firmer tortilla while cooking it closer to four hours creates a much softer tortilla… almost fall-apart soft. When I let mine go the full four hours, I ended up with a texture that was more like enchilada casserole. It was still delicious, it was just different.
Whichever way you prefer to go, you'll get a serious dose of delicious comfort for your minimal efforts. The enchiladas dress up nicely, if -unlike me- you're serving dinner in something other than yoga pants with tissues stuffed in the waistband. On the other hand, they sit beautifully in a bowl that you can cradle in your lap while sitting on the couch watching BBCAmerica broadcasts.
Because sometimes, really, it's not so bad to slow down and indulge the sniffles. At least not when you have a plate full of these…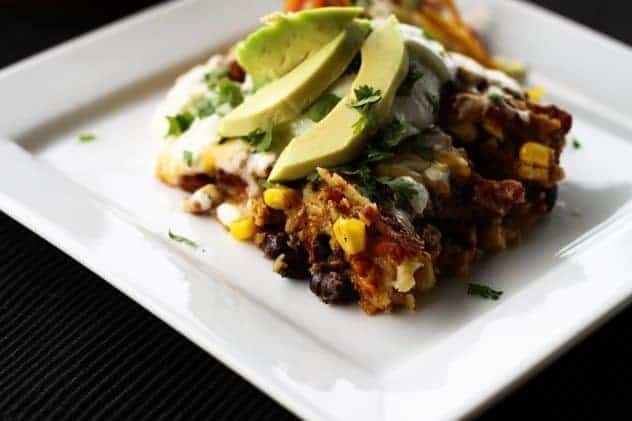 Slow-Cooker Chicken and Black Bean Enchiladas
Rate Recipe
Authentic? Maybe not, but these gooey, bursting-at-the-seams, simple to pull together, slow-cooker enchiladas are packed with delicious black beans, moist chicken, corn, and spices. Salsa delivers the saucy punch and loads of melted, oozy cheese makes it the perfect comforting dish for days when you're short on time. Adapted gently and with thanks from TheKitchn
Ingredients
1

cooking onion

diced small

1

bell pepper

any color, diced small

2

cups

cooked black beans or 1

16-ounce can black beans, drained and rinsed

2

cups

frozen corn

2

cups

shredded fully cooked chicken. This chicken is perfect.

1/4

cup

chopped fresh cilantro

optional

2

cloves

garlic

peeled and minced or pressed (or 1/2 teaspoon granulated garlic or garlic powder.)

1

tablespoon

plus 2 teaspoons chili powder

2

teaspoons

ground cumin

2

teaspoons

salt

3

cups

shredded cheese. I prefer a combination of Cheddar

Monterey Jack and Queso Blanco, but use what you prefer and have available.

3

16 ounce jars of your favorite salsa

24

6"-8" corn tortillas
Optional:
sour cream

additional chopped fresh cilantro for garnish

avocado slices or cubes
Instructions
Mix together the onion, pepper, black beans, corn, chicken, cilantro (if using), garlic, spices, and 1 cup of the cheese in a mixing bowl. Pour one full jar of the salsa into the bottom of the slow-cooker and spread it evenly with a spatula.

Dampen a tea towel, wrap 12 of the tortillas in it and microwave for about 30 seconds, or until the tortillas are flexible and warm.

Working with one tortilla at a time, scoop about 1/3 cup onto the tortilla, roll it tightly and place it firmly against the edge of the slow-cooker, seam side down. Repeat this with another tortilla, nestling it against the enchilada that is already in the slow-cooker. Continue filling, rolling and nestling the enchiladas until the bottom of the slow-cooker is covered. Spread another jar of salsa over the enchiladas and top it with another cup of cheese.

Create a second layer of enchiladas with the remaining tortillas and filling. Pour half of the last jar of salsa evenly over the top. With the lid in place, cook on HIGH for 2-4 hours. 15 minutes before the enchiladas are done, sprinkle with the remaining 1 cup of cheese, letting it cook just until the cheese is melted.

Serve the hot enchiladas with chopped cilantro and the remaining salsa.

Store leftovers, tightly wrapped, in the refrigerator for up to a week.
Notes
Note: These are equally good (and maybe even a touch better, texture-wise) when baked in a 400°F oven covered with foil for about 20 minutes. Simply hold off on the last bit of cheese until you remove the foil, return it to the oven and bake 'til the cheese is bubbly.
Nutritional information is an estimate and provided to you as a courtesy. You should calculate the nutritional information with the actual ingredients used in your recipe using your preferred nutrition calculator.