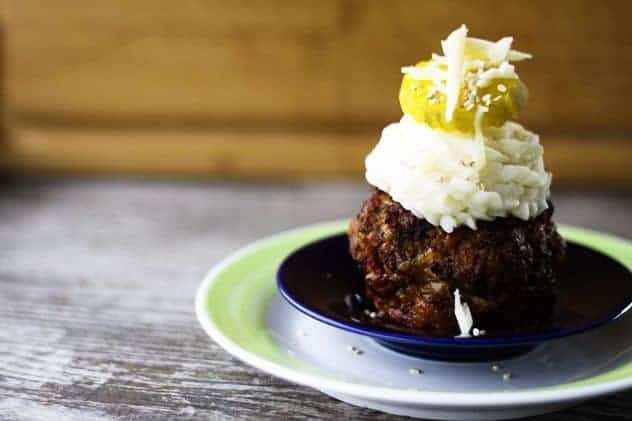 Update: The Pick a Giveaway Winner plug-in chose MaryG as the winner. MaryG, congratulations! Please email me with your information so the book can be sent right away.
I love cookbooks. I have a lot of cookbooks. As in AH- LAWT of cookbooks. Shelves and shelves and boxes and boxes of cookbooks are mine. Some of them I like more than others, obviously; some of them speak to me.
Not literally, mind you, that'd be crazy.
What I mean is some of them NAIL my way of eating. The Meatloaf Bakery Cookbook: Comfort Food with a Twist by Cynthia Kallile
is one of those. I have to admit, the cookbook surprised me a little… I honestly didn't expect to be blown away by -of all things- a meatloaf cookbook. From the moment I pulled the book from the envelope, though, I was hooked. Hardcore.
The cover has tiny little cupcake meatloaves with beautifully piped mashed potatoes and a dusting of paprika, a meatloaf pot pie, ADORABLE little meatloaf appetizers with stars of mashed potatoes, a meatloaf in pastry and something that I couldn't identify but still wanted to eat. Desperately. (I later found out it was a baked mac-and-cheese with crispy bits.)
The first test of any cookbook, though, is how hungry it makes you when you eat it. Usually, I find that when I flip through a cookbook, I find a handful of recipes appealing with one or two must-makes in the mix. Not this time. This time, I wanted to make every. single. recipe. from the Chili Chili Bang Bang (a chili flavoured meatloaf with beans ground into it baked with cornbread on top) to the Omega-3 Meatloaf (a fresh salmon meatloaf topped with *GASP* wasabi mashed potatoes.) I mean, really… There was an Herby Turkey Meatloaf that momentarily made me rethink my Thanksgiving plans.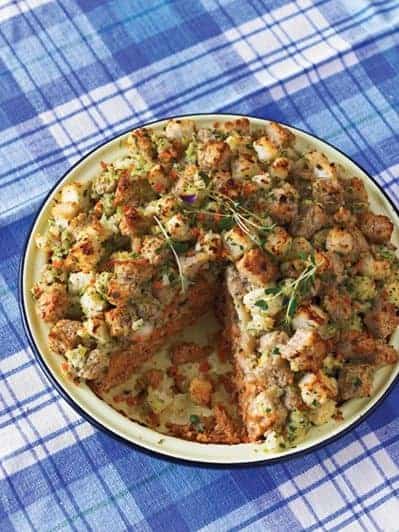 Let me tell you, it was HARD to narrow down what the first recipe I'd try would be.
This cookbook actually inspired me to drive to the store to get meat so I could make something from it. "Big deal!", you say? Oh, it IS a big deal. For me, an impulse trip to the store means a half an hour drive in either direction.
I settled on the recipe called "No Buns About It Burger Loaf". It was, in essence, a bacon cheeseburger meatloaf (with chopped pickle in it!!!!) topped with creamy, cheesy mashed potatoes. Like a dingbat, I forgot to write down the ingredients I needed before I drove to the store, so I did the best I could from memory. I ended up with the crucial stuff (a big old chuck steak to stick through my meat grinder) but blanked on some of the supporting players. I had many fabulous stand-ins at home (for instance, white cheddar vs. the specified yellow cheddar, yogurt vs. the sour cream, and Romano vs. the asked-for asiago/parmesan combo.) so I went ahead anyway.
I didn't mess around, people. I was confident enough in the recipe after reading it to jump in with both feet and start off with a double  batch. Half of the batch I cooked as directed in greased large muffin tins, the other half I baked in a loaf pan.
The smell of these cooking was enough to drive me to distraction. They smelled like bacon cheeseburgers. I piped mashed potatoes on the little muffin ones when they were done and served them at the dinner table and awaited the reaction.
Hooooooooooooboy.
Locusts have nothing on my family. Those meatloaves disappeared at light speed. That evening was youth group night for my eldest son, so after clearing the dishes and before driving my boy, I wrapped the leftover loaf version of what we had eaten and said, "Honey, don't eat this. Okay? Please? Eat anything else in the fridge that you'd like, but please leave this. I want to make meatloaf sandwiches tomorrow." He responded, "No problem!"
Two hours later, I arrived home to find an empty platter with a wadded up piece of plastic wrap and a penitent husband who greeted me at the door with an earnest, "I couldn't help it! It was so good!"
I will be cooking my way through this cookbook. I honestly didn't know I was such a nut over meatloaf until I read it. The two of my friends who have thumbed through the book at my house looked at me and asked boldly, "Will you be doing a giveaway of this or should I just buy it now?"
I'll tell you this, too… At least one of those friends decided she couldn't wait to see if she would win and went out immediately to buy her own copy.
The good news is I DO have a copy to give away. The good folks at Cynthia Kallile's publisher have offered me a copy of this fantastic cookbook to give away to one of you. Details on the giveaway are below the recipe.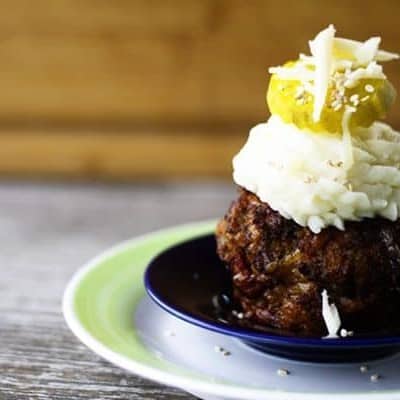 Bacon Cheeseburger Mini-Meatloaves and Cheesy Mashed Potatoes
Rate Recipe
These mini-meatloaves taste just like a good old-fashioned bacon cheeseburger straight down to the finely diced dill pickle in them! Top them with creamy, Cheesy Mashed Potatoes, a little extra dill pickle and a sprinkling of sesame seeds (instead of a sesame seed bun) and you'll be in seventh meatloaf heaven! Gently adapted from and with thanks to "The Meatloaf Bakery Cookbook" by Cynthia Kallile.
Ingredients
For the Bacon Cheeseburger Mini-Meatloaves:
1/2

pound

8 ounces bacon, cut crosswise into small slices

3/4

cup

finely diced cooking onions

1 1/2

pounds

ground chuck

1

cup

panko or plain white bread crumbs

1

cup

shredded extra-sharp Cheddar plus extra for garnish

1

cup

shredded Monterey Jack cheese

1/4

cup

well-drained finely diced dill pickles plus extra for garnish

1

large egg

lightly beaten

1/4

cup

milk

beaten

1/4

cup

ketchup

2

tablespoons

mayonnaise

1

teaspoon

prepared yellow mustard

3/4

teaspoon

kosher salt

1/2

black pepper

nonstick cooking spray
For the Cheesy Mashed Potatoes:
8

Russet potatoes

peeled and cut into 2-inch chunks

1/4

cup

whole milk

warmed in the microwave

4

tablespoons

of unsalted butter

softened

2

tablespoons

plain yogurt or sour cream

1 1/3

cups

shredded extra sharp Cheddar cheese

1/2

cup

shredded romano cheese

kosher salt and freshly ground pepper

to taste
Instructions
Preheat oven to 375°F.

Cook the bacon in a frying pan until crisp. Use a slotted spoon to transfer the bacon to a paper towel lined plate and set aside. Pour off all but about 1 teaspoon of the bacon grease. Add the onion and cook for a few minutes until softened. Set aside to cool to room temperature.

Combine the remaining meatloaf ingredients well with your hands in a mixing bowl. Grease 6 large or 12 standard sized non-stick muffin pan. Use your hands to mound the tops of the meatloaves so they're domed.

Bake in the oven for 25 minutes (for the standard sized mini-loaves) to 40 minutes (for the large loaves) or until the middle of the interior of the loaves measures 160°F on an instant read or meat thermometer and the meatloaf tops are browned.

Remove the pan from the oven and let cool a couple of minutes before trying to remove the loaves.

When you can handle the pan, unmold the meatloaf cupcakes and set on a cutting board or flat pan to prepare for "frosting" with the mashed potatoes.
To Make the Cheesy Mashed Potatoes:
Cover the peeled and chunked potatoes with cold water in a large saucepan. Bring to a boil, uncovered, over high heat. Reduce the heat and simmer the potatoes until they are fork tender, 10 to 15 minutes.

Drain the potatoes in a colander and return them to the hot pan. Add the milk, butter, and yogurt to the potatoes and mash until very smooth. Add the shredded cheeses to the hot potatoes and mash that into the potatoes until melted into the potatoes. Taste the potatoes and adjust with salt and pepper. If you're going to pipe the potatoes onto the mini-meatloaves, you want to be sure you don't have chunks as those could block the pastry tip. If you're going to dollop or spread it on top, you don't need to be quite as thorough in eliminating lumps of potato.
To Serve:
Dollop or spread mashed potatoes on top of the meatloaf cupcakes ~OR~ insert any large tip into a 12-inch to 14-inch pastry bag. Fill with the hot Cheesy Mashed Potatoes. Be careful as the bag will be hot to the touch! Pipe the potatoes onto the tops of the meatloaf cupcakes. Serve immediately, topped with extra pickles, shredded cheese and a sprinkling of sesame seeds, if desired.

Leftovers, if you have them, can be stored tightly wrapped in the refrigerator for up to 3 days and reheated in either the microwave or a moderate oven (350°F.)
Nutritional information is an estimate and provided to you as a courtesy. You should calculate the nutritional information with the actual ingredients used in your recipe using your preferred nutrition calculator.
L