The Easiest way to cook a butternut squash (by far) is one my little sister taught me. Slow-Cooker Butternut Squash yields tender, sweet, unbelievably delicious cooked butternut squash and you don't have to wrestle the big beastly hard raw squash or go anywhere near it with a knife until it's already practically ready to cut itself. Slow Cooker Butternut Squash for the win!
My little sister and I were having a texting marathon the other day. We were talking food, because that's what families do. She was telling me the menu she was preparing for a 'thank you' party they were throwing for their local friends.
I was chatting about my Roasted Fall Vegetables and Italian Sausage Sheet Pan Meal which contains beaucoup butternut squash. She texted me: "Did you know you can cook a whole squash by itself in a crockpot while you're at work all day? New favorite meal."
Excuse me, what? I texted back questions about "Do I jab it?" "Do I halve it?" "Do I do anything to it?" She said, "No! Just put it in there, cover it, and cook it."
"I DID NOT KNOW THAT! OHMYGAWSH. Where'd you learn that? It's brilliant." Her response? "I thunk it. Then tried it. :)" I love having smart siblings.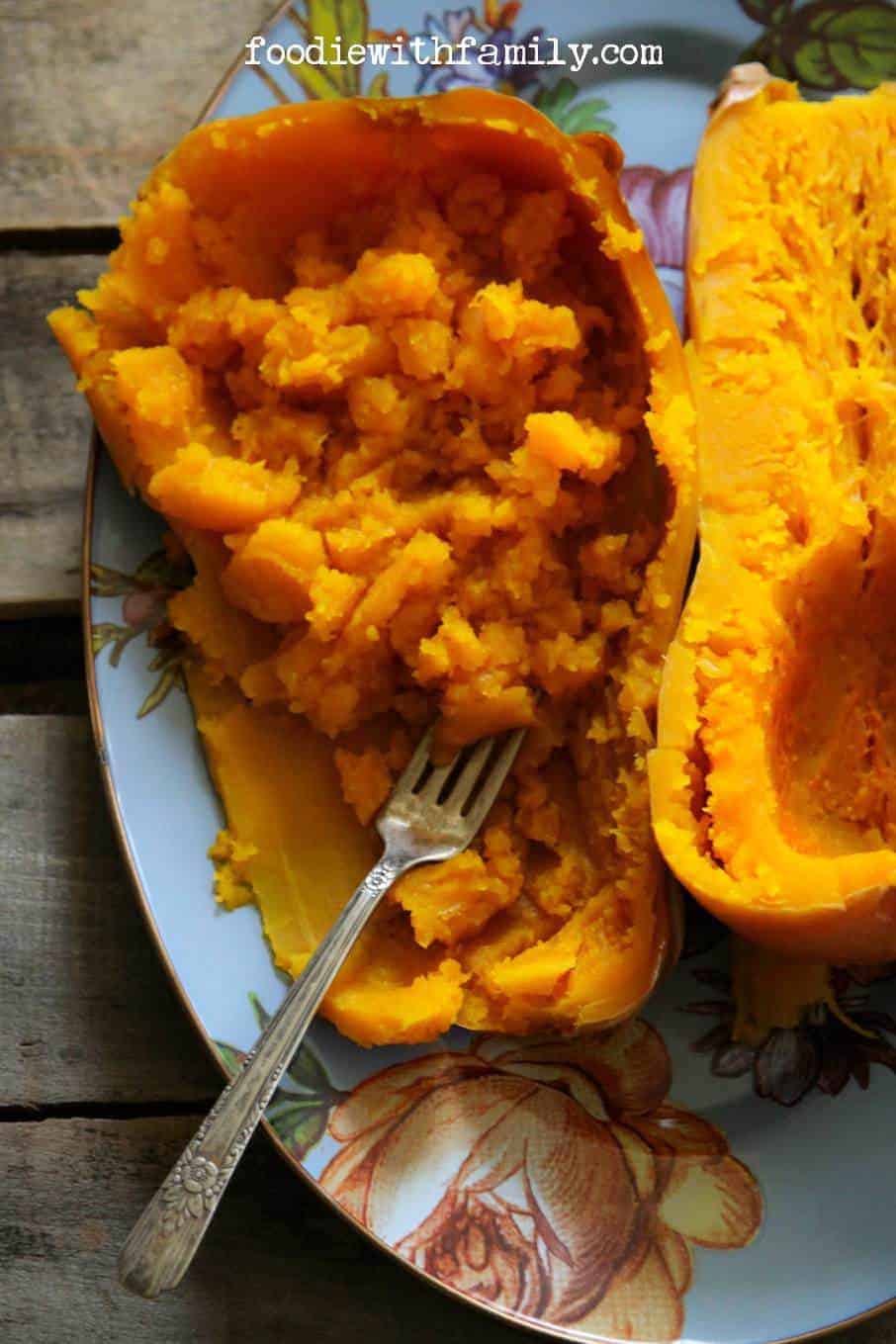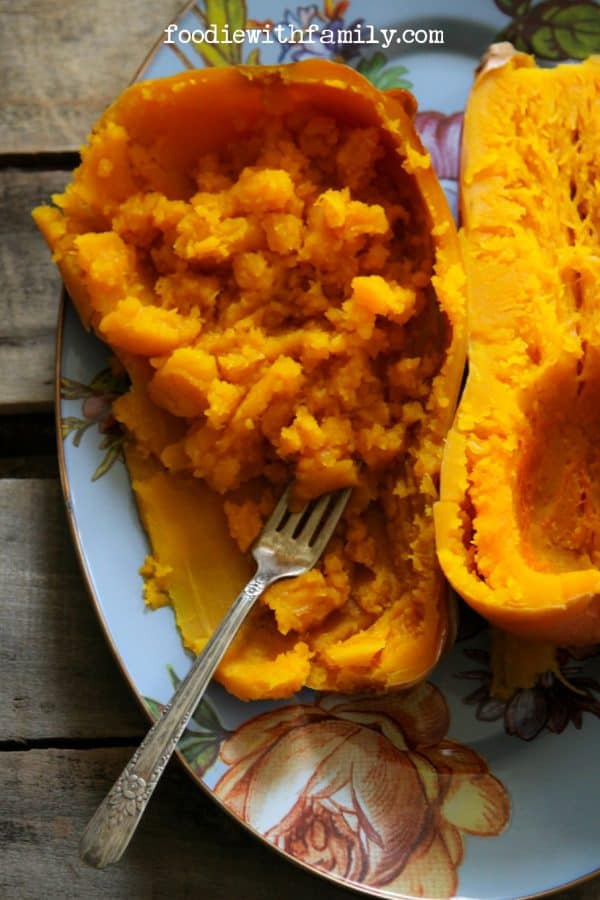 Of course, you know I had to try this. I ran out the next day -because her text came AFTER I had run my one and only errand of the day and changed into my tatty old yoga pants with the holes in unmentionable places- and snapped up three butternut squash.
Squashes? Squashii? Plural of squash. Three of them. Why three? The plan was to plop one into a slow-cooker by itself to cook à la Christina, and nestle two in a second slow-cooker together for experimental purposes.
I wanted to see whether I could do two at the same time. Why two slow-cookers? I reasoned that if you're going to cook something in a slow-cooker for 8 hours, you might as well get the most out of those 8 hours.
Unlike the "jab it and nuke it" method, this requires nothing more than stuffing your whole butternut squash (or two) into a slow-cooker and letting it rip. There's no wrestling with a hard gourd and sharp implement. This is where it's at.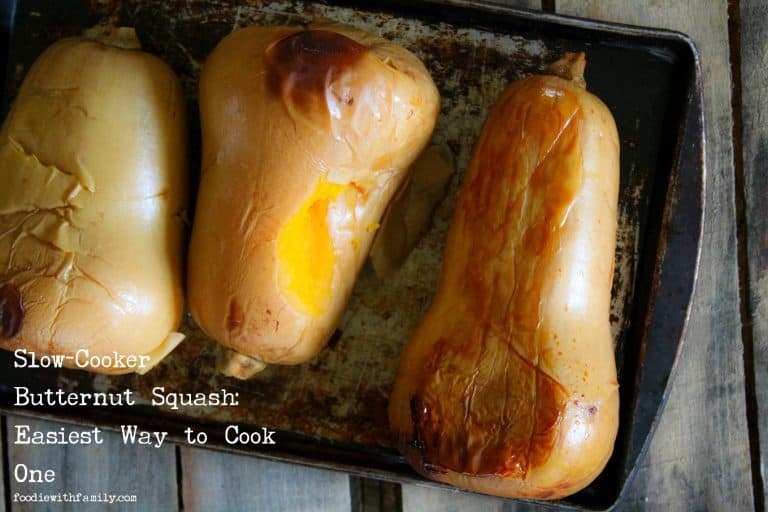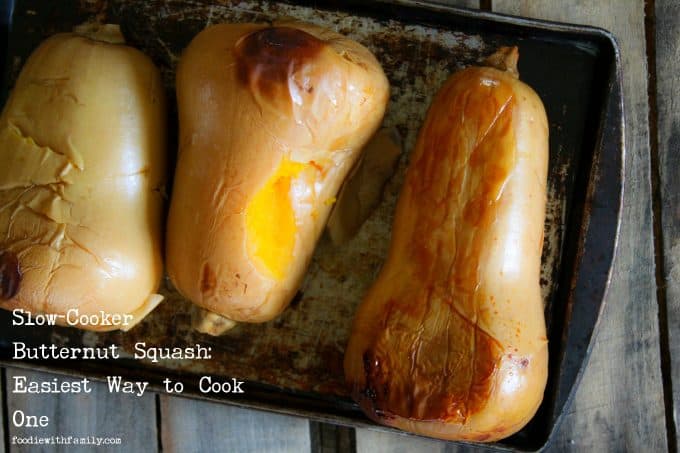 Because we use cooked butternut squash in a multitude of ways (as a base for a creamy soup, as a purée that we serve like mashed potatoes, or as a substitute for pumpkin in cookies, in smoothies, in cakes, and more) having a goodly amount of it on hand is a real convenience.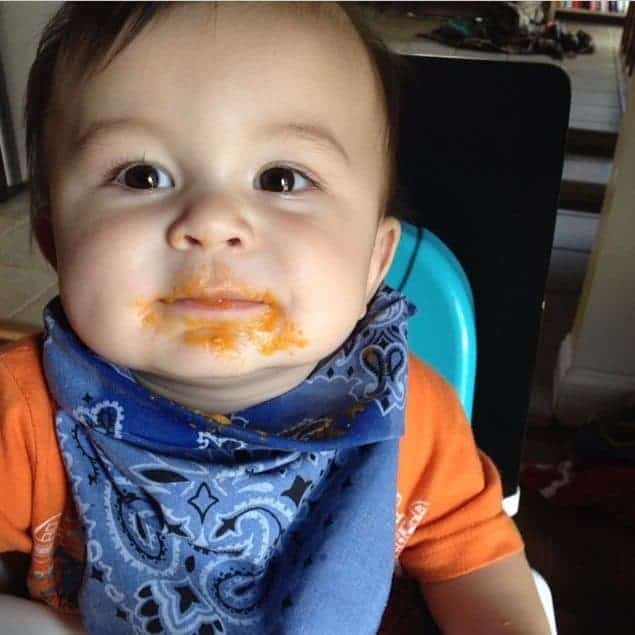 If you, like my sis, have a little one at home, it makes a great first food. My nephew Donovan demonstrates the fine art of wearing cooked butternut squash in the above picture. Go on. Take a minute to admire his beauty. I don't mind. In fact, I insist. No really. I'll wait here while you admire him.
The beauty of this method is two-fold:
You don't have to wrestle a whole squash with a knife and risk taking your fingers off at the knuckles.
Drop it in and forget it for 8 hours. It doesn't get much easier than that for a perfect, delicious, healthy side dish to a plethora of fall dishes.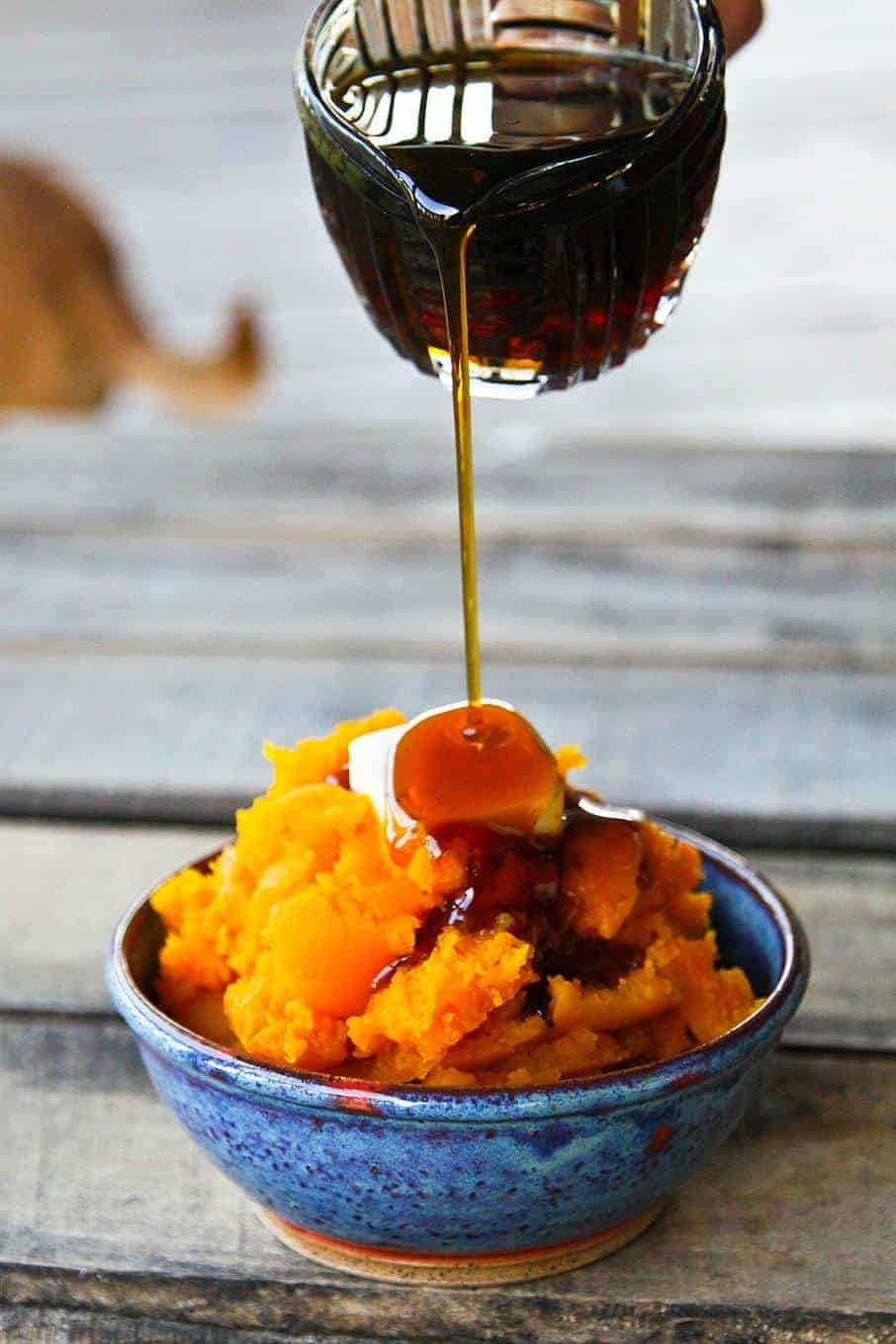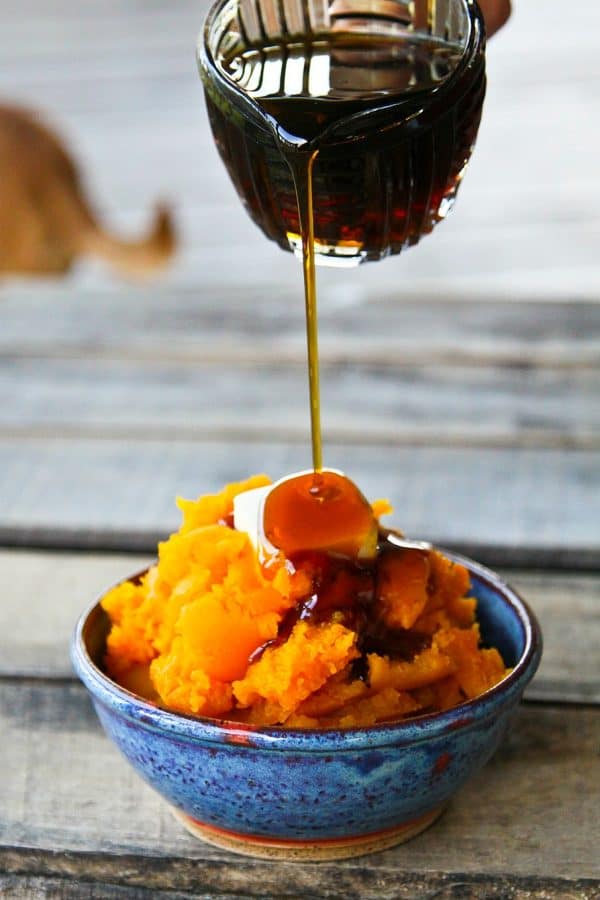 Cook's Notes:
Don't worry about jabbing it with a knife several times (like you do in a microwave or oven baking method). I really mean it when I say drop it in and go. Oh sure, you may want to, say, SCRUB it first, but that's all the prep required.
When the squash is done, it'll be easily pierced with a sharp knife at it's thickest part. At that point, you can use a silicone oven mitt or a couple pairs of tongs to transfer it to a cutting board. And keep in mind that it might be done in as little as 6 hours but that 2 additional hours won't hurt it. You could probably even go as long as 9 hours without harm to the finished product. The longer it cooks, the more caramelized the squash becomes. Translation: Sweeter and tastier.
Cut it however you like, but I find it easiest to slice it in half lengthwise for the purposes of scooping out the strings and seeds. This process, incidentally, is almost infinitely easier AFTER cooking than attempting it before cooking.
After you've scooped the strings and seeds out, use a spoon to scoop the perfectly cooked squash away from the skin. At that point, you can mash it with butter, salt, and pepper (and a glug of dark maple syrup if you know what's good for you), or put in an airtight container and use within a couple of days. If you want to store it longer than that, mash it well and freeze in ice cube trays. After solid, transfer to a zipper top freezer bag. You can thaw a cube to add to baby's dinner or use as many cubes as you'd like to flavour/thicken hearty fall soups, add to baked goods, or use frozen in smoothies! Talk about tasty nutrition!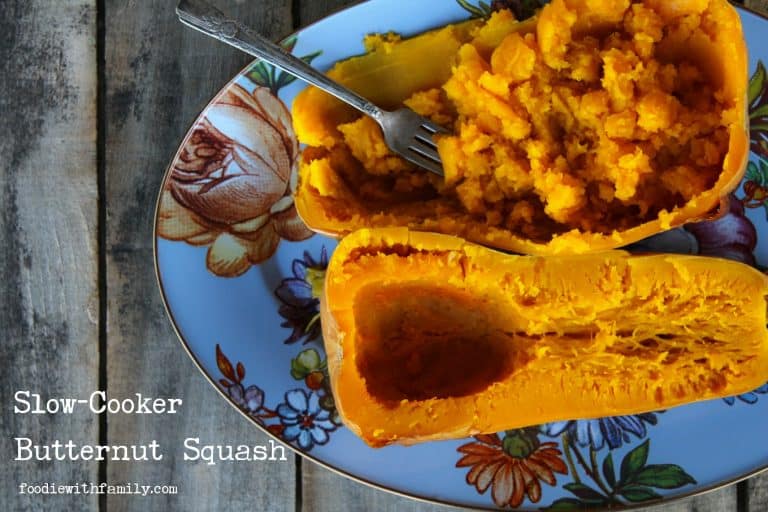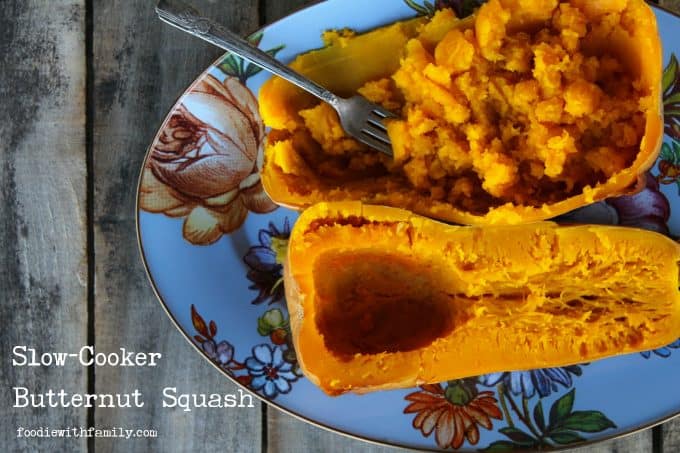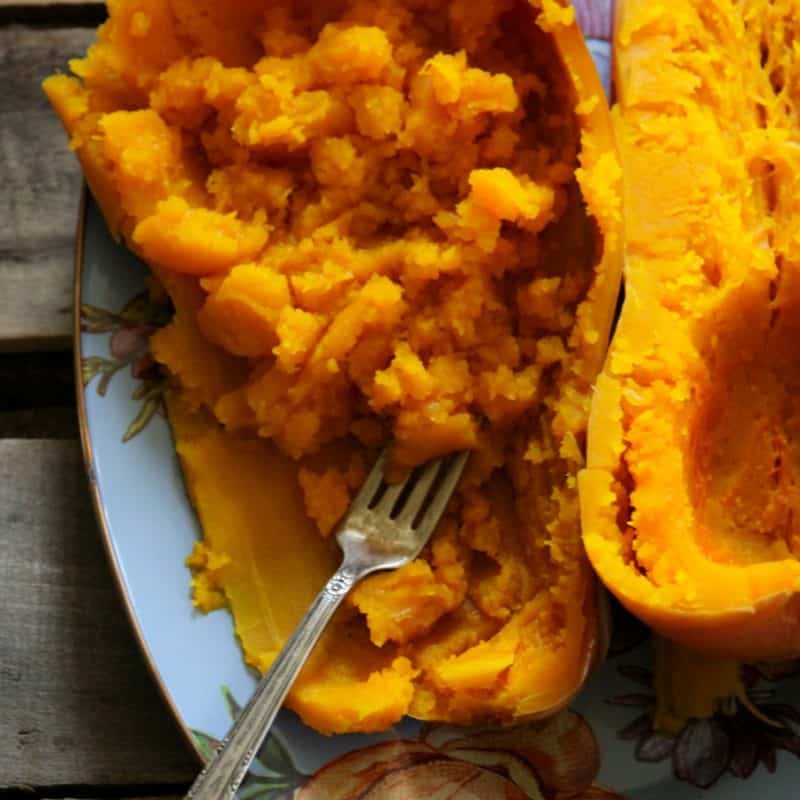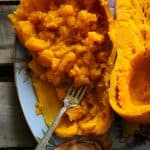 Print
Slow-Cooker Butternut Squash: Easiest Way to Cook a Butternut Squash
Slow-Cooker Butternut Squash yields tender, sweet, unbelievably delicious cooked butternut squash and you don't have to wrestle the big beastly hard raw squash or go anywhere near it with a knife until it's already practically ready to cut itself!
Ingredients
1

to 2 whole

washed butternut squash
Instructions
Arrange the butternut squash (or squashes) in the slow-cooker. Put the lid in place and set the slow-cooker to LOW. Cook for 8 hours on LOW or until the squash is easily pierced at the thickest part of the neck with a sharp knife.

Use tongs or hot pads to carefully transfer the hot squash to a platter. Let it stand 5 to 10 minutes, slice in half lengthwise, use a spoon to scoop out the seeds and strings, then scoop the flesh from the shells.

You can use the squash in this state or mashed and you can use it immediately or refrigerate or freeze it for later use.
Nutrition
Calories:
337
kcal
|
Carbohydrates:
87
g
|
Protein:
7
g
|
Sodium:
30
mg
|
Potassium:
2640
mg
|
Fiber:
15
g
|
Sugar:
16
g
|
Vitamin A:
79725
IU
|
Vitamin C:
157.5
mg
|
Calcium:
360
mg
|
Iron:
5.3
mg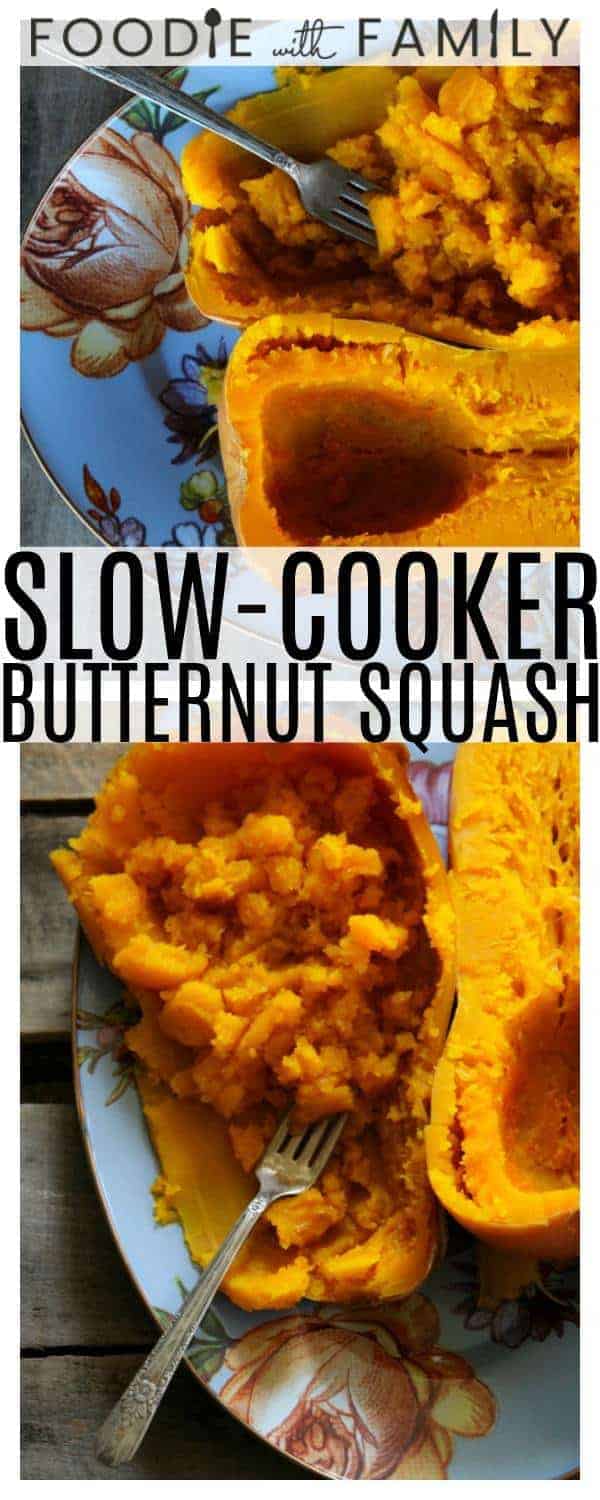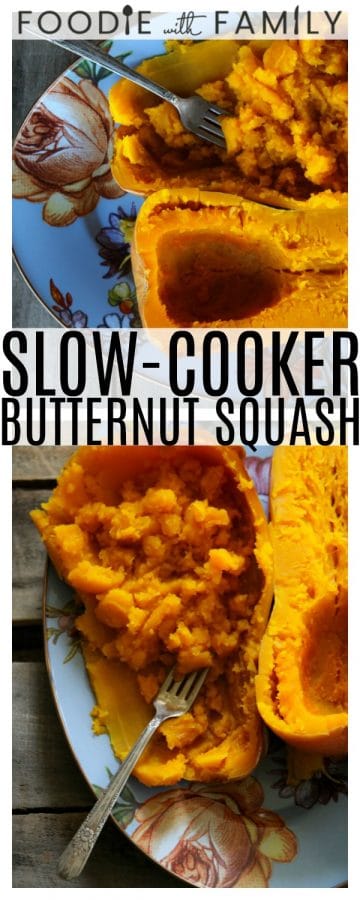 Save