I love cooler weather. I love the wake-you-up power of stepping outside of the house into a cold fall wind and the lulling waves of warmth rolling off of the wood stove that slowly make your eyelids fall no matter how hard you try to stop them. There's a wild rush to try to fill the last of the jars with grape juice and applesauce and pie filling, and an almost imperceptible shift from thoughts of how to cool off to thoughts of just how thick a sweater you should grab before hurrying thither and yon.
Is there anything more likely to induce a swoon than having a chill in your hands and your nose while you walk through your door into a delicious smelling cloud of roasting squash, Brussels sprouts, sweet Italian sausage, and onions? I can't think of anything that would warm me up more quickly -body, heart, and soul- than that.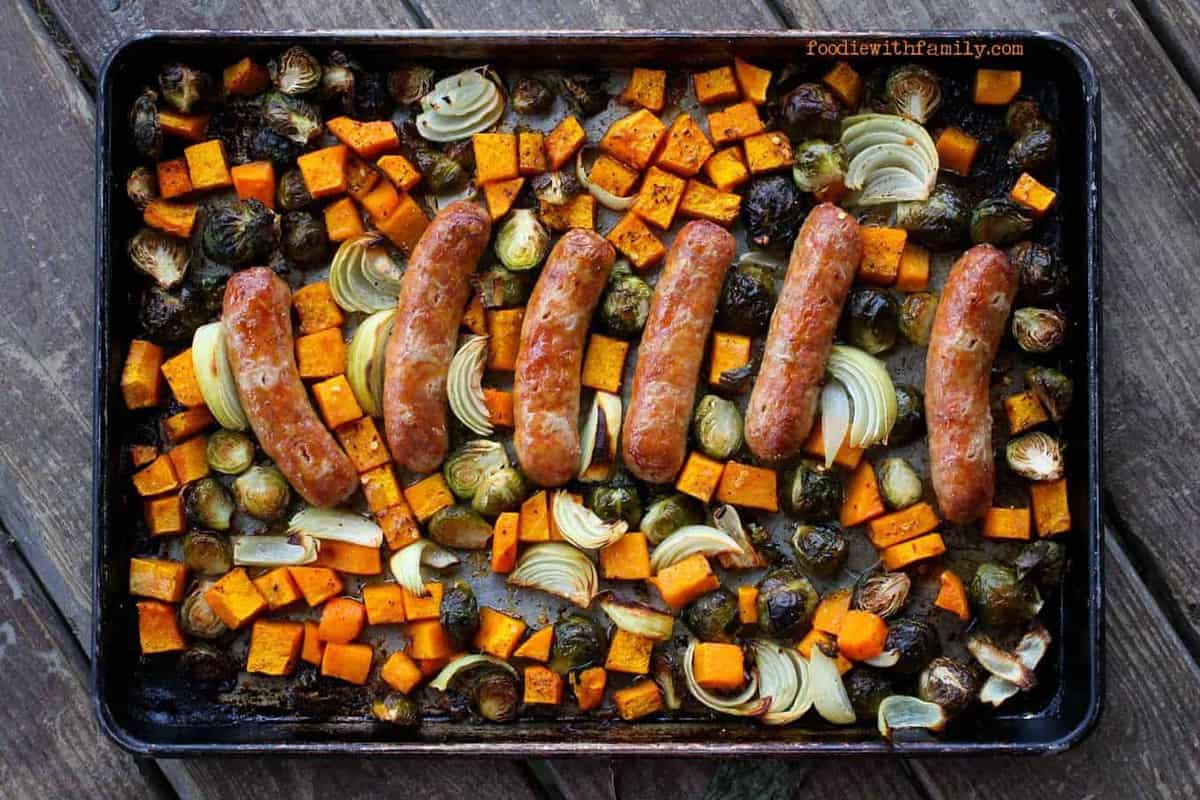 This entire meal is cooked on one sheet pan -just one- making clean up a snap. It only takes between 30 and 45 minutes in the oven depending on just how well-roasted you like your squash and sprouts. Even better, you can cut up your squash, sprouts, and onions up to a day ahead of time. Prep one day, bake another. How lovely to know you have a hearty, homemade meal ready to go on a busy day. All you have to do to roast it is toss your prepared vegetables with a little olive oil, salt, crushed red pepper, and black pepper, lay it out on a pan, and nestle some sweet Italian sausage links in and among the goodies. While it roasts, you can go rake leaves, help someone with homework, put your feet up, or have a cocktail or glass of wine. Just minutes later, you're ready to plate it all up and serve it with a loaf of crusty bread.
Relaxation can't be bottled, but it can be roasted.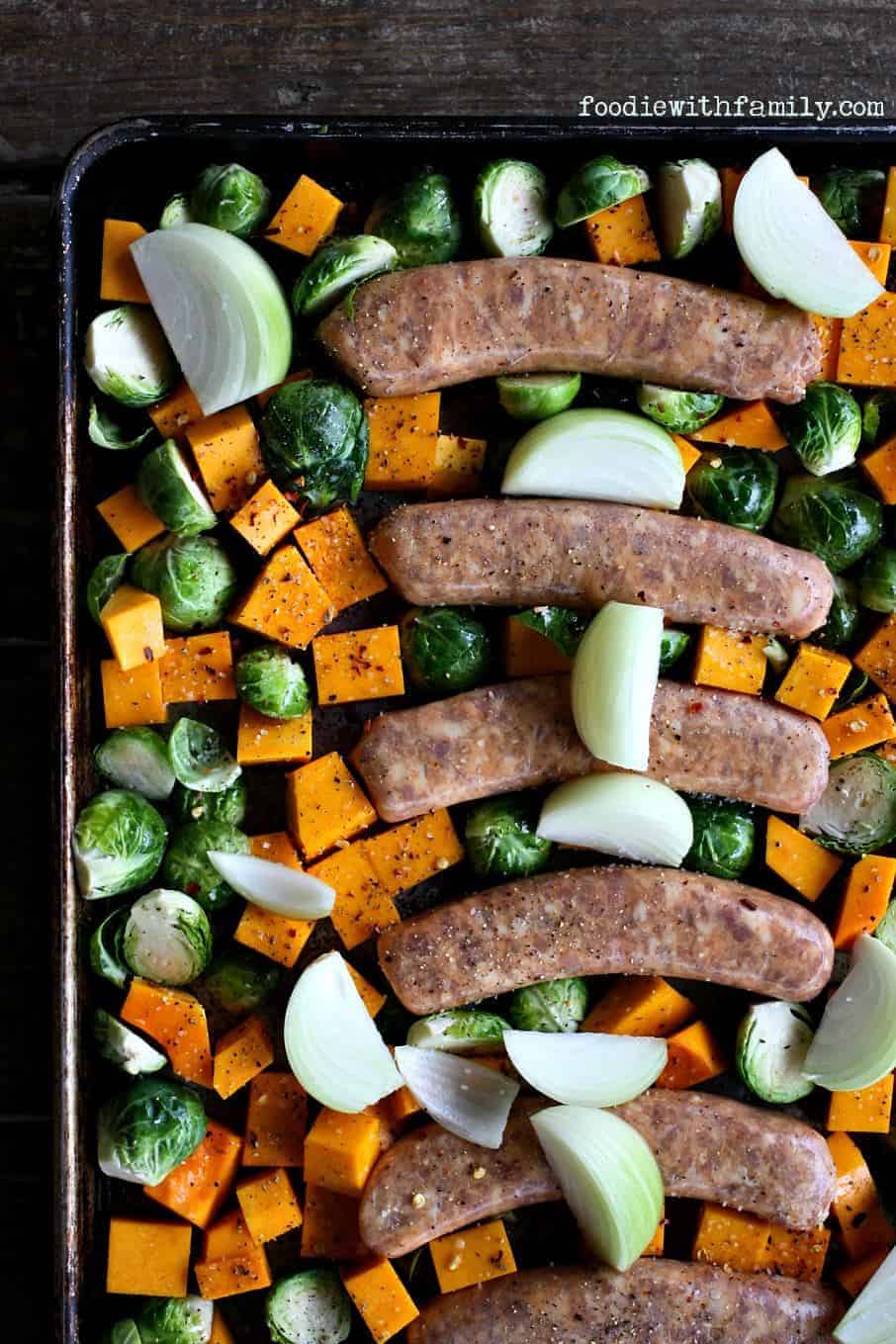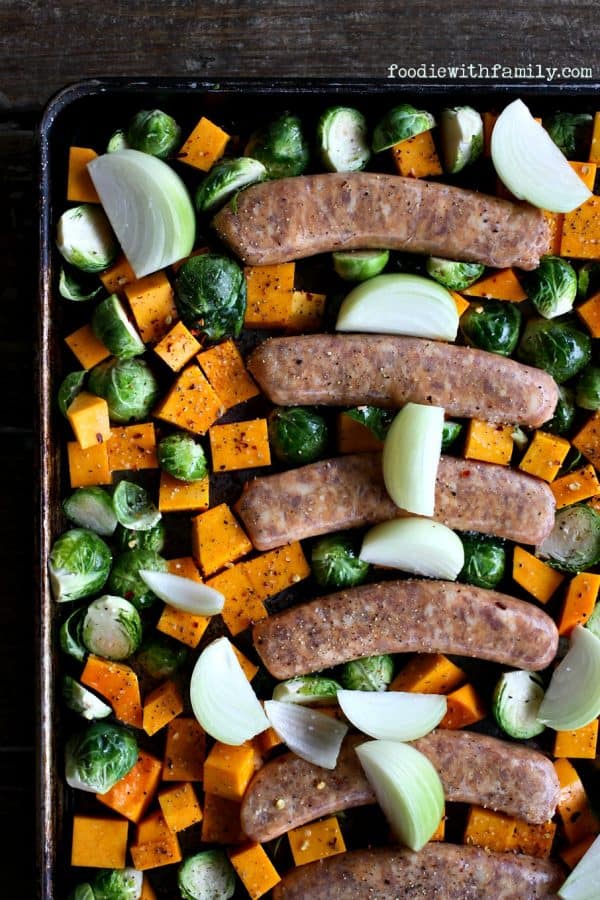 Cook's Notes
One important note: While I call this a Roasted Fall Vegetable & Italian Sausage Sheet Pan Meal, it's technically cooked on what's known as a 'half sheet pan'. The difference is crucial if you're shopping for a pan (shopping information is listed below the recipe.) A full sized sheet pan -according to commercial sizing- will not fit in most home ovens, while a half sheet pan will!
The key to being able to put all the items on the pan at the same time, roast them together, and get a great end result is to cut the Brussels sprouts and butternut squash pieces to about the same size. They should both be about 3/4-inch at their thickest part.
I generally trim any dry ends from my Brussels sprouts before slicing in half or quarters or leaving whole for the bonnie wee ones. It's purely aesthetic, but I like it.
Butternut squash can -admittedly- be a real bear to get into. If you're freaked out by the idea of breaking one down, many grocery stores carry pre-cut containers of it in their produce sections. You will -in all likelihood- need to break those down a little more in size, but it's a perfectly good alternative to dismantling a whole butternut squash if that intimidates you.
The onions should be slightly larger than the Brussels sprouts and butternut squash pieces. The best end results come from trimming the root and blossom ends of the onions before cutting them in half. Peel the onions and lay them cut side down on the cutting board. Cut them into wedges that are about 1 inch at their widest point. Try to keep the onion wedges as intact as possible to keep them moist during roasting.
Don't forget to use a sharp knife to pierce the sausages before nestling them into the vegetables. This keeps them from bursting through the casings during the cooking and makes them look better at the end of the cooking time as the fat escapes and bastes the sausages during roasting.
About halfway through the roasting time, use tongs to flip the sausages over so the other side can brown.
I don't stir my vegetables much while roasting because I like a deep caramelization on them, but rather shimmy the pan back to front then side to side at a couple of points during the cooking.
There really is about 15 minutes of leeway in the cooking time here. This is discretionary. At 30 minutes, everything should be done. The squash and sprouts should be tender and the sausage should be cooked through and just beginning to brown at the ends. I like my vegetables more caramelized, though, and my sausages more browned. Just start checking the vegetables at 30 minutes and pull the pan when it looks done to your liking.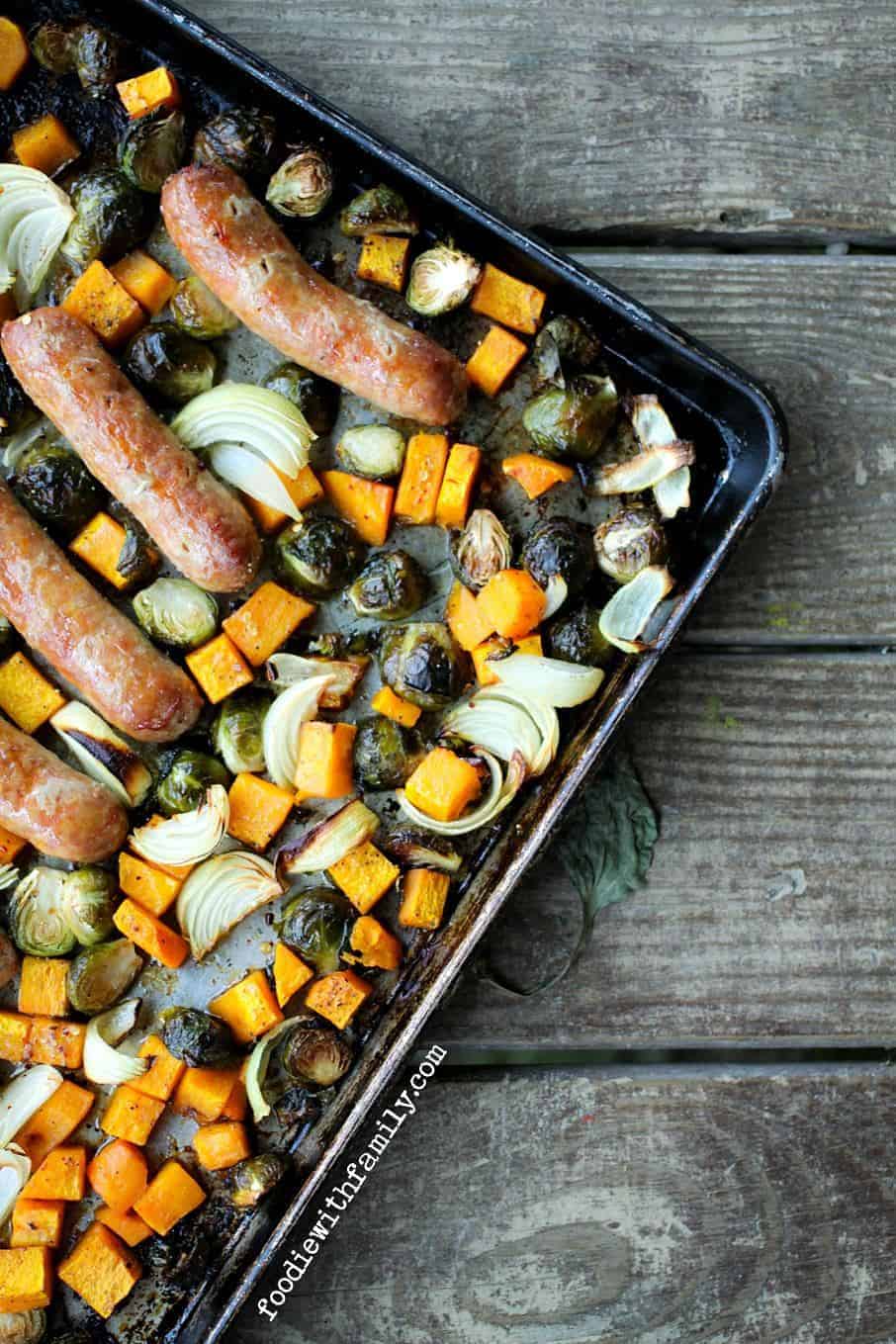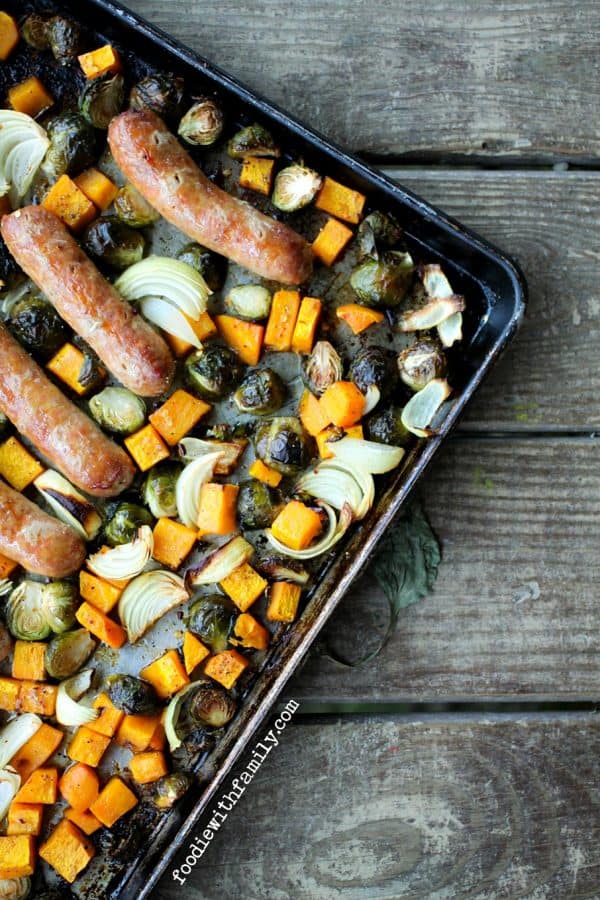 Use these to make Roasted Fall Vegetable & Italian Sausage Sheet Pan Meals:
Love this Roasted Fall Vegetable & Italian Sausage Sheet Pan Meal? Try these Squash recipes!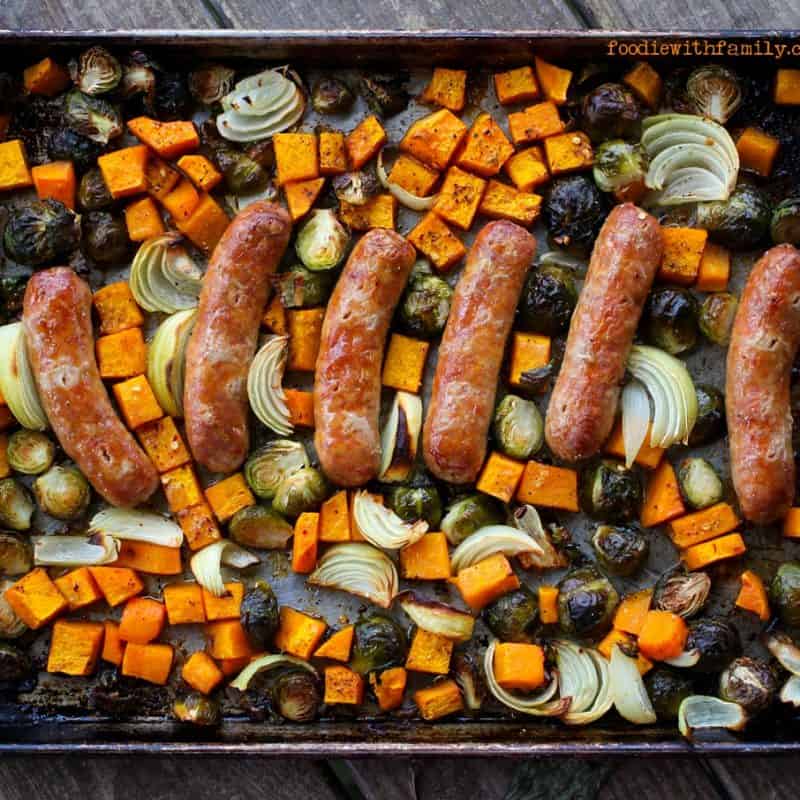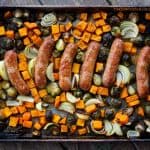 Print
Roasted Fall Vegetable & Italian Sausage Sheet Pan Meal
Ingredients
1

pound

butternut squash

trimmed, scraped of seeds, and sliced into 3/4-inch cubes

1

pound

fresh Brussels sprouts

trimmed, and left whole, halved, or quartered, depending on size, to about 3/4 of an inch in size.

2

tablespoons

olive oil

1

teaspoon

kosher salt

1

pound

sweet Italian sausage links

pierced several times with a sharp knife

2

medium yellow or red cooking onions

trimmed, peeled, and cut into wedges that are 1-inch at their thickest/point

1/4

to 3/4 teaspoon crushed red pepper flakes

according to heat tolerance

freshly ground black pepper to taste
Instructions
Preheat oven to 400°F.

Toss the butternut squash and Brussels sprouts pieces with the olive oil and salt. Spread it out on a sheet pan and nestle the sweet Italian sausage links among the vegetables. Distribute the onion wedges evenly around the pan. Roast for 30 to 45 minutes, turning the sausages after about 15 minutes, or until the vegetables are tender and the sausages are beginning to brown in places.
Nutrition
Calories:
384
kcal
|
Carbohydrates:
19
g
|
Protein:
14
g
|
Fat:
28
g
|
Saturated Fat:
9
g
|
Cholesterol:
57
mg
|
Sodium:
963
mg
|
Potassium:
804
mg
|
Fiber:
5
g
|
Sugar:
4
g
|
Vitamin A:
8605
IU
|
Vitamin C:
84.4
mg
|
Calcium:
90
mg
|
Iron:
2.6
mg

Recipe and photos originally published Oct 20, 2014, updated notes and links October 2017.

Save
Save