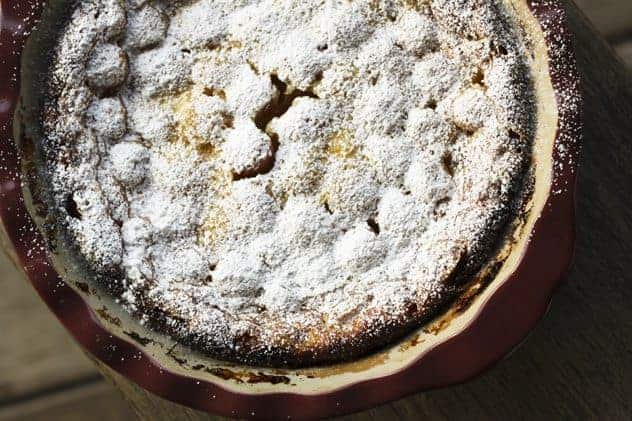 Plrb.
That's the genteel version of ptooey. Which is what you're inevitably going to have to do if you eat a clafoutis whilst in France. This brings me, rather quickly, to two very important points.
Clafoutis -for the benefit of those who haven't yet had it- is seriously good stuff. It's a warm or room temperature custardy dessert that is usually studded with fresh fruit, usually cherries. It's kind of a big deal in France.*
In the aforementioned Belle France, cherry clafoutis are usually made with whole fruits. Translation: they leave les pits in les fruits.
*As in a really big deal. Clafoutis is to France as apple pie is to the U.S.A.
And this is why the spitting. As an American, born and raised, I was unaccustomed to cherry desserts avec pits. I was used to having the pits removed before they reached my plate and ploughing through cherry pies at lightning speed. Thankfully, a kind soul was aware that most Americans didn't eat pit-intact cherry desserts and warned me, otherwise, I could've become intimately acquainted with the dental system in France. While I'm sure it's a wonderful system, I'm really okay with not knowing it from the inside.
Why would you want to leave the pits in when you could remove them and be done with the whole thing? There are actually two very good reasons. (Today's post brought to you by the number Two!)
Leaving the pit in the cherries preserves the beautiful round shape of the cherries as they bake. It's visually appealing.
The cherry pit -believe it or not- brings a lot of flavour to the party. It contributes a subtle hint of almond. This is where the bells and chimes ring out. Yes. Cherry and almond. The pairing is not an accident! If you leave the pits in place, you don't have to add almond for that classic flavour combination.
Negotiating the pits while eating dessert is not as disconcerting as you might think, speaking from personal experience. When the cherries cook in the custard-like batter, the pits free themselves from the fruit. As you bite down, the pits tend to slip right out of the cherries and you can tuck them into your cheek to be discreetly plrb-ed or ptooeyed (depending on the company) into a napkin or into the spoon and then deposited in a small bowl next to the dessert plate.
While cherries are still at their peak of availability, try a whole cherry clafoutis. Put a little Edith Piaf on the stereo. Throw in a Gallic laugh for good measure. And do summer like the French do: with style and great taste.
P.S. These are, like most custard-based tarts, at their very best when served fresh and at room temperature. They are quite good, though, cut into wedges when cold.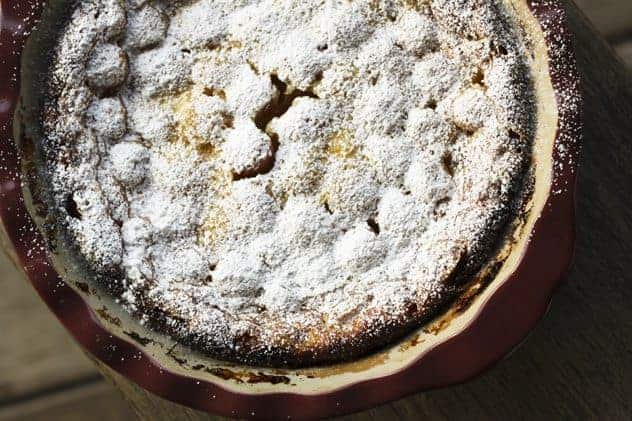 Whole Cherry Clafoutis (Cherry Custard Tart)
Rate Recipe
A simple, creamy, custard-based classic French dessert made with fresh cherries. Enjoy with a generous dusting of powdered sugar.
Ingredients
1

pound

of fresh

sweet cherries

3

large eggs

room temperature

3/4

cup

sugar

1/8

teaspoon

salt

1 1/2

teaspoons

real vanilla extract

1/2

cup

all-purpose flour

3/4

cup

whole milk

DO NOT SKIMP ON THE FAT. You will regret it bitterly.

1/4

cup

heavy cream

soft butter

powdered sugar

for serving
Instructions
Preheat your oven to 350°F.

Remove the stems from your cherries, but leave the pits intact. Generously butter the sides and bottom of a deep pie plate. Scatter the cherries as evenly as possible over the bottom of the pie plate. Set aside.

Vigorously whisk the eggs until they are frothy.

Add the sugar, salt and vanilla and beat well again with a whisk until the sugar is incorporated. Whisk in the milk and cream. Sprinkle the flour over the surface and -once again- beat enthusiastically with the whisk until you have a perfectly smooth batter. Let the batter rest for 5 minutes at room temperature then pour over the cherries in the prepared pie plate.

Bake the clafoutis for 40-50 minutes, or until puffy and golden brown in the center (but still jiggly) and darker brown at the edges. A knife, when inserted in the center of the clafoutis, should come out clean. It may be damp, but it should not have uncooked egg clinging to it.

Let the clafoutis cool in the pan on a cooling rack until it is barely warm to the touch or room temperature. Dust the clafoutis generously with powdered sugar and serve in wedges with a small bowl or napkin for the pits.

Store tightly wrapped leftovers in the refrigerator for up to 3 days.
Nutritional information is an estimate and provided to you as a courtesy. You should calculate the nutritional information with the actual ingredients used in your recipe using your preferred nutrition calculator.