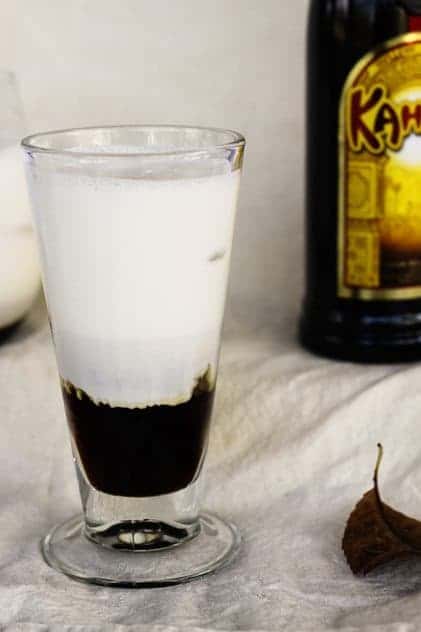 When I was in Oregon a few weeks ago, my friends were shocked- SHOCKED, I say- to find out I had never had a margarita in my life. They remedied that pretty quickly, let me tell you…
Everyone wanted to know why I hadn't had one before. The truth is, I'm picky. I'm not a big drinker, so when I have one, I want to make sure it is a good one (and preferably not a strong one or I'm going to need to go to bed very quickly after having it. Zzzzzzzzz.) I didn't dare tell them how short the list of mixed drinks I've actually had in my lifetime is. Honestly? I can count them on one  hand; Long Island Iced Tea (meh), Daiquiri, Gin & Tonic, Mojito, and now Margarita. I'm a sophisticated party animal, apparently.
One drink I've always thought sounded appealing was the White Russian. The thing is, I don't go out for drinks and when I go out for dinner, I'll have a glass of wine if anything at all. (I'm sounding more and more exciting by the moment, aren't I?)
While I'm clearly not a real adventurer when it comes to mixed drinks, I do like to make alcohol-laced desserts. I love rum soaked cherries, flambéed bananas, Grand Marnier cheesecakes, and more. There's something about the way spirits enhance sweets that just dings my chimes. I decided to play around a little bit with the classic White Russian* cocktail to turn it into a dessert.
*Before you ask, no. I hadn't ever had a White Russian. That kind of thing doesn't stop THIS gal from playing around with things, no-siree-bob. And I have a great reason for not having had a White Russian. I don't drink milk.
A White Russian is usually nothing more than coffee liqueur, vodka and heavy cream (or half and half or full-fat milk.) "White Russian Milkshake!" said my brain. I don't drink milk, but if it's blended with a bunch of ice cream, I'll toss it back faster than you can say "You're nuts!" Because the White Russians look so pretty with their black and white layers, I opted to layer my milkshake instead of tossing all the ingredients into the blender willy-nilly.
What was the verdict from this unsophisticated lady? It was darned good. It was slurp it with a straw good. I highly recommend you give this creamy twist on tradition a spin!
This drink is to celebrate the anniversary of The Friday Cocktail over at Creative Culinary. Barb, unlike me, is a wildy creative cocktail creator. The fact that she invited me to be part of the party is both befuddling and flattering. Thank you for including this classy, drinking-wine-from-a-jar gal, Barb. Can I say bottoms up?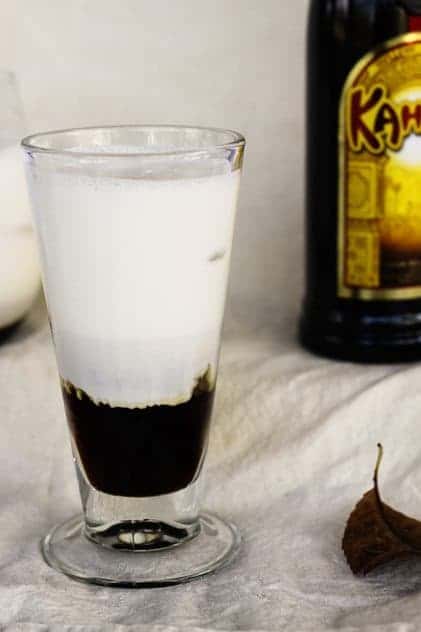 Give this sweet and creamy spin on the traditional White Russian a whirl!
Ingredients
1 1/2

ounces

Kahlua liqueur

1 1/2

ounces

vodka

2

ice cubes

1

cup

vanilla ice cream

1/2

cup-3/4 cup whole milk or half & half
Instructions
Add the vanilla ice cream and milk or half & half to the carafe of your blender. Fix the lid in place and blend until smooth and creamy.

Add the ice cubes to the bottom of a glass, pour both the Kahlua and the vodka over the ice cubes and then slowly pour the vanilla milkshake over the liquor. Serve with a straw and slurp!
Nutritional information is an estimate and provided to you as a courtesy. You should calculate the nutritional information with the actual ingredients used in your recipe using your preferred nutrition calculator.