This is what  my yard looked like this morning when I went out to check the chickens.
I have a serious motivational problem when the weather is this stellar; particularly when it has been raining cats and dogs for a solid week. The idea of doing anything other than sitting on a blanket with a tall, frosty glass of iced tea and a good book seemed almost sinful. Chores kept calling me: "You know, that pile of laundry won't shrink itself."; "Hey! The sink is full of dishes."; "I am your living room and I will NOT be ignored!" I emailed that picture of my yard to my Dad, telling myself that I'd get on the jobs that needed to be done afterward. He promptly emailed me back saying,
"Enjoy it while u can…… lot's o rain coming  from this direction and COLDDDDDDDDDDDDDDDD. We enjoyed it while it was here but like any good guest…it left before we got used to it…"
Never let it be said that I can't take a hint. My conscience had an excused absence thanks to my Dad. The dirt will just have to be patient and stick around until I'm done relaxing.
Some things, like taking advantage of a beautiful day when you've already had one rainy week and you're staring down the barrel of another just like it, are no-brainers. Another no-brainer? No-Cook Fresh Pasta Sauce in all its  wonder. It's an unglamorous name for the most wonderful seasonal pasta sauce ever to cross my lips and it is a perennial favorite around our household. True to its name, the sauce requires no cooking whatsoever. And, ooooooh baby, let me tell you about its flavor. The ingredient list is comparatively puny; tomatoes, garlic, parsley, basil, olive oil, salt and pepper. The balanced combination, while simple, packs an unbeatable summer flavor. It is proof positive that uncomplicated food is often the best.
Adding to its charms of fabulous flavor and ease of preparation is the fact that the ingredients are currently (or soon will be) available at almost every roadside stand, farmers' market or podunk-grocery store across America.
Just look at this. It's so easy, so delicious, so inexpensive. It can be a lunch or a dinner, a vegetarian main dish, a side dish or a midnight snack. What are you waiting for?
One word of caution: You'd better arm yourself with a nice, fresh loaf of crusty bread. If you don't you'll find yourself licking the plate to get every last little bit of garlic and herb infused olive oil. I'm just saying…
For a photo-free, printer friendly version of this recipe, click here!
No-Cook Fresh Pasta Sauce
Recipe courtesy, many years ago, of Val.
If you find yourself short of fresh basil or parsley, you can substitute other fresh mild herbs such as chervil or chives. Use a light hand if adding fresh oregano, thyme or rosemary as they can easily overpower other flavors!
Ingredients:
1 pound ripe plum tomatoes
1/2 cup extra virgin olive oil
7 fresh basil leaves
1/4 cup packed fresh parsley, chopped
2 cloves (or more) garlic, peeled
kosher or sea salt and pepper to taste
Later, prior to serving:
1 pound hot pasta, cooked and drained according to package directions
Trim a thin disc off of the stem end of each tomato.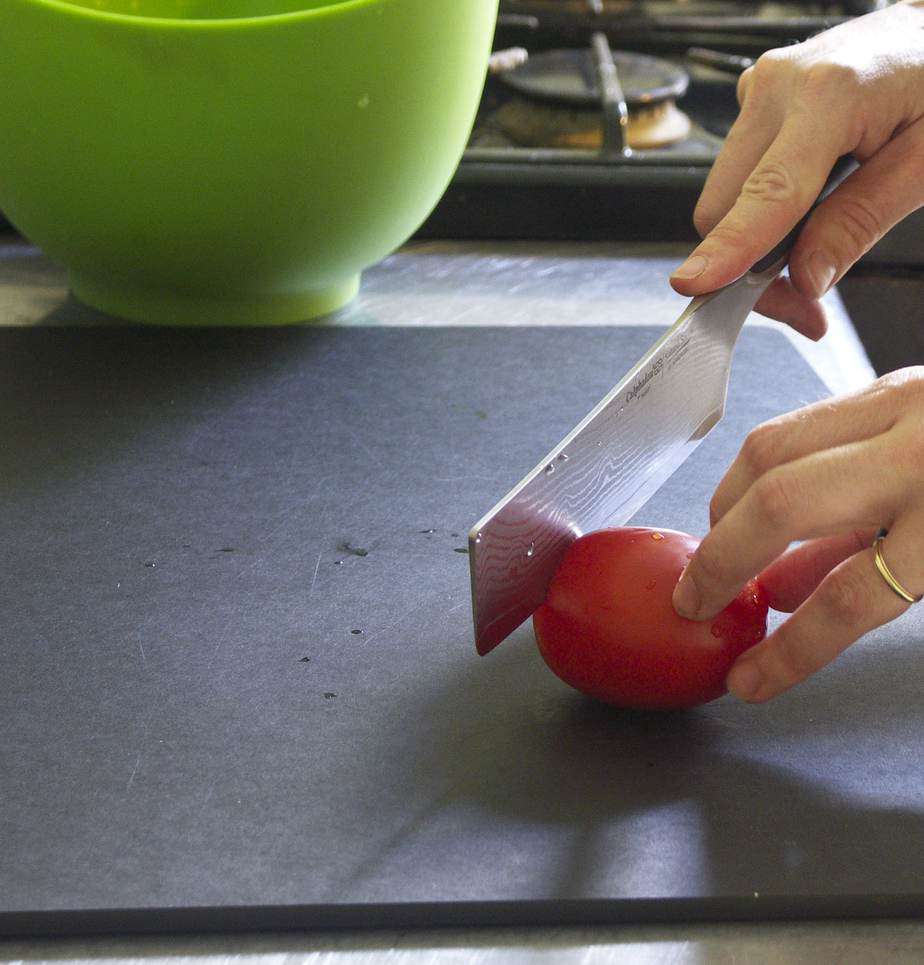 Stand tomato, cut surface down, and slice tomato in half. Use a the tip of a teaspoon or your fingers to remove the seed and pulp from the tomato halves. When you're done, they should look like this: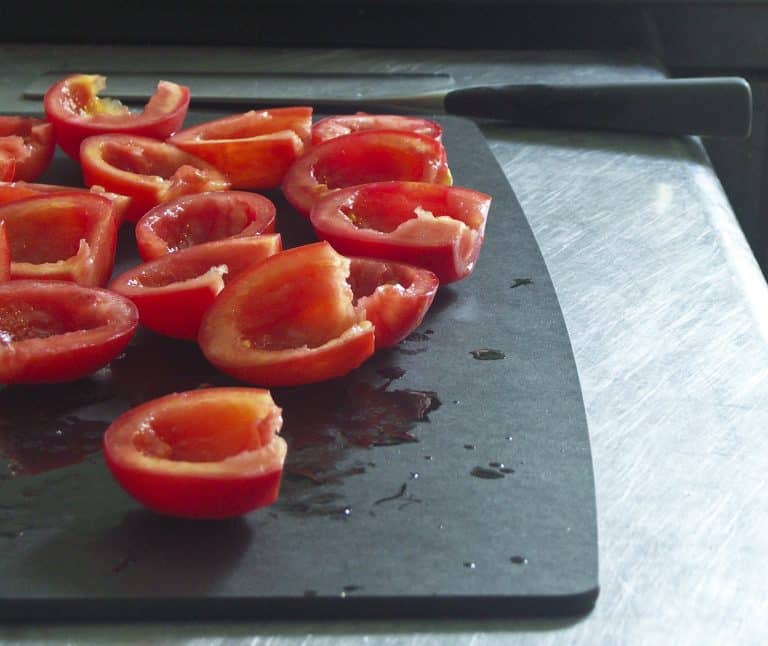 Slice tomatoes into long thin strips. Turn the strips 90 degrees and cut across the strips to dice your tomatoes into small cubes.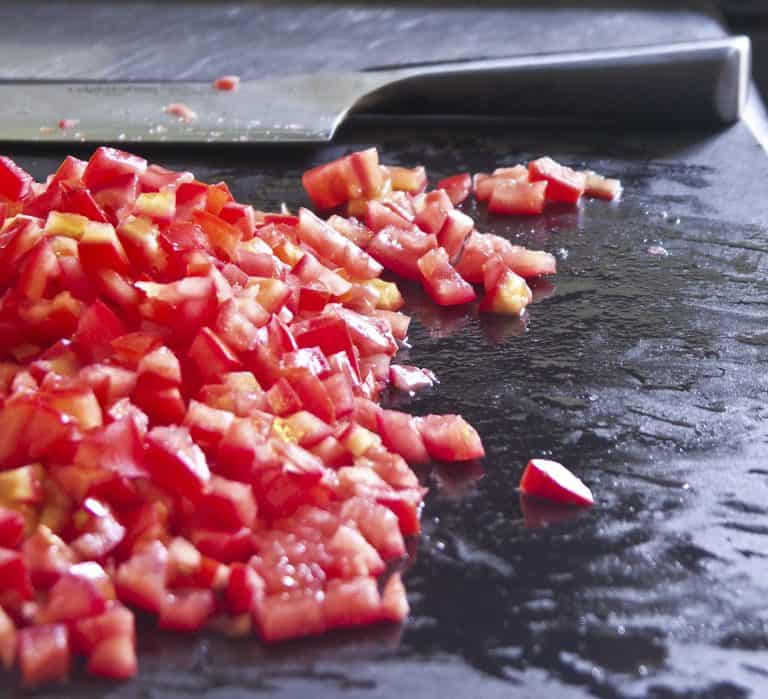 Transfer tomatoes to a medium mixing bowl or container with a tight fitting lid. Place your parsley on the cutting board and top with your peeled cloves of garlic.
Sprinkle lightly with about 1/2 teaspoon of  salt and then lay the basil on top. The salt helps break down the garlic and herbs as you chop, so don't skip it! Chop it all finely.
Add herbs to the tomatoes.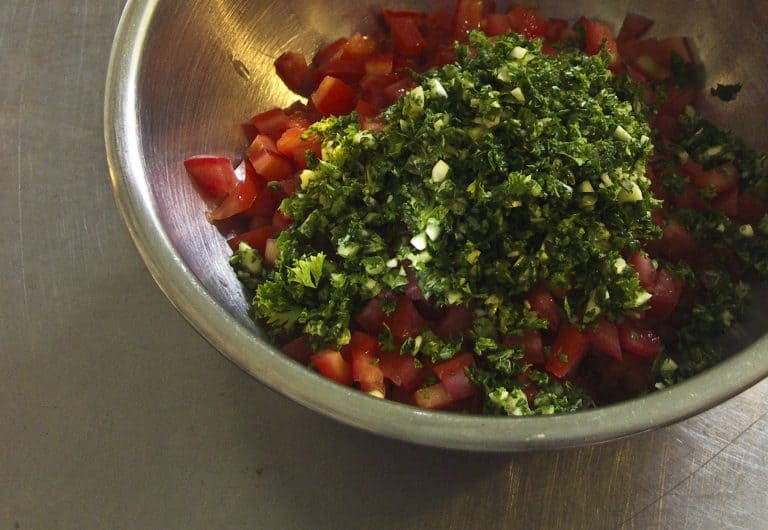 Add additional salt and pepper to taste. Don't skip the salt! It helps pull moisture from all the ingredients and marry the flavors. Married by salt. Well, there's an idea if The Evil Genius and I ever renew our vows. I'll carry a bouquet of cilantro. He can have a boutineer of jalapeno and Salt can conduct the ceremony. What? We had a church service for the actual wedding…
And come on, do you not just want to eat all of this right here and now? Am I the only one who wants to do that?
Now just pour the olive oil over the whole lot.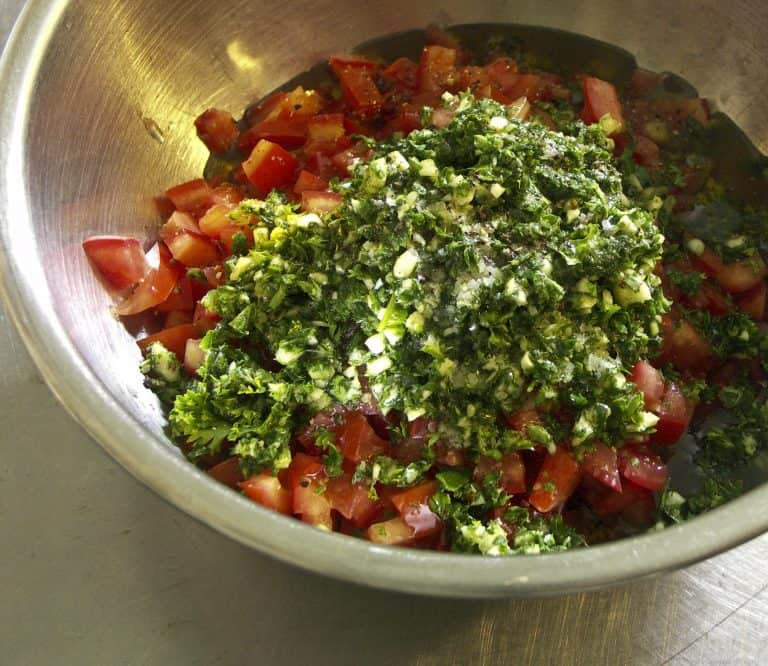 Toss gently; like a baby. Not that I advocate baby-tossing.
This is a beautiful thing.
Leave, tightly covered, at room temperature all day or in the fridge for at least 2 days to allow flavors to combine.
To finish the dish, add the sauce to the bottom of a large bowl.
Scoop the hot pasta which has been cooked and drained according to package directions directly on top of the No-Cook Pasta Sauce. And yes, it is crucial to use HOT pasta. The heat from the pasta helps take the edge off of the raw garlic.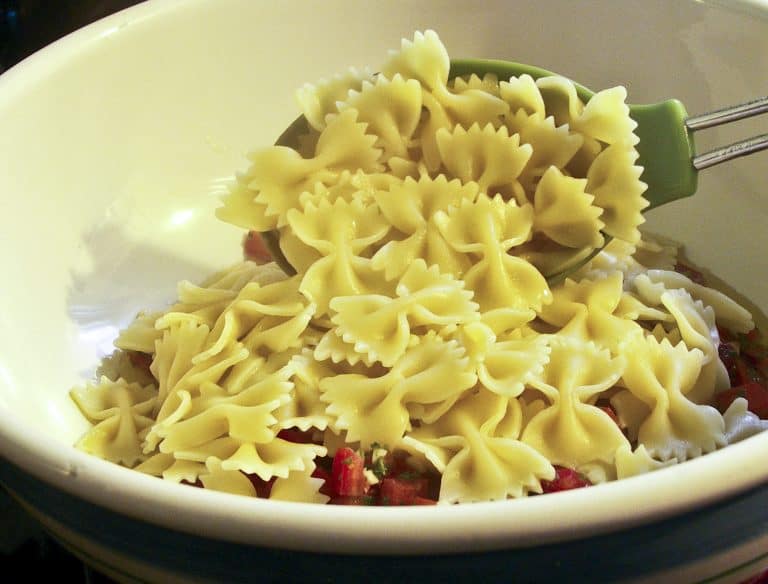 Again, toss gently; like a baby. And we are all aware that I do not, repeat, do NOT advocate the throwing of babies even though they are remarkably bouncy.
Serve hot or room temperature.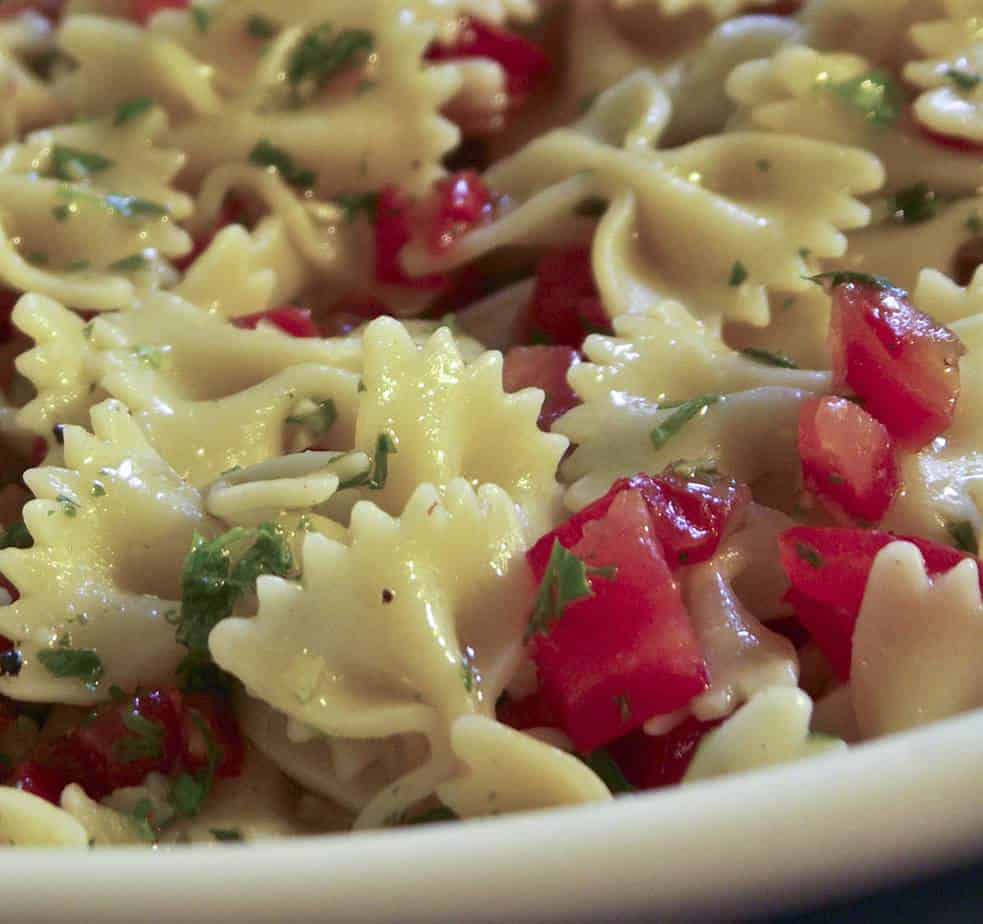 Grated cheese (and you won't hear me say this real frequently) is strictly optional. This really doesn't even need cheese. (I feel dirty saying that but it's true.)