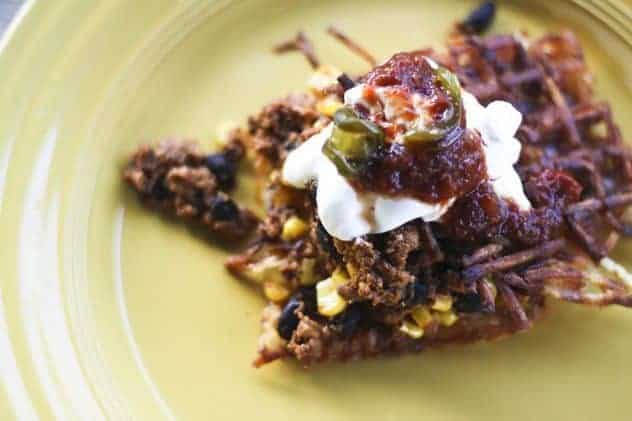 I absolutely, unequivocally, unabashedly, whole-heartedly, borderline-medicably love potatoes in just about every form they can possibly be served; Mashed, fried, baked, smashed, roasted, grilled, and most especially in grated hash brown form. Oh hash browns, you are so magical. The crunch to soft ratio is so perfect on you. Every bite is a beautiful thing.
I'm going to say something everyone knows is true, but it's unpopular to point it out. Potatoes need fat. Oh, yes they do. I don't do skinny potatoes. (Unless we're talking about fingerlings doused in melted butter.) Potatoes cry out for fat. It's practically the law. And hash browns are no exception to that rule. In fact, they require a little more fat than the average tater.
Given my love for the ever wondrous hash brown, it should come as no surprise that when I saw this pinned on Pinterest, I about broke my neck getting to my waffle iron. Waffles are already in the "How do I love thee, let me count the ways" category of foods for me because of the crispy little pockets of syrup-catchery. The idea of putting hash browns in the waffle iron to better catch sour cream, bacon jam, hot sauce, etc… made instant sense to me. I grabbed a bag of frozen hash browns (keep frozen hash browns in case of potato emergencies), generously buttered my waffle iron plopped a massive pile of shredded frozen potatoes in place, added a dollop of bacon fat (don't look at me like that) and closed the waffle iron. Then I stood there and watched while tapping my foot. Then I clenched my fists. Then I bit the counter. If you can behave better than that while potatoes are cooking then you're a stronger person than I am…
The wait was so worth it. It was like the offspring of a potato chip and a hash brown. Terminally crisp, fluffy in the center. Oh my word. That day, I topped it with bacon jam and it was a very good thing. I knew, however, that the potato-tential of the waffle ironed hash browns far exceeded that simple treatment (that was, I repeat, a very good thing.) I thought chili, but I didn't have all the fixings. Then I thought chorizo.
Chorizo is the magic meat. Chorizo makes everything just that much tastier. One of the beautiful things about using chorizo in a meal is that it is a self-contained flavour explosion so you really don't have to add much more in the way of garlic or onion. So into the skillet went a pound of chorizo until browned and crisped in spots, then came black beans, tomatoes with green chiles, and a handful of corn at the end. I simmered just until the corn was hot through then spooned it over my wickedly delicious waffle iron hash browns. Another hash brown went on top, then a dollop of sour cream, a little salsa and a couple slices of candied jalapenos.
Holy swoon.
I about fell off of my chair I was so happy. I didn't think there was any way it could possibly get better.
My brother commented "Add a poached or sunny-side up egg." Well, duh. Of course. Next time, friends. Next time.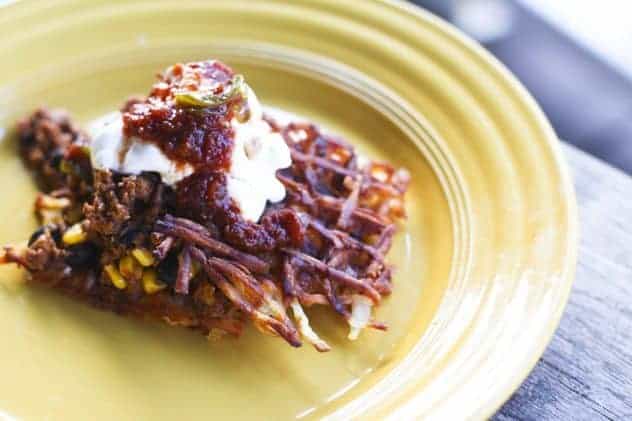 Hash browns cooked in a waffle iron with plenty of butter or bacon fat topped with a spicy, flavourful chorizo, black bean and corn hash. Elevate it to the next level by topping with a sunny-side up egg or sour cream, salsa and a candied jalapeno slice or two. Since chorizo is so full of spices and herbs, the simple hash comes together in mere moments without extra ingredients.
Ingredients
For the Waffle Iron Hash Browns:
Frozen Hash Browns

or freshly shredded potatoes

Butter

or a combination of butter and bacon fat
For the Chorizo Hash:
1

pound

bulk Mexican style Chorizo

2

cups

cooked black beans

or 1 can black beans, drained and rinsed

1

standard sized can diced tomatoes with green chiles

2

cups

frozen or freshly cut sweet corn
Optional for serving:
Sour Cream

Salsa

Candied or Jarred Jalapeno Slices
Instructions
To Prepare Waffle Iron Hash Browns:
If you have a waffle iron that has different sections, put a 1/4-inch pat of butter in each section. If it is one big section, put about 3 pats of butter around the section. Pile about 2 to 3 inches of shredded potatoes on the base of the waffle iron, dot over each section as you did beneath the hash browns either with more butter or a dollop of bacon fat. Close the lid of the waffle iron and let it go to desired crispness. I like mine at about 8 minutes. Use tongs to remove to a pan and repeat until you have enough servings.
To Prepare the Hash:
In a heavy-bottomed skillet, break up the pound of chorizo. Cook, stirring frequently and breaking up chunks, until the chorizo is fully cooked and browned in places. If necessary, drain the chorizo after cooking then return it to the pan. If the chorizo is relatively lean, leave it in the pan.

Add the black beans and tomatoes with green chiles and stir. Bring to a simmer, add the corn and cook just until heated through.
To Serve:
Lay a piece of hash brown on a plate, top with a scoop of the chorizo hash, and another hash brown. If desired, top with a dollop of sour cream, a spoonful of salsa and a candied or jarred jalapeno slice.

...Or as my brother suggested, a poached or sunny-side up egg.
Nutritional information is an estimate and provided to you as a courtesy. You should calculate the nutritional information with the actual ingredients used in your recipe using your preferred nutrition calculator.