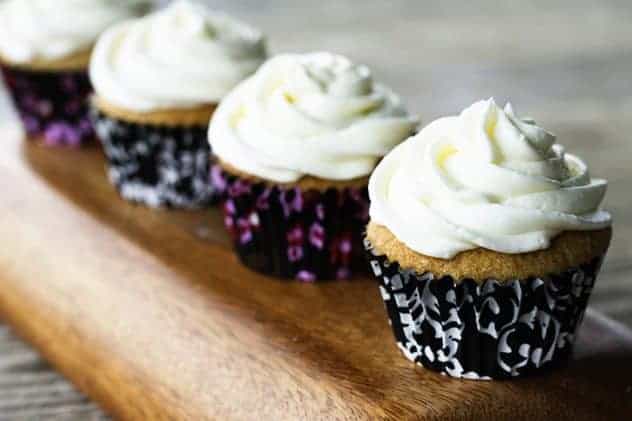 Last week was a beautiful, fantastic whirlwind.
My house was filled with out-of-town family members who had converged to celebrate the wedding of my baby brother, Luke, to the woman of our, er, his dreams, Elvi.
Luke is a poet and I do not mean that esoterically. He's an actual poet. He's finishing up his master's degree in poetry this year and I am not referring to limericks.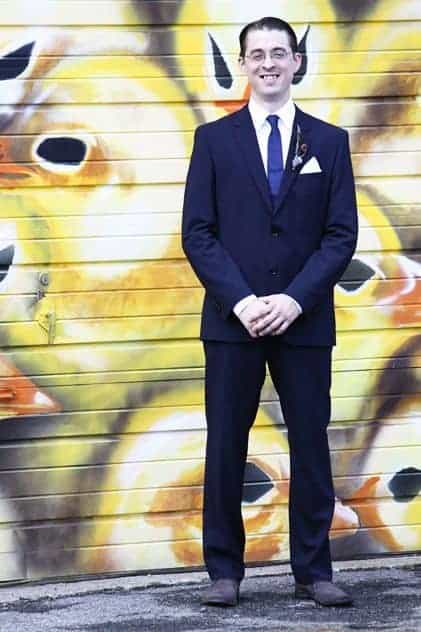 Elvi is an artist and I don't mean that figuratively, either. She's a working multi-media artist who does incredible things. Everything she does looks like art, even passing communion…
If you're thinking that the wedding of a poet and an artist would be a feast for the senses you'd be one-hundred percent right, but of all the magical things there were on that day the most wonderful of them all was the love radiating from Luke and Elvi.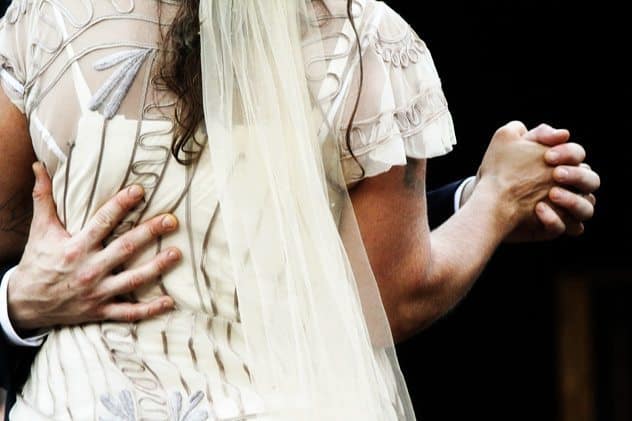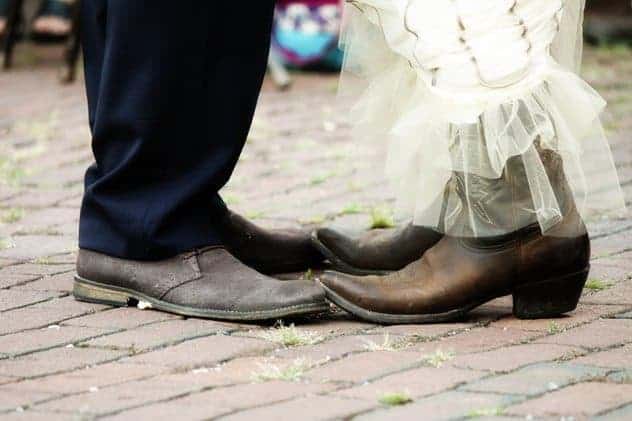 Gosh, I love these two so much.
Their car did not cooperate with the wedding plans. It you-know-what-ed the bed in a big way just a couple days before the ceremony. Did they let that get 'em down? No way! My little sister and her boyfriend led a contingent of little kiddles in decorating the happy couple's  bikes so they could ride away in matrimonial style. Off they went into the Buffalo sunset for a celebratory wedding coffee, seltzer cans rattling and streamers snapping behind them…
I think Luke summed up all our feelings with one victorious little hand gesture.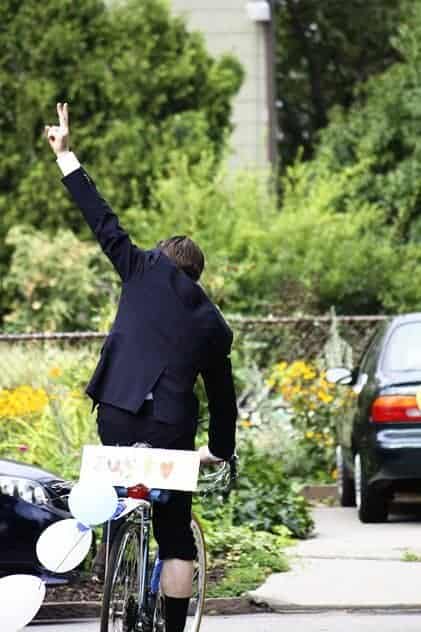 You know it, little brother. Welcome to the family, Elvi, we like you more than ice cream. I know you know that's big…
~~~~~
So why the cupcakes? Yours truly was in charge of baking, decorating and bringing the wedding cake.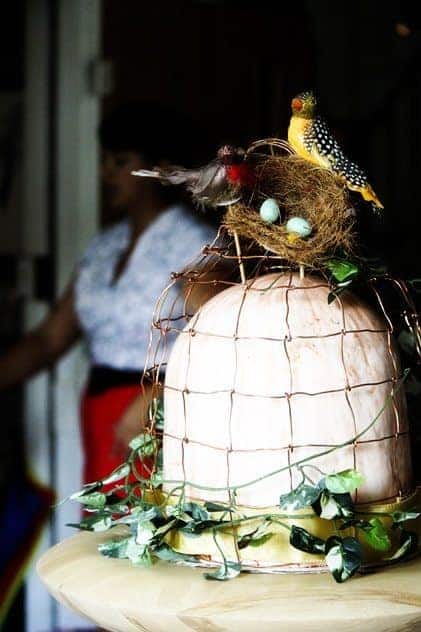 The wedding cake presented some -how to say it, ah yes- big challenges. Namely, it didn't behave well but that's a story for another day. Also, my children -shockingly- were not willing to give up eating for three days for me to perfect the cake. So selfish, those children.
In short, the cake was made, but the Earl Grey Cupcakes that were planned as "dessert insurance" (in case the cake went too quickly) were tossed onto the "good idea but not do-able in time" pile. Instead, I drank all but one batch's worth of the tea-infused milk and just got around to making the cupcakes yesterday. What? Noooo. I didn't do that on purpose so that I could eat a whole batch of cupcakes by myself. I'm not that kind of girl. On Thursdays.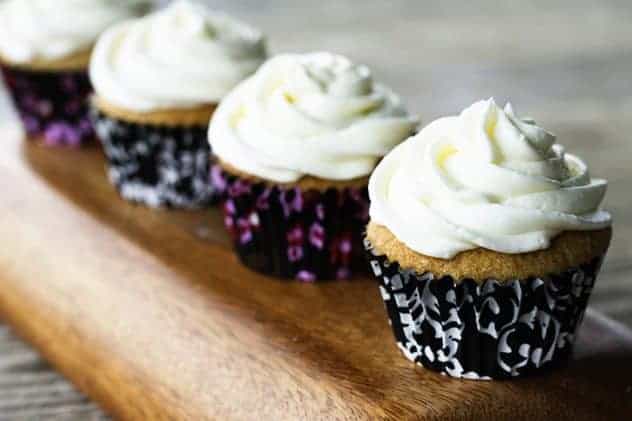 These lightly Earl Grey flavoured, super-moist cupcakes are topped with a fluffy lemony buttercream. Serve these for afternoon tea or as an elegant dessert. If you want to amp up the Earl Grey presence a little more, you can use some of the chilled, infused milk in the buttercream in place of the heavy cream.
Ingredients
Ingredients for Earl Grey Cupcakes:
2

cups

whole milk

5

Earl Grey tea bags

1

cup

butter

at room temperature

2

cups

sugar

4

eggs

1

teaspoon

pure vanilla extract

3

cups

all-purpose flour

2

teaspoons

baking powder

1/2

teaspoon

salt
Ingredients for Lemon Buttercream:
1

stick

8 tablespoons or 4 ounces by weight butter, softened to room temperature

4

cups

1 pound, by weight powdered sugar

6

tablespoons

heavy cream or chilled infused Earl Grey whole milk

2

teaspoons

lemon extract
Instructions
To Make the Cupcakes:
Pour the milk into a heavy-bottomed saucepan with a tight fitting lid. Scald the milk (heat until it is steaming and many tiny bubbles have formed in the milk around the edge of the pan. Add the tea bags, remove the pan from the heat and put the lid in place. Let the milk cool to room temperature like this. When the milk is cool, squeeze the excess liquid from the tea bags and discard them. Measure one cup plus 2 tablespoons of the cooled infused milk and reserve the rest.

Preheat oven to 375°F.

In a stand mixer fitted with the paddle attachment (or a mixing bowl with an electric hand-held mixer) beat together the butter and sugar until lighter in colour and fluffy.

Add the eggs, one at a time, beating well after each addition and scraping down the bowl. Add the vanilla extract and beat well.

In a separate bowl, whisk together the flour, baking powder and salt.

Add about 1/3 of the flour mixture to the butter/egg/sugar. Beat on low just until combined. Add about 1/3 of the infused milk that you measured. Again, beat just until combined, scrape down the sides of the mixing bowl and repeat -flour, milk, flour, milk- until both flour and milk are completely incorporated.

Line 24 muffin/cupcake wells with cupcake liners and spray lightly with non-stick cooking spray. Fill the liners about 2/3 full of cupcake batter.

Bake for 18-22 minutes, or until they spring back when pressed lightly or a toothpick inserted into the center of a cupcake comes out clean.

Let the cupcakes cool in the pan for 5 minutes before turning out onto a cooling rack to finish cooling completely.
To Make the Lemon Buttercream:
In a stand mixer fitted with the whisk attachment (or a mixing bowl with a handheld electric mixer) beat the butter on high until it is light and fluffy. Gradually add in the powdered sugar until incorporated. Then, with the mixer on high, whisk in the cream or infused milk and the lemon extract until the buttercream is light and fluffy. Use an offset spatula to smear the buttercream on the cupcakes or load it into a pastry bag with a big tip to pipe on the frosting.
Nutritional information is an estimate and provided to you as a courtesy. You should calculate the nutritional information with the actual ingredients used in your recipe using your preferred nutrition calculator.