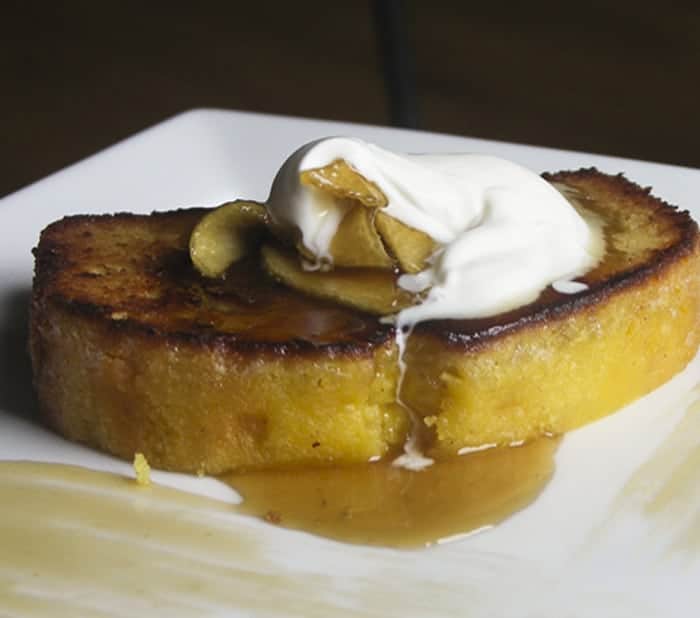 I'm going to warn you right now. The cake is made with a pound (A POUND, PEOPLE!) of butter, nine eggs, a pound of sugar and a pound of flour. Then the cake is sliced, spread with yet more butter and griddle fried. It's addictive. And it's swimming in caramel. And it's topped with crème fraîche. This is not low-fat or low-calorie. At all. On any planet. But I don't care because it left The Evil Genius speechless. All he could do was make big, pleading eyes and gesture toward it with his fork. Yes, this is the same husband who is on a diet. Um. Hang on a second. I'm not mean. I didn't do this to tempt him; we had company that we hadn't seen in a long time and I wanted to give them a 'wow' dessert. He didn't want them to eat alone. *
*"Because we all know there's nothing sadder than someone who eats alone…" Right. The man's been on a diet for a month. He wanted a piece of pound cake. Trust me when I tell you that you can't say 'no' when you smell a slab of this frying in butter on the griddle. It's not humanly possible.
He finished licking his plate (subtly, of course) and sidled back into the kitchen. When I looked back at him he was halfway through another serving and groaning happily. No shame. No shame, I tell you. (He's awfully cute when he's shameless…)
But you've been warned. Now let me tell you why this is so absolutely addictive.
First, is the fine-textured, rich vanilla pound cake delicately scented with cardamom. We're about to move from painfully delicious territory to downright evil with a buttery, creamy caramel sauce that simmers away with paper thin slices of tart apples. What we do next is nearly criminal. One inch thick slices of the pound cake are buttered on one side and thrown on a hot griddle to fry. When they're golden brown with little flecks of caramelized bits, the cake is slid onto a plate, fried side up, to be topped with the buttery caramel and apple slices then crowned with crème fraîche. Can you handle that? Because that is some serious dessert, my friends.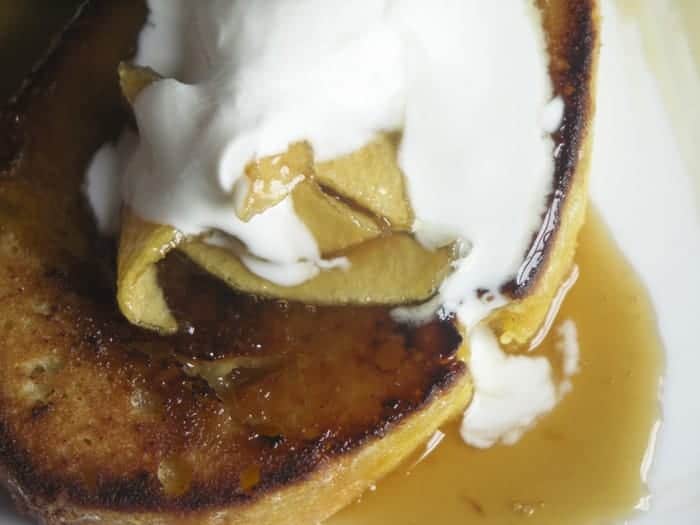 One final word of caution. Make this when you have friends with large appetites dining with you. Otherwise you just might find yourself eating it for breakfast. Not that that's a bad thing…
This is a multi-step recipe, but never fear. I'm going to walk you through each little step needed to whip up this little beauty. Each step is simple, but it's important to hit each one!
For a photo-free, printer friendly version of this recipe minus my story about tempting my husband beyond his ability to resist, click here!
Vanilla Bean Cardamom Pound Cake with Apples in Caramel Sauce
Ingredients for the Pound Cake (adapted from Martha Stewart Living):
1 pound all-purpose flour (3-1/4 cups)
14 ounces (2 cups) granulated sugar
1 Tablespoon coarse salt
1 pound softened unsalted butter (4 sticks)
1 vanilla bean, split lengthwise
9 large, room-temperature eggs
1/4 teaspoon ground cardamom
Ingredients for the Apples in Caramel Sauce:
1/3 cup brown sugar, packed
1/3 cup granulated sugar
1/2 stick (4 Tablespoons) unsalted butter
1/3 cup heavy cream
4 medium sized tart apples, peeled and thinly sliced
1/2 teaspoon pure vanilla extract
Also needed:
additional softened butter for frying
crème fraîche for garnishing
To Prepare the Cakes:
Preheat the oven to 325°F.
In a bowl, whisk together the flour and sugar. Set aside.
Add the butter to the bowl of your stand mixer (or use a separate large mixing bowl with a hand mixer). Use the butter wrappers to liberally grease two five-by-nine inch loaf pans. Cream the butter and sugar on high speed until it is pale and fluffy. This is going to take a while, but don't skip this step. It'll take about 8 minutes. Scrape down the bowl.
Use the dull edge of a knife to scrape the 'caviar' from the vanilla bean. Add to the butter along with the cardamom. Beat on high speed again for an additional minute. Stop the mixer and scrape down the bowl again. Add two eggs to the butter and sugar mixture and beat well. Scrape down the bowl then add another two eggs and beat well. Scrape down the bowl again and repeat with two more eggs. After scraping down the bowl, add the final egg and beat well on high to make sure your mixture is even.
Reduce the mixer's speed to low and add the flour in four batches, mixing well after each addition and scraping down the bowl before adding more.
Divide the batter as evenly as possible between the two loaf pans. Tap the pans several times each to help work out air bubbles then smooth the top with a spatula.
Bake for about 60-65 minutes, or until a skewer or toothpick inserted in the center of the cake comes out clean. Let the cakes cool in the pan for half an hour before turning out to cool completely on a wire rack. While the cake is cooling, prepare the caramel sauce.
To Prepare the Apples in Caramel Sauce:
In a two-and-a-half quart saucepan, melt the butter together with the two sugars over low heat. When the butter is completely melted, raise the heat to medium high and bring the mixture to a boil. Boil hard for exactly four minutes. Now carefully pour the heavy cream into the pan. It will splutter and splash and boil madly, so do this carefully! As soon as it is in, whisk until combined and add the thin slices of apple. Lower heat to medium-low and partially cover the pan. Let the mixture come back to a simmer. Allow it to cook at a bare simmer for 3 minutes, or until the apple slices are tender but not mushy. Remove from heat and stir in the vanilla extract.
To Plate your Magnificent Dessert:
Slice the pound cake into one-inch slices. Butter one side of each slice. Fry on a hot griddle until the underside of the cake is golden brown with some caramelized bits. Transfer, fried side up, to a dessert plate. Use a spoon to scoop apples and caramel sauce over the hot pound cake. Top with a dollop of crème fraîche and serve while still warm.
Prepare to be adored.