This past weekend I officially became my mother.
If you've been reading me for a while, you're aware that I am the eldest child in a large family that includes a baby sister. This baby sister of mine is still in high school. Sadly, she is not hopelessly stupid. No, she's in high school because she's younger than I am (*cough* much younger *cough*). And I might've mentioned that my Mom is fun before, right? Well, Mom throws massive parties for my little sister. Loads of teenage girls and food and games at her house. And birthdays? Whoah. There have been years where she's allowed Airlia to have eight or ten girls sleep over. She did this for me and for each and every one of my siblings. And for this, I mocked my Mom mercilessly.
"Geez, Mom! Why can't you say no? You're going to be exhausted! Do they even appreciate everything you do? You're making them WHAT to eat? Holy Cow!"
And Mom would respond with a smile and a shrug and say, "I like it!"
~~~   ~~~   ~~~
Last week the boys were bemoaning the fact that they hadn't been able to get together with their friends as much as usual. Before I knew what I was doing her words popped out of my mouth, "Hey! Why don't you each invite a couple friends over on Saturday and I'll make pizza! It'll be fun!" That last sentence barely got through my lips before I clamped my hands over my mouth. But it was already too late. In the time it took me to pick myself up off the floor they had each invited a couple friends. How many? I really had no idea.
A quick glance at the calendar showed me that I had a doctor's appointment scheduled for that morning. "Guys? Hey guys? Could you come here for a second?" I called, thinking I still had time to back out… Five bright, shining faces turned toward me… "Um, never mind…" I mumbled. I could get the blood work done, do the grocery shopping, come home and make pizza for a crowd before three, right?
Saturday morning dawned and I rolled myself out of bed to get to the doctor's office right as they opened. Several vials of blood and a "WOW! I've never seen anybody bruise like YOU before!" from the phlebotomist later, I hurried toward the grocery store. I tarried a little looking over packages, stocked up in the meat department, grabbed mozzarella and extra Bandaids and headed for the register. And it was there I realized I didn't have my debit card. "No problem!" said I to self. "I'll just use a check." I was out of checks.
I zoned out for a moment or two then snapped back into gear. I asked the clerk to put my cart in the walk-in while I ran to the bank. She obliged and I burned rubber. The kind ladies at the bank printed out a check or two for me and I retraced my trail back to the store. They retrieved my cart while I wrote out the check. The cashier ran the check through the little machine. Then she ran it through again. Then againandagainandagainandagainandagain. "Hmmm, it doesn't look like it's working," said the clerk. She beckoned for the head cashier who repeated the againandagainandagain performance and then also announced that it wasn't working. They called the manager over the PA system. *
*Important sidebar:  Have you ever noticed that some people have no idea how to use Public Address Systems? They labour under the misconception that you must French kiss the microphone for it to work. What she actually said was, "Manager on three. Three? Manager needed on three. Three." Why she needed to repeat the check-out aisle number was beyond me. Between her awkward phrasing and the fact that the microphone was practically down her throat, it ended up sounding like, "Manager I pee-pee? Manager need egg. I pee-pee." But I digress…
God love him, that manager got there as quickly as he could, but it still took him a while. And he too ran the check through the machine several times before asking, "Was this transaction suspended? You can't pay with a check if the transaction has been suspended." He offered  to void every item in my cart and re-ring it so I could use my check. Thirty minutes later, I exited the store with my groceries and went home as quickly as the speed limit would allow. On the drive home, I called my sister and recounted what I had done that morning and told her about the upcoming party.
"Ha!" said my sympathetic sister, Jessamine. "You're just like Mom! You and a party? You don't know how many are coming? You. Are. Exactly. Like. Mom!"
I thoughtfully responded, "No I'm not! Mom always plans games. I didn't plan any games!"
~~~   ~~~   ~~~
So to recap, I had a large-ish blood draw that morning, messed up by not having a debit card or checks with me to pay for crucial ingredients for that afternoon's pizza party, broke the grocery store's system and was on my way home to whip up food for a crowd of as-yet-undetermined size. Are you with me?
I got home and changed into a summery dress.*
*One more sidebar. I can't wear clothing that I've worn to a doctor's office or hospital before they've been washed again. I mean, come on! They're like big old petri dishes. Someone else needs to tell me they do the same thing right now. Someone? Hello?
As I stood propped against my counter in the kitchen making an octuple batch of pizza dough (and I'm not exaggerating. I told you. I didn't know how many people were coming and NO ONE goes hungry at my house on account of me…) the boys entered the room. One (or more… Who could tell? I was woozy.) said, "Hey! That dress looks just like one Nana would wear." And at that moment I realized they were totally right. I. Was. Exactly. Like. Mom.
But you know what? I smiled, shrugged and said, "I like it!"
~~~   ~~~   ~~~
Let me tell you. The party was a total success. And at our finest hour, we had seventeen kids running around, through, and over our home and property. That's 1-7. Or 10 plus 7. Or my five kids in addition to twelve kids who sprang from other people's loins. Sorry. Is that unappetizing?
I had turned out a gallon of iced tea (supplemented by a gallon from my brilliant friend, Lisa), a gallon of lemonade and a gallon of Arnold Palmers, three sheet pizzas (one pepperoni and cheese, one cheese only, and one bacon and pineapple and onion beauty) one fifteen-inch round pizza (feta and spinach and hot pepper and olive and bacon) and two nine-by-thirteen pans full of Chaos in the Kitchen's brilliant pizza bites. By the time the crowd broke up and went home we had exactly ZERO leftovers.
My kids looked at me, gratefulness in their eyes for such a fun time, and said, "We're starved!"
I had a little dough left from the pizza bites, a pound of ham-off-the-bone and a few cubes of cheese sitting around, so I threw together my take on the aforementioned pizza bites; Ham and Cheese Bites.
The Ham and Cheese Bites were inhaled by my poor-long-suffering children who went to bed five minutes later, starving once again…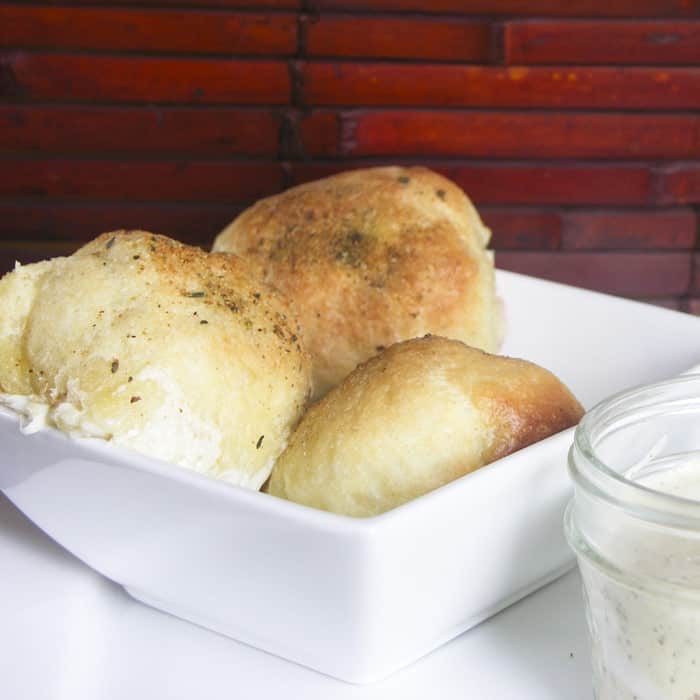 For a printer-friendly, photo-free version of this recipe minus the blahdy-blahdy, click here!
Ham and Cheese Bites
adapted from Chaos in the Kitchen's Pizza Bites
Yield: 30 Ham and Cheese Bites
Ingredients:
Double batch of homemade pizza dough (see recipe below) or 2 packages of purchased pizza dough
30 wafer-thin slices of deli ham
30 (1/2″ to 3/4″) cubes Swiss cheese
30 (1/2″ to 3/4″) cubes Mozzarella cheese
4 Tablespoons olive oil, divided
2 Tablespoons semolina flour or corn meal (for sprinkling the pan), divided
4 Tablespoons butter
1 teaspoon dried chives
3/4 teaspoon granulated onion
1/2 teaspoon granulated garlic
1/4 teaspoon Old Bay seasoning or seasoning salt
Divide the pizza dough into 30 equal-ish pieces. Let rest.
Preheat oven to 400°F.
Lay out one piece of deli ham. Top with a cube each of mozzarella and Swiss cheese.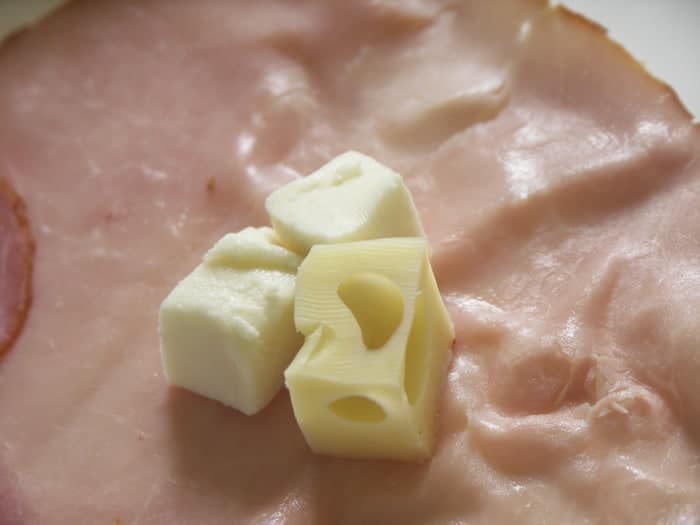 Tuck the ham around the cheese to form a little packet.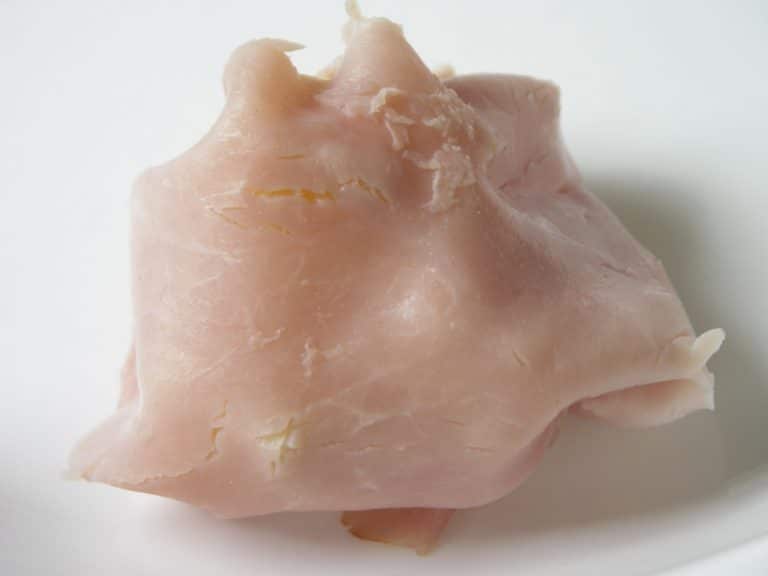 Place on a plate. Repeat with remaining ham and cheese. Set the plate aside.
Drizzle 2 tablespoons of olive oil over the bottom of a 9″x13″ rimmed baking pan. Repeat in another pan with the other olive oil. Sprinkle 1 Tablespoon over the olive oil in each of the pans.
Working with one piece of dough at a time, spread out into a circle (or blob) roughly twice the size of your ham packets. If the dough tears, do your best to patch the holes. Lay a packet of ham and cheese, seam side down, on the dough.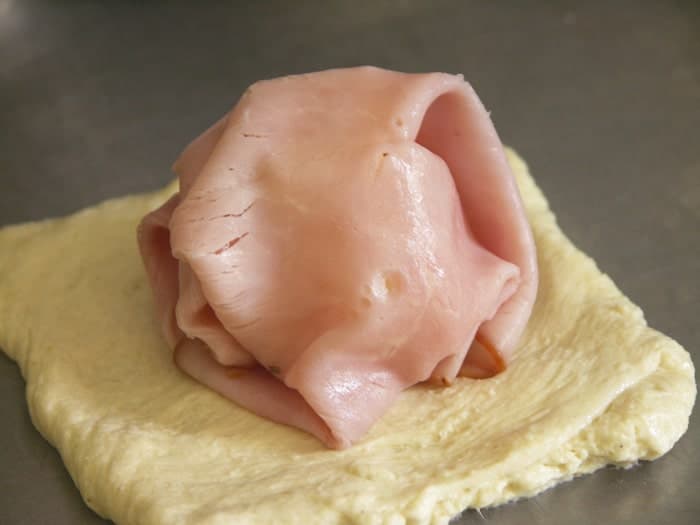 Pull the corners of the dough up toward the top of the ham and squeeze dough together to enclose the ham.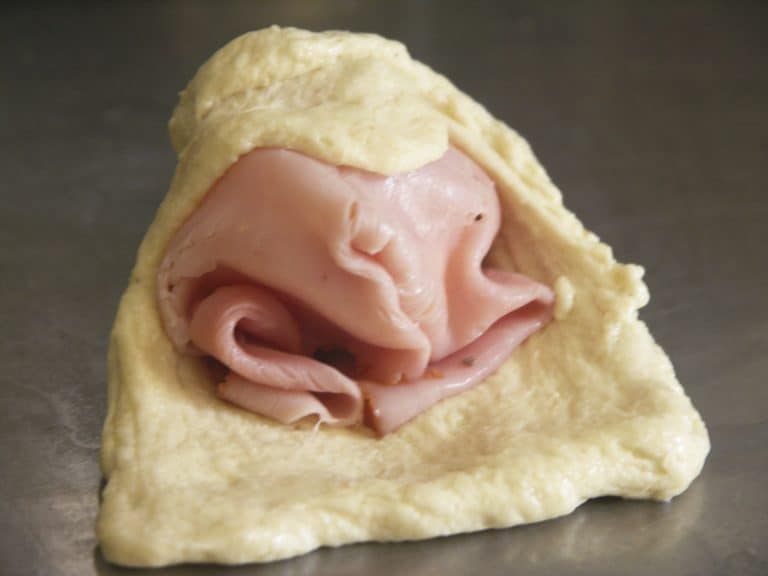 Pinch the dough closed at the seams and make sure there are no openings. Place the dough, pinched side down, in the prepared pans. Repeat with the remaining dough, making five rows of three dough balls in each pan.
Place the butter, chives, onion, garlic, and seasoning salt into a small microwave-safe dish. Warm in the microwave until the butter is melted. Stir together with a fork and brush over the dough.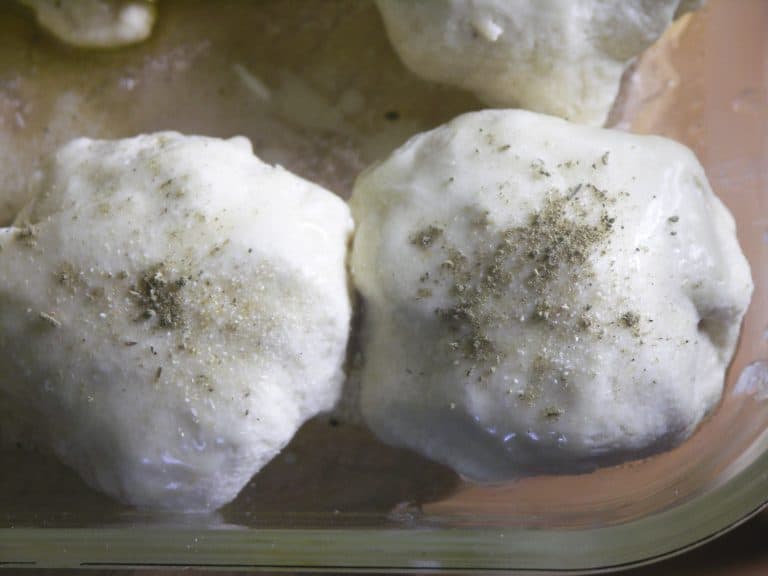 Place pans into hot oven and bake for 25 minutes, or until golden brown. Some cheese may leak out of the bread and bubble up. This is most definitely not a problem. Call cook's dibs on the crunchy cheese bits.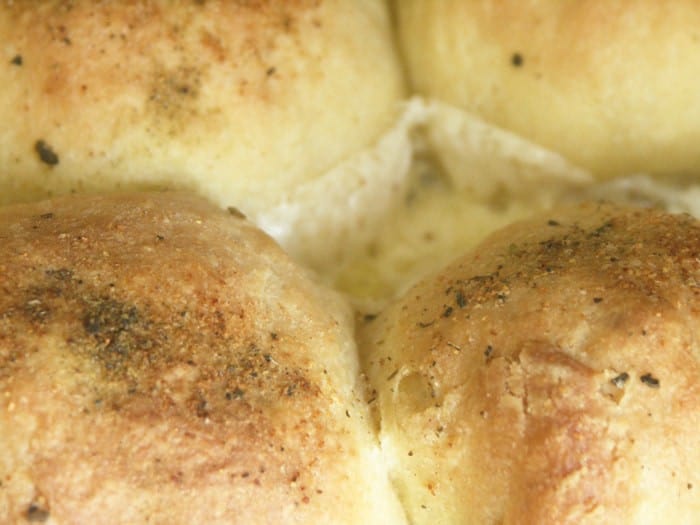 If desired, you can brush again with any leftover butter when you remove the pans from the oven. Allow to rest for five minutes before removing from the pans. Serve warm with your favorite sauce. Ours is listed below…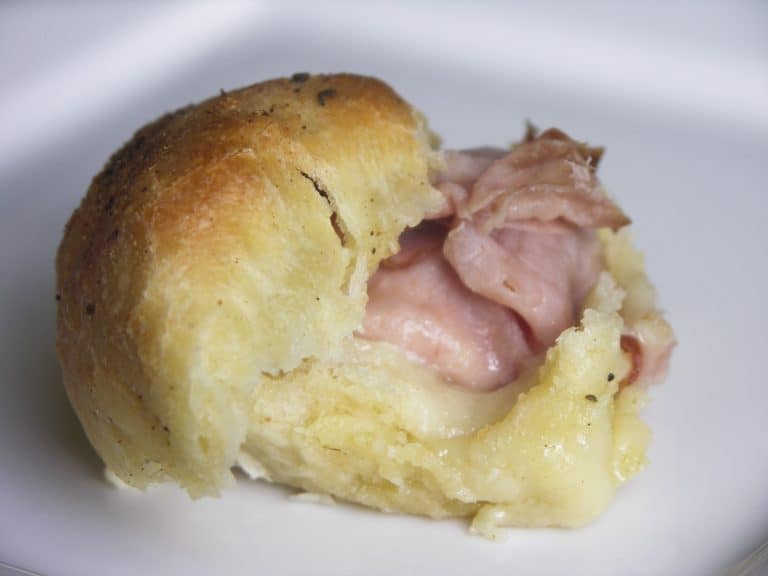 Creamy Horseradish Mustard Dip
You can serve this on sandwiches and no one will hate you for it. No need to restrict it to the Ham and Cheese Bites…
Ingredients:
2 Tablespoons mayonnaise
2 Tablespoons prepared horseradish mustard
1 Tablespoon smooth Dijon mustard
Stir all ingredients together with a fork or a small whisk. Store unused portions tightly covered in the refrigerator.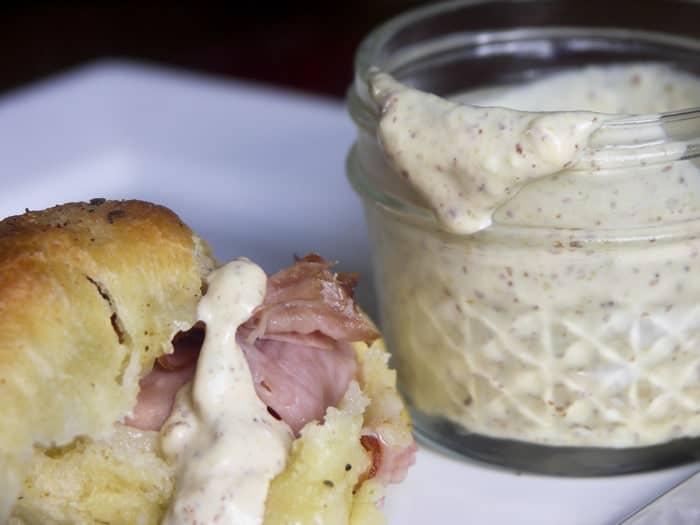 Semolina Pizza Dough
adapted from The King Arthur Flour Baker's Companion
Ingredients:
1-3/4 cups (7-3/8 ounces) unbleached all-purpose flour
1-1/4 cups (7-1/8 ounces) coarse semolina flour
1-1/2 teaspoons instant yeast
1-1/2 teaspoons Kosher salt
2 Tablespoons olive oil
1-1/4 cups (10 ounces) water
In a stand mixer fitted with a dough hook (or in a large bowl with a wooden spoon) mix together all the dough ingredients until a soft, cohesive dough forms. It will not be perfectly smooth, it should have a rather rough appearance. Cover and let the dough raise for an hour at room temperature. At this point, you can use the dough or refrigerate it for up to 36 hours.