Visit our Bread Recipes page for more fantastic homemade breads!
We have had an exceptional summer for wild berries up here. The upper peninsula has had several years of drought in a row, affecting both wild and domestic berry growth. But this past year brought lots of snow with plenty of rain following. Bumper crops of wild berries all around us, near our home and in several places at the camp where we work. Wild blueberries were especially abundant, and for wild berries, they were unusually large: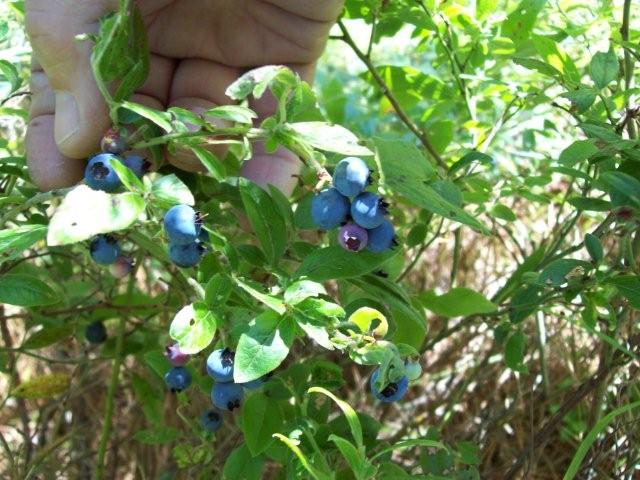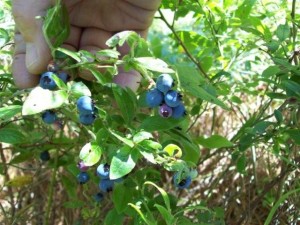 Earlier in the season we were able to harvest a good supply of red raspberries and now, at the end of the summer, we've been able to collect good amounts of black raspberries. But we are near the end of it all, and Jim went out a couple of mornings ago and picked what may be the last of the season for us, mostly black raspberries with a handful of blueberries.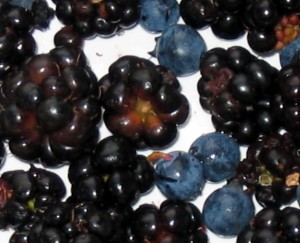 It took me a little while to figure out what I wanted to do with these; I knew I wanted to bake something, I just wasn't sure on what I should settle. Scanning my shelves, my eyes lit upon a large bottle of ground cinnamon, and I KNEW!! Cinnamon biscuit pinwheels with the berries rolled up with the cinnamon sugar inside the tender biscuit dough–we have a winner!
My mother used to make this version of cinnamon rolls (without the berries) as a semi-regular breakfast roll. She used a plain shortening-based biscuit dough, and left them plain once baked. Plain was very good–waking up to the smell of cinnamon wafting down the hall from the kitchen, eating them warm from the oven early on a cool morning, there was nothing better. It was definitely a tradition I carried away with me. But I made a few changes to the recipe over the years.
First, with the concern about trans fats (and also because I really, really like it) I switched to butter, replacing the 1/3 c. shortening with 1/2 c. butter. I added sugar to the dough (I know, adding insult to injury, but hang on, it gets worse); eventually a teaspoon of vanilla joined the milk added to the dough, and as the final over-the-top move:  Maple butter frosting. Yep, pretty deadly, these rolls.
And the berries? Well, one apartment I lived in during my early adult years had a kind of  woodsey wilderness behind the building where I would go for walks now and then, and I stumbled across a huge thicket of blackberry bushes in full fruit–these things were huge, nearly the size of my thumb. I ate some,  gathered some, froze as many as would fit into my little apartment-sized refrigerator, made a few jars of jam and preserves, and when I came to the last cup or so, decided to toss them into the cinnamon rolls I was about to bake to share with some friends. Well, it was amazing. The tartness of the berries against the richness of the dough, cinnamon sugar and that maple glaze melting into the warm rolls–indescribable. So I still use berries with this recipe when they are available. Fresh are best, frozen berries do tend to add a little too much water to the recipe, but are usable–you may just have to bake the rolls a little bit longer. Ready to begin?
Rich Biscuit Cinnamon Rolls with Berries and Maple Butter Frosting
1/2 c. granulated sugar, divided
1 T. cinnamon
3/4 c. cool room temperature butter, divided (1 and 1/2 sticks)
2 c. all purpose flour
1 teaspoon salt
1 tablespoon baking powder
3/4 c. milk (a little more may be needed)
1 teaspoon vanilla
Frosting:
3 Tablespoons butter
1 cup confectioner sugar
1/4 c. real maple syrup
Milk, if needed
Preheat oven to 400F. Butter a 9 inch round cake pan, set aside. Melt 1/4 c. butter in a small saucepan, set aside. Combine 1/4 c. of the sugar with the cinnamon, also set aside.
Whisk together flour, salt, baking powder and the remaining 1/4 c. sugar in a mixing bowl. Cut in remaining 1/2 c. butter (1 stick), until mixture is crumbly in texture. Combine vanilla with milk. Make a well in the middle of the flour/butter mixture, and add milk all at once, lightly stirring dough with a large fork till it begins to come together around the fork. If it seems too dry, drizzle over a bit more milk and lightly toss–it is important that the dough be moist. Here is what it should look like before you knead it: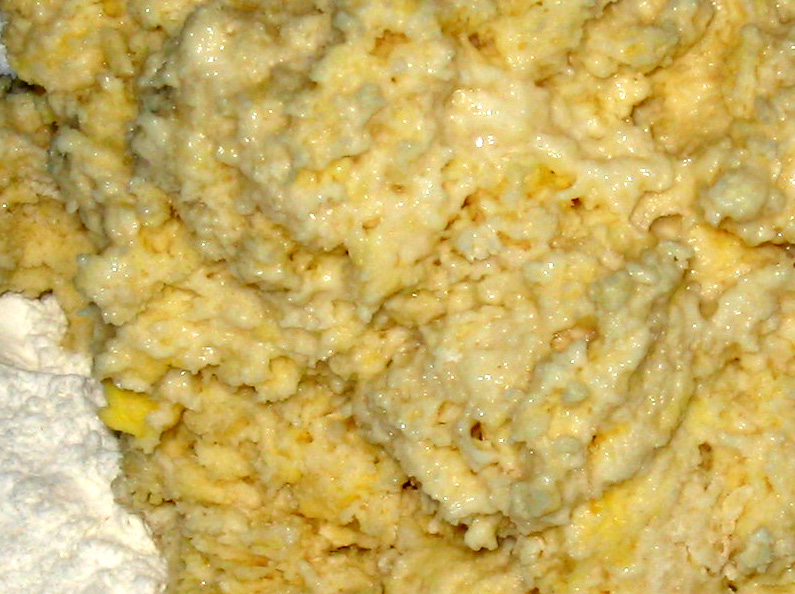 (Hmmm… it should look moist like that, but it is really not that yellow–so much for auto contrast in fixing the picture! Anyway, I hope you get the idea.)
Back to the recipe–Scrape the very sticky dough out onto a very well floured board or counter, toss the dough in the flour till all sides are covered, and lightly knead five or six times. Checking to make sure there is still plenty of flour on the board, pat or carefully roll out the dough to oa 9×12 rectangle.
Brush with melted butter, using all the butter, please! Evenly sprinkle top with the cinnamon sugar mixture, then top that with the berries you have selected, gently but firmly pressing the berries into the dough (it helps prevent escape!)
Beginning at the long edge, and with the help of a bench scraper (needed because this is a very tender dough), begin rolling the dough up, pinching the dough together as it cracks and breaks (and it will) and when the roll is nearly complete, finish by bringing the dough up from the other side so you can pinch the seam together more easily. It should look like this when you are through: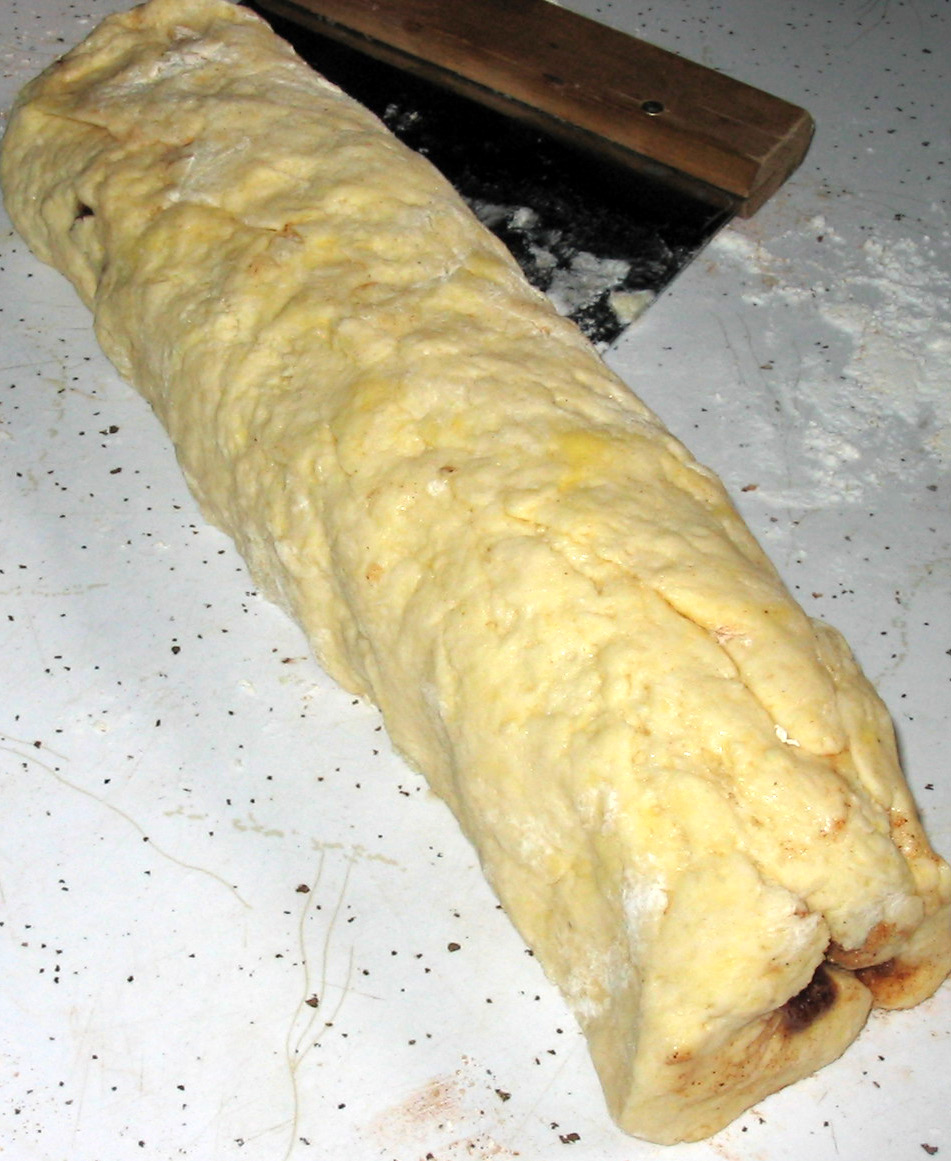 With a very sharp or good serrated knife, cut the roll into 12 even pieces. Some berries may fall out, but they can be easily put back into the rolls. Place the rolls, cut side up, in the cake pan–it will be a VERY snug fit. 9 rolls on the outside, and 3 in the center seems to work best, and you really do have to tuck them in tightly against each other, like this:
Place pan in the oven and bake rolls for 15 to 20 minutes. Check them at 15, and if the center rolls are still doughy, leave in a little longer. Here is the baked version:
They should just be browning; you don't want them to get to dark or they will not be as moist as they need to be. Let them sit for about 10 minutes, then invert onto a plate or cutting board, using that to get them right side up again onto a serving plate or board. While they are cooling, make the frosting:  Cream the 3 tablespoons of butter till smooth, add confectioner sugar and maple syrup, stirring all together  until smooth. It should be thick, soft but not runny. If it seems too thick, add a few drops of milk to lighten it. Drop the frosting in blobs over the warm rolls once they are on the serving platter.
Once it has softened a bit, spread the frosting evenly over the rolls, letting it run a bit over the sides; it will melt down into the rolls as well, and you will see the berries poking through here and there.
Let it cool just a few more minutes, and then serve! Wonderful with coffee or tea, and definitely not just for breakfast–also makes a lovely dessert!
Enjoy!
Save
Save
Save
Save