Today's simple Turkey Meatball Pho

But if you're looking for a whole bird recipe, try this EXCELLENT and popular tutorial on "How to Smoke a Turkey".
When a soup is so beautiful and fragrant and sustaining that you forget it is pretty darned good for you, that is a successful soup. Such is the case with Turkey Meatball Pho. This lovely, simple soup is a quick version of my most favourite soup of all time; pho.
Traditional pho broth takes from 6 to 10 hours to simmer and is worth every second of that time. Sadly, I don't often have that kind of time to commit to the ultimate pho, but I'm happy to report that my fast and furious approach with this Turkey Meatball Pho scratches my pho itch even without spending hours upon hours tending a broth.
Tender, flavour-packed baked Asian turkey meatballs with scads of fresh basil, cilantro, sliced green onion, and fresh bean sprouts, a few paper thin slices of fresh jalapenos, and a couple of lime wedges are perched on top of a generous mound of rice vermicelli noodles then drowned in a fragrant, aromatic broth. The purist can stop there.
The traditionalist can drizzle some hoisin sauce and sriracha together in a bowl for dunking their meatballs. The lazy weirdos like me can just drizzle the hoisin and sriracha over the top and dive in like they mean it.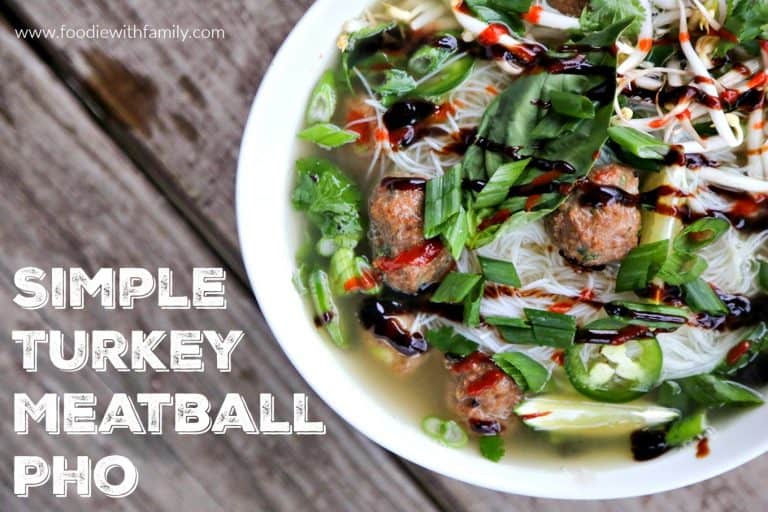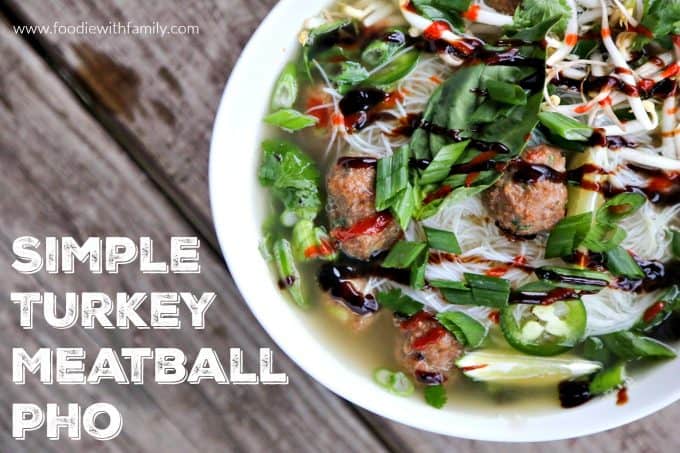 I'm all for diving in like I mean it.
Cook's Notes
Pho broth is unique among soups. It is made with charred onions, ginger, cinnamon sticks, star anise, whole coriander seeds, and whole cloves. The first time I made it at home, my husband walked into the kitchen and announced, "It smells like a Cinnabon in here." I told him it was soup. He gave me a look that said in no uncertain terms that he was not looking forward to dinner. I have to give him credit, though… he will try everything and keep an open mind at least once. So he tried it. And he loved it and he said so. If you haven't had pho before, stay strong. Keep making it as specified. The aroma may make your head spin if you're not used to it, but you may find your new favourite soup! I promise it doesn't taste like Cinnabon soup.
For our Turkey Meatball Pho, I like to use this recipe for Asian Turkey Meatballs.
When making Turkey Meatball Pho, you want to keep in mind that you need very large bowls to accommodate the noodles and generous amounts of toppings and broth. It isn't unusual to have a full quart of broth per serving of pho. When you dig into a bowl, you'll soon realize why the super-generous portions are so common.
When it comes to pho of any variety, fresh herbs and lime are absolutely, positively key. There's a beautiful alchemy and interplay of temperatures and textures from the hot, complex broth, noodles, and meatballs plus the cold, fresh, bright herbs and lime juice. It's pretty much heaven in a bowl.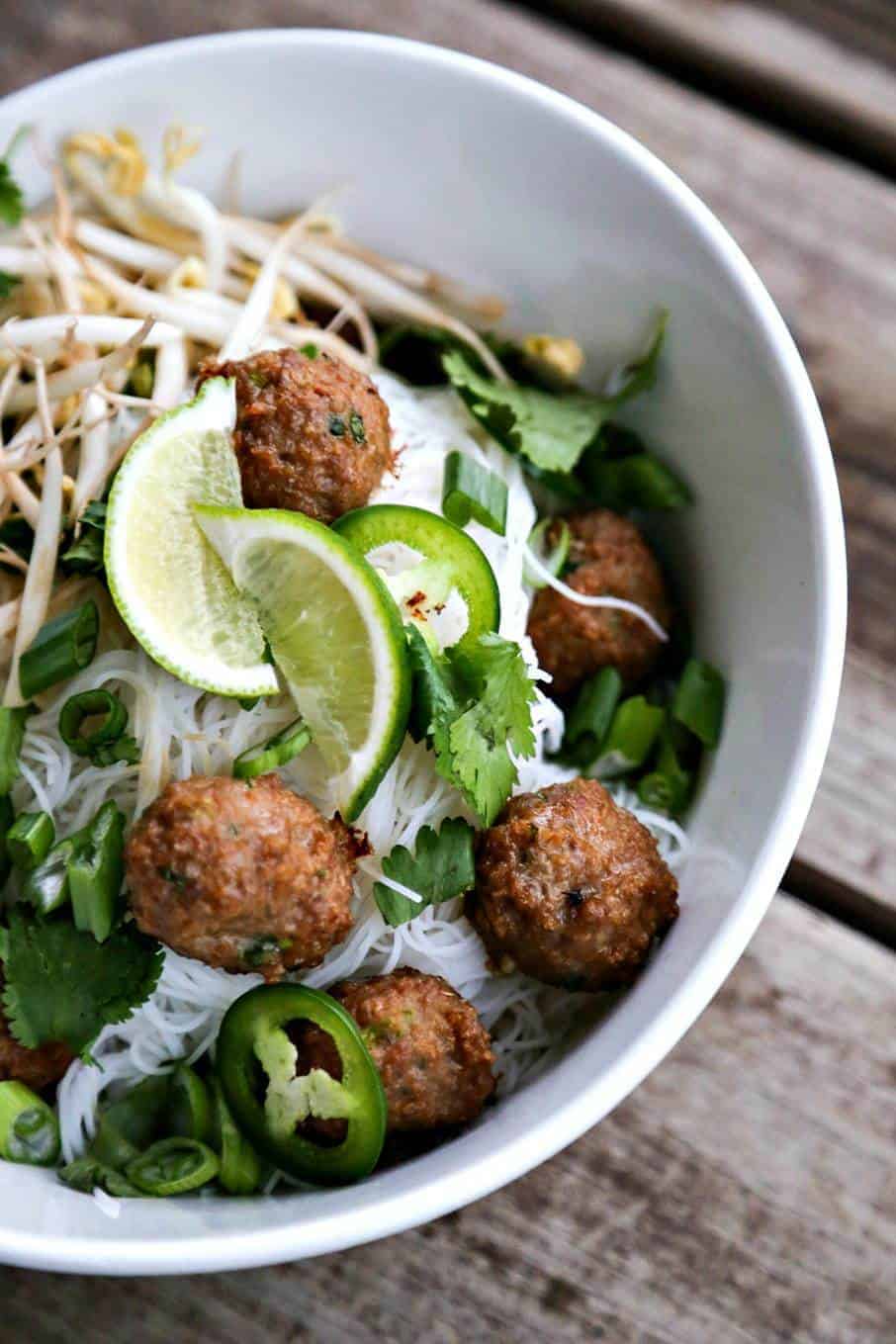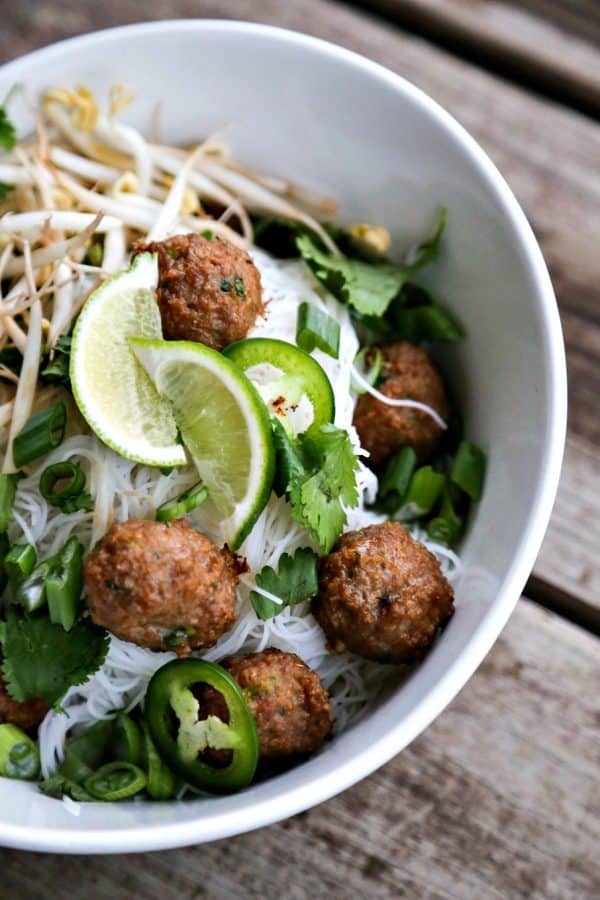 Use these to make Turkey Meatball Pho: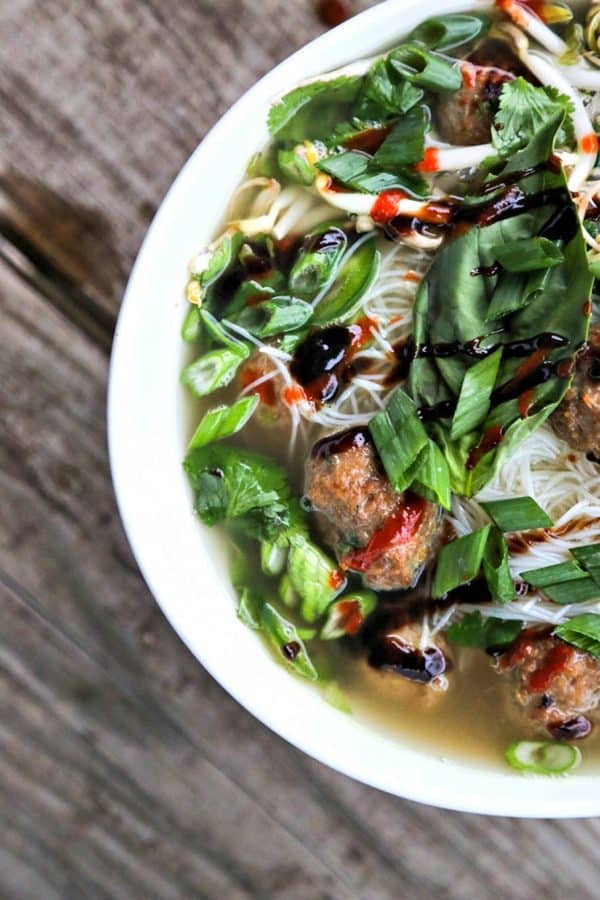 Connect with Foodie with Family
facebook | pinterest | instagram
Be Sure to Scroll Below the Recipe to See More Great Soups!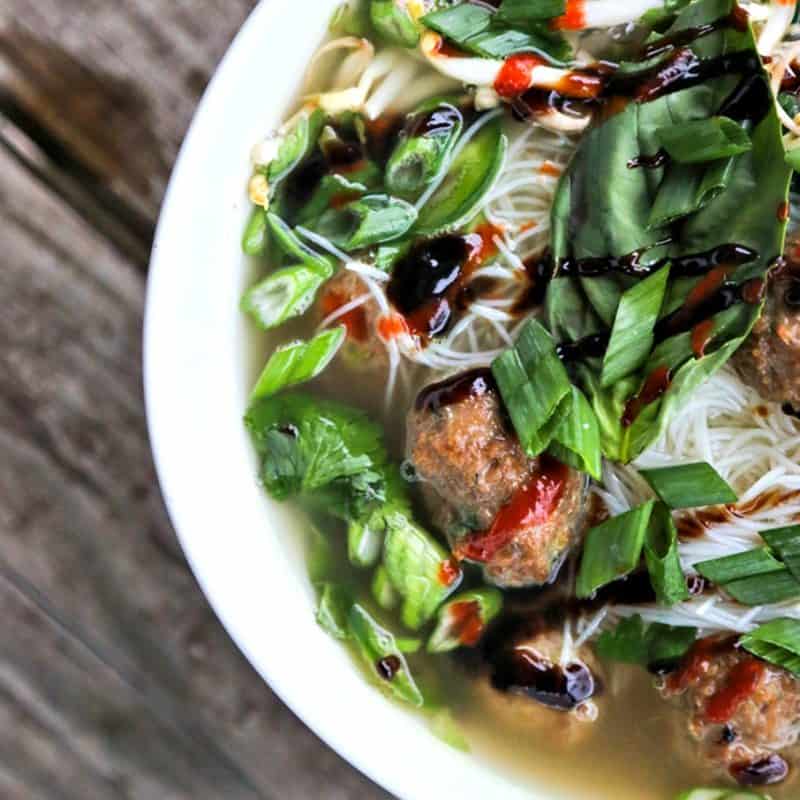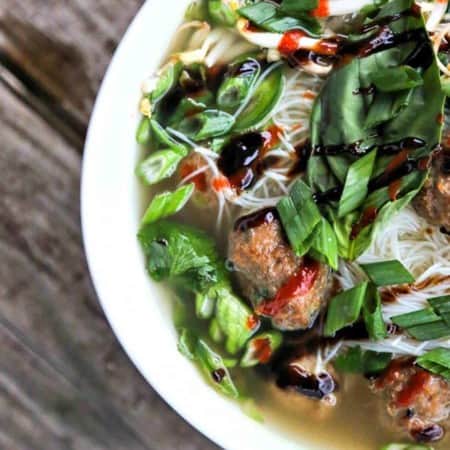 Turkey Meatball Pho with scads of herbs, green onions, bean sprouts, paper thin jalapenos, & lime wedges are perched on rice noodles in a aromatic broth.
Ingredients
Per Serving of Turkey Meatball Pho:
2

tablespoons

whole coriander seeds

1

cinnamon stick

roughly broken

4

whole star anise

4

whole cloves

1

quart

turkey or chicken broth

1

piece of ginger

3-inch size, roughly chopped

1

bunch of scallions or green onions

reserve the green parts for garnishing the soup, white parts only , char the white parts over an open burner, with a torch, or under a broiler

2

teaspoons

fish sauce

2

teaspoons

brown sugar
To Assemble Each Serving of Turkey Meatball Pho:
1-5

slices

fresh jalapeno pepper

depending on your spice tolerance

1

handful pho rice noodles

soaked or cooked according to package directions

1

generous handful bean sprouts

sliced scallions or green onions to taste

green parts only

several sprigs of fresh basil

sprigs of fresh cilantro

1-3

lime wedges

sriracha and/or hoisin sauce to taste
Instructions
Place a heavy-bottomed soup pot over medium low heat. Add all of the spices and stir them until fragrant, about 1 to 2 minutes. Carefully add the stock or broth; it will sputter quite a bit. Turn the heat to high and add the remaining broth ingredients. When it reaches a boil, reduce heat to low and simmer, uncovered for 20-30 minutes. Strain the broth through a fine-mesh sieve into another saucepot or soup pot. Keep it at a simmer while you assemble your bowls and garnishes.
To Assemble and Garnish Each Bowl of Turkey Meatball Pho:
Lay desired amount of jalapeno slices in the bottom of each bowl. Top with a generous amount of rice noodles. Lay the Asian Turkey Meatballs over the noodles and pour the boiling broth over top. Give a quick stir, then pile on bean sprouts, sliced scallions (green onions), basil, and cilantro. Squeeze a couple of lime wedges and let them rest in the broth to lend to the flavour. Serve with sriracha and/or hoisin sauce. It's best to serve this the traditional way: with chopsticks AND a soup spoon. You can use a fork in lieu of chopsticks if you wish. Slurping is encouraged!
Nutritional information is an estimate and provided to you as a courtesy. You should calculate the nutritional information with the actual ingredients used in your recipe using your preferred nutrition calculator.