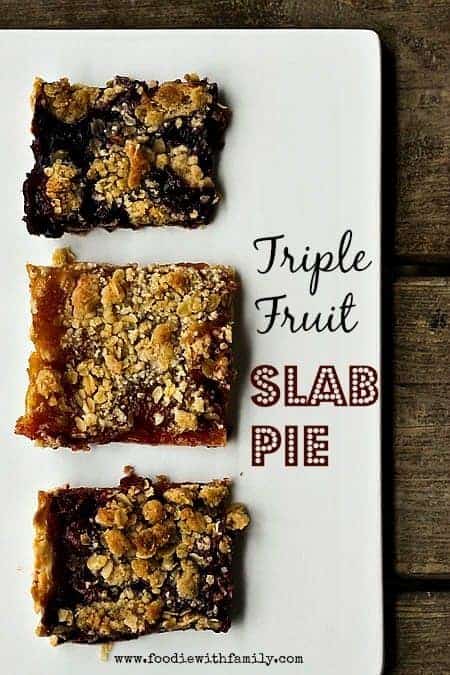 I have a pie problem.
…It's not the crust. It's not an inability to make it. It's not a dislike of it -no- it's quite the opposite. The problem is this; when I make pie I absolutely, positively cannot stop eating it until it is gone and the last of the crumbs have been licked off of the counter top.
Yes. I have licked crumbs from the counter top.
Every year when mom asked what I wanted for my birthday cake, I answered, "Blueberry pie!" My poor mama. She has a pie crust making phobia. It was not my kindest moment, but as I said, we were talking what I wanted and I wanted pie. I always want pie.
And while blueberry pie is my perennial favourite, I love all pies. Most especially, I love fruit pies -blueberry, apple, cherry, rhubarb, grape, strawberry, peach, pear- and cream pies and custard pies and every combination thereof. No pie is left behind in my world.
Pie is the most superior dessert because if you turn it over (TURNOVER. PIE JOKE. Don't worry. I only have 3.1412 jokes left. MORE PI JOKES. And another. Oh shoot. I'm sorry.) in your mind, it's the perfect combination of filling to crust. Cake is one giant crust gobbed with icing or frosting (which I will eat happily, but we are talking about why pie rocks the world.) Besides, it's really kind of, almost, maybe, potentially health food. Well, a fruit pie is anyway. Don't even talk sugar. I don't care. That's a lot of fruit in one sitting. It's gotta be good for you!
Participating in pie week was a natural for me, but I frozen when it came to which pie to feature because all the pies in the world call my name. I decided to go with a Slab Pie; a crowd-pleaser, both for it's large size and for it's versatility. In my case, I opted for three different pie fillings to make it an even bigger addition to the please them all file. This is only true, of course, if you're serving it to pie lovers, but hey… if they don't love pie, I'm not sure how to help them anyway.
The pie filling I used was stuff I canned this past summer, but you can use purchased pie filling just as easily. And while I used peach, sour cherry, and blueberry, you can certainly choose any three fruits you like! Those just happen to be my top 3 pie fillings (natch, since I canned a bajillion quarts of each of them.)
The beauty of a slab pie is sheer acreage, really. It's everything wonderful in a pie, but with a little more crust in each bite, and a customizable filling.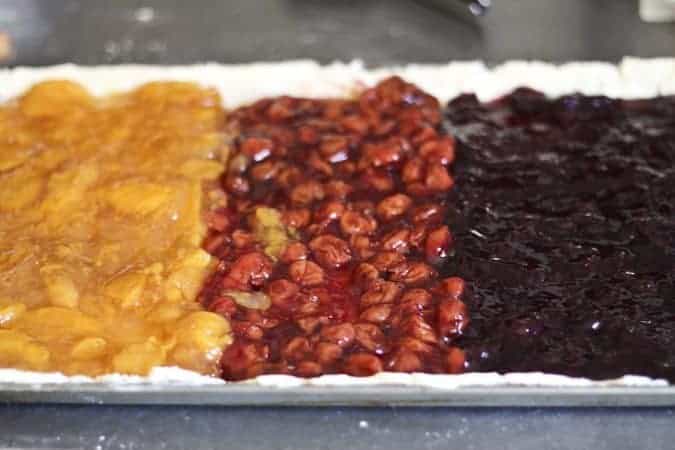 It's nearly impossible to make a regular pie with three different fillings so clearly delineated, but it's easy as, um, pie (even I'm cringing over that one) in slab pie format.I love to top mine with gorgeous crumbly crisp topping. It cooks faster, allows you to look at the 'innards' of the pie and the crust more clearly to tell when it's done, and pairs beautifully with a scoop o' ice cream melting on top.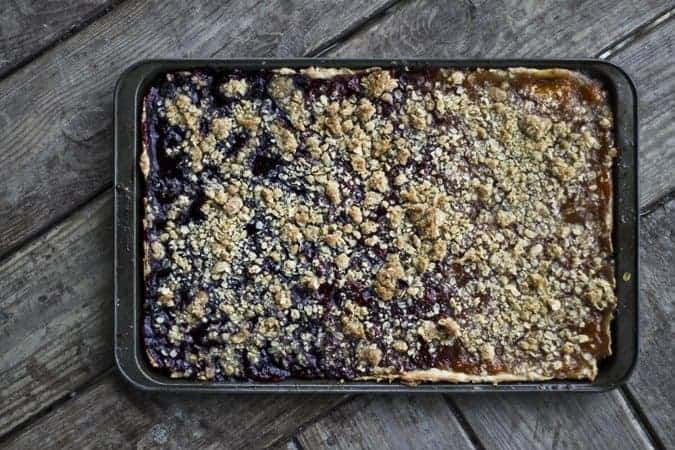 Truth is, it's the best of pie and the best of crisps/crumbles all in one lovely, rainbow-hued package. What fruit fillings are you likeliest to use for a slab pie?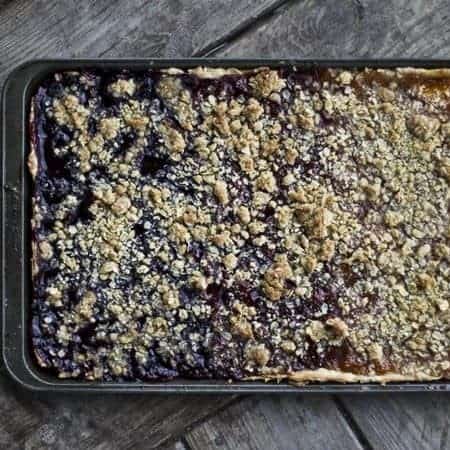 Ingredients
2

cups

each of 3 fully cooked fruit pie fillings . I used blueberry

total 6 cups pie filling, sour cherry, and peach

a double-crust sized batch of your favourite pie crust pastry
For the Crisp Topping:
2 1/2

cups

of pre-made Big Batch Crisp Topping ~OR~ 1 stick softened butter

1/2 cup oats, 1 cup white whole wheat flour, 2/3 cup brown sugar or raw sugar, 1/4 teaspoon salt, and a dash each of cinnamon and nutmeg, beaten together in a stand mixer or with a hand mixer until the butter is evenly distributed and the mixture is crumbly.
Instructions
Preheat oven to 350°F.

Roll out the pie pastry to a rectangle that is slightly larger than a 10-inch by 15-inch jelly roll pan. Greasing the pan is unnecessary. Carefully lift the pie pastry onto the pan and press the crust down gently so that it fits nicely into the pan. Trim any overhang with scissors or a sharp knife. Position the jelly roll pan so a long side is running parallel to the edge of the countertop. Scoop the first type of pie filling so that the left third of the crust is filled. Repeat with the second pie filling in the center third, then the third pie filling in the far right third. Scatter the crisp topping evenly over the entire slab pie. Place the pan on a sheet of aluminum foil that is slightly larger than the pan (to contain any potential bubble-overs) and bake for 40-50 minutes, or until the filling is bubbly, the crisp topping has begun to brown, and the visible pie crust is golden brown. Let rest until room temperature before cutting.
Nutritional information is an estimate and provided to you as a courtesy. You should calculate the nutritional information with the actual ingredients used in your recipe using your preferred nutrition calculator.