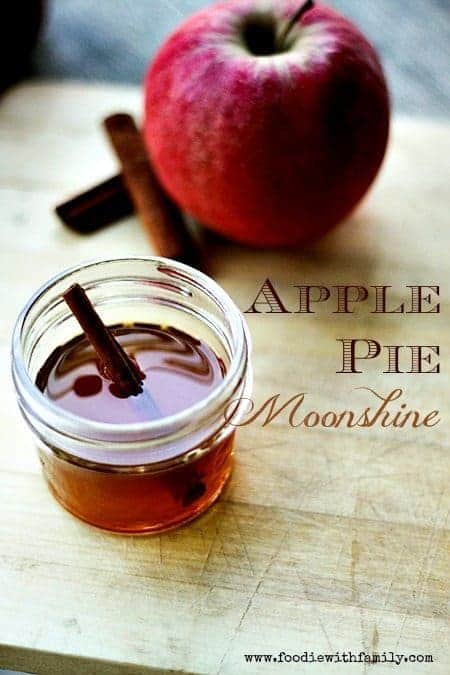 Warning: This post contains spoilers from Season 1 of Justified. If you haven't seen that season yet, get on it. Then come on back here. I think it's fair to say between Timothy Olyphant's swagger and the non-stop action and one-liners on that show, I was pretty well hooked from the first episode I saw.
Let's just get this out there right now. The recipe I'm about to share with you is not REAL moonshine. I'm well aware of that. I've lived in areas of the country where 'shining' was a real thing, and this ain't it. But what it is, is smooth, tasty, sweet, and the liquid version of an apple pie that'll knock you clean on your butt if you don't exercise a little restraint.
I first heard about Apple Pie while clutching the arm of my husband in terror while Mags Bennett made me wonder if she was going to kill Raylon Givens on 'Justified'. When Mags offered Raylon a glass of her 'famous apple pie' moonshine (the same thing she had done to a man who she had poisoned in a previous episode) I was pretty certain she was going to kill a federal marshal. That woman scared me to bits and was responsible for five finger tip shaped bruises on my poor hubby's arm. She has to be among the best Bad Guy Ladies in television history. And her Apple Pie had me more than a little intrigued.
When I saw a mason jar (!!!!I cannot resist the jar!!!) full of Apple Pie Moonshine the night before the last season premiere of Justified at the liquor store, I had to pick it up. Duh! What better way to start a new season? Well, it was sweet, and it was potent, and it tasted like an apple pie. LIQUID APPLE PIE! My husband was more than a little crazy about it. But at $25 a quart, I figured I could do better.
After playing around with the proportions, I managed to create my own version of Mag's Bennett's finest. It uses Everclear, the mention of which may have just sent a few of you in a tailspinning flashback to college. By virtue of it's incredibly high alcohol content (195 proof. Did you even know that's possible?!?) it is a perennial and potent favourite of the "spend the weekend in a coma" crowd. I'll admit to a little uneasiness when I bought the bottle and saw all the warning labels on it. I mean honestly, how many times do you deliberately buy a beverage that warns you about not keeping it near heat let alone open flames and has "MAY EXPLODE", and "DO NOT CONSUME UNLESS DILUTED WITH NON-ALCOHOLIC BEVERAGES written on it in big, serious letters?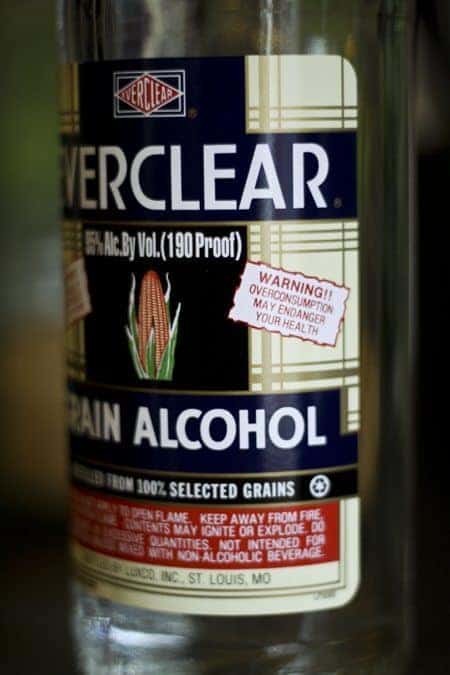 It is very well diluted here, thankfully, because SCARY, but it is still something you need to sip (not chug) slowly and in limited amounts. And yes, this recipe makes A LOT of Apple Pie Moonshine (or Apple Pie A La Mode Moonshine. Translation: with vanilla bean.) Here's the good news. Due to the wicked high alcohol content, it doesn't go bad. You can keep this and sip off of it for ages. OR you can give it as gifts for Christmas or Hannukah. Wrap it up with a pretty ribbon and a warning label and a couple of tiny, teeny, itty bitty glasses, and you have a homemade gift fit for your nearest and dearest OR your best-loved, back-hills bad guy whether it's a lady or not.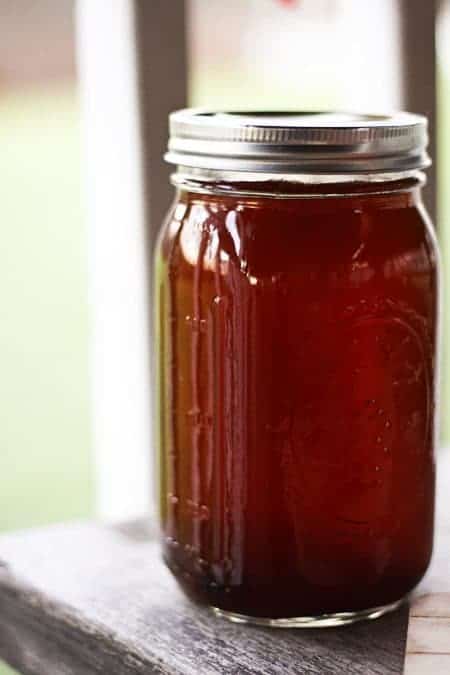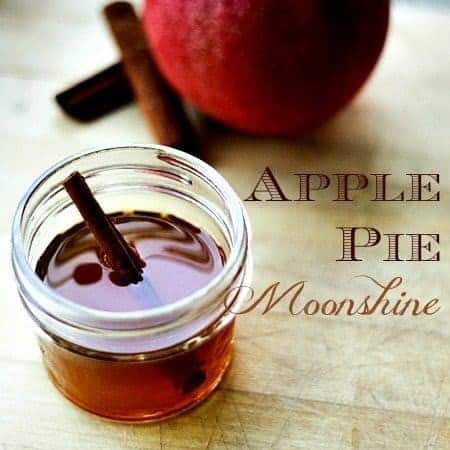 Ingredients
1/2

gallon

apple cider

NOT the pre-spiced variety

1/2

gallon

unsweetened apple juice

2

cups

brown sugar

I use sucanat, raw sugar, or sucanat

6

cinnamon sticks

plus 8-16 more for the jars

1/4

of a whole nutmeg

don't grate this, just use the chunk of nutmeg!

2

whole cloves

1

whole bottle Everclear Pure Grain Alcohol

750ml, *See Notes

1

cup

vodka

4-8

vanilla beans

cut in half, Optional, but tasty

6-8

quart

jars OR 12-16 pint jars or a combination thereof

sterilized, with new 2-piece lids
Instructions
Bring the apple cider, apple juice, sugar, cinnamon sticks, nutmeg piece, and whole cloves to a boil. Shut the heat off, cover the pot, and let it cool down completely. When it is absolutely cool, stir in the Everclear and vodka.

Pour the Apple Pie Moonshine into the clean jars and add 1 cinnamon stick and 1/2 of a vanilla bean to each jar whether it's quart or pint sized . If you'd prefer to have it plain vs. a la mode, omit the vanilla bean.

This is best if allowed to mellow for at least a week, and sublime if allowed to mellow for two weeks before serving. Serve at any temperature, but we like it best well chilled or warmed like a toddy.
Nutritional information is an estimate and provided to you as a courtesy. You should calculate the nutritional information with the actual ingredients used in your recipe using your preferred nutrition calculator.