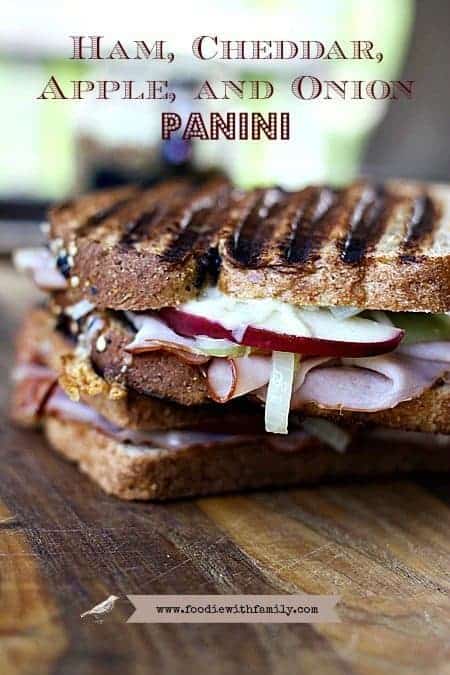 Have I shared my sandwich theory with you before?
I must have at this point.
My theory is simple; when done correctly, a sandwich is a perfectly wrought work of art. To be done perfectly, you need an interplay of textures, colours, flavours, and sometimes even temperatures. Even a mediocre sandwich is a good thing, but a great sandwich? That's into 'angels-singing' territory.
The sandwich I'm sharing today is -in my opinion- one of those sandwiches. It's a sandwich that makes me happy… First of all, HAM. Ham is one of my happy foods. When God made pig, he made his best. Salty and sweet in one perfect meaty package. Yes, please. Now, you may argue that a ham sandwich could have any number of condiments added, but I'm going to argue that whatever else you do, mustard needs to be there. It just does. That's not negotiable in my book.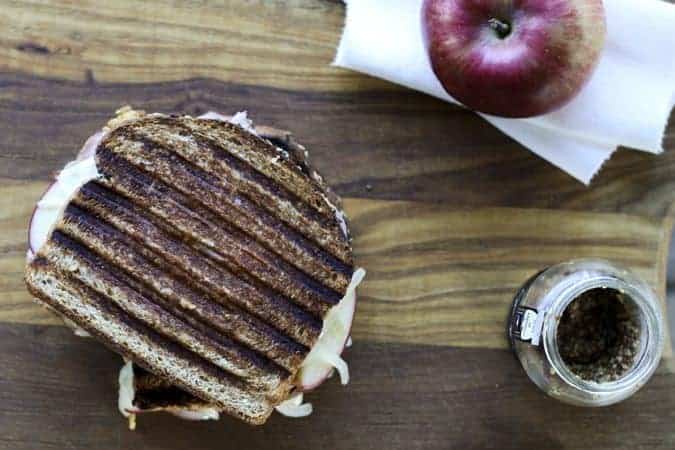 The assertive vinegar and pop of mustard is such a natural, perfect pairing with ham (because ham is no shrinking violet in the taste category) that it can't be left out.
Now, I have one other MAJOR issue to address about sandwiches before I share this gorgeous sandwich recipe with you and I am fully aware of how obsessive this sounds, but I don't care.
Please… for the love of all that is good in the world… do not plunk your deli meat down on the sandwich like you're laying a stack of papers on the bread. Dear me, no. When I worked in a deli, it took all the willpower my at-the-time scrawny little self contained not to hip check people who did that. Take your time with a sandwich and you will reap the benefits. One piece of ham at a time, folks… Just grab one piece of ham at a time. Hold it by one end over the bread: perpendicular to it, in fact. Gently lower the meat onto the bread, letting it form accordion-like folds. You can even twist it a bit. The goal -the ultimate payoff- is a sandwich where the spaces between the meat add a loft to the sandwich and a lightness of texture. It makes the sandwich easier and more pleasurable to eat.
Don't believe me? Try a sandwich both ways and see what I mean. Go forth and create beautiful sandwiches.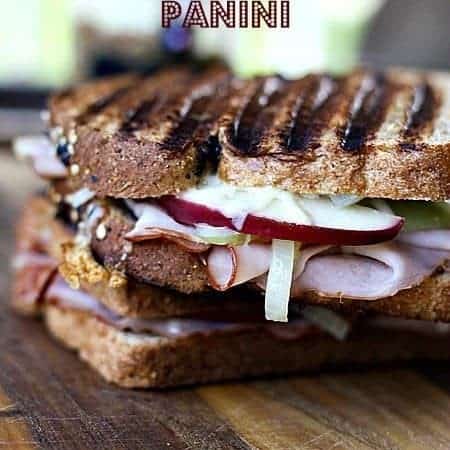 Don't settle for a boring old sandwich, create and eat this beauty for your lunch right away. You probably have everything you need for it already!
Ingredients
Ingredients Per Sandwich:

1

teaspoon

plus 1 tablespoon butter

divided

1

apple

cored and thinly sliced into half moons

½

of an onion

peeled and thinly sliced into half moons

Pinch of salt

¼

teaspoon

coarsely ground black pepper

4-6

slices

of deli ham

can substitute turkey, if desired

1/3

cup

shredded extra sharp Cheddar cheese

1

tablespoon

Dijon or spicy brown mustard
Instructions
Melt 1 teaspoon of butter over medium heat in a heavy-bottomed frying pan. Toss the sliced apples and onions into the melted butter then sprinkle the pinch of salt and black pepper over the pan. Fry the apples and onions, stirring frequently, until the apples are tender and the onions taste mild, about 5 minutes. Remove the pan from the heat and set aside.

Heat a Panini press, waffle iron, or heavy-bottomed frying pan or griddle over medium high heat. Divide and spread the remaining butter over one side of both slices of bread. Lay one slice of the bread, butter side down, on the hot surface, then quickly assemble the sandwich. Spread half of the mustard over the bread that is on the hot surface, drape the ham around the bread, spoon the apples and onions over the ham, pile on the grated cheese, and spread the remaining mustard on the non-buttered side of the last piece of bread. Cap the stack with the bread, mustard side down, then -if using the Panini press or waffle iron- close the top down over it. If you are using a frying pan or griddle, you'll need to flip the sandwich after the first side is crispy and deep golden brown. Fry until crisp and golden brown on both sides. Slice in half and serve while still piping hot.
Nutritional information is an estimate and provided to you as a courtesy. You should calculate the nutritional information with the actual ingredients used in your recipe using your preferred nutrition calculator.