Day 2 of #TurkeyWeek with Honey Sriracha Glazed Boneless Turkey Breast! I'm going to be bringing you my favourite turkey or turkey leftovers recipes all this week in the lead-up to my favourite holiday of the year: Thanksgiving! And if you're looking for a whole bird recipe, try this EXCELLENT and popular tutorial on "How to Smoke a Turkey".

You know John Madden's freakish-and-fun Thanksgiving day, post foot-ball turkey that's been augmented with a dozen or so drumsticks affixed to it? My family has gone a similar route, but with turkey breasts instead and we skip the skewering it together part. We almost always cook an additional turkey breast to go with the fixins. Why? Because the dark meat is something put into leftovers that require further cooking (pot pies, soups, etc…) chez us, and the white meat is for slicing and serving on plates and tucking into sandwiches for a post-feast snack.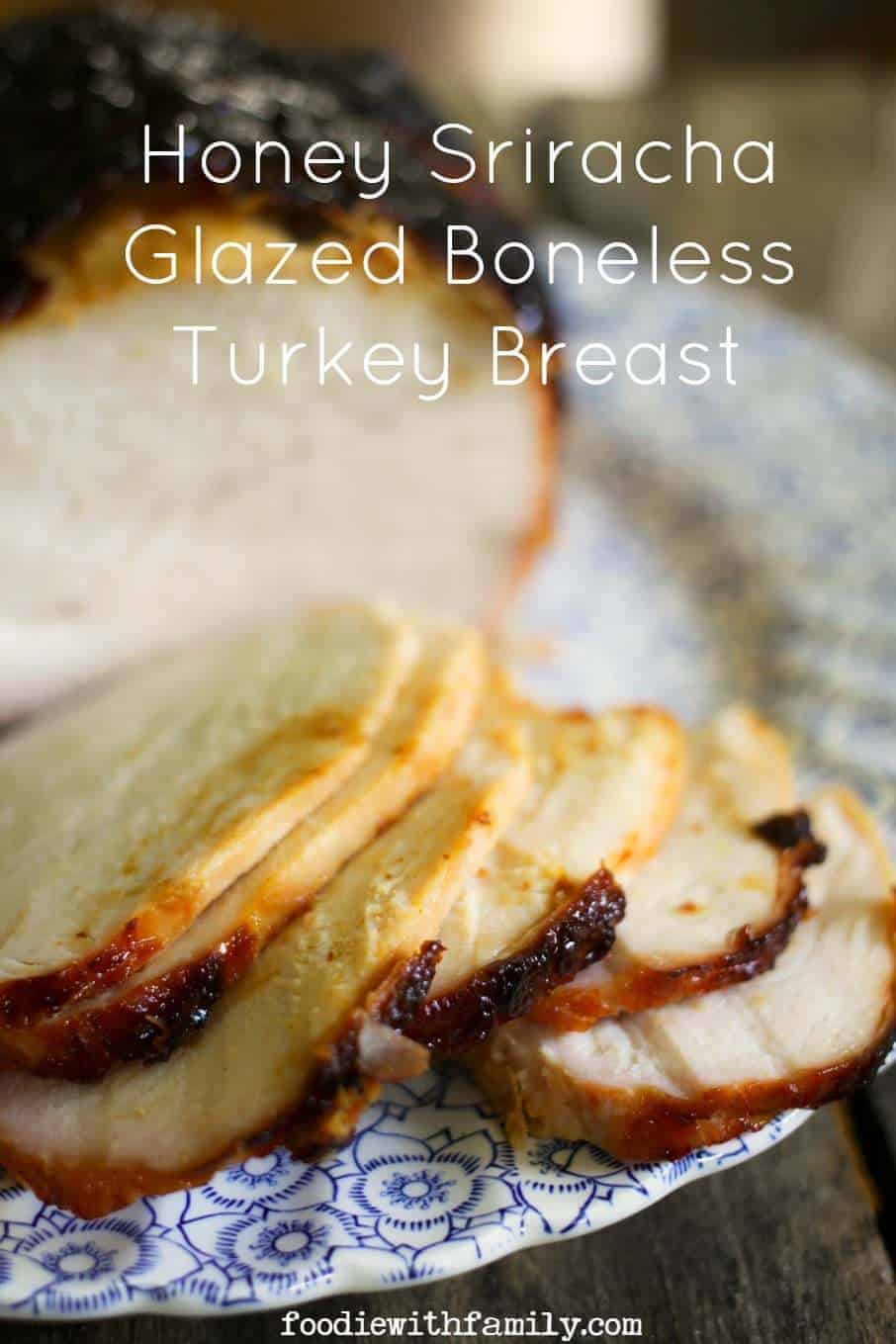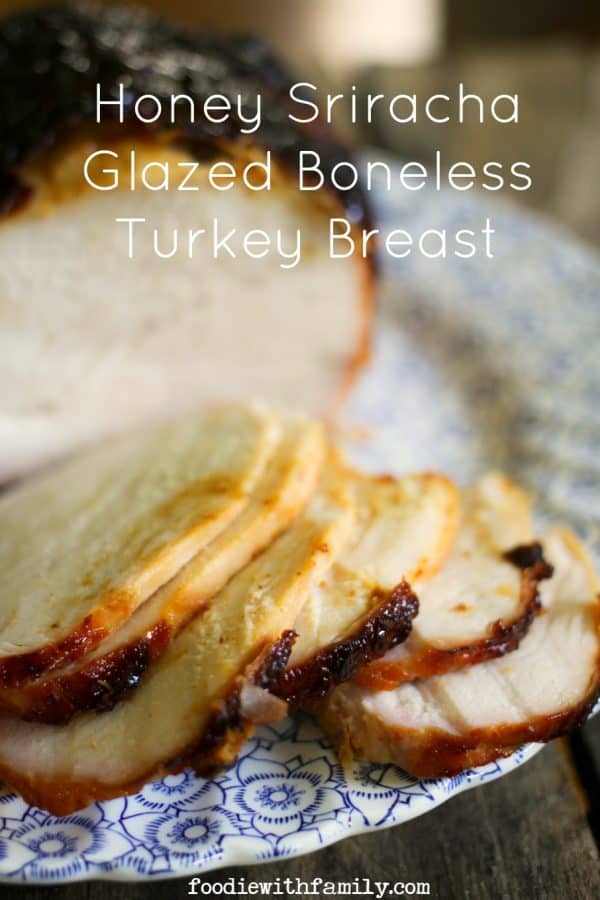 This is our go-to solution. One tidy little boneless turkey breast roasted alongside the big turkey gives us all the perfect slices of white turkey meat that we love for our obligatory sandwiches. Since this is destined MAINLY for leftovers (though not exclusively), we play with the flavours and make them a little more bold. Honey, sriracha, ginger, and a dash of soy sauce provide a sticky, flavour packed OOMPH to the skin of what might otherwise be a boring old turkey breast.
Full disclosure: My family eats this particular Honey Sriracha Glazed Boneless Turkey Breast year 'round. It's a simple, quick, high-yield-for-the-price source of protein for my mini Viking horde. The Boneless Turkey Breasts thaw practically overnight (unlike their bone-in brethren), or maybe in 36 hours if your refrigerator is super chilled and take flavours beautifully. They also roast in a fraction of the time, making them a viable option for weeknight meals.
There is, however, an even more compelling reason to add one of these to your festivities. The 'carving' skills required to slice this lovely little Honey Sriracha Glazed Boneless Turkey Breast are possessed by your average three year old wielding a playdough knife. It's. Dead. Simple. You orient the finished roast so that the long side runs parallel to the edge of the counter top and cutting board. Hold the knife perpendicular to the roast, and slice. There. Done. Your meat is now ready for the table. No bones to navigate, no waste, no knife skills required whatsoever. Easy is so nice when it tastes this good!
Cook's Notes
You really want to keep the boneless turkey breast in the lower third of the oven to keep it from taking on too much colour as it roasts.
I am totally hooked on these little silicone roasting racks. They're low-profile enough to stick into a 9-inch by 13-inch baking pan and still high enough to hold -for instance- Honey Sriracha Glazed Boneless Turkey Breast off the bottom of the pan for perfect roasting. They're flexible and DISHWASHER SAFE! (And all the people rejoiced.) Besides that, they're wicked inexpensive. I say grab two for your holiday baking, friends!
Don't try to jump the gun and put the Honey Sriracha Glaze on your turkey breast before it's close to the end of cooking time. That would both soften the skin, keeping it from developing the lovely crust, and make the roast more prone to scorching. The roast in my pictures? I got a little antsy and put it on too soon. It still tasted great, but was a little deep in colour for even me…
Don't skip the rest time on the turkey breast. The temperature continues to rise after you remove the meat from the oven due to carry over heat. This finishes the cooking process of your turkey breast. Additionally, if you slice into it too quickly, all the juices run out leaving you with sad, dry, flavourless turkey. No one wants that!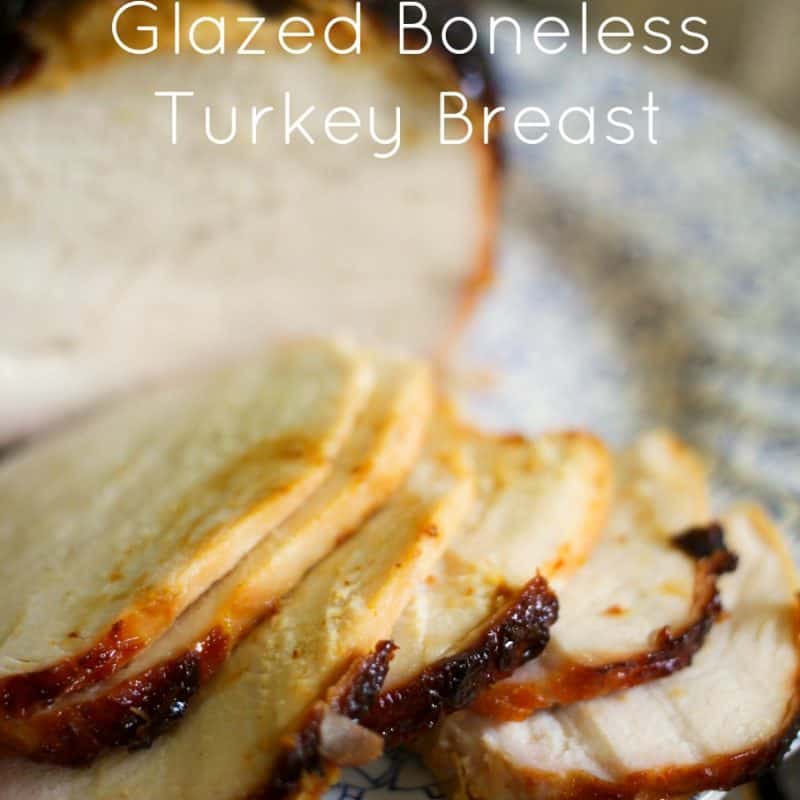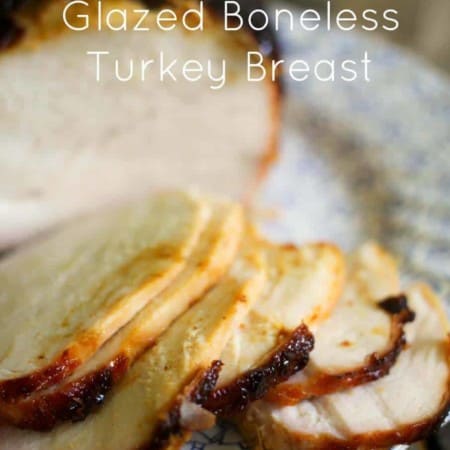 Honey Sriracha Glazed Boneless Turkey Breast
Rate Recipe
Ingredients
1

boneless turkey breast

2 to 4 pounds, thawed according to package instructions

2

tablespoons

peanut or canola oil

1

tablespoon

kosher salt

2

teaspoon

granulated garlic

1

teaspoon

ground ginger

or 1 tablespoon freshly grated ginger root
For the Glaze:
1/2

cup

mild honey

1-3

tablespoons

sriracha

depending on heat preference

1

teaspoon

soy sauce
Instructions
Preheat oven to 500°F with a rack positioned in the lower 1/3rd of the oven.

Spray a roasting rack generously with non-stick cooking spray and place in a roasting pan. Position the turkey breast, skin side up, on the rack in the roasting pan. Pour the oil evenly over the turkey and sprinkle with the ginger powder, granulated garlic, and kosher salt. Use your hands to massage the turkey and evenly distribute the spices. Put the roasting pan in the oven and set a timer for 15 minutes.

While the turkey is roasting, use a fork to combine all of the glaze ingredients. Set it aside.

When 15 minutes have elapsed, lower the heat to 350°F. Continue roasting until an instant read thermometer says the turkey breast measures 158-160°F.On a 4 pound bird, this should take about 60 to 90 minutes. About 1/2 an hour before the turkey is done, brush the glaze all over the surface of the breast with a pastry brush. Return the pan to the oven until the honey has caramelized and become very sticky and brown.

Remove the turkey from the oven and lightly tent with foil. The temperature will continue to rise by as much as 10° as the meat rests. If you're having trouble removing the string that held the turkey together, you can wrap the turkey in foil, crimping it shut to hold in the steam for several minutes. That should loosen the string from the crust you have on the outside of the turkey enough to remove it without pulling off the skin!

Carve and serve!
Nutritional information is an estimate and provided to you as a courtesy. You should calculate the nutritional information with the actual ingredients used in your recipe using your preferred nutrition calculator.
This is my third post in my commitment to post every. single. day in November for NaBloPoMo (National Blog Posting Month). Follow the craziness all month as I share recipes, family anecdotes, and throw a couple of giveaways in for good measure!