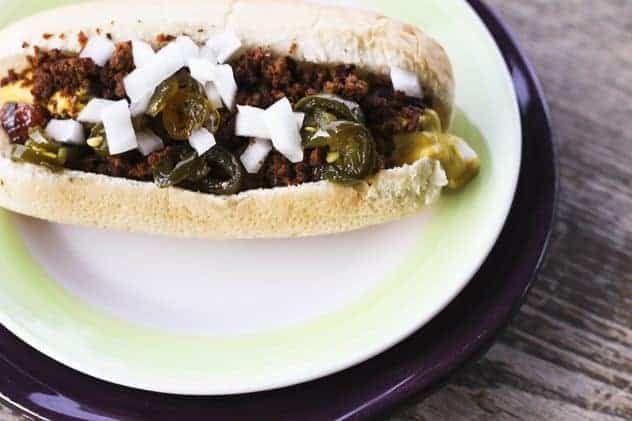 I am not going to talk about how hot it's been the past few days. I just won't. I will, however, talk about how due to things that I won't talk about, all my best-laid plans for elaborate Independence Day foods went pfffft. I opted, instead, for hot dogs: and lots of 'em.
Who here watched Matlock? I remember parking myself in front of the tube (not steak) every week to watch Andy Griffith defend folks who did nothing wrong. (Except for that one episode, but I digress.) One of the things I liked best about the show was when he would stop at the food cart in front of the courthouse and order a hot dog with the works. Matlock loved his hotdogs.
Ah, the much maligned humble hot dog or tube steak. My theory on why so many people diss hot dogs is because they began as a way to use up the nasty bits left over after the beautiful primal cuts had been taken. Then something wonderful happened. The nasty bits got a make-over and started getting attention for what they were: a cheap source of nourishment. In the tradition of most foods of humble origins, they threw in spices -and lots of 'em- and then figured out that applying fire* improved the taste and texture. Hallelujah.
*No matter what my husband says or Matlock would've said, I will not be swayed. I think the most horrific thing you could do to a hot dog is steam or boil it. Yeeeeeeee-uck! He maintains that a steamed or boiled "dirty water dog" is one of the wonders of the world. I think he is -while adorable- completely nuts. Come on folks. Take sides here. Weigh in. I promise I won't brag if I'm right. Much.
I am personally in the "too much stuff on a hot dog is just about right" camp, much like Matlock. Unlike an expensive steak where I don't want to overwhelm the intrinsic beefiness of the meat with extraneous flavours, I feel a-okay with loading a hot dog with all sorts of craziness. I'm no hot-dog purist. (Is there such a thing?) I see a hot dog as a blank canvas made for fun.
What goes better with meat than more meat? Nothing! Well, okay, more meat with mustard and onion. Specifically, crispy chorizo nuggets. When you add super crisped bits of spicy, Mexican-style chorizo to the top of grilled hot dogs, it elevates the simple meal from phoned-in to party-fare.
Do yourself a favour. Make some tonight. Do it to avoid the heat. Do it to defend and elevate the hot dog. Do it for Matlock.
And if you're looking for more delicious hot dog recipes, look no further than these spiral cut hot dogs or bacon wrapped hot dogs.
May you rest in peace, Andy Griffith. Thank you for the memories!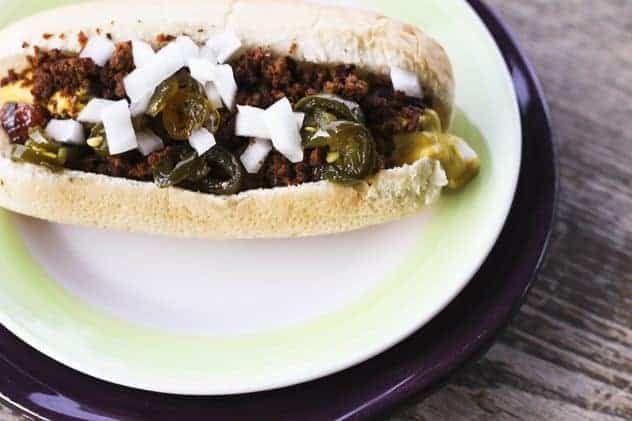 Crispy, spicy bits of chorizo top a grilled dog to elevate the summer classic to party fare!
Ingredients
Freshly Grilled Hot Dogs

hot dog buns

1/2

pound

bulk

Mexican Style Chorizo

Optional:

diced sweet onions

to taste

mustard

to taste

relish

to taste

Candied Jalapenos< to taste
Instructions
Place a heavy-bottomed skillet over medium high heat. Break up the chorizo with your hands into the hot pan. Use a sturdy, heat proof spoon to continue breaking up the chorizo into tiny bits as it cooks. Continue cooking the chorizo past the point of fully-cooked, breaking it continually with the spoon, until it is deeply browned and the bits are crispy. Use a slotted spoon to transfer the chorizo to a paper towel lined plate to drain, if necessary.

Place each hot dog in a bun, top first with mustard, then crispy chorizo, then onions and candied jalapenos.
Nutritional information is an estimate and provided to you as a courtesy. You should calculate the nutritional information with the actual ingredients used in your recipe using your preferred nutrition calculator.