Do you have someone in your life who lives, EATS, sleeps, and drinks food all the time? You know, someone like me? If so, I'm here to help you out. I've assembled a guide to some of my favourite kitchen indulgences: the things that aren't STRICTLY necessary but definitely make a kitchen-based life much easier or more fun. Sometimes, fun is strictly necessary, so I guess these things really ARE required.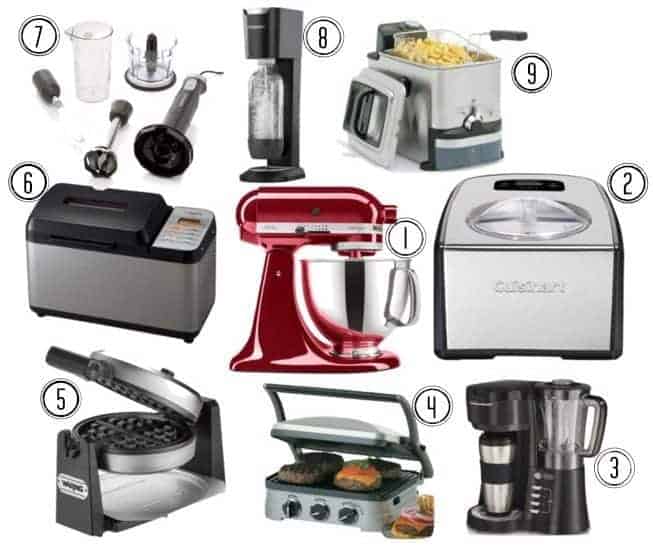 Ultimate Foodie Gift #1
Shoot. You KNOW it has to be the KitchenAid Stand Mixer, right? This is the workhorse of any well-equipped kitchen. It mixes, obviously, but it also has attachments available for sausage making, juicing, pasta rolling, and more! It's one of the few items I would replace immediately if it died even though I've had mine for more than 18 years and it shows no signs of strain! It's an investment, to be sure, but a sound one!
Ultimate Foodie Gift #2
I scream! You scream! We all scream for ice cream!! This Cuisinart Compressor Ice Cream and Gelato Maker is the bee's knees. Want to whip up some Pumpkin Cheesecake Ice Cream? Cinnamon Frozen Custard? Blueberry Frozen Yogurt? The beauty of this machine is that you don't have to pre-freeze a bowl or have salt and ice on hand. Simply pour your ice cream base in, plug the machine on, and hit the start button. A short time later, it's ice cream. For ice cream obsessives like me, this is about as good as it gets.
Ultimate Foodie Gift #3
Is a Hamilton Beach Iced Coffee Drink Maker absolutely indispensable? Probably not, but it's FUN! And this time of year, we can talk about fun a little bit, right? Iced coffee drinks are one of the few ways I can drink coffee, and I love them blended and indulgent. Indulge your favourite iced coffee lover!
Ultimate Foodie Gift #4
This Cuisinart Griddler with Removable Dishwasher Safe Plates is my kind of gadget. I love this thing fifteen ways from Sunday. My kids can whip up their own burgers on it, let it cool, grab the plates and stuff them in the dishwasher. This is a mom's dream AND a foodie's dream!!
Ultimate Foodie Gift #5
Belgian waffles for the win! Make them as a base for a breakfast, lunch or BRINNER! There's something so festive about brinner, isn't there? Belgian waffles are the ultimate in the waffle world, to boot, so this Waring Rotating Belgian Waffle Maker is just the thing for the food lover in your life!
Ultimate Foodie Gift #6
I've had a Zojirushi Home Bakery Bread Machine for YEARS. I've had it for longer than I've been blogging, friends. That thing is sturdy and makes wonderful bread. This latest iteration of their storied gadget even includes a setting for gluten-free breads which can be super tricky to perfect.
Ultimate Foodie Gift #7
Immersion blender, immersion blender, immersion blender. To say this changed my life in the kitchen is to put it mildly. No more wrestling batches of boiling soup or sauce through a blender; plunk the immersion blender in the pan and WHIRRRRRRRRRRRR your way to smoothness. This Calphalon Immersion Blender set even comes with a little attachment that's like a mini food processor.
Ultimate Foodie Gift #8
Oh how I adore my SodaStream Soda Maker. I hardly ever use the pre-made soda and juice mixers that SodaStream sells, but instead, use homemade syrups and fruits to flavour my sparkling water. If you like fizzy drinks, you NEED one of these in your life. Bonus: No more empty cans or bottles to return to the store for the deposit.
Ultimate Foodie Gift #9
Deep fryers have my heart in general, but ones with easy clean features ESPECIALLY have my devotion. After years of not having a deep-fryer and frying my stuff in a pan on the stove-top, I've rejoined the legions of people who swear by a dedicated gadget for deep-frying. It makes controlling the temperature of the oil far easier and keeps the smells and mess contained. This T-Fal Easy Clean Deep Fryer has ample room for a family sized serving of fries and lives up to the easy-to-clean part of its name.
The Giveaway
One Foodie with Family reader has a chance to win a $100 JCPenney Gift Card to help with the holiday spirit! JCPenney simply wants to know whether you like to give or receive better! Leave a comment below to enter for a chance to win.
Visit JCPenney's JustGotJingled website and share how you give back during the holidays using #JustGotJingled. You can also get more great gift ideas from JCPenney's holiday gift hub here.
Sweepstakes Rules:
No duplicate comments.
You may receive (2) total entries by selecting from the following entry methods:
1. Leave a comment in response to the sweepstakes prompt on this post
2. Tweet (public message) about this promotion; including exactly the following unique term in your tweet message: "#SweepstakesEntry"; and leave the URL to that tweet in a comment on this post
3. Blog about this promotion, including a disclosure that you are receiving a sweepstakes entry in exchange for writing the blog post, and leave the URL to that post in a comment on this post
4. For those with no Twitter or blog, read the official rules to learn about an alternate form of entry.
This giveaway is open to US Residents age 18 or older. Winners will be selected via random draw, and will be notified by e-mail. The notification email will come directly from BlogHer via the sweeps@blogher email address. You will have 72 hours to respond; otherwise a new winner will be selected.
The Official Rules are available here.
This sweepstakes runs from 12/15/2014 – 12/31/2014.
Be sure to visit the JCPenney's brand page on BlogHer.com where you can read other bloggers' posts!
Disclosure: This post was sponsored by JCPenney and BlogHer, but all opinions remain, as always, my own.