I think the key to having a successful food blog is having many friends who like to eat. I can tell when my friends are on a diet because they avoid my company in public. They know as likely as not, I'm going to reach into my bag and pull out some sort of food I'll try to foist on them. One of my friends laughingly called me a food pusher a couple of months ago when I tried to tempt them (not knowing they were watching their waistline) with one treat or another. For better or worse, I suppose that is what I am. Besides there being only so much food I can stuff into my own face, it's just more fun to share with friends!
Right now, however, is the most wonderful time of the year to be a food pusher. Everyone is feeling festive and snacky and willing to nibble on a little bit of this or that. Case in point: I decided to play around with 'a tweest' on my Grandma's Salted Caramel Corn recipe and made a big batch of Cashew Maple Caramel Corn. I carried it with me to share with the fellow moms, dads, cast, and crew members working on a local production of The Nutcracker. Cashews? Nutcracker? It just seemed like the right thing to do.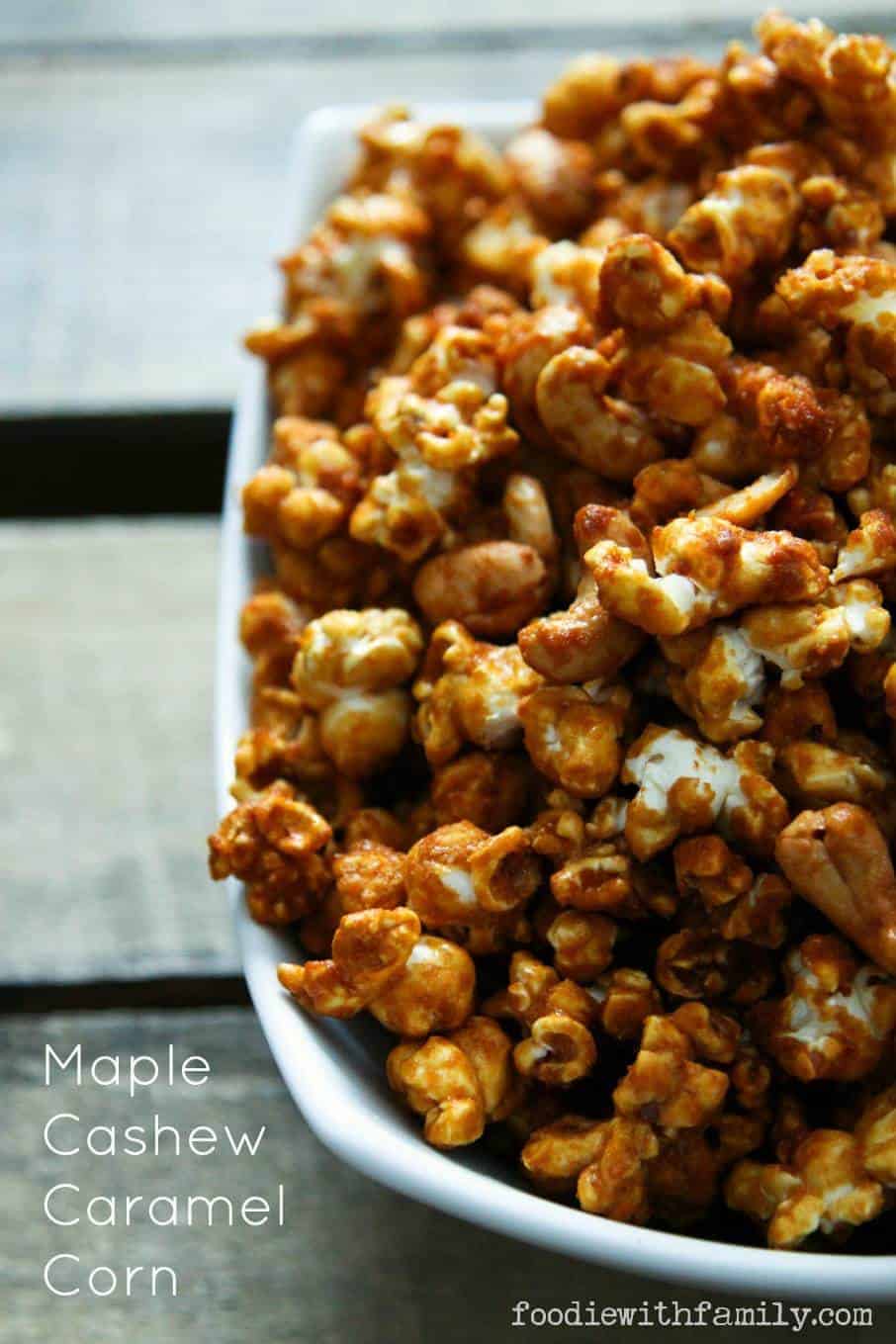 As friends walked by, I opened my bag of Cashew Maple Caramel Corn and waved it under their noses. That was all it took to get them to agree to help me 'focus group' my recipe. Adults and kids alike were enthused. One friend announced that he gave it two thumbs up but wished he had more thumbs because it deserved more than two. I'm calling the Cashew Maple Caramel Corn a great success.
Cashew Maple Caramel Corn is a maple syrup lover's dream made with a simple caramel using the darkest maple syrup you can find, brown sugar, vanilla, salt, and an optional splash of bourbon. Don't worry, it'll be abundantly clear when you add that bourbon to the caramel that all of the alcohol cooks off immediately as you watch it bubble and threaten the rim of the pan. What remains of the bourbon is it's essence; richly caramel, earthy, and slightly smoky.
Happily, while I did mess around with the basic ingredients, one feature of my Grandma's Salted Caramel Caramel Corn that made it so wonderful -the fact that it doesn't stick to teeth or dental work like braces- remains. The Cashew Maple Caramel Corn is crispy and coated in a perfect maple caramel that doesn't stick in your teeth!
Cook's Notes
Whether you opt to include the bourbon or not is strictly up to you. It does lend a little special, subtle something to the party, and there is no alcohol remaining after adding to the hot caramel.
This is not a job for microwave popcorn (unless it's the plain kernels in a paper bag variety). Most commercially available microwave popcorn comes loaded with flavours or salt or a combination thereof and Cashew Maple Caramel Corn needs to be made with plain, unseasoned, unsalted popcorn for best results. Microwave popcorn flavours tend to clash with the maple syrup and buttery cashews.
And now that I've said that, please allow me to mention one little extra flavour augmentation you might seriously love (because I know we did!) If you pop that plain popcorn in BACON FAT! you will have Cashew Maple Caramel Corn with a subtle hint of bacon, which we all know is meat candy. I'm telling you that you won't regret it.
Be sure to have your popcorn popped and in a large, heat-proof bowl before starting on the caramel. You will also want to have your pans ready to go before the caramel starts. This is because once the caramel has boiled, the process of pouring it over the popcorn and into the pans needs to move quickly.
Baking the caramel corn is the step that makes the caramel form the crisp candy coating around the popcorn and keeps it from sticking to your teeth. This can be done on baking sheets that have been sprayed with non-stick cooking spray, but I find it is far easier to line the baking sheets with silpats. Nothing but NOTHING sticks to those silpats. It also makes the removal of the finished caramel corn and the subsequent clean-up a far, far easier thing.
I find that I get the most even results if I rotate my pans from front to back and top to bottom when I remove them to stir each 15 minutes. This eliminates any potential issues from hot spots in the oven.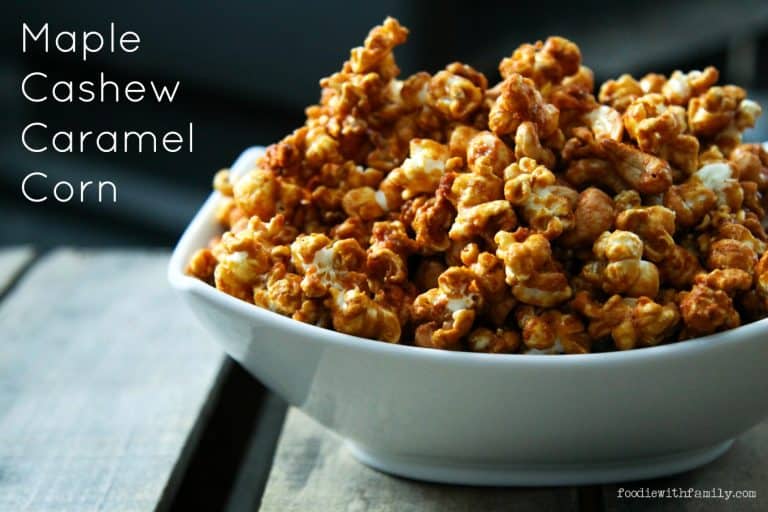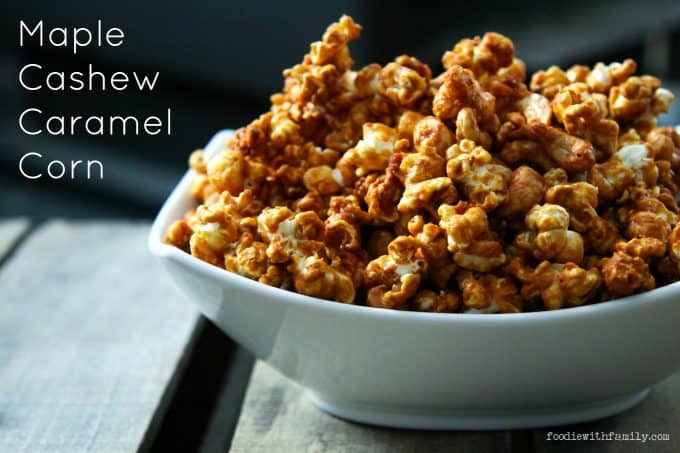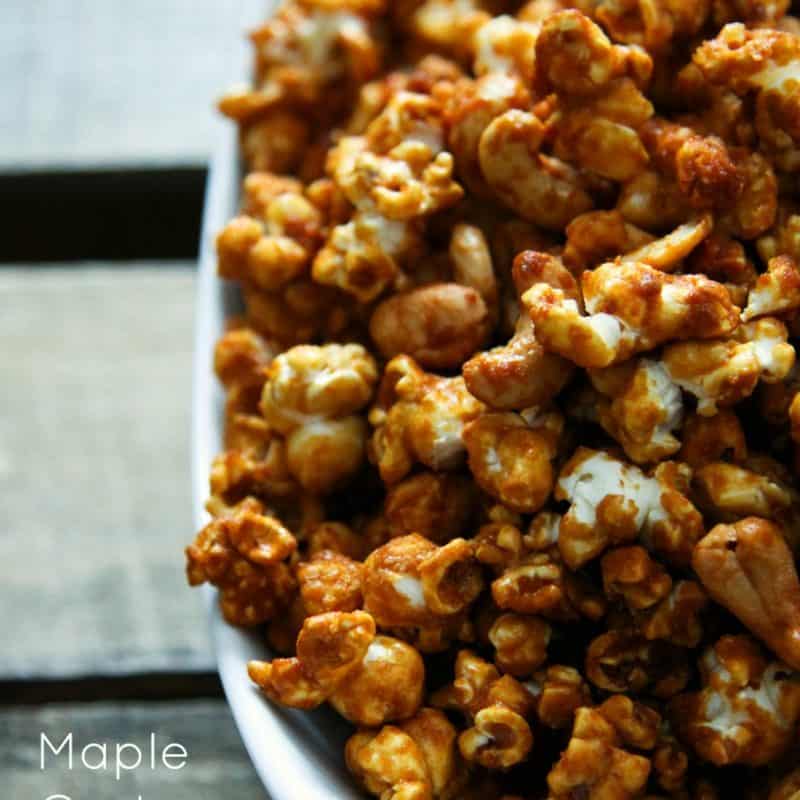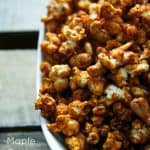 Print
Cashew Maple Caramel Corn
Ingredients
8

cups

plain popped popcorn

2

cups

whole cashews

2

cups

light brown sugar

1

cup

butter

1/2

cup

dark maple syrup

1

teaspoon

pure vanilla extract

1

teaspoon

kosher salt

1

tablespoon

bourbon

optional

1

teaspoon

baking soda
Instructions
Toss the popcorn and cashews together in a very large, heat-proof mixing bowl. Spray two half sheet pans with non-stick cooking spray or line with silpats.

Preheat the oven to 250°F.

In a large saucepan combine the brown sugar, butter, dark maple syrup, vanilla, and kosher salt over medium heat. Stir until the butter is melted. Bring to a boil. If using the bourbon, add it when the mixture reaches a boil. Boil for 5 minutes, remove from the heat, and stir in the baking soda. It will foam up and expand. When the baking soda is fully dissolved and the caramel is foamed up, pour it over the popcorn and cashews in the mixing bowl and gently toss until everything is evenly coated. Divide between the two half sheet pans and bake for 1 hour, stirring and rotating pans every 15 minutes. Let the caramel corn cool on the silpats (or gently transfer into a heat-proof mixing bowl to cool if using sprayed pans.) This caramel corn is good for a week or so in a tightly lidded container at room temperature.