I meant to post this a while ago, but life got in the way. I'm getting ready to repeat this particular dessert in a couple of days with some frozen berries, and remembered that I had never gotten around to sharing this with you all. So here 'tis!
A few weeks ago, Jim picked what appeared to be the last of the berries in the patches near us at camp. He ended up with a good couple of cups of black raspberries and a handful of wild blueberries.
(Aren't they purty?)
We ate a few of them as is, but the rest went into a very simple berry cobbler, taken from Jane Brody's Good Food Book, which I purchased several years ago. It could not be simpler to make, and is fairly quick to whip together for a quick dessert or treat to share with unexpected guests. I usually make it with frozen blueberries or with a frozen triple berry mix (blackberries, raspberries and blueberries are the favorites). It's especially good served warm with a small scoop (or two!) of vanilla ice cream on the side. (I know, I keep putting the ice cream in there…)
Blueberry Cobbler
From Jane Brody's Good Food Book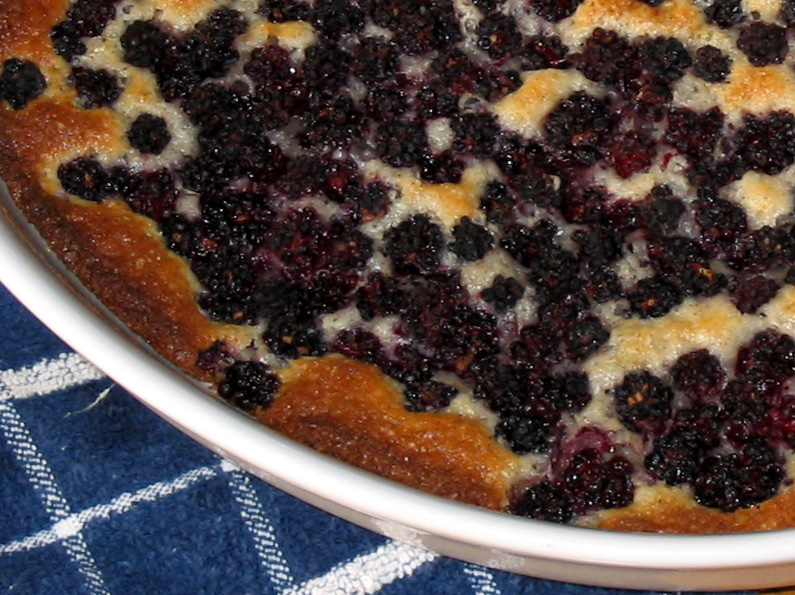 2/3 c. all purpose flour
1/2 c. sugar
1 1/2 t. baking powder
1/4 t. salt
2/3 c. skim milk (I use whatever is on hand)
2 T. butter, melted
2 c. blueberries (I use fresh or frozen)
1. In a medium bowl, combine the flour, sugar, baking powder and salt. Stir in the milk, and mix the batter until it is smooth.
2. Pour the melted butter or margarine into a 1 or 1 1/2 qt. casserole type baking dish. Pour in the batter, and sprinkle the blueberries on top.
3. Bake the cobbler in a preheated 350 degree oven for 40 to 45 minutes or until it is lightly browned. Spoon out the cobbler onto individual dishes to serve.
Some of my tweaks:  VANILLA!! I always add vanilla to this–it tastes fine without it, but I find I miss the vanilla flavor if I don't put it in. Also, I put my baking dish into the oven while it is preheating, and let the butter melt right in it–saves cleaning a pan, and gets the cobbler off to a good start in it's baking–we like the brown crispy edge it gets when prepared this way. And of course, I add a good 1/2 teaspoon of freshly grated nutmeg to the batter–great flavor partner to be the berries. Grated lemon rind makes a nice touch if you have one on hand–just whisk it right into the batter.