Update:  You still have 48 hours to leave a comment to enter our $100 giveaway! (And tell 75 of your closest friends to leave a comment, too. Good Grief! Can't we give away money?)  You have until 5:00 p.m. EST on Sunday, October 26th.
Click here to hop over to our 100th post and leave a comment to be entered in the drawing…
  Good luck!
We want to give away as much as possible, and to do that, we need to have at least 100 unique commentors on the 100th post! So if you have not yet made a comment, or if you know of someone who might be interested in a chance at this giveaway, let them know and get your comments in place. This is the only extension we will be making, so the Sunday deadline is firm! Come get your gift certificate! As a reminder, here are the details:
To celebrate our 100th post, we want to get 100 commenters to leave comments. To encourage all of our readers (we know you're lurking there…) to comment, we're offering a performance based giveaway. For each 25 unique commenters on our pasty post, we'll add another $25 to a gift certificate up to $100. So! If we get 25 commenters, the gift certificate will be for $25. If we get 50, it'll be for $50. For 75 commenters, $75 and so on up to $100. The gift certificate will be for Amazon.com, Williams-Sonoma, King Arthur's Baker's Catalogue or Cooking.com– the winner will get to choose!
There are only three requirements for entry into the drawing:
You can't be related to Val and I. Duh, right?
You need to leave a comment on our 100th post.
In your comment, please let us what you'd like to see more of on Foodie With Family. Quick recipes? Frugal recipes? More recipes for chocolate covered crickets? Help us help you!
At 5:00 p.m. Eastern time on Sunday, October 26, we'll use random.org to pick our winner. 
You don't need a blog to enter, but if you do have a blog, and you're so inclined, mention our giveaway and let me know in your comment and we'll give you another entry into the drawing.
For yet another entry, link back to us and pop this little badge up on your blog…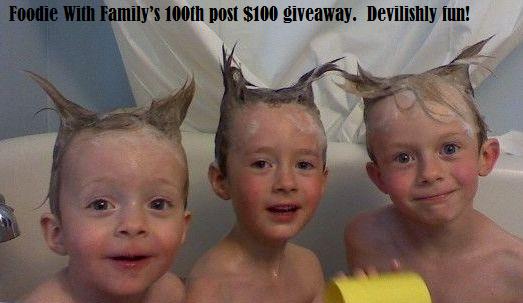 Okay everyone! Just two days left! Just hop on over to our pasty post and leave a comment. Good luck!