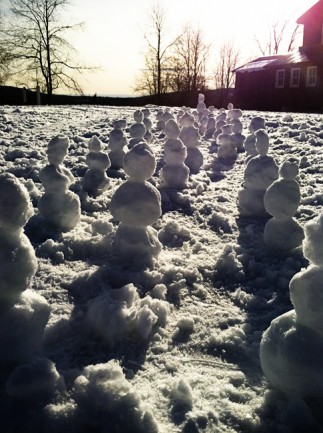 I spend a lot of time on the internet for research and networking. Oh, okay… I also spend far too much time on Pinterest just browsing and making myself hungry and I also do it because, frankly, I'm getting more than just a little tired of this winter weather.
I often stumble upon things -recipes, kitchen gadgets, fashion or fitness tips, books, movies, etc.-  or have other news that I want to share with you and until now, I hadn't figured out a way to do it without inundating you, your email inboxes and your readers with all sorts of tiny little posts. I'm too tidy to do that to you.*
*And yet, somehow, I'm not tidy enough to keep up on laundry. Riddle me that.
The proverbial lightbulb in my brain went poof this week, though. A weekly roundup of one big old collection of fabulous things on Fridays was the answer. There will be at least fifteen, but I am going to give myself permission to throw a few extras in if it's a particularly wondrous internet week because honestly, there's so much great talent out there that deserves some link love!
I can't even wait to dig in, so let's kick this thing off!
Main Dish Madness:
Fontina Polenta with Easy Marinara Sauce by Foodie Crush. Drool with a capital D! I am not usually a red sauce and pasta girl, but I am MOST definitely a red sauce and polenta (or as my kids call it, "Eye-talian Grits.") girl. Polenta pretty much completes me all by itself, but you add cheese -especially fontina- and I'm going to beg for it. As usual, Heidi's photography makes me want to lick my computer screen.
Feta Basil Turkey Burgers by Fifteen Spatulas. This turkey burger studded with feta cheese, fresh basil, and Worcestershire is calling my name in a big way. Those are four of my food impulse words (burger, feta, basil, Worcestershire) in one gorgeous looking recipe.
Basil Primavera Stuffed White Sweet Potatoes by Oh Sweet Basil. Carrian says she's ready for spring. I am, too… and this baked white sweet potato (YUM) topped with a creamy primavera sauce with fresh basil, asparagus and sweet peas sounds like just the way to ring in Spring.
Butter Chicken Sliders by A Spicy Perspective. Holy moly. I'd like to be alone with a plate of these, please. Just shut the door on your way out, if you don't mind.
Lemongrass Beef Banh Mi by The Little Kitchen. All the flavours of a classic porky banh mi transferred to beef, served with a fried egg on top? Dear me. I'm afraid I could consume far more of this than is good for me and not regret it at all. Ever. I might even ask for more.
Appetizing Appetizers and Snacks:
Bacon Wrapped Apricots with Rosemary Honey by Reluctant Entertainer. You're killing me, Sandy. I could make a meal out of these quite happily.
Greek Tatziki Sauce with Garlic and Dill by The Lemon Bowl. Liz recommends serving this with Middle Eastern dishes but she missed discussing what I think my favourite way would be to eat this: with a big, fat spoon. Mmmm… Garlic, yogurt, dill? That's happy land.
Whipped Feta by How Sweet Eats. Once again, Jessica has blown my mind. Whipped. Feta.
Deadly Desserts:
Salted Caramel Sauce by Two Peas and Their Pod. There is nothing to say other than, "Please pass me that jar and a straw, Maria."
S'mores Ice Cream by A Kitchen Addiction. I don't even usually LIKE S'mores (heresy, I know… they're just so sticky and rich) and I want an entire bowl of this ice cream to myself. It'll have to wait 'til after Lent, though. You know why…
Hostess Cupcake Cookies by Bake at 350. Bridget is a mad genius with cookies and these cookies are just too darned cute. They wouldn't get past the door before being inhaled in this house.
Chocolate Mint Skillet Cookie by She Wears Many Hats. This is almost more temptation than I can handle. I have a weakness for Thin Mints. I have an affinity for skillet cookies. I just can't handle how delicious this looks.
Cool Gadgets:
The Panasonic 5 Cup Fuzzy Logic Rice Cooker
is a kitchen convenience I highly recommend for singles and smaller families. I have used a larger 10-cup cooker for years for my small-regiment sized family, but received this rice cooker to review shortly before the holidays. I put it through its paces and sent it home with my dad to see how it worked for someone cooking for one. I loved the ease of use. My dad has done smaller amounts of white, wild and brown rice and been pleased with the results. This cooks -as it should- all kinds of rice perfectly. The porridge setting is great for oatmeal or jook/congee breakfasts. I think the coolest part of this is the included steamer basket that allows you to cook a small amount of rice and steam some fish or veggies on top all at the same time.

Books, books, books!
Classic Snacks Made from Scratch: 70 Homemade Versions of Your Favorite Brand-Name Treats
by Casey Barber. Let's talk about this for a moment, shall we? Casey has put together the Bible on recreating classic snack foods from scratch at home: Corn Nuts, Doritos, Sour Cream and Onion Potato Chips, Twinkies, Hostess Cupcakes, Klondike Bars, and more. CORN NUTS AT HOME, PEOPLE. My kids took one look at it and disappeared into the den with a notebook and pencil. An hour later they came back with a prioritized list of the recipes they wanted me to try first and another list with the chores they were willing to do to get them. I kid you not. Buy this book for yourself and it will make your children behave. Maybe. Well, at least as long as it takes for you to cook your way through their favourites.
The Dangerous Book for Boys
by Conn Igulden. To say that my boys have spent a little time with this book would be the understatement of the century. The book is filled with things that make boys' hearts sing: rope and knot work, Morse code, how to build a fort/tipi/lean-to, how to do coin tricks, how to talk to girls ("You have cooties" is not one of the options.), states and capitals, marbles, tree identification, space travel history, baseball stats, dinosaur guide, astronomy, role-playing games, Shakespeare, how to make a water bomb/paper hat/boat, making a pinhole projector and so very much more. Every one of my boys has their own favourite section of the book and even though it's been stashed under pillows, left in the rain, used as the corner brick in a blanket fort, and slept on by dogs, the binding is still holding up beautifully. Those publishers knew what they were doing in more ways than one. If you're looking for a book for a boy age 6-16, I don't think you choose better than this!
Disclosure: The links for The Dangerous Book for Boys, Classic Snacks Made from Scratch and the Panasonic Rice Cooker are all Amazon.com affiliate links. I was not compensated for recommending them.