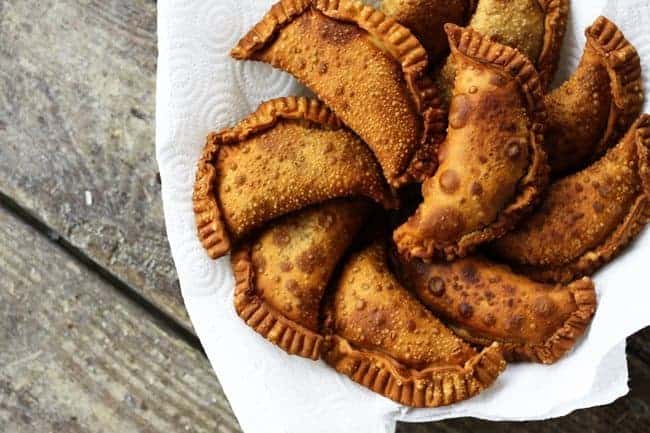 Get the yoga pants out now, folks, because I discovered something very dangerous indeed when I was making empanadas last week. I've told you before of my abiding love for Goya Discos and empanadas and that I always keep a stash of those lovely little shortcut pastry rounds in my freezer. How can you go wrong for one-dollar-forty-cents for a package of ten, I ask you? You can't! If you're having trouble locating them, ask your local stores to carry them. If they have Goya canned goods, there's a likelihood that they can get discos for you!
Back to the trouble at hand, though… I'm not sure WHAT motivated me to do it as I'm trying desperately to fit into a cute pair of jeans these days, but the thought process went something like, "I love these discos, I'd love to make a pie with them some day. Hey. I could make fried pies. Hey. I have oil going. HEY. I am going to make fried pies. WHOA. I am going to make cheesecake fried pies."
And I did. And they were too good for my good. My husband's eyes rolled back into his head when he bit into one. Warm raspberry pie filling over melted Neufchatel cream cheese in a deep-fried wrapper just about did the poor guy in for the joy of it all.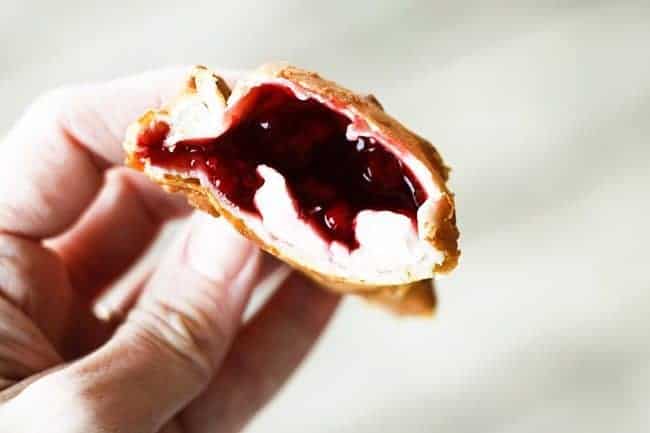 When I tell you these pies can be made as fast as you can slap some cream cheese and raspberry pie filling on a disco, crimp it and drop it in some hot oil, I mean it. I'm a double crimping kind of gal, because I like my filling to stay INSIDE the pastry where I put it. If you're more sanguine, stick with a single crimp and you'll have pie a few seconds faster.
I have a little trick for you to keep pie filling from squirting out the sides of the discos when you fold them. After you put the cream cheese just off center on the pastry and dollop the pie filling over it, bring the opposite sides together to fold it in half, but lift it off of the counter as you do it so that you're holding it by the center edge that you're pinching together, before continuing to crimp it, immediately pinch both ends shut to keep the filling from leaking out. Then, still holding it up in the air by that center edge, work your way around the seam, squeezing the pastry edges together to seal them. THEN lay it down on its side and crimp with a fork. Here's where my Anal-Retentive Chef tendencies come through. After that first crimp, I usually fold the edges back toward the center and crimp again with a fork. Ta da!
It probably goes without saying that these taste best when warm. In the interest of scientific inquiry, though, we ate a few of them room temperature and also cold and they were still darned good. In order, we preferred them warm, then room temperature, then cold, but we wouldn't say no to any of them if offered.
Were you to top a warm pie with a scoop of ice cream, you'd probably swoon. Alas, I will not do this at least until April because I gave up ice cream for Lent. Could someone maybe give that a try and tell me about it so that I can live vicariously?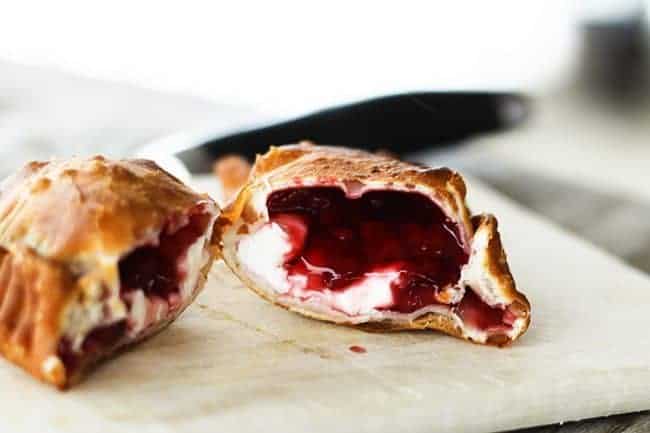 Quick & Dirty Raspberry Cheesecake Fried Pies
Rate Recipe
There's nothing more dangerous than these pies that are done in the blink of an eye and stuffed with tart, sweet raspberry pie filling over melted Neufchatel cream cheese in a blistery, crispy yet tender fried package.
Ingredients
1

package Goya Discos Empanada wrappers

without annatto, thawed

1

cup

raspberry pie filling

1/2

cup

plus 2 tablespoons softened low-fat cream cheese

Neufchatel Cream Cheese

2-3

inches

of canola

vegetable, or peanut oil or shortening in a high-sided, heavy pan or deep-fryer
Instructions
Heat the oil to 350°F.

Slightly roll out the discos wrappers to make them just a touch thinner. This allows you to cram more of the good stuff into the wrappers before closing them. Add 1 tablespoon of cream cheese just off center on each disco wrapper.

%https://www.foodiewithfamily.com/wp-content/uploads/2013/03/Raspberry-Cheesecake-Fried-Pies-Foodie-with-Family.jpg

Spoon 2 tablespoons of raspberry pie filling over the cream cheese.

%https://www.foodiewithfamily.com/wp-content/uploads/2013/03/Raspberry-Cheesecake-Fried-Pies-being-made.jpg

Fold it in half, lifting by the center edges. Pinch both ends shut to prevent the pie filling from leaking out as you seal the wrapper. Still holding it in the air, pinch the edges to seal, working your way around the seam. Lay it down on the counter and crimp shut with a fork. If desired, you can fold the excess in toward the center and crimp the edges again. Repeat until all the disco wrappers are filled.

Fry the pies 2 to 4 at a time, depending on the size of your pan or deep fryer, taking care not to overcrowd them as they will expand slightly as they fry. Turn them over, if necessary after about 45 seconds (*See Notes). Continue to fry for another 45 seconds or until they are a deep golden brown. Use tongs or a slotted spoon to transfer the fried pies carefully to a paper towel lined plate. Let rest for at least one minute before eating.
Notes
*If you find that the pies are getting dark before the cheese has melted inside the pie, lower the temperature of your oil slightly. The goal is for the pies to be a rich brown on the outside with melted cheese and hot filling on the inside.
Nutritional information is an estimate and provided to you as a courtesy. You should calculate the nutritional information with the actual ingredients used in your recipe using your preferred nutrition calculator.
This post was NOT sponsored by Goya. They have no idea who I am, I just really dig their discos!