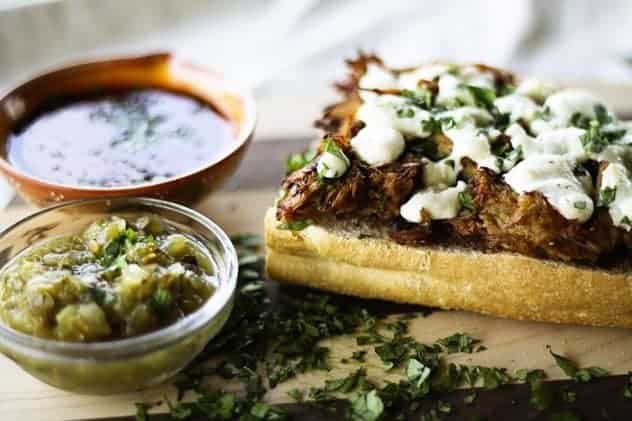 It's Friday the 15th! And I have the Friday Fifteen today! This is all too tidy, so I'm putting -at my father's suggestion- sixteen links into this post. I clearly have an authority problem.
See that picture up top? That is one of my newly favourite dishes ever, ever, ever. I tasted one at Rick Bayless's Frontera at Chicago's O'Hare airport and almost wept with joy. Yes. I loved airport food. I loved it so much that I made my own. If you haven't tried it yet, you'd best do it soon. You'll regret the time you've lost not eating it if you don't.
There's been so much great stuff out there this week for Saint Patrick's Day… You KNOW how I feel about corned beef, so it figures largely in this week's roundup. And colcannon? Forget it. How could you go wrong with mashed potatoes, greens, onions, butter and cheese?
Main Dish Madness:
Favourite Slow Cooker Recipes by Add A Pinch. Dear Robyn has collected her favourite slow-cooker recipes from her site. Can I just personally put in a word for every single one of the recipes she included? Her Balsamic Roast Beef and Slow Cooker Chicken Enchiladas are on our regular rotation around here. Oh, and BONUS! She's giving away a most fabulous slow cooker. Get on over there and enter, people!
Corned Beef Poutine with Guinness Gravy by Closet Cooking. My word. French fries, corned beef, Guinness gravy, melted cheese. Mercy. I'd probably just have to sit alone eating this so I wouldn't have to talk to anyone thereby ruining the joy of the experience.
Baked Tilapia with Pecan Rosemary Topping by Cookin' Canuck. I am a fish nut and this tilapia looks beyond tempting with its sweet, spicy, crunchy, nutty topping.
How to Make your Own Corned Beef by Black Girl Chef's Whites. Yes, yes, yes. This is how I feed my corned beef habit at less than a billion dollars per pound and it's so easy and so gratifyingly delicious. Try it out. Now, you won't have it done in time for St. Pat's, but who cares? Corned beef is for the year round!
Appetizing Appetizers and Snacks:
Chipotle-Cheddar Broiled Avocados by Eating Well. Oooooooh yeaaaaaaaah. I'll take five. Make it six. We wouldn't want to leave that poor avocado half hanging, would we?
Ricotta Crostini Party by Honestly Yum. This tray full of thin, crispy crostini topped with ricotta cheese and all sorts of lovely toppings actually makes me angry. Angry because I'd have to employ strategy to prioritize which one to eat first to ensure I get my favourites. Radishes, smoked salmon with dill, honey with blueberries or nuts, strawberries with aged balsamic vinegar, cucumbers and herbs? Holy man. I'd have to lock myself in the closet and eat them all by myself.
Reuben Style Potato Skins by Simple Comfort Food. Hubba hubba! Potato + Corned Beef + Sauerkraut + Swiss Cheese= Happy, happy me. This is happening.
Deadly Desserts:
Chocolate Pretzel Nachos by Gimme Some Oven Are you even kidding me? Would you look at those? Pretzel chips topped with chocolate chips, a fudgy sauce, mini marshmallows and SPRINKLES! GAH! I about died when I saw these. My kids begged for me to make them. They're on the docket for this Saturday's nacho-fest.
Nutella Peanut Butter Chewies by Seeded at the Table. These cookies made me do a double take. No flour? Nutella, peanut butter, powdered sugar, egg and vanilla. Hey, these are gluten-free! And boy do they ever look good! Nikki says they're crispy on the outside and chewy on the inside. I can't wait to give these a whirl for myself!
Classic Shamrock Shake by The Naptime Chef. There are not words to describe my obsession with Shamrock Shakes. Oh, and I'm pretty sure I mentioned once or fifteen times that I gave up frozen treats for Lent so you know that means I won't have one from The Golden Arches this year. I will, however, have every single ingredient in my pantry/fridge that I need to make this on Easter Sunday.Woot woot!
Chocolate Amaretto Crepe Cake by Sprinkle Bakes. This take on a classic French dessert is sure to be a head turner. We are talking about a visually stunning dish that tastes equal to its looks; layer upon layer of whisper thin crepes filled with a chocolate amaretto ganache then frosted. When you cut into it, you have so many layers of lusciousness that it can be overwhelming in a good way!
Beautiful Beverages
Homemade Bailey's Irish Cream by Averie Cooks. Make your own Irish Cream in a blender. Okay. If you insist. I'd be happy to. Thank you. Mwah!
Cool Gadgets
Magimix by Robot-Coupe. This is my only recommended gadget this week. I received one for review and have been putting this thing to the grindstone for several weeks. If you want to buy a food processor, do yourself a favour and save up until you can get this one. I've paid my own money for other big name food processors and been terribly disappointed by the shoddy, lightweight construction and anemic power behind them. This one is heavy and serious. I LOVE that it doesn't hop around on the counter while I'm using it. I adore that it blitzes whatever the heck I put in it in record time. I can't get over how sharp those French blades are. I used the commercial equivalent of it when I worked in restaurant kitchens and loved it then and love it even more now. I know the reputation of the company and I know how great their customer service is and can recommend it without reservation. (Note: I am not compensated for this post or the review. This is NOT an affiliate link. I seriously believe this is the best food processor you can possibly get outside of a commercial kitchen and it's well worth the money.)
Books, books, books!
A Thousand Splendid Suns by Khaled Hosseini. There's no getting around it, this book made me weep the ugly cry and jagged sobs. So why am I recommending it? Because I think it is one of the best books in the last decade. Because I think it is crucial to know how very fortunate and blessed American women are. Because Khaled Hosseini is a masterful story teller who pulls you into the story so effectively that you are willing to join humanitarian or missions groups just to go help people around the world. Get it on Kindle:

…Or in paperback. It's hard to beat a used copy for a penny plus three dollars in shipping!
Or go to your library and get on the waiting list for it for free, but do read it. And when your sons and daughters are old enough, have them read it, too. It's that important.
A Wrinkle in Time, A Wind at the Door, A Swiftly Tilting Planet, and Many Waters by Madeleine L'Engle. It's hard for me to explain just how much these junior fantasy books mean to me. I read them first when I was about thirteen years old; they were gifts from my Aunt Molly. They transported me completely to the world of the O'Keefe children that I almost could've sworn that I was the red-headed, awkward, hot-tempered, glasses-wearing Meg O'Keefe. Madeleine L'Engle is widely considered to be a children's author, but I've reread these books several times as an adult and gotten something new and deep from them on each reading. In fact, my best friend of years-upon-years and I had a discussion over the phone about Charles Wallace's farandolae and mitochondria and how it's a metaphor for what society is experiencing with perpetual childhood. Don't let that scare you off of the books, though… Give them to your favourite tween or teen or read them yourself and see what I mean. And if you haven't read them yet, do yourself a favour and start one on a dark and stormy night while snuggled under your quilt. Oh what fun!

Magnificent Movies
Spirited Away by Hayao Miyazaki. Yes, this is an animated film. This acclaimed and award winning fantasy is about Chihiro, a young girl trapped in a world of traditional Japanese spirits. Despite her fears, she perseveres in order to help save her parents who have undergone a mysterious transformation. Miyazaki has an unparalleled ability to use silence and quiet to fill the spaces that would normally be filled with chatter taking a film that could've been merely good and making it great. All of my kids (ages 6-15) love this movie and I can happily recommend it to that age group and above. I do suggest that if you have kids who are particularly susceptible to tension in movies, you may want to preview it. Personally, I put this movie firmly in my top-five-films-of-all-time list. It is heartwarming, magical, sweet, cautionary and redemptive all at the same time. Don't just take my word for it, though, look at the other reviews for it!