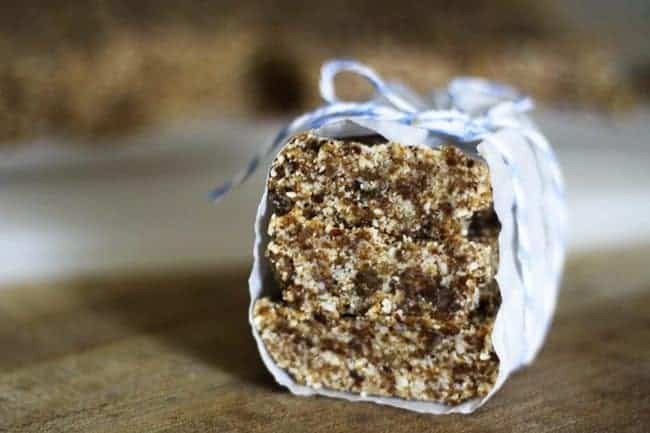 Time again for Tasty Penance wherein I apologize for all the fattening recipes I give you by offering a super healthy one that still tastes great. I present to you: Oatmeal Raisin Cookie Energy Bars! They taste ever so much like a proper oatmeal raisin cookie but they are good for you. How good for you? They're made entirely of dates, raisins, almonds, oats, cinnamon, vanilla and a wee pinch of salt. This is the home version of the fancy-pants energy bars (Cliff, Lara, etc…) for which you almost need a second mortgage if you want to eat them regularly.
Since they are essentially dried fruit and nuts with just a little bit of this and that thrown in, they are -if eaten in large amounts- very caloric which would seem to defeat the whole Tasty Penance idea, right? The saving grace here is that it doesn't take a huge energy bar to deliver that pick-me-up and burst of power you want. Dried fruits and nuts eaten together are very filling. Additionally, the carbohydrates from the fruit give you a quick blast of energy while the protein from the nuts make you stay satisfied longer. So a small energy bar gives you a lot of bang for your caloric buck. Besides that, we're talking iron, calcium, tannins, beta-carotene, potassium, maganese, magnesium, copper, lutein and FIBER all in one tasty little package.
Since these are little powerhouses of nutrition, they make a great mid morning or afternoon snack. Pop one or two in your kids' or loved ones' lunches. Deliver some to a friend who just had a baby or a shut-in. Stuff a couple in your mail carrier or UPS person's hand. I guarantee smiles of surprise and contentment.
Some Tips for Energy Bar Success:
Because dates can vary widely in their moisture content (depending on age, proper storage and other extenuating circumstances) use the amount of nut butter called for as a starting point. Don't feel obliged to stop at two tablespoons if the mixture isn't clumping. Be patient, add more little by little until the mixture holds together without crumbling when squeezed in your hand.
When pressing the mixture into the pan, really push down as hard as you can without breaking the pan. Pay some extra attention around the edges, being sure to press them as firmly as you did the center so the edges don't crumble when removed from the pan. You can use your hands, a little roller or the edge of a sturdy (not glass) cup to do the job, just do press down.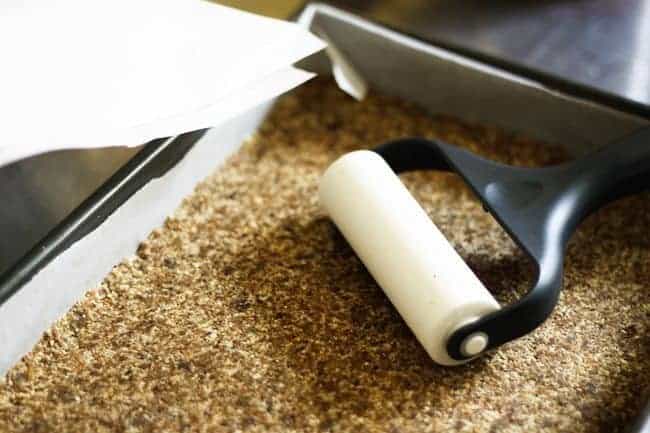 Taste the mixture as you go along and adjust with more cinnamon, more vanilla, more of whatever you like personally. Since there are no 'dangerous' ingredients in this, you can taste to your heart's content and make it exactly what you want it to be.
If you want these to be truly raw in the 'raw, living foods' sense, don't toast the oats before grinding them. Personally, I prefer the taste of toasted oats, but it's strictly optional.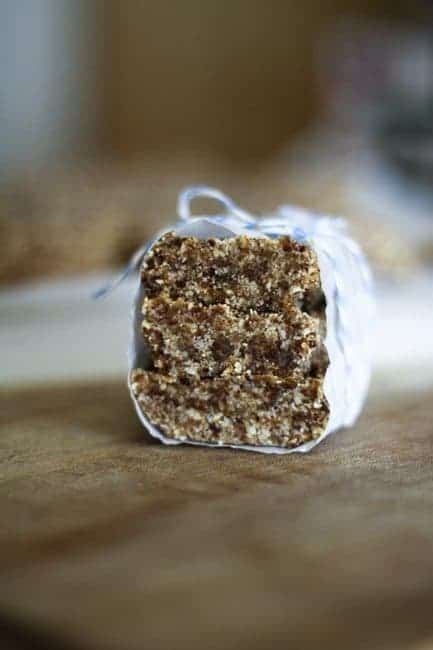 Oatmeal Raisin Cookie Energy Bars | Make Ahead Mondays
Rate Recipe
These tasty little morsels made of dates, raisins, almonds, toasted oats, cinnamon, and vanilla taste just like oatmeal cookies, but deliver a serious nutritional punch while providing energy to get done what you need to do.
Ingredients
2

cups

pitted dates

2

cups

raisins

2

tablespoons

nut butter

Peanut butter, sunflower butter, cashew butter, almond butter, etc...

1 1/2

cups

raw or toasted almonds

3/4

cup

raw or toasted quick or rolled oats

*See Notes

1

tablespoon

pure vanilla extract

2

teaspoons

ground cinnamon

1/4

teaspoon

salt
Instructions
Line a 9-inch x 13-inch straight sided pan with a piece of parchment paper so that the paper hangs over the long edges. Set aside.

Add the almonds and oats to the bowl of a food processor fitted with a metal blade. Fix the lid in place and pulse until the mixture inside resembles fresh bread crumbs.

%https://www.foodiewithfamily.com/wp-content/uploads/2013/03/Oatmeal-Raisin-Cookie-Energy-Bars-1.jpg

Add in the cinnamon and salt and pulse a couple of times to combine. Pour this into a large mixing bowl.

Add half of the dates, half of the raisins and about half of the vanilla extract and process until a paste forms and clumps together in the workbowl. Open the food processor and add in 1 tablespoon of the nut butter and half of the ground nuts and oats. Replace the lid and process until evenly combined. Scrape into the prepared pan.

%https://www.foodiewithfamily.com/wp-content/uploads/2013/03/Oatmeal-Raisin-Cookie-Energy-Bars-2.jpg

Repeat with the remaining dates, raisins, vanilla, nut butter and nuts/oats.

When all of the ingredients have been thus processed, wet your hands and use them to press the mixture as evenly over the bottom of the pan as possible. Fold the excess parchment over the bars to cover them and use something flat and heavy to press down firmly on the mixture until it is smooth.

Refrigerate for at least 2 hours before moving onto the slicing.
To slice:
Use the excess parchment paper like a sling to transfer the now-firm bars from the pan to a large cutting board.

Cut into desired size (I prefer to cut 9 rows of 6 squares) and store in the refrigerator in a tightly covered container. An unrefrigerated bar will be good for 48 hours, covered, at room temperature.
Notes
*To toast oats, pour the oats into a dry, heavy-bottomed frying pan large enough to hold the oats in a single layer. Place the pan over medium-high heat stirring occasionally until they smell nutty and are golden brown. Pour into a bowl or onto a plate until cool enough to handle comfortably. Voila! Toasted oats!
Nutritional information is an estimate and provided to you as a courtesy. You should calculate the nutritional information with the actual ingredients used in your recipe using your preferred nutrition calculator.