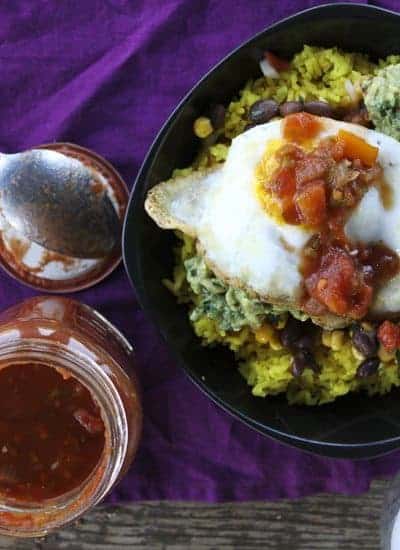 There is nothing like the satisfaction that comes from a meal that hits all the right  notes taste-wise, pleases the pickiest eaters in  your house, satisfies your hunger for hours, takes five minutes to throw together, is nutritionally sound and is truly, veritably, and unbelievably inexpensive; And when I say unbelievably inexpensive I mean dirt cheap.
Finding one meal that does this is like finding a new favorite author who is a prolific writer. It's happy dance party time. It's all that and a bag of chips. This meal is that meal.
Please allow me to introduce you to Tex Mex Rice Bowls. The "recipe" is just a road map, really. You start with a bowl full of rice. I like mine coloured a vibrant yellow from being cooked with turmeric, but you can go with straight-up white or brown rice if you prefer. Top the rice with whatever you'd put on a taco; cooked shredded or ground beef, pork or chicken, guacamole, refried beans or spicy black bean and corn salad, sourcreamshreddedcheesecandiedjalapenos if you fancy it, top with a fried egg and spoon some of your favorite salsa over everything.
You may have noticed that this dish has the potential for Déjà Food* greatness. Seriously, aside from the rice and the fried egg, every bit of this dish can be composed of leftovers. Of course, if you feel so moved, you can whip up fresh guacamole. From that I would never, ever dissuade you. I'm just pointing out that this dish is a beautiful, filling, delicious way to breathe new life into leftovers. This is certainly better than breathing my breath on you after eating this, but I digress.
*Déjà Food is that glorious state of higher consciousness where you turn leftovers into something as good as or better than the original dish.
I would also like to point out just how picky-pants friendly this is. Start with a bowl of rice and customize. Unless your picky eater won't touch rice, you're in a good place with this recipe because they can add as much or as little of the various toppings as they like. Even if they want to swap in ketchup for the salsa *shudder* this should keep them smiling at the table.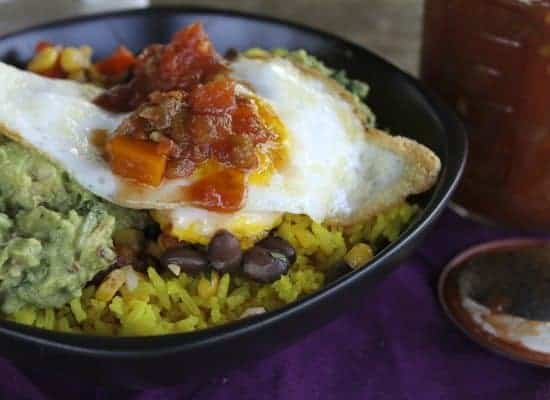 There are close to a bajillion ways to go with this dinner, but we like it best like this: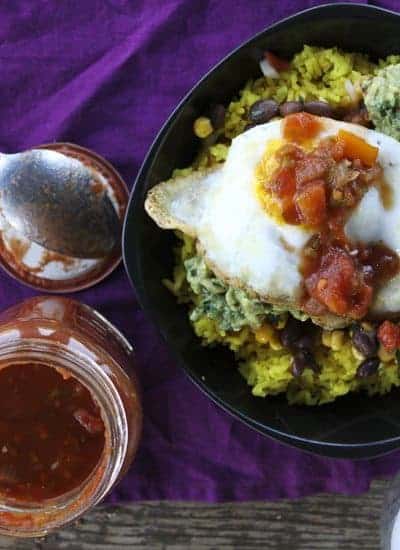 Dinner doesn't get simpler or more satisfying than these bowls of hot rice topped with guacamole, spicy black bean and corn salad, a fried egg, and salsa.
Ingredients
2

cups

uncooked long grain white rice

1

teaspoon

turmeric

3 3/4- 4

cups

water

use less for firmer rice, more for softer rice

a pinch of salt

2 1/2

cups

guacamole

2 1/2

cups

black bean salad or refried beans

6

large eggs

oil or butter for frying

6

tablespoons

salsa
Instructions
Bring the water and turmeric to a boil in a saucepan (with a tight fitting lid) that is at least 2 quarts in size.

When the water is boiling, add the rice and salt, stir once with a fork, and replace the lid.

Reduce the heat to low immediately and cook over the low heat for 12-16 minutes, or until the water is absorbed.(*See notes below for cooking tips.)

When the water is absorbed, fluff the rice with a fork and divide between serving bowls.

Top bowls of rice with about 1/4 cup each of the guacamole and bean salad or refried beans.

Heat a little oil or butter (1-3 teaspoons) in a frying pan over medium heat.

Crack 2 eggs into the pan and let them sit, cooking, until done (*See notes for cooking tips.)

Use a spatula to move each egg to a bowl of rice.

Continue cooking eggs until each bowl is topped with one.

Spoon some salsa over the top of each egg and serve immediately.
Notes
Rice Cooking Notes: Do not remove the lid often while checking the rice. It is okay to lift it once or twice toward the end of the cooking time to look as long as you quickly replace it. Also, avoid stirring the rice as that causes it to break and become gummy. Egg Cooking Notes: For a sunny-side up egg, just leave the egg where you put it in the pan until the whites are set all the way through. If the edges begin to curl before the center is set, you can add a teaspoon of water to the pan along with lidding it. This will cause the yellow to look clouded over, but will ensure a nice runny yolk. For an over-easy egg, cook until the white is set and slightly crisped around the edges, but still jelly-like around the yolk. Flip once and cook for no more than 1 minute on the second side. For a hard-cooked fried egg, cook until the yolk is set, flipping once during cooking.
Nutritional information is an estimate and provided to you as a courtesy. You should calculate the nutritional information with the actual ingredients used in your recipe using your preferred nutrition calculator.