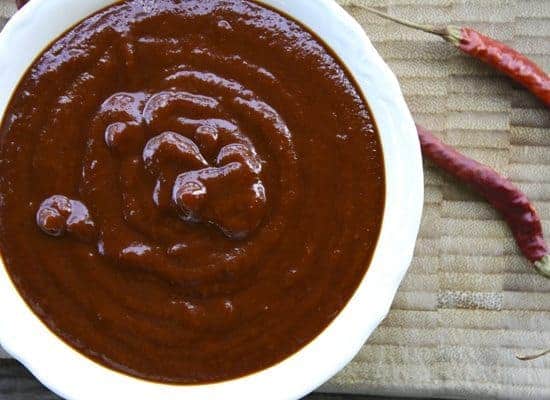 Everybody needs a good barbecue sauce in their pantry. It's easy to say, but that can be as hard to find as the perfect pair of jeans.
Barbecue sauces on store shelves tend to be sickeningly sweet, anemically flavoured, glorified ketchup. Homemade barbecue sauce is almost inevitably better than what you can buy, but is often close to the last thing you want to be making right before grilling or barbecuing extravaganzas.
What you need is that great jar or bottle of something extraordinary that is ready to go whenever you feel the undeniable urge to slather barbecue sauce on something. Boy. Do I have the solution for you or what?*
*The answer is that I do indeed have the solution for you, but I was raised in Northern Michigan and that's just how we talk. You are now able to book your fudgie vacation with a calm mind.
(Oh, er, Fudgies are tourists in Northern Michigan so named for their frequenting of the local fudge shops.
NOW you can go cross the Big Mac. As in the Mackinac Bridge?
Never mind. You shouldn't go.
You should just stay here and make barbecue sauce. Michiganders. We're an enigma.)
I received a jar of barbecue sauce from my friend, Melissa, as part of the Pay It Forward homemade gift exchange. We popped open the jar and dipped our pinkies in for a taste.
Then we dunked in our index fingers. Then we grabbed spoons.
It was good. Really, really good.
As I set about making my batch I made a few changes based on both a lack of certain ingredients and an exhausted food budget. It turned out so well that I kept the changes even when the budget and pantry were both refreshed.
Let me tell you about this sauce. The first thing that will hit you when you taste it is the spicy smokiness followed by a vinegar tang with garlic and onion.
It is tomato based, but that is balanced, almost equally, by the presence of smooth, pungent Dijon mustard. It is a hybrid, really, of the best of Kansas City and South Carolina styles.
It is smooth and thick, brushable, spreadable, spoonable. In short, it's great stuff.
This is easily my favorite barbecue sauce right now for everything from dunking fried chicken to dolloping on hamburgers to brushing on chicken at the tail end of grilling.
…And bonus on bonus? You can can this!
Make a big old batch, jar it up and process it using your choice of boiling water bath or pressure canning. No desire to can? No problem.*
Just put it in the clean jars, put the lids on tight and shove it into your refrigerator for up to a month. You could even freeze it for up to six months if you really wanted to do so.
In my book, though, canning it and stashing it on my shelves next to my Candied Jalapenos is just this side of Nirvana.
*No problem, for now. You will be assimilated. The desire to can is strong in you. (Jedi hand wave) I sense this.
All this boils down to just one crucial point. Make the sauce.
Seriously.
Make. This. Sauce.
If not today, then very, very soon. Memorial Day and grilling season are upon us.
You will be a rock star when you serve this. Also? People will tell you you're beautiful.
You may get marriage proposals. Or book proposals.
Or whatever. Just make it. Okay?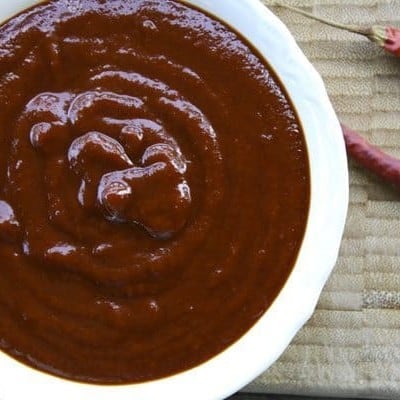 Spicy, smoky, smooth, spoonable, pourable, dunkable, brushable; this barbecue sauce is everything a great barbecue sauce should be.
Ingredients
3

yellow onions

chopped

8-10

cloves

garlic

minced

1/2

cup

canola or vegetable oil

2

cups

tomato paste

2

cups

Dijon mustard

1 1/2

cups

apple cider vinegar

2

cups

molasses

1

cup

raw or brown sugar

1 1/2

cups

hoisin sauce

1

cup

Worcestershire sauce

3/4

cup

low-sodium soy sauce

4

tablespoons

ground New Mexican chili powder

this is simply ground New Mexico Chiles. *See notes for help finding it.

2

tablespoons

ground cumin

1

tablespoon

crushed red pepper flakes
Instructions
Add the oil, onions and garlic to a heavy-bottomed stockpot (to help prevent scorching) over medium low heat.

Cook for 10-15 minutes, stirring frequently, until the onions are softened and mostly translucent. Do not brown the onions and garlic.

Stir in the remaining ingredients.

Bring to a simmer (gently bubbling state) and cook, uncovered, over low heat for 30 minutes.

Remove the pan from the heat and let cool slightly before blending until smooth, using either a stick (immersion) blender or a standard blender.

You can either split into 1-cup portions to freeze, transfer to a jar with a tight fitting lid for refrigerator storage, or proceed on to canning the sauce...
To Boiling Water Bath Can the Sauce for Shelf Storage:
Fill sterile canning jars to within 1/4-inch of the top.

Wipe the rims with a paper towel dipped in vinegar.

Lay clean, new lids on the jars and screw on the rings to finger-tip tightness.

Place in a canner with water to cover the lids by 2-inches.

Bring to a boil, with the lid in place, and boil for 30 minutes for pint jars and 40 minutes for quarts.

Turn off the heat and let the jars rest in the water for 5 minutes before carefully transferring jars to a cooling rack to rest for 24 hours.

Remove rings, wipe jars, label and store in a cool, dry place for up to a year.
To Pressure Can the Sauce for Shelf Storage:
Fill sterile canning jars to within 1-inch of the top.

Wipe rims with a paper towel dipped in vinegar.

Place lids on jars and screw on rings to finger-tip tightness.

Place in a pressure canner according to your manufacturer's instructions.

Process at 10 pounds of pressure for 20 minutes for pints and 25 minutes for quarts.

Allow the pressure canner to come back to atmosphere naturally. (Do not cool canner by pouring water over it.)

Transfer the jars to a cooling rack to rest for 24 hour hours.

Remove rings, wipe jars, label and store in a cool, dry place for up to a year.
Notes
If you opt to freeze the sauce, be sure to do so in serving sized portions. It doesn't do you any good to have a 3/4 gallon block of rock-solid, frozen barbecue sauce in the freezer! *If you're having difficulty finding Ground New Mexico Chile Powder, see the Pantry Builder link below the recipe.
Nutrition
Calories:
192
kcal
Carbohydrates:
36
g
Protein:
2
g
Fat:
4
g
Sodium:
829
mg
Potassium:
657
mg
Fiber:
2
g
Sugar:
29
g
Vitamin A:
645
IU
Vitamin C:
6
mg
Calcium:
90
mg
Iron:
3
mg
Nutritional information is an estimate and provided to you as a courtesy. You should calculate the nutritional information with the actual ingredients used in your recipe using your preferred nutrition calculator.
Foodie With Family Pantry Builder:
(In the interest of disclosure, please know that these links take you to Amazon.com. If you buy something I link to, I get a very small commission from Amazon. It does not increase your price at all. This is the same price I pay for it because I buy it from Amazon, too.)
New Mexico Chile Pepper, 1.9-Ounce Jars (Pack of 6)
New Mexican Chili Ground, 16-Ounce Jars (Pack of 3)