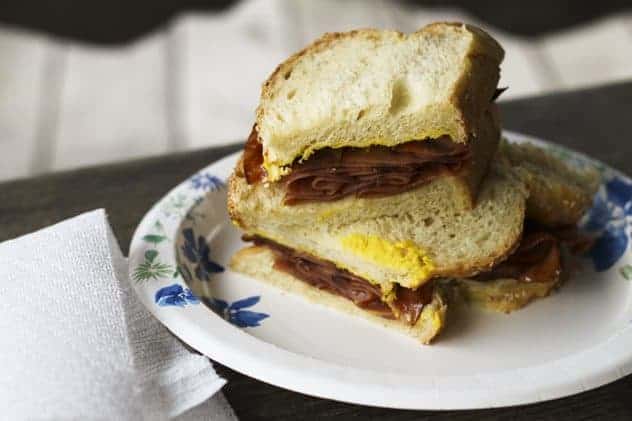 There are some things you just have to do when presented with the opportunity:
Stand up and scream when your team scored the winning goal in overtime.
Blow on a cut that stings.
Kick your way through piles of leaves on the ground.
Foot race your dog in a field.
Put your bare toes in Lake Superior.
Watch your kids climb a rock wall in the woods.
Scramble up behind them.
Hug your dad and stepmom really tightly before leaving for the fourteen hour drive home.
Walk outside in high winds just because you can.
Eat a fried bologna sandwich with yellow mustard on white bread.
Say what? No, really!
If you dangle a piece of plain old bologna in front of me, it's likely to activate my gag reflexes. Let's be honest, it's not the most appetizing looking stuff, is it? But if you fry it in a pan, pop it on some white bread and slather on yellow mustard? Well, you've found one of my guilty pleasures: The Fried Bologna Sandwich.
When you fry a slice of bologna, it changes the texture from wet and mooshy to crisp and chewy. There's nothing fancy, elevated or chic about this sandwich. It is simply comforting and delicious. While these sandwiches show up on many Midwestern and Appalachian diner menus (and I have called both regions home), I grew up eating these at my own dining room table as a treat.
Since the ingredient list is so short (just three!) I figure the enjoyment of the sandwich is based on technique. Now don't worry. I'm not going to go all Thomas à Keller on the classic bologna sandwich; I'm just going to give you a couple tricks to enhance your enjoyment of the sandwich.
Use the thinnest slices of bologna you can get that will still hold together. Thick cut bologna kind of whiffs it here. Deli bologna or the stuff that has a first name will work very well with slightly different results.
Cut some vents in the slices of bologna to keep them from pouffing up in the center. Center pouf keeps that part of the bologna from crisping. Very sad. Trust me. My dad likes to cut an "x" in the center. I do one slice from the center to the outside edge (as in the radius of the circle. Dang. Did I just Keller this by saying that?) I find that one cut it makes it easier to do step five but either way will do the job.
Don't bother with oil, butter or margarine (you shouldn't ever bother with margarine anyway, but I digress…) Have you seen the fat content on the bologna package? On second thought, don't look at the fat content on the bologna sandwich. Just trust me, you don't need to use fat in the pan.
Actively ignore the nutritional content label on the bologna.
Use whatever white bread you like. I used my homemade semolina bread and it was outstanding. Got something more "wonder"ful in mind? Go for it. I like it best untoasted, but there is room for debate there. Step away from the multigrain and health nut breads for this would you? It won't change the fact that we're eating a fried bologna sandwich, so let's all just stick with the white bread for now.
As soon as the bologna has been fried on both sides, immediately -and I do mean immediately- grab the bologna with a pair of tongs and pile it onto your bread. I like to hold it above the bread and let it fold itself as I lower it and slightly twist it. It gives a sandwich loft. (Shoot. There I go again.) Going quickly from pan to bread allows the bread to absorb some of that tasty, salty grease. Yes. I said tasty grease.
Do not. I repeat do NOT use fancy mustard here. This is a job for grade A yellow mustard. Or grade B. The point is, don't muck around with cranberry or horseradish or grainy mustard on this sandwich. You will regret it if you do.
Accompany this with an icy cold something: root beer, water, milk, or beer.
Above all else, enjoy it. Is it indulgent? You betcha. It's calculated to make you smile. What do you say? You want a sandwich?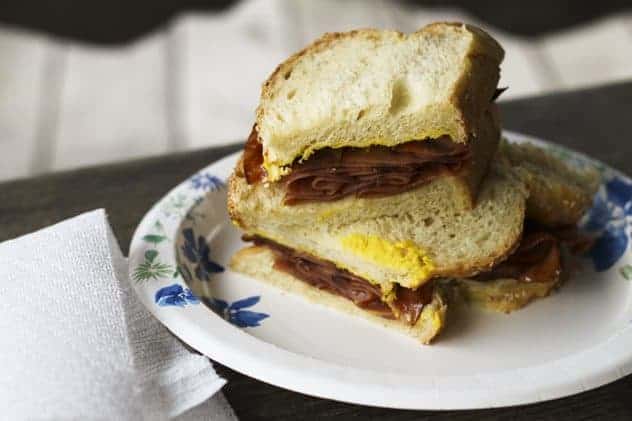 There is nothing fancy about this simple, hearty comfort food other than its near magical ability to put a smile on the face of anyone who eats it.
Ingredients
Per Sandwich:

2

slices

white bread

2-5

slices

bologna

depending on how stacked you want your sandwich and how thick the bologna is.

yellow mustard

to taste
Instructions
Make a cut from a center point of the bologna through the outer edge of the slice. In other words, kind of give your bologna slice a Pacman mouth.

Lay your bologna in a cold, heavy frying pan and turn the heat to medium.

When the pan is fully heated and the bologna starts to show signs of browning around the edges, flip over with tongs or a fork. Continue cooking until well-browned on the other side.

Pile the bologna onto one slice of the waiting bread. Repeat with any bologna that didn't fit in the pan the first time (you don't have to wait for the pan to cool off, just keep in mind it will cook faster.)

Spread yellow mustard on the remaining slice of bread use it to top off the sandwich. Slice in half and serve immediately.
Nutritional information is an estimate and provided to you as a courtesy. You should calculate the nutritional information with the actual ingredients used in your recipe using your preferred nutrition calculator.