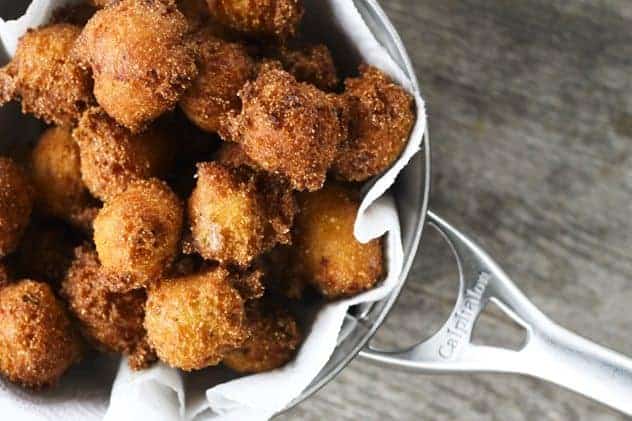 I have a deep love for hush puppies that began -as so many things did- in my childhood in Kentucky. I was awfully young when we lived there and don't have very many concrete memories of the place aside from creek stomping, salamander capturing, and sledding down coal piles in snow suits*, but one thing I do remember vividly is making occasional treks out of the holler and into the biggest nearby town for excursions that almost always ended in a trip to Long John Silver's.
*No really. We did that. Being a family from Michigan, we missed our sledding hills and winter sports while living in Kentucky. My mom's clever solution was to kit us out in snow suits and go sledding down a local coal pile.
Now, I know very well that hush puppies weren't invented by or exclusive to Long John Silver's  but it was my favourite part of the long haul into town and back. In all likelihood, it was what made me behave in public. Deep fried foods have that power over me and always have.
A fried fish dinner with hush puppies was my inevitable order and -truth be told- I ordered that every time just for the hush puppies. I pushed the fish around the greasy little cardboard clam shell case hoping I'd missed a piece of hush puppy here or there.
Dead crispy, dark golden brown, deep-fried nuggets of cornbread studded with onions: what wasn't to love? The answer is nothing. And though my time in Kentucky was limited, my adoration for hush puppies remained. My mom didn't do a ton of deep frying, despite the fact that her affection for all foods fried is as abiding as mine. She did break out the boiling oil for special occasion foods like lumpia and hush puppies, but it wasn't a regular thing. I think this cemented the idea that fried foods -hush puppies, in particular- equaled celebration food.
I'm a little (okay, a lot) more loosey goosey with the deep fat frying than my mom. I'm pretty easy to persuade that it's time for some deep-fried something or other. When I got home from a successful vendor meeting for our local farmers' market where I was introduced as the newest member of the management team (Shout out to Angelica Farmers' Market: The best local producer and artisan market in Western New York!) I felt pretty excited. Where some people would take that excitement and go for a run, tidy a room, complete a project, I channeled it into HUSH PUPPIES! …Because that's just the kind of gal I am.
I cranked up the heat under two inches of oil in a pan, spent five minutes chopping some goodies to toss in, measuring, and mixing, and in the time it took the oil to heat, I was standing by with my little scoopy thingy in hand, ready to get my fry on.
Here's where the magic happens. When I dropped the first couple of scoops of hush puppy batter into the pan and the scent bubbled up  on the oil, my kids -who had been energetically flying around the yard, climbing trees and living in their imaginary worlds all day long- materialized behind me asking things like, "What smells so good?" and "Are those for us? Please say yes!". My wee six year old said, "Are those for dinner? Or just part dinner?"
Hush puppies don't take long, folks. This is not a delayed gratification food. When I pulled the first batch out a mere three minutes after dropping them in, the kids were standing by with forks in hand, ready to skewer on my say so. And skewer they did. Forks rammed down into those hush puppies so fast I feared for my fingers. Little teeth nibbled away and happy groans were heard. The same six year old who had previously asked what part of the meal these would comprise announced, "This is the best part dinner of my whole life. Ever."
Unlike back in the day of the simple unadorned hush puppy, though, today's were extraordinary. A plain hush puppy is good enough, mind you, but when you add minced ham, green onions and spicy pepper jack cheese to the usual chopped onions, you get a hush puppy that will, well, hush your puppies. We're talking about what is essentially craggy, crispy, deep fried corn bread balls stuffed with creamy, spicy pepper jack, salty minced ham and two kinds of onions. These aren't your standard issue Long John Silver hush puppies, people. Not by a long shot.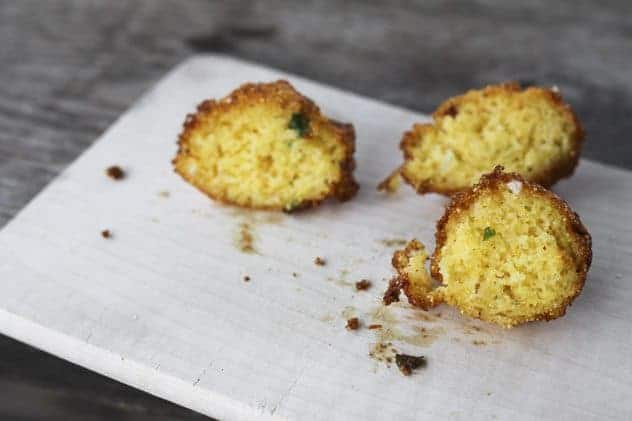 What do I serve these with? Mainly I serve them with this sauce and gorge myself, but I suppose there are those of you with more will power than I have and to you I say, "Serve them alongside fish dinners, with soup or salad, with chili or with a good supply of toothpicks and napkins on a buffet table."
While you whip up something to accompany these, I'll be over in my chair with my feet up trying to come up with a reasonable explanation for how many of these I ate. Carry on.
Some Notes:
I prefer these made with a nice coarsely ground corn meal. The widely available canister cornmeal will do alright, but for the ne plus ultra of hush puppies, go for the really gritty stuff.
Please, for the love of all things good in this world, grate your own cheese for these. It doesn't have to be fancy cheese. It doesn't have to be expensive, but don't use the pre-grated cheese-in-a-bag. That cheese is coated with stuff to keep it from clumping which also has the net effect of making it melt in a way that isn't as happy making. There's a time and a place for the pre-grated stuff, but it's not here.
Mince your ham into the itty-bittiest pieces you can produce. The same goes for the green onions and the sweet onions. It's all about the distribution, folks. The finer you mince those things, the better the chances that you'll get a little of everything in each bite. That is a very good thing. Trust me.
Don't get fancy with the way you drop your batter into the hot oil. You don't want perfection of shape on these. The irregular, jutting-out parts are the crispiest spots on the hush puppies. Those are the bits that render me powerless against them.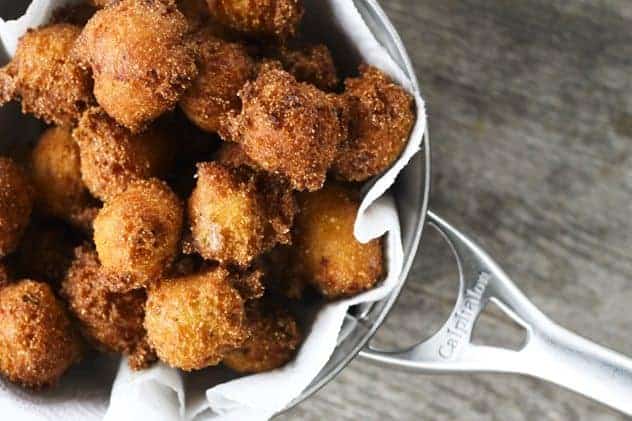 Kitchen Sink Hush Puppies | Pepper Jack and Ham Deep Fried Cornbread
Rate Recipe
These dressed up hush puppies are craggy, crispy, deep fried corn bread balls stuffed with creamy, spicy pepper jack, salty minced ham and two kinds of onions. Eat them as a stand alone snack or appetizer, or serve alongside fish dinners, soups, salads or chilis.
Ingredients
2

inches

of canola

peanut or vegetable oil, or lard in a high-sided, heavy-bottomed pot or skillet (or an electric deep fryer)

1 1/4

cups

cornmeal

3/4

cup

all purpose flour

1

tablespoon

sugar

1/2

teaspoon

salt

1/2

teaspoon

baking soda

1/4

teaspoon

ground black pepper

1/8

teaspoon

cayenne pepper

2

tablespoons

butter

melted

1

cup

plain yogurt or buttermilk

1

large egg

1/4-1/2

cup

finely minced or chopped fully cooked ham

1/4

cup

finely minced or chopped green onions

1/4

cup

finely minced or chopped sweet onion

1/4

cup

shredded pepper jack cheese
Instructions
Place the oil-filled pot over medium high heat and bring the oil to 375°F. Line a bowl or baking pan with paper towels and set aside.

In a large mixing bowl, combine the corn meal, flour, salt, sugar, baking soda, black and cayenne pepper with a whisk. In a separate bowl, use the same whisk to thoroughly combine the butter, yogurt or buttermilk and egg. Pour that directly into the flour mixture, add all of the mix-ins, and use a spatula to stir everything together gently, just until no more dry pockets remain and it is combined evenly.

Use a 1 1/2 teaspoon scoop (or simply mound the batter on a teaspoon) to drop the batter into the hot oil. Fry only as many as can comfortably fit into the pan while leaving room for them to move around. Don't overcrowd that pan! Fry the hush puppies for 2-3 minutes per batch, flipping them about halfway through the cooking. Use tongs or a slotted spoon to transfer the finished hush puppies to the paper towel lined bowl or pan and let drain briefly before serving.

These are best when served hot, but are still great warm or room temperature. You can store leftover hush puppies in a paper towel lined, tightly covered container in the refrigerator and reheat them for just a few minutes in a hot oven to re-crisp them.
Nutritional information is an estimate and provided to you as a courtesy. You should calculate the nutritional information with the actual ingredients used in your recipe using your preferred nutrition calculator.