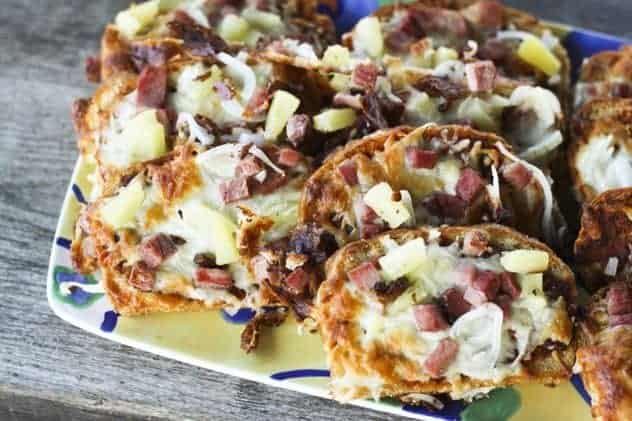 I've entered that parenting stage where I am, apparently, running a taxi service for my children. I always thought the whole "Mom's Taxi" thing was a cliché. It isn't. Clearly.
I mean wow. I'm still having trouble mentally adjusting to the fact that I'm a grown up, let alone that  I have an honest-to-goodness teenager and one on the cusp and three coming close behind. Eep.
Two to three days out of the week, I find myself on the campus of our local private college for various kid related activities; classes, youth group, etc… Early on in this weekly invasion schedule, I realized -in a grand shock to my system- that I was likely the oldest person in the student center and that I did. not. look. like. the. students. I got the vapours, folks.
I'm resilient though. I take one look at those five little men who keep me hopping and smiling -I know I'm living the life- grab a head and deliver a loving maternal noogie and race my kids back to the van to head home and whip up a batch of something that is going to make everyone happy in the kitchen before we're off to our next commitment.
It's at times like these that fancy is all wrong for all kinds of reasons. Every so often (and more often than not depending on circumstances) you just need good food good and fast. It doesn't have to be pretty. It doesn't have to be refined. And in fact, it's better if it isn't.
This is when you toss things, scatter things with abandon, pause to kiss a little one walking by, and slap something into the oven (not the kid, not the kid, I tell ya!). Life is moving fast. We need to, too.
Here's the just the thing for it. English Muffin Bread Pizzas. This riff on one of my own childhood favourites -my Mom's English muffin pizzas- is lightening fast and ever so satisfying. It won't win awards for its looks or its sophistication, but that does not make it any less crave-able or smile-producing. English Muffin Bread ends up being an even better vehicle for super fast pizzas than English muffins because it lets the little bit of olive oil drizzled over the top soak down to the bottom to give you a crisp bottom crust.
A crispy crust, gooey and stretchy cheese, favourite pizza toppings… That's good enough, right? There is just nothing better than something that tastes so good with so little effort.
Because I promise there's almost no work to this. Here's the thing. You put bread on the pan, drizzle with oil, toast, toss a bunch of toppings on it and bake. The messier you get with tossing on the toppings the better! Little bits of cheese and toppings that fall between the slices get crunchy and snackable. Pinky swear.
…Just when I was looking like an adult.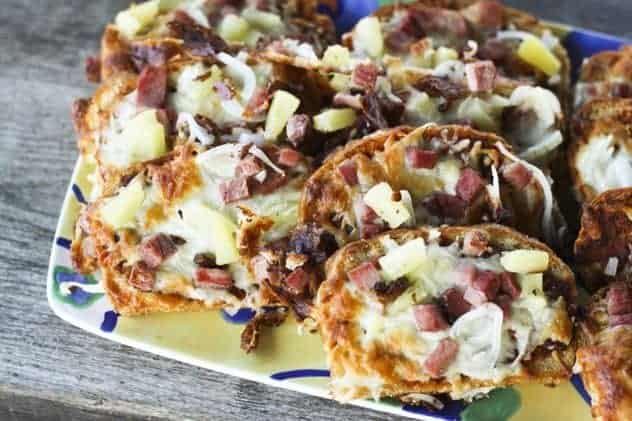 A crispy crust, gooey and stretchy cheese, favourite pizza toppings and done in minutes to boot. Serve with a salad for a fast meal, or as a snack or part of your game day munchies. Comfort food is where it's at!
Ingredients
12

slices

about 1/2-inch to 3/4-inch thick English Muffin Bread or 6 English muffins, split

2

tablespoons

of extra virgin olive oil

3/4

cup

pizza sauce

2-3

cups

shredded mozzarella
Optional:
Diced

cooked ham

Pepperoni

Thinly sliced onions

Pineapple tidbits

well drained

Black or green olives

Italian sausage

cooked

...Whatever floats your pizza boat!
Instructions
Preheat oven to 425°F. Line a rimmed baking sheet (or two) with heavy duty foil or parchment paper.

Arrange the slices of English Muffin Bread (or the English muffins) closely on the lined pan. There should be just a small amount of space between the slices. Drizzle the olive oil evenly over the slices. Place the pan in the oven and bake for about 6-8 minutes, or until the olive oil is bubbly on the bread and the edges of the bread are golden brown. If you lift a piece of bread, the oil should have soaked through and be bubbly on the bottom, too.

Remove the pan from the oven and set on a heat-proof surface. Evenly divide the pizza sauce among the slices of bread and spread with the back of a spoon to the edges. Scatter the cheese over the tops of the bread, not taking too much care. There will be cheese that falls between the slices. That is not just okay; it's desirable! Scatter any additional toppings you like over the cheese and return the pan to the oven.

Bake for 10-18 minutes (depending on how browned you like your cheese). Let the pizzas cool for 3-5 minutes on the pans before using a spatula to transfer to a platter. Use the spatula to scrape up any crispy brown bits from the pan and toss those over the tops of the pizzas on the platter.

Serve hot, warm or room temperature.
Nutritional information is an estimate and provided to you as a courtesy. You should calculate the nutritional information with the actual ingredients used in your recipe using your preferred nutrition calculator.